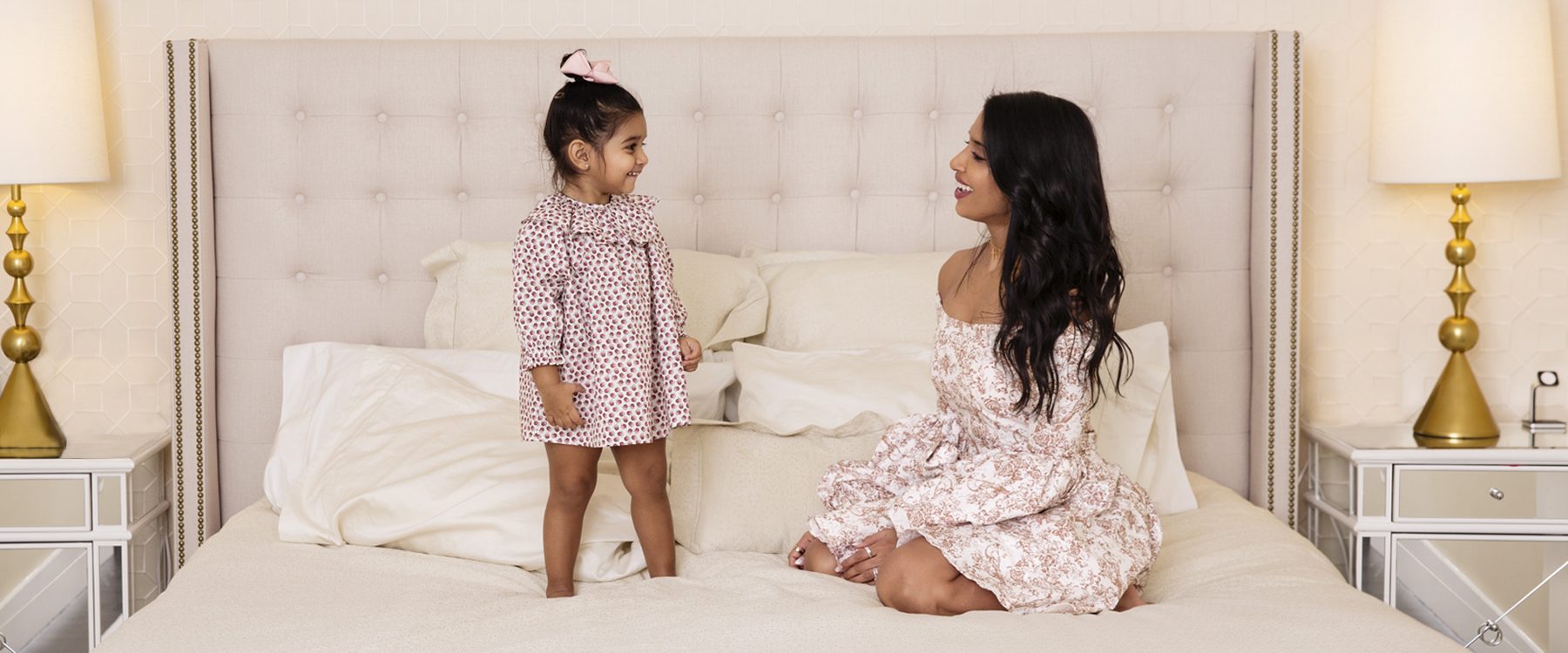 Maisonette Muse: Priya Shukla
Priya Shukla might be the most glamorous woman working in fashion. As Senior Vice President of Global Communications at Vera Wang, she manages everything from organizing Vera's famed runway shows to dressing celebrities – and celebrity brides – all the while maintaining a perfectly polished, ever-stylish look. And it runs in the family. We fell in love with her 2-year old daughter Belle when a photo of the two in twinning Dolce & Gabbana popped up on our IG feeds last year. We caught up with the two fashionistas to talk motherhood, style, and what Priya's shopping for this holiday season. Consider this your cheat-sheet for chic, unique finds to delight any minis – and their parents.
Written By
Phoebe de Croisset
Photography
Taylor Jewell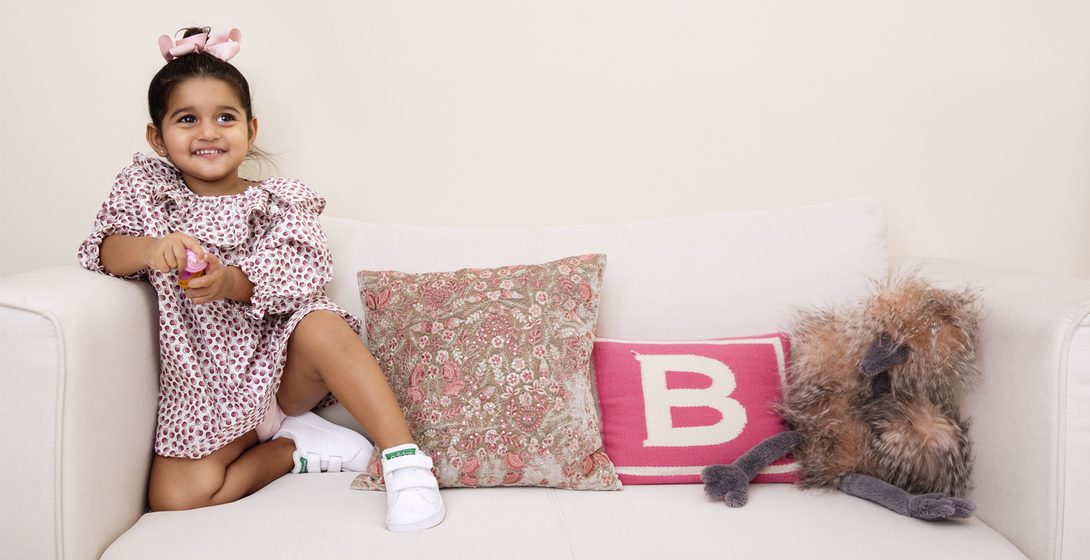 When did your passion for style and fashion begin? Can you remember the very first outfit that you fell in love with?

My mother always jokes that I came out of the womb wearing eyeliner and a pair of heels. I've loved clothes and dressing up for as long as I can remember. I grew up in Australia but we would go to India every year to visit family and my mother would have her tailor over there make these big full skirted dresses for me that she'd have lined with lace petticoats (god this makes me sound like I grew up in the 18th century or something). I distinctly remember loving those big dresses and twirling around in them. I see Belle do the same thing when I put her in a dress now.

Your closet is home to dozens of designer labels – but there was a time when you couldn't afford many of the higher price points. How did you "fake it" or manage to look polished when you were on a tight budget?

For sure, I knew how to stretch a dollar! I believe in serious grooming: you always look better and more 'expensive' when your makeup is fresh, your nails are neat and manicured and your hair is glossy and clean. I also never used to drop money on 'trendy' clothes - I would spend on quality classics that I would accent with 'trendy' accessories. I remember when I first moved from Sydney to LA and was working as an assistant, I found a gold Chanel chain belt at a consignment store. I had to spring for it, but lord, did I get my money's worth. I wore that belt forever with everything, I even wrapped it around my neck as a necklace. The best part was that when I was moving to New York, I sold it back to the same consignment store for almost the same price that I bought it for, HA! The point is that one investment accessory can elevate so many things.

What is your philosophy on dressing children? Should they dress like kids, or like small adults?

I like kids to dress like kids. They are only going to be mini for a minute - time goes by so quickly. My biggest priority is that Belle is comfortable and able to play in her clothes and dressed appropriately for the weather. Even if I put her in a beautiful dress, I will usually pair it with some Jordan's or Converse so she can still move around. I also happen to love how sneakers look paired with a fancy dress so it works out. I do like to have fun with her outfits, and I'm aware that this window of time when I get to dress Belle however I want is a small one. Pretty soon she will have an opinion so I am trying to enjoy this as much as I can. My favorite season for kids' clothing is fall because kids' outerwear is SO CUTE now. I cannot resist those little coats and faux fur jackets. I just found her a rose gold metallic puffer jacket. It is amazing and I wish I had one in my size!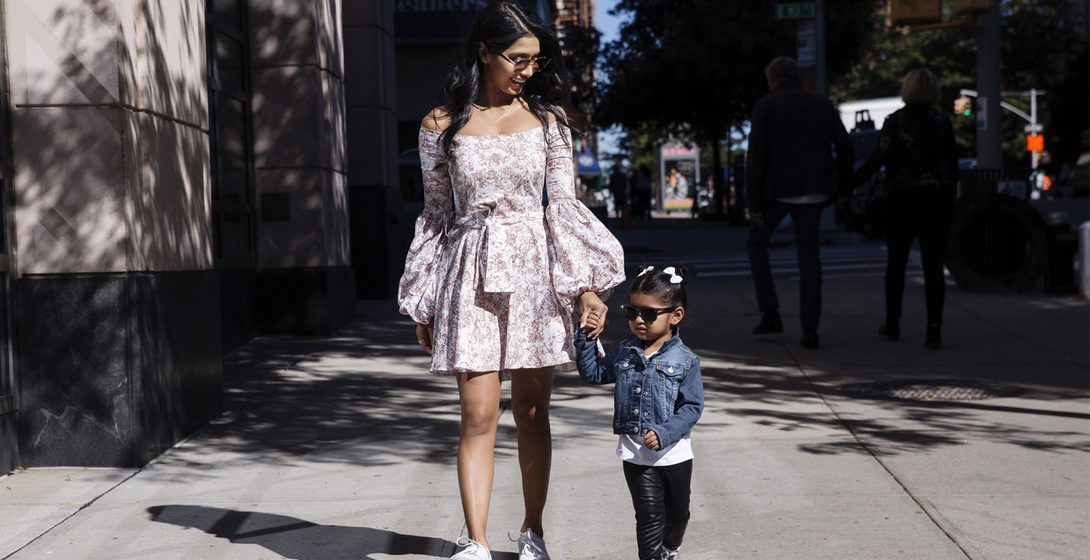 What are some of the pieces you gravitate towards for Belle for every day?

I vacillate between a tomboy look for her or a super girly one. I am currently obsessed with shiny leather look leggings - they look fabulous with everything but are also functional and easy to wash. I usually layer her outfits to account for activities and weather: denim jackets, soft long sleeve tees, printed hoodies, vests etc. Belle always has a bow in her hair - she has over 100 of them (it has kind of become her trademark) and she asks to wear them.

What's the one piece/item Belle is getting the most wear out of these days? The most frivolous piece/item that was well worth the price?

Overalls! Not only adorable, but so useful. You can roll them up to play in the sand or put on a pretty blouse underneath when you want a dressier look, or layer them over a sweater when it's cold. We get tons of mileage out of her overalls. As for the most frivolous item… it was a pink fur vest. I know, I know… fur for a child. But it was on sale, it was pink, it was epic and I had to have it. The upside is that she has used it a lot - she wore it oversized last year and this year she can wear it again.

You seem like an amazing packer. Are there any tips you can share when it comes to packing for a toddler?

Preparation and lists are key. I start laying out clothes and packing a few days before we leave. I don't have time to think about outfits when we are on the road, so I prep her outfits in advance and only take things that are multi-purpose - things that mix in with several outfits. I also carry a change of clothes in my hand luggage in case of spills or accidents. 

What was the biggest surprise you experienced after having Belle?

The biggest surprise to me is that I have no idea where the time goes. Sleeping in is a thing of the past. I am a working Mom, I am busy and moving around nonstop all week and even weekends are planned out around feeding, activities and napping schedules. Having said that, all the chaos has forced my husband and I to be organized with our time and to stick to a schedule. We have also made it a habit to carve out time to spend with just each other. Our time alone feels special and we look forward to it!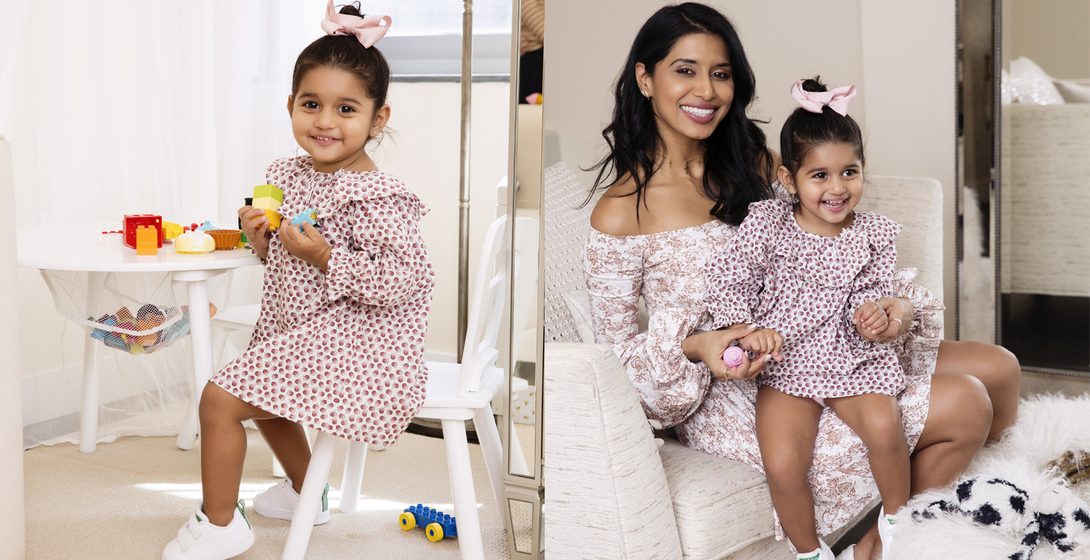 One thing you wish you had known before becoming a mother?

I wish I had known that I would become a human napkin. I now carry multiple packs of wipes and a Tide-to-go pen everywhere I go. No more ruining clothes for me.

When was the last time Belle made you laugh out loud?

When she ate spaghetti last night. Aside from ice cream, spaghetti is her favorite food. She starts off with a fork but ends up giving up on the fork and shoves fistfuls of pasta in her mouth with both hands. Seeing her face covered in sauce and eating with that kind of joy and passion always makes me laugh.


"If you want a good kid, be a good adult."
Where and when are you happiest?

I am happiest when the three of us are on vacation, preferably on a beach somewhere.

Favorite mother-daughter tradition?

Going for ice cream together on Sundays and any moment we can dress alike. She will hate our matchy-matchy photos one day but I don't care ;)

Value or lesson you most want to instill in Belle?

To be kind to others. There are several adults that still need that lesson, but let's not go there.

Mantra/life motto?

Gratitude is my attitude.

Best parenting advice you ever received?

That character isn't something you teach your kids - character is something you show them. Children see and absorb everything. If you want a good kid, be a good adult.


TO TOP