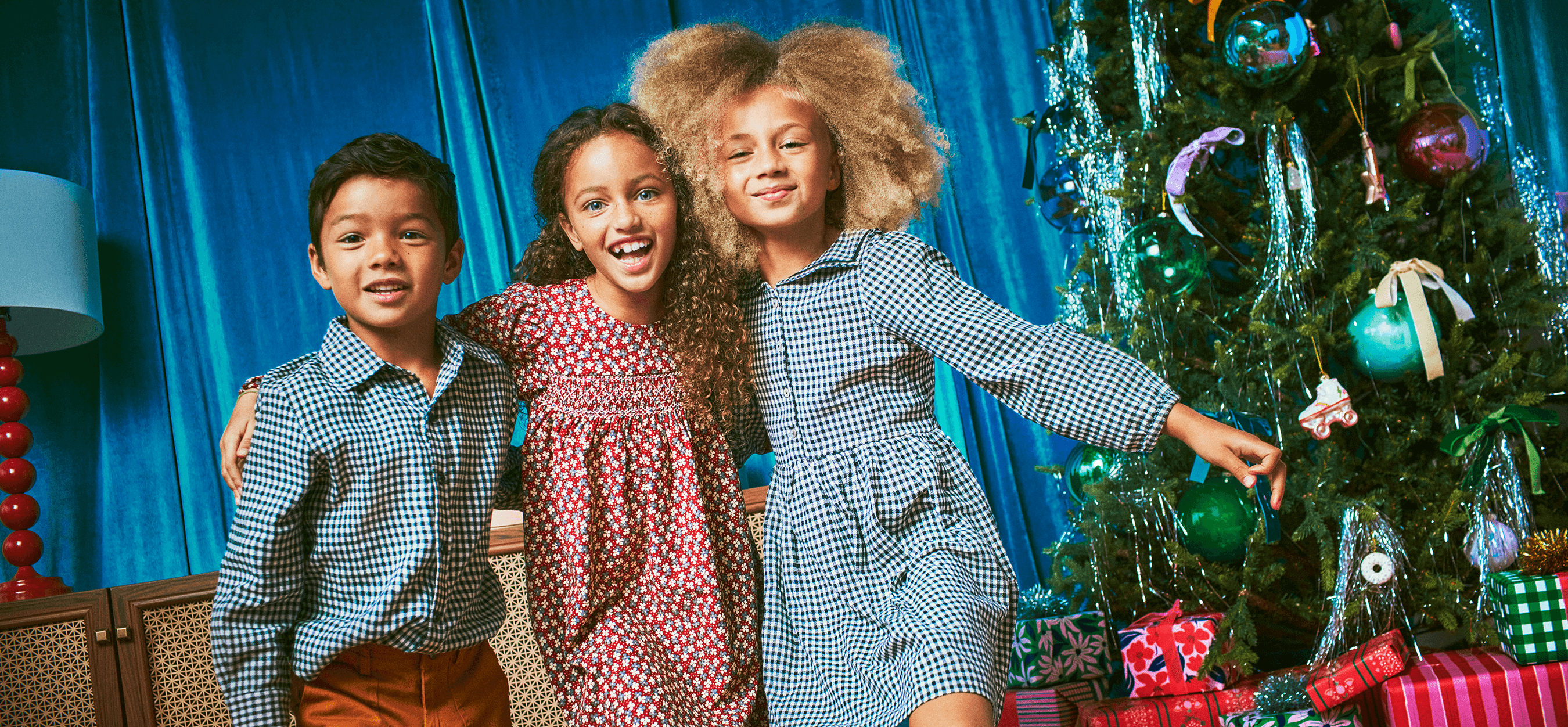 Parent Hacks
How To Take Holiday Photos According to a Professional Child Wrangler
Whether you're preparing to mail out holiday cards or looking to capture a sweet family photo to remember the holiday season, there's a lot to coordinate—especially when kids are involved. From getting everyone to look at the camera to coercing smiles out of frowning faces, the process of actually taking a holiday photo can be enough to have you vowing never to do it again.
But holiday magic is made in the madness. Sure, you probably don't want to send grandma a photo of bored pouts and stressed-out parents, but you can make your kids' wild energy work for you rather than against you. To help you turn those frowns upside down—literally and metaphorically—we spoke to
Kaysh Shinn
, professional Child Wrangler (yes, really!) and Creative Movement Director. Read on for her tips to get your kids to cooperate for a stress-free family holiday photo.
Photography

Anna Palma
Styling

Jessica Sailer with Prop Styling by Cecelia Elguero
Written By

Nathalie Kirby
Make a Plan
While a sporadic photoshoot is sure to generate some sweet snaps, the key to capturing the perfect holiday card photo is making a game plan ahead of time. This way, you'll be more prepared (and less stressed!) if things go astray. Start by considering what you want the final shot to look like. Do you want to capture the entire family or just the kids? Do you want to wear matching holiday PJs, or would you rather be decked out in your holiday best? Do you need to hire a pro, or is a DIY approach more your style? Whatever you decide on, nail down these details beforehand to minimize unnecessary stress on the day of your session.
"Ask silly questions and their reaction time will give you time to snap shots. Kids will answer any question."
Get Them Comfortable
Let's face it: taking photos can be a bore for kids. And unlike an adult who can fake it for the photo, your little one's uninterested expression is hard to hide. So make the experience fun for them by asking silly questions, engaging them in a fun conversation, or playing a simple game with them. "Their reaction time will give you time to snap shots," explains Shinn.
"Kids will answer any question," she says. You can ask them questions like: Are you wearing clean underwear? Did you brush your teeth today? Did your parents kiss this morning? "Trick them and tease them a little bit," says Shinn. Ask them to look for someone, even if they're right there, or confuse them by switching up your directions ("Go over there. No, over there. Oops..") to get them laughing, talking, and comfortable. "It will help them move more naturally."
Small toys and props can also be helpful to keep younger children engaged during the photos, but Shinn recommends steering clear of bribery. "They're not having fun that way—they'll just want to get [the photos] done so they can get the prize," she explains.
But here's the real secret: the key to capturing a holiday photo worth mailing is finding the balance between having fun and getting too excited. "If you get them too excited in the beginning, they're gonna get out of control and won't listen," explains Shinn. Instead, start slow and warm up if you want their energy to last. Introduce silly banter or fun props incrementally and use a mild tone of voice to keep energy levels just right.
Consider the Time of Day
"Time of day makes a big difference," says Shinn. "The younger they are, the harder it will be later in the day." To mitigate meltdowns, she suggests scheduling your photos in the morning. Make sure to factor in nap and meal times, too, so you're not left dealing with tired or hungry kids.
Recruit a Familiar Face
When it comes to getting wandering eyes to look at the camera or compelling your toddler to stand in the right spot, having a familiar face behind the camera is key—so long as it's not someone too familiar. "Kids are more likely to respond to another adult they are familiar with or respect than they are a parent," explains Shinn. So she suggests asking a friend or family member your children know to tag along. This way, they can be the one making silly faces from behind the lens while you work on your picture-perfect smile.
"Don't be afraid to move with your camera and your child."
Lean Into Their Personality
Every child is different, so it's about finding something that works for them. For babies, Shinn suggests placing a bright light or shiny object next to the camera to get them looking in the right direction. If you have a child that can't sit still, hold something they want and have them run towards the camera to try and get it. Did they wake up in a bad mood? Redirect their negative energy by asking them to play a game of telephone or telling them a silly secret. "Don't be afraid to move with your camera and your child," says Shinn.
Don't Worry About Perfection
No matter what the final outcome of your holiday photo card shoot is, it'll be perfect because it's yours. Embrace the funny faces and candid giggles because, as Shinn says, "They're kids and the photos will turn out cute regardless."