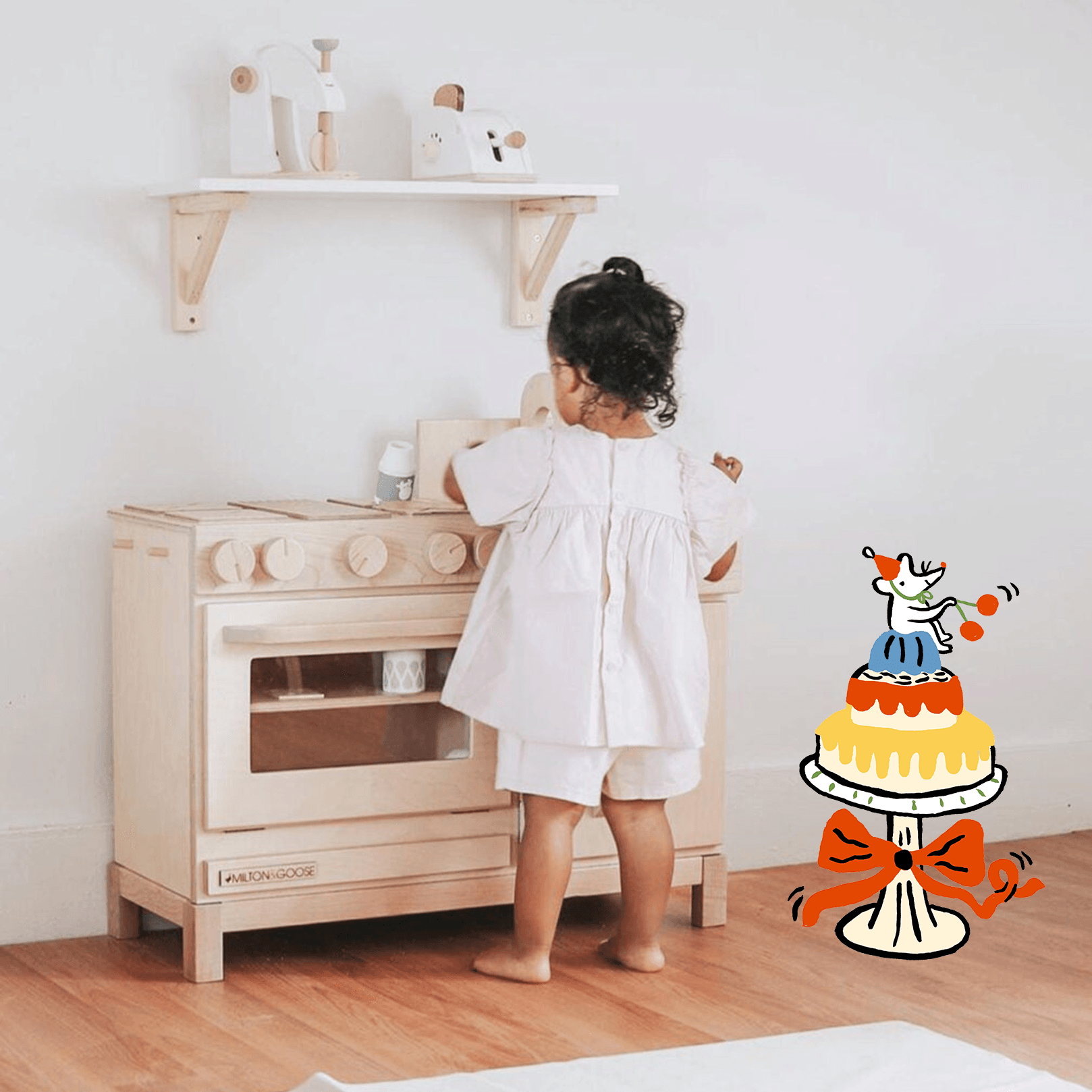 Parental Arts
The Best Toy Kitchens for Kids and Toddlers
From minimalist chic to a mini version of your own kitchen, and even a few small-space-friendly options, we rounded up the best play kitchens for kids and toddlers. You're sure to find something your littlest chef will love.
The toy kitchen has been a staple in playrooms forever for a myriad of reasons. Kids love to mimic their grownups and feel like a grownup themselves. Plus, littles love independence. Has your mini ever said, "I can do it myself"? We thought so. Plus play kitchens are truly timeless and are a wonderful vessel for imaginative play, open-ended play, building confidence, learning practical life skills, and just plain fun.
Milton & Goose Essential Play Kitchen
This play kitchen acts as a blank slate for your mini's imagination. The less bells and whistles the better so their imagination can truly soar. And your little minimalist will love the
Milton & Goose Essential Play Kitchen
. Kids will go for the turning knobs and detailed burners, while parents will love the sleek look and open-ended play it inspires. Crafted by Amish artisans in the USA from sustainable Baltic birch and North American maple, it's a solid and elegant addition to any playroom—or living room for that matter.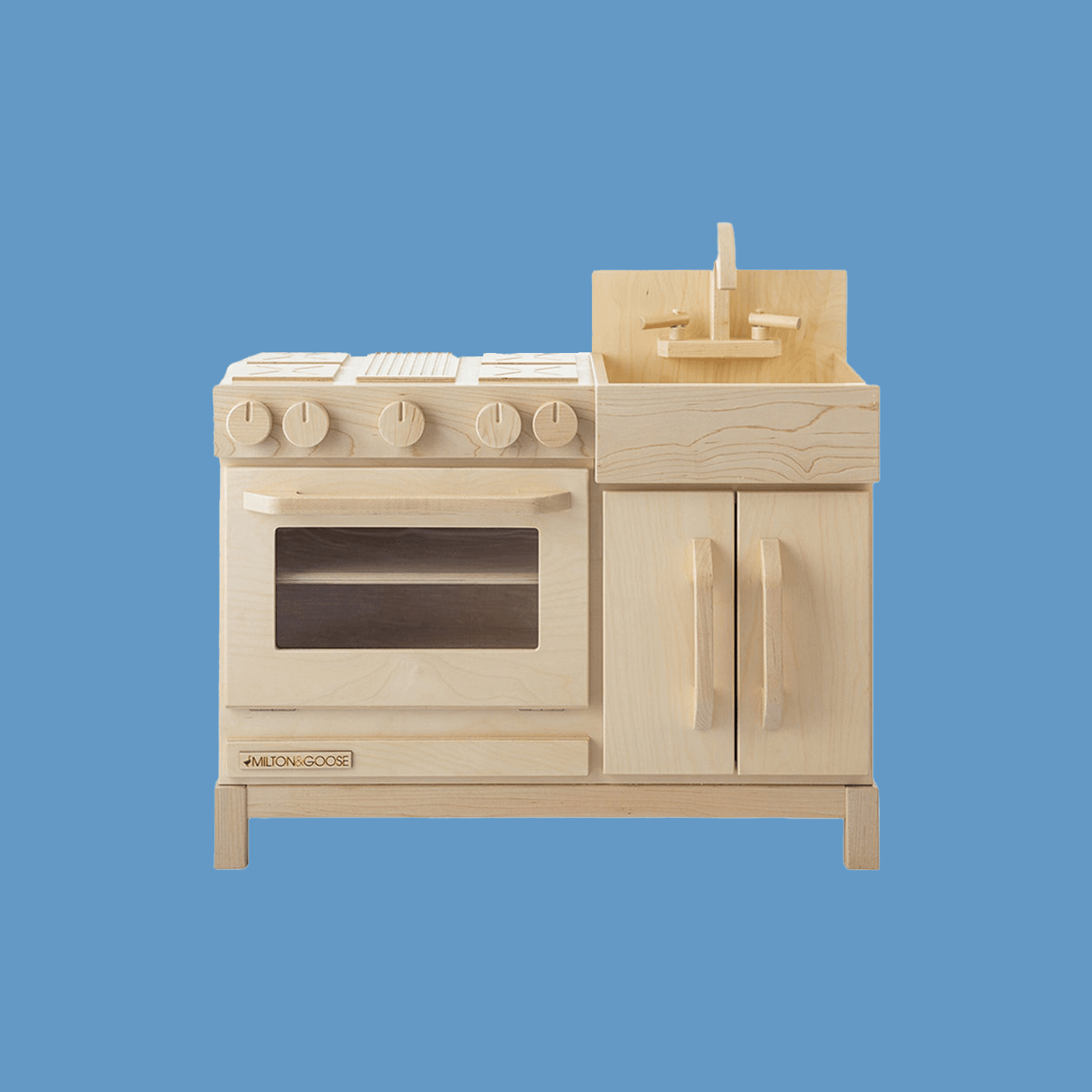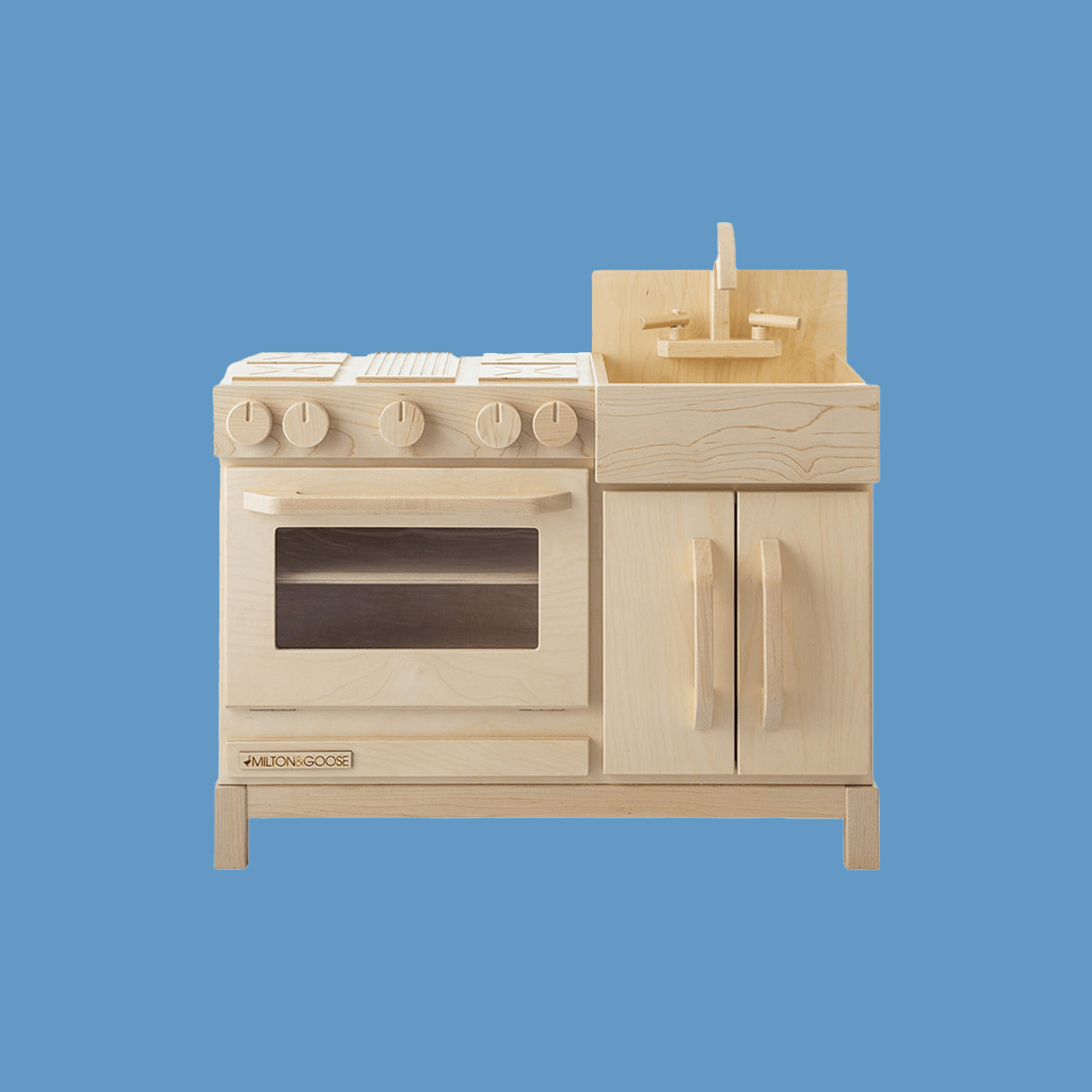 Teamson Kids Little Chef Paris Modern Play Kitchen
If your mini is looking for more of a real-life kitchen experience, this play kitchen is for them. They'll be delighted with the automatic ice maker and knobs that turn. Plus, the e
Teamson Kids Little Chef Paris Modern Play Kitchen
is high on style and flexibility. The three separate parts allow your little chefs to arrange it as they see fit. And they'll love the thoughtful details like rose gold hardware as much as you do.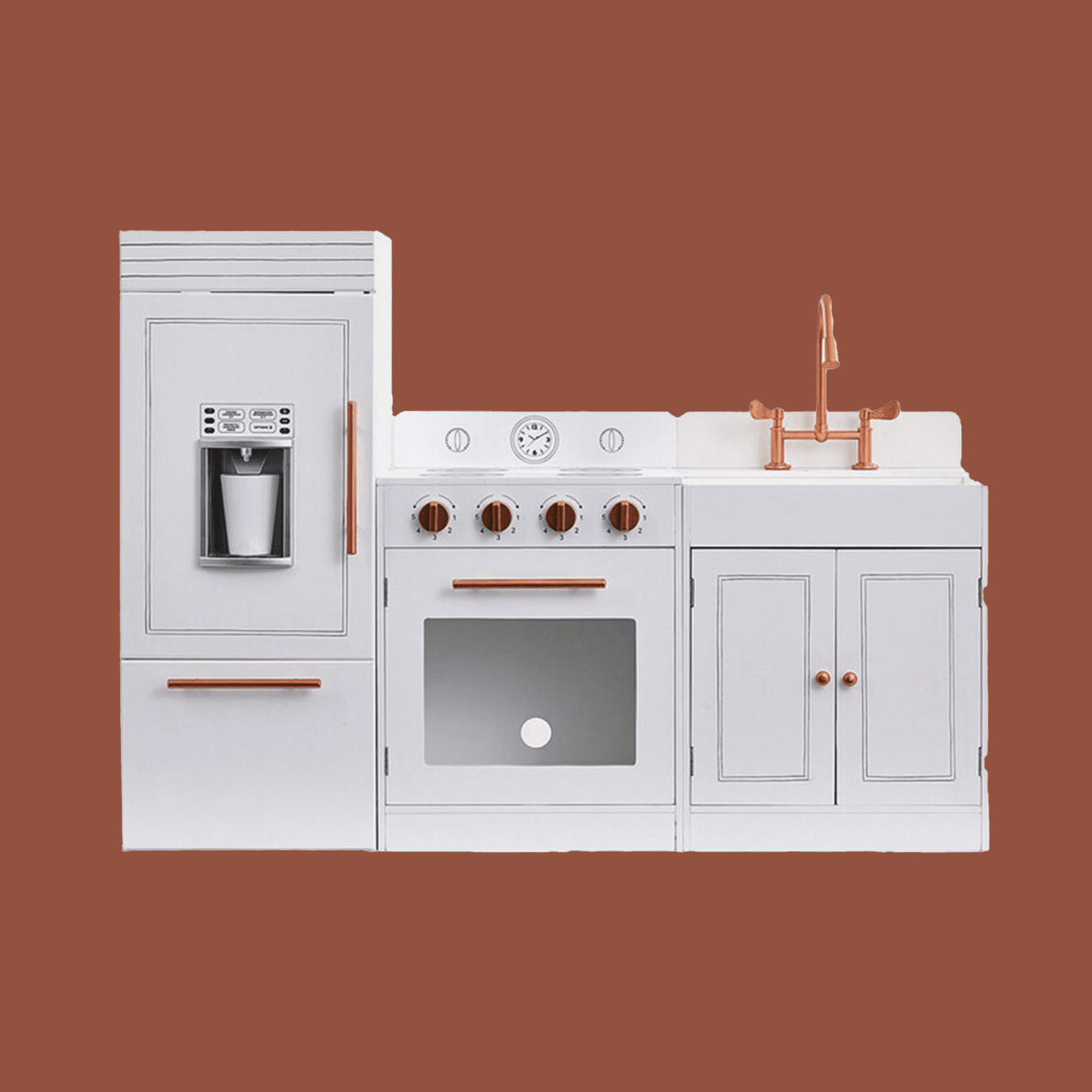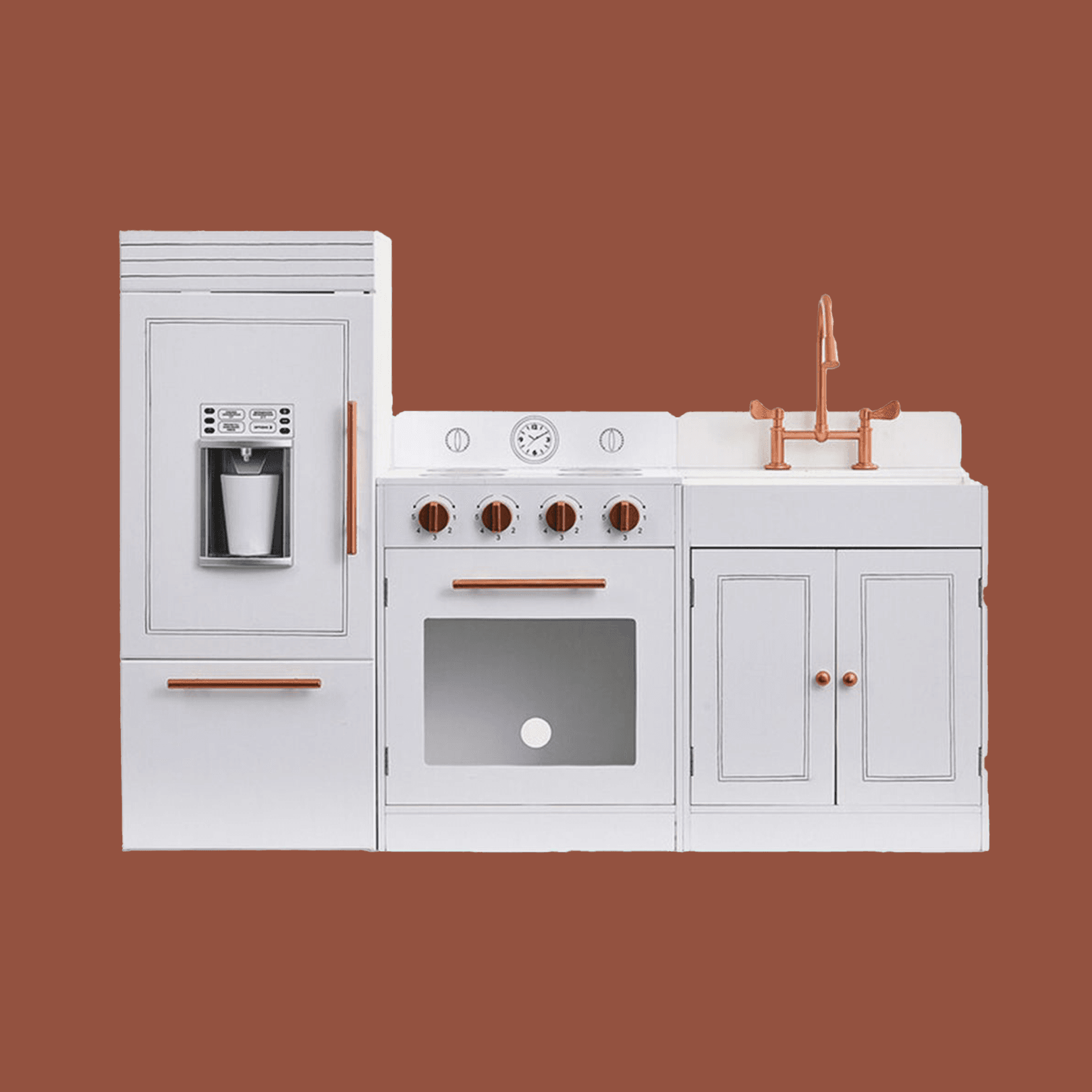 Teamson Kids Little Chef Berlin Modern Play Kitchen
We love the chic design of this
Teamson Kids Little Chef Berlin Modern Play Kitchen
. Your littles will adore the way the handles turn and stove knobs click like the real thing. For an added pretend play bonus, cutting board, pots and a telephone are included, allowing for optimum roleplaying and mimicking the grownups.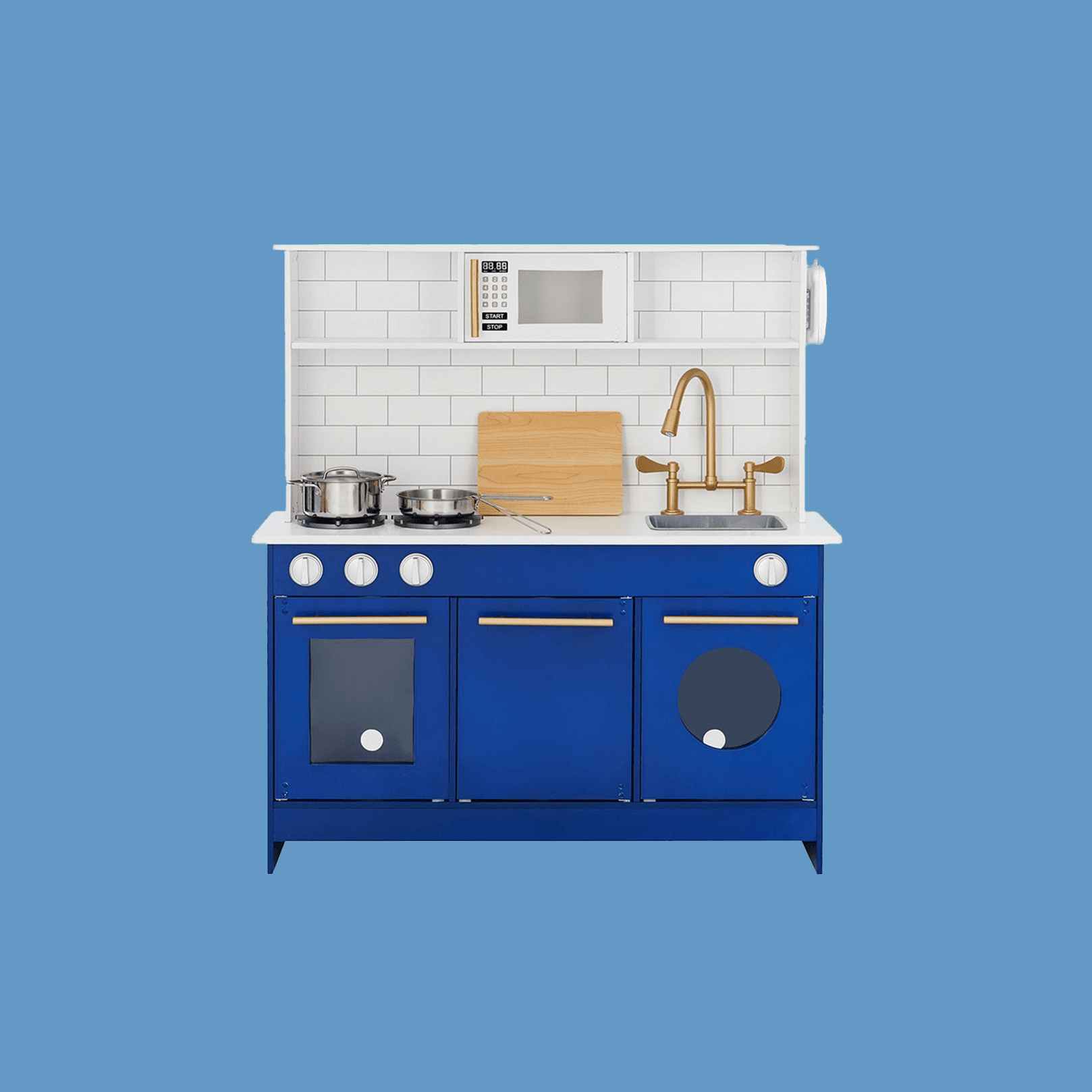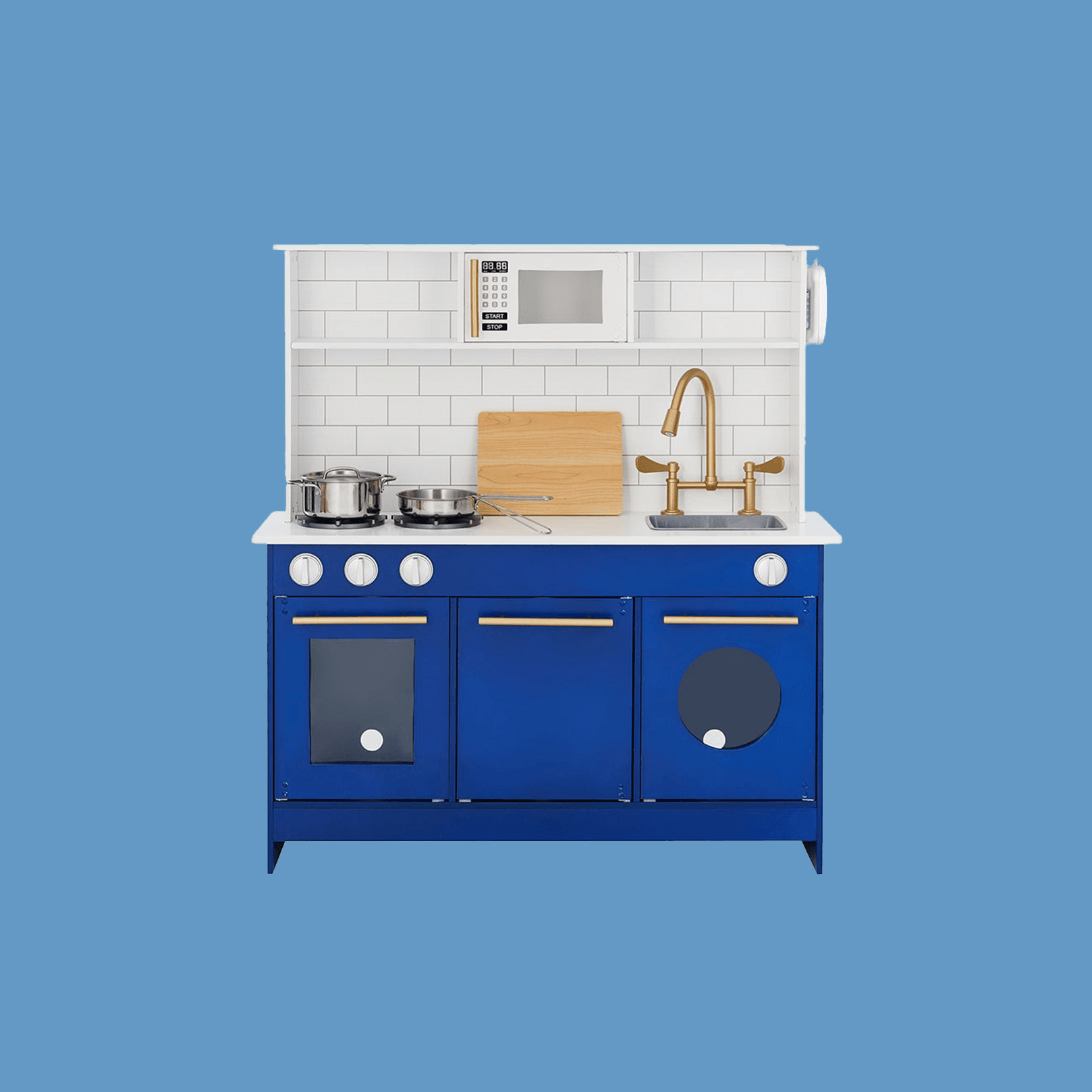 TP Toys Muddy Maker Mud Kitchen
If your little chef prefers the great outdoors, enter the
TP Toys Muddy Maker Mud Kitchen
. Kids getting dirty is a wonderful sensory activity, and playing in the dirt is something that most littles really enjoy doing — but parents would rather they keep the mess outside. This mud kitchen is a wonderful compromise for littles and parents. The perfect size for two, it encourages interactive play and has a removable splash tub that's perfect for mixing mud and gathering leaves.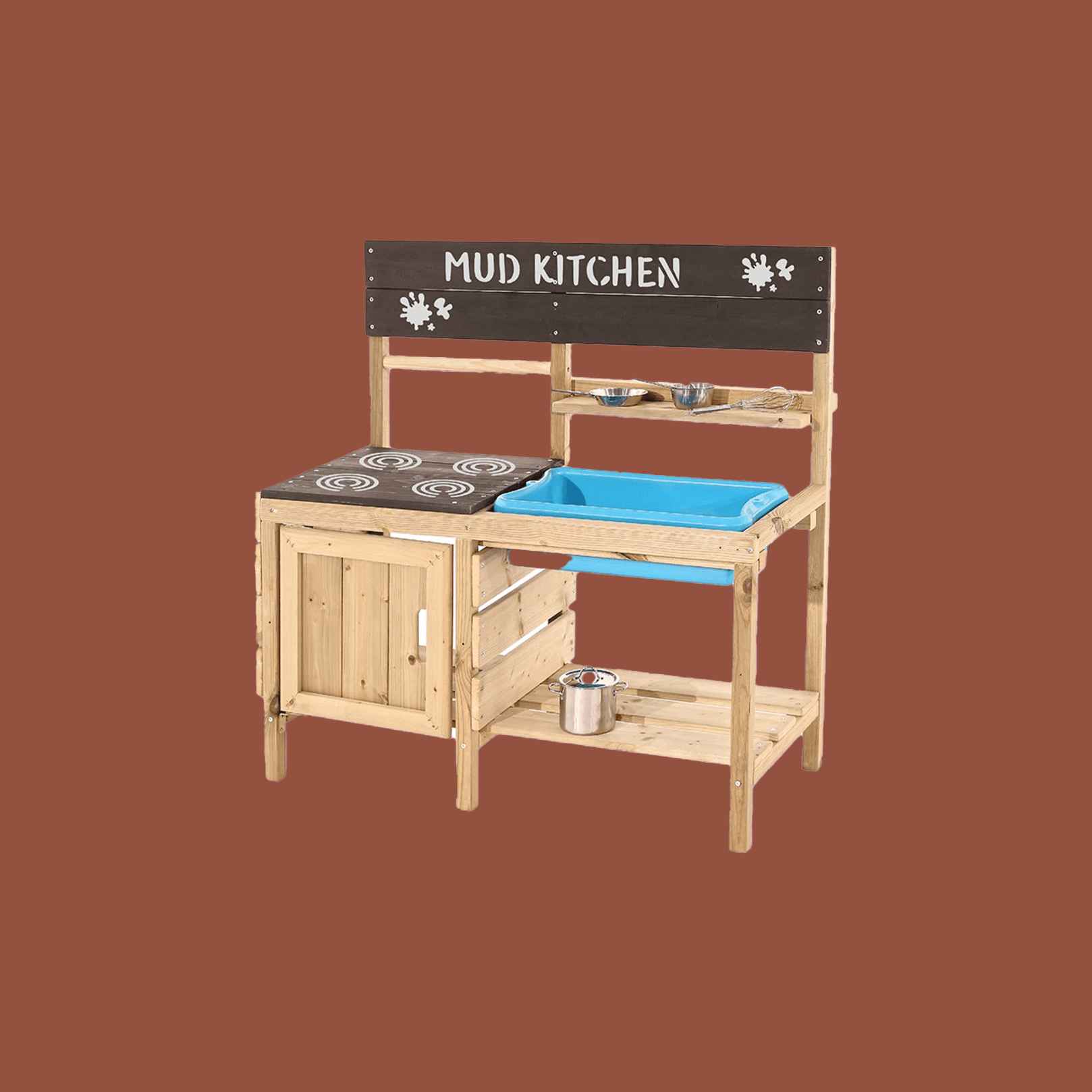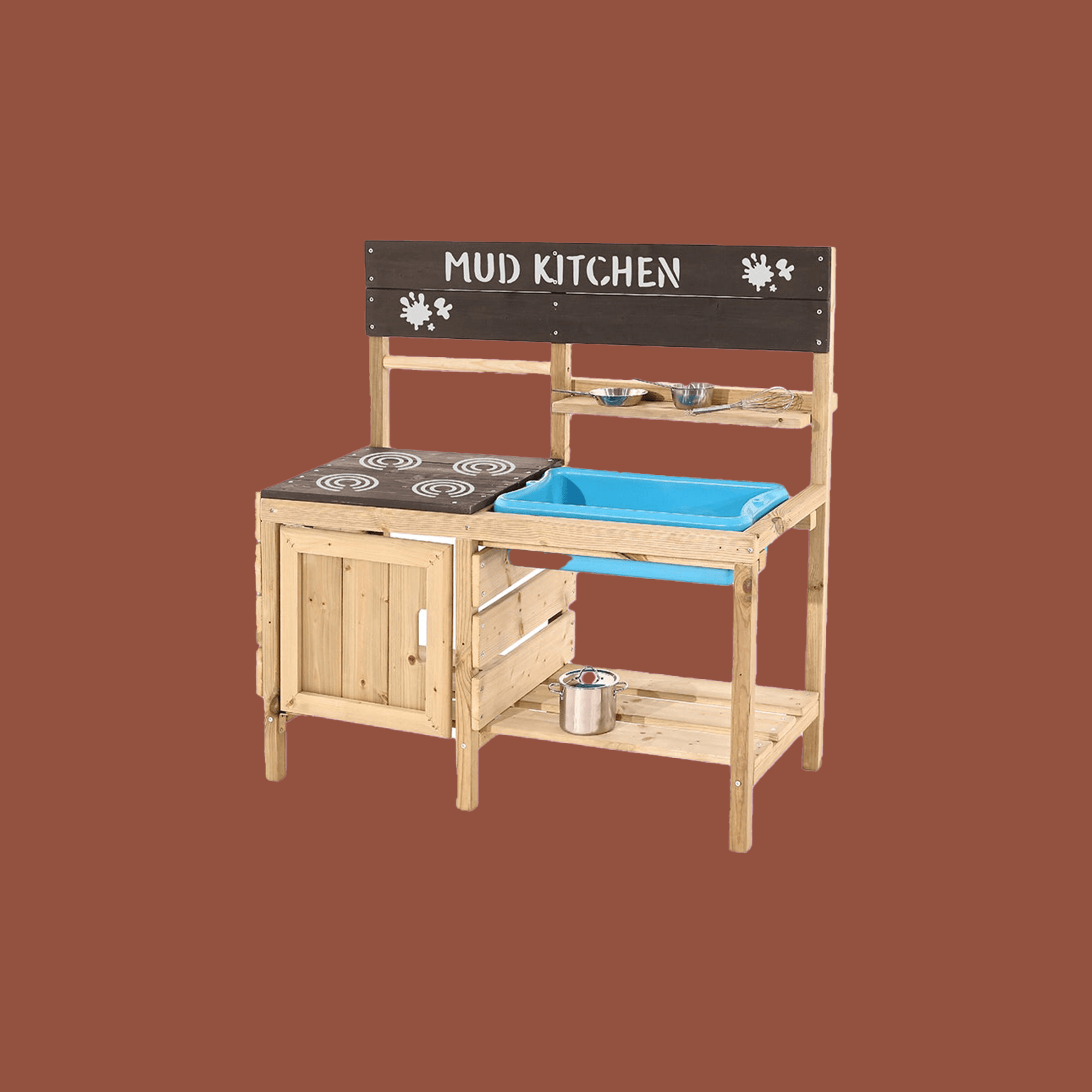 Hape Cook'n Serve Kitchen
Let your mini's imagination do the heavy lifting in this minimalistic
gourmet kitchen from Hape
. It has two burners, a stove, a bit of storage and a sink — everything your little needs to prepare a meal as long as they use their imagination. Be sure to add some accessories from below to complete the gourmet kitchen and other kitchens above.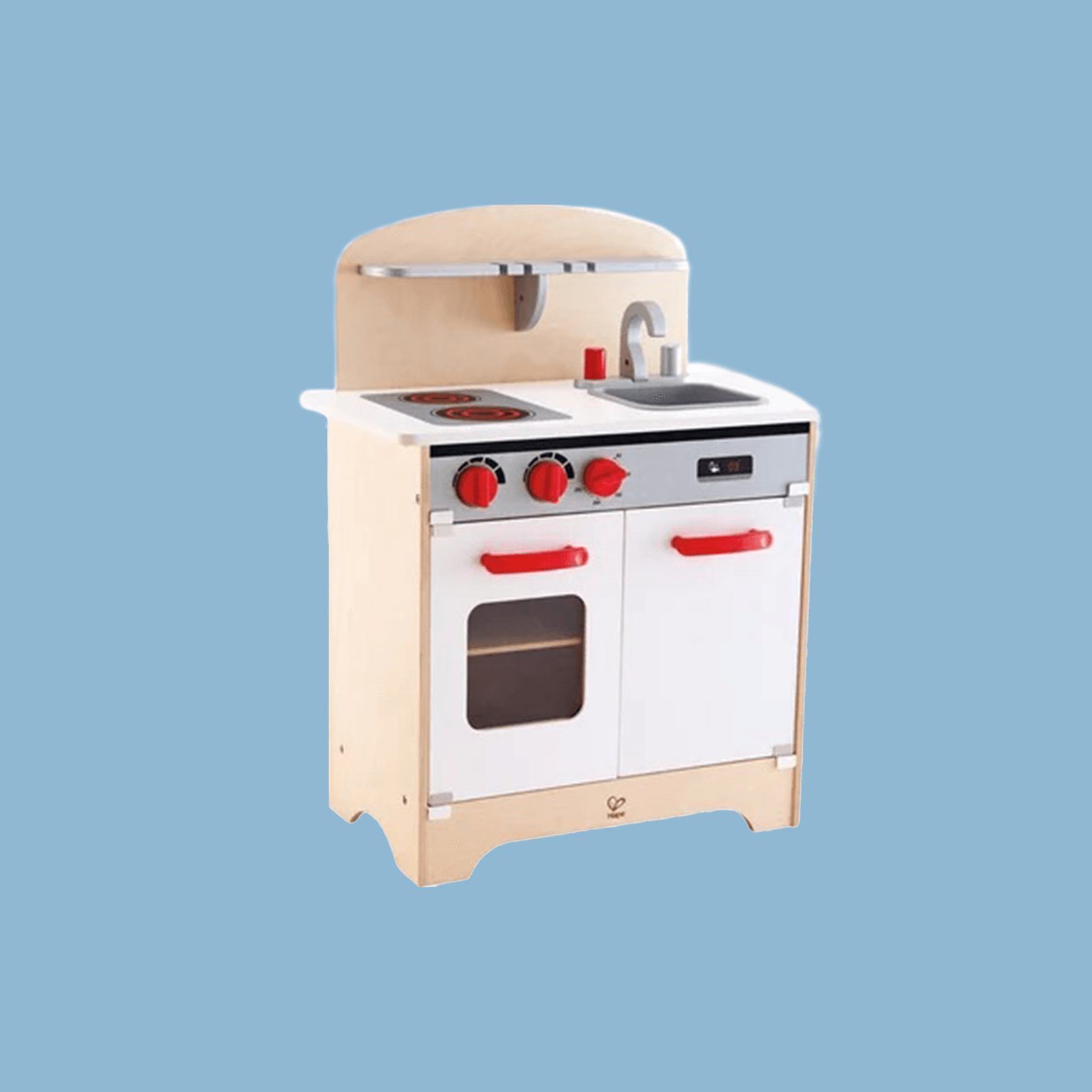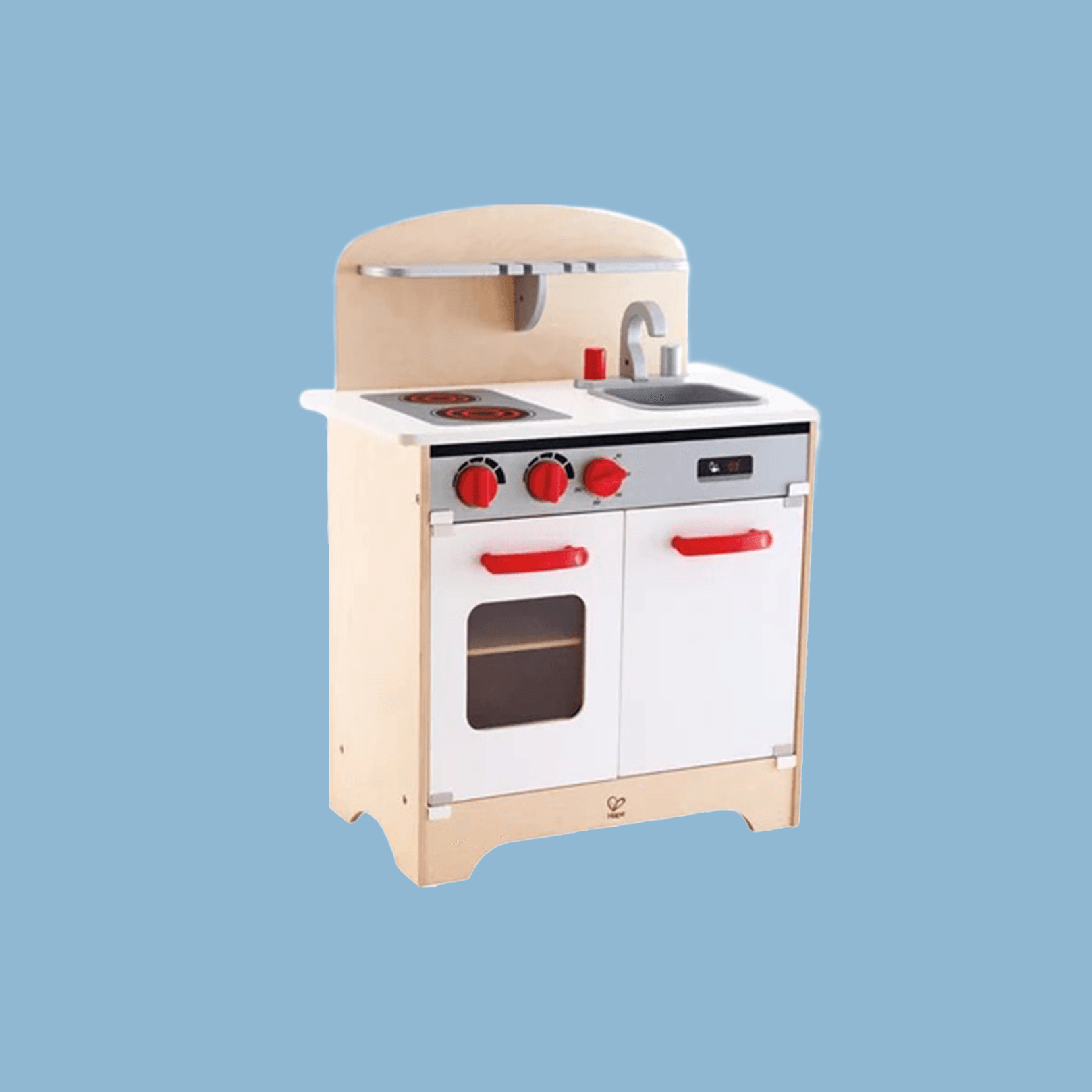 Teamson Kids This Little Chef Fairfield Retro Play Kitchen
Love a little retro flare? This Little Chef Fairfield Retro Play Kitchen is perfect for your mini. From the cute retro clock down to the beautiful retro pink color, this kitchen complete with a refrigerator, stove, sink, oven, chalkboard and ice maker with ice cubes will look awesome in your mini's playroom. They'll love pretending to bake all kinds of goodies in this kitchen.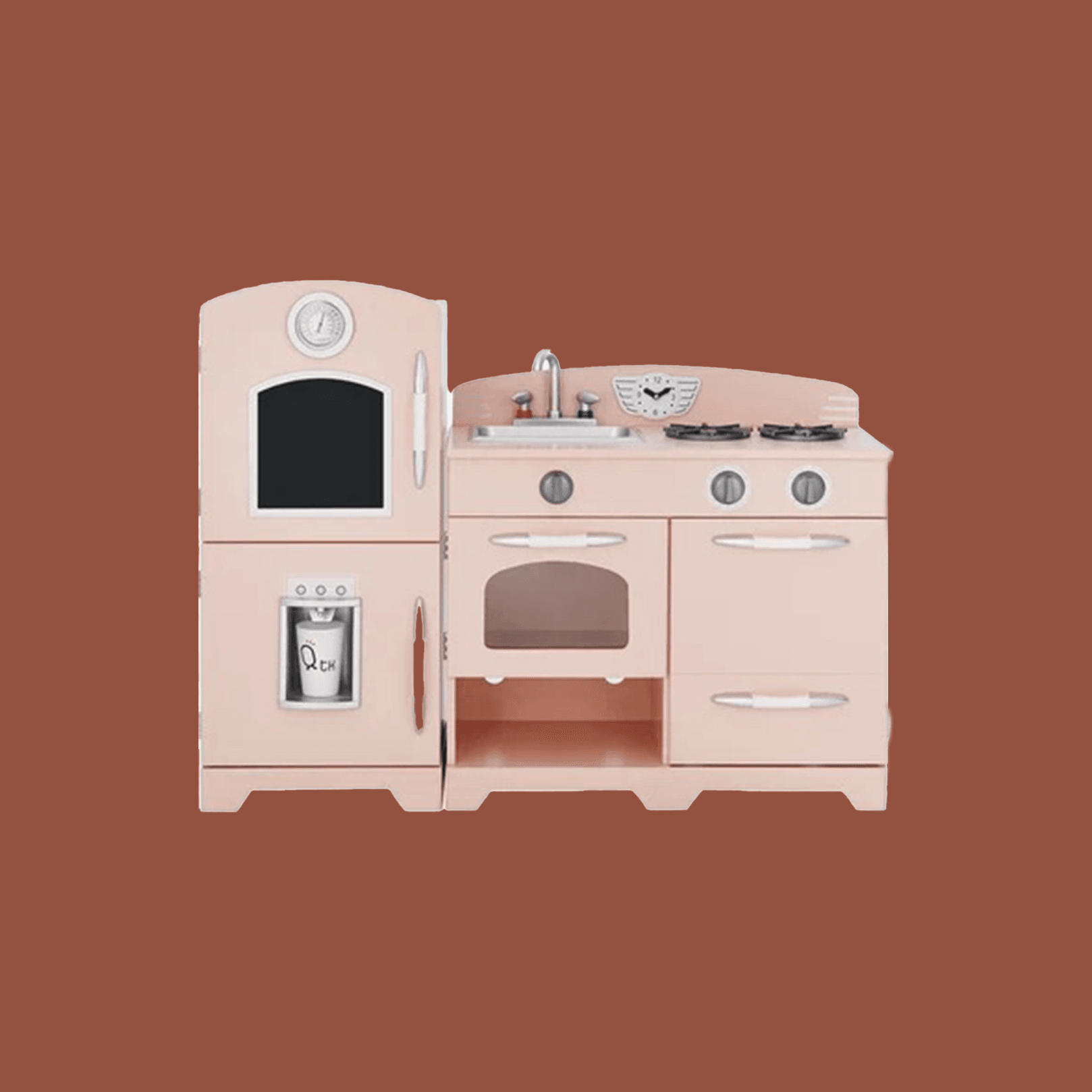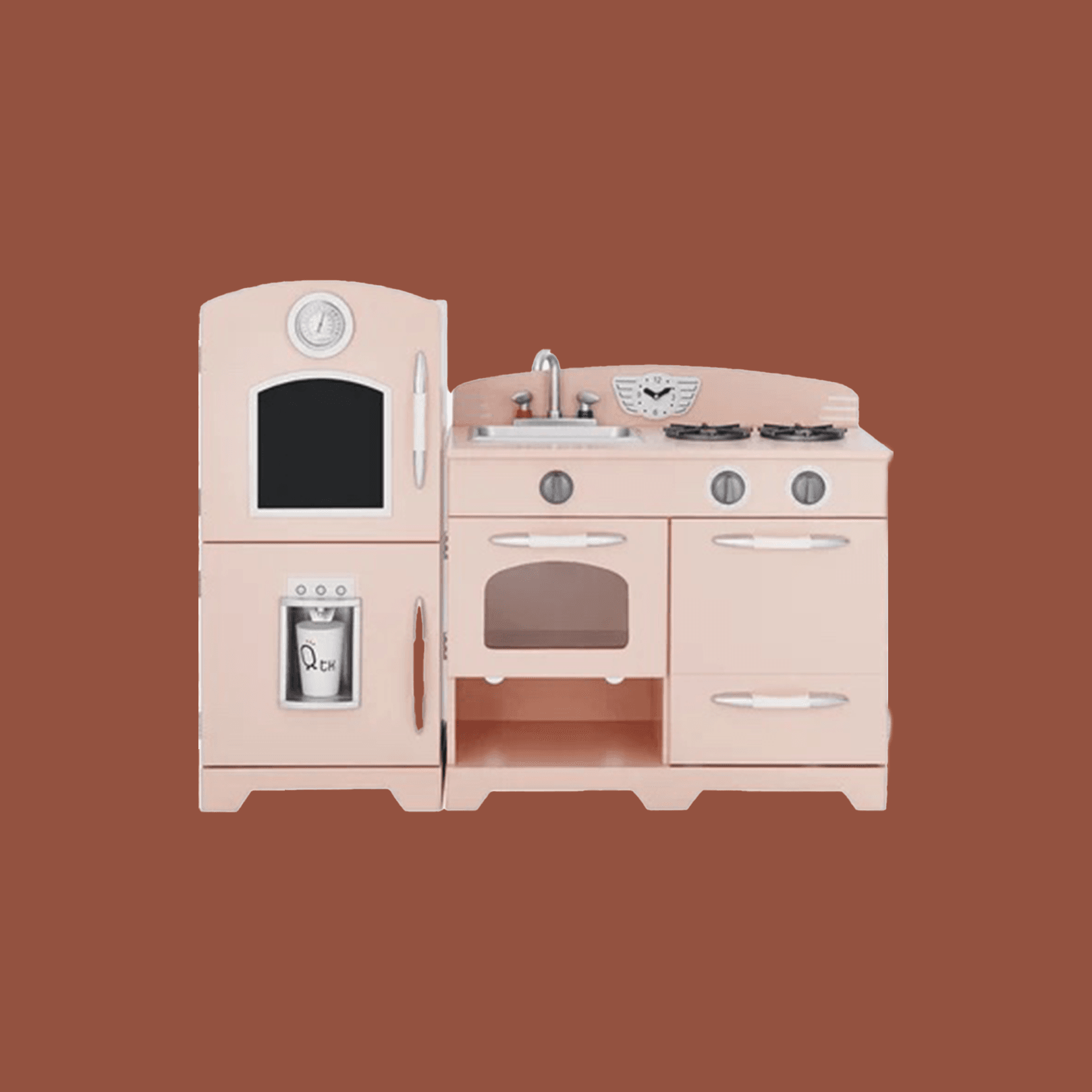 Pop Oh Ver Stove Set
For families with a bit more limited space in their homes, this "PopOhVer" Stove Set is perfect for taking your mini's imagination anywhere. This set featuring four burners, a microwave and an oven with knobs can be assembled by throwing it over a sturdy household chair. Save on space, not creative playtime.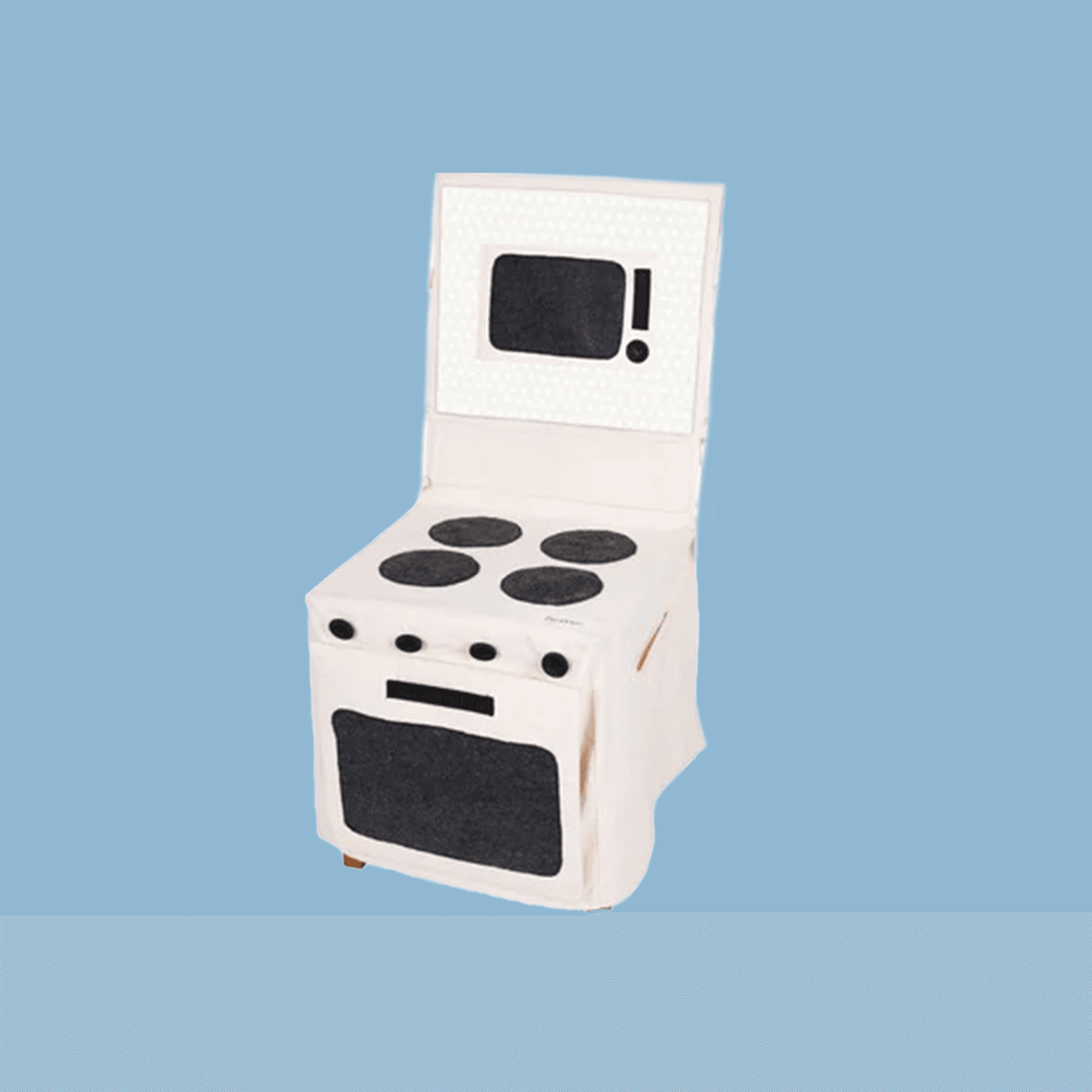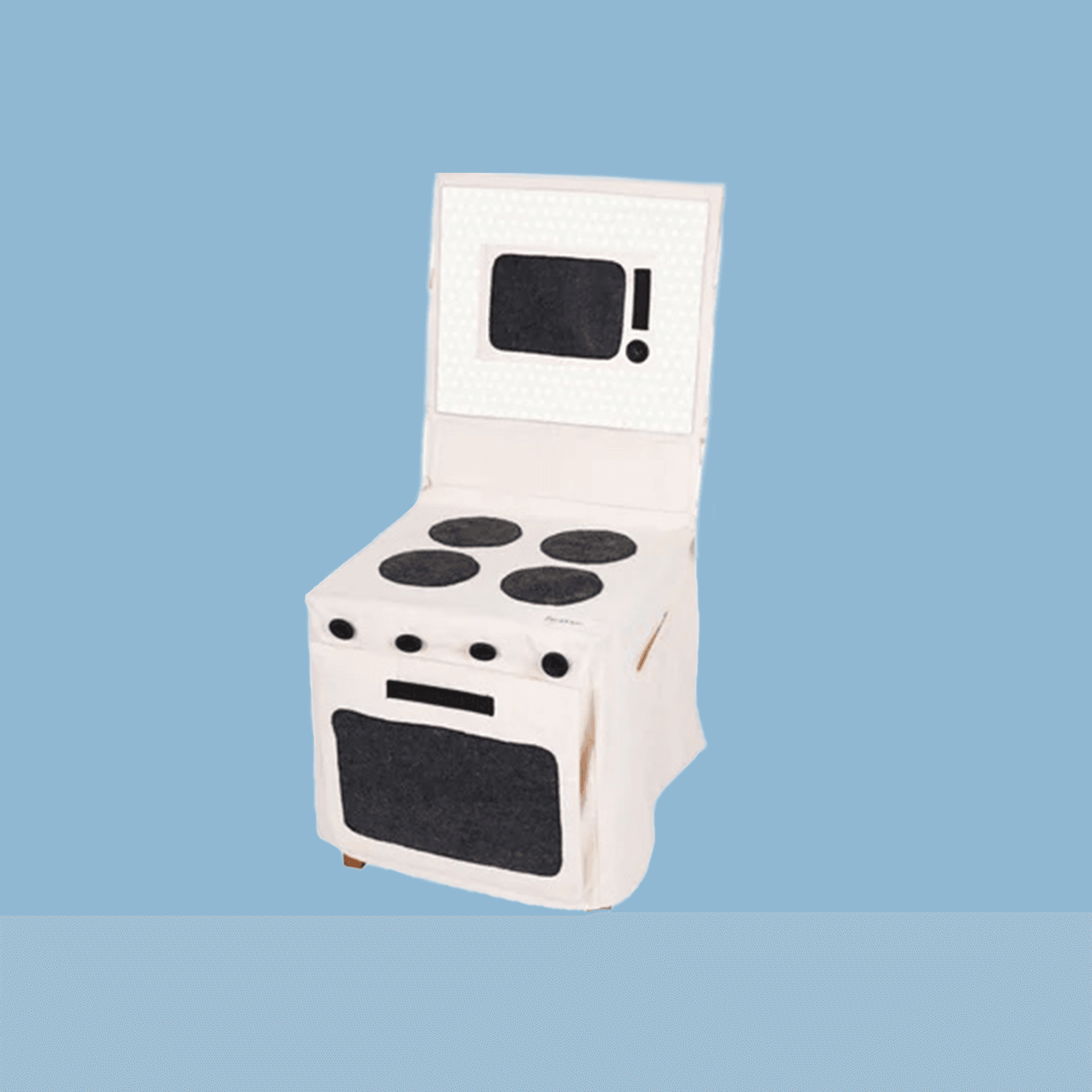 Tender Leaf Toys Kitchenette
Another play kitchen that saves on space, this kitchenette from Tender Leaf Toys is a wonderful option for families with limited space – or for minis who want to take their kitchens anywhere to be able to role play and cook family meals at any time. This kitchenette folds away and includes a sink, a hot plate, a clock, wooden utensils, a pot holder, and even a pan to flip pancakes. Don't forget the lemon slices, mint leaf and honey and chocolate pots for your little's imaginative concoctions.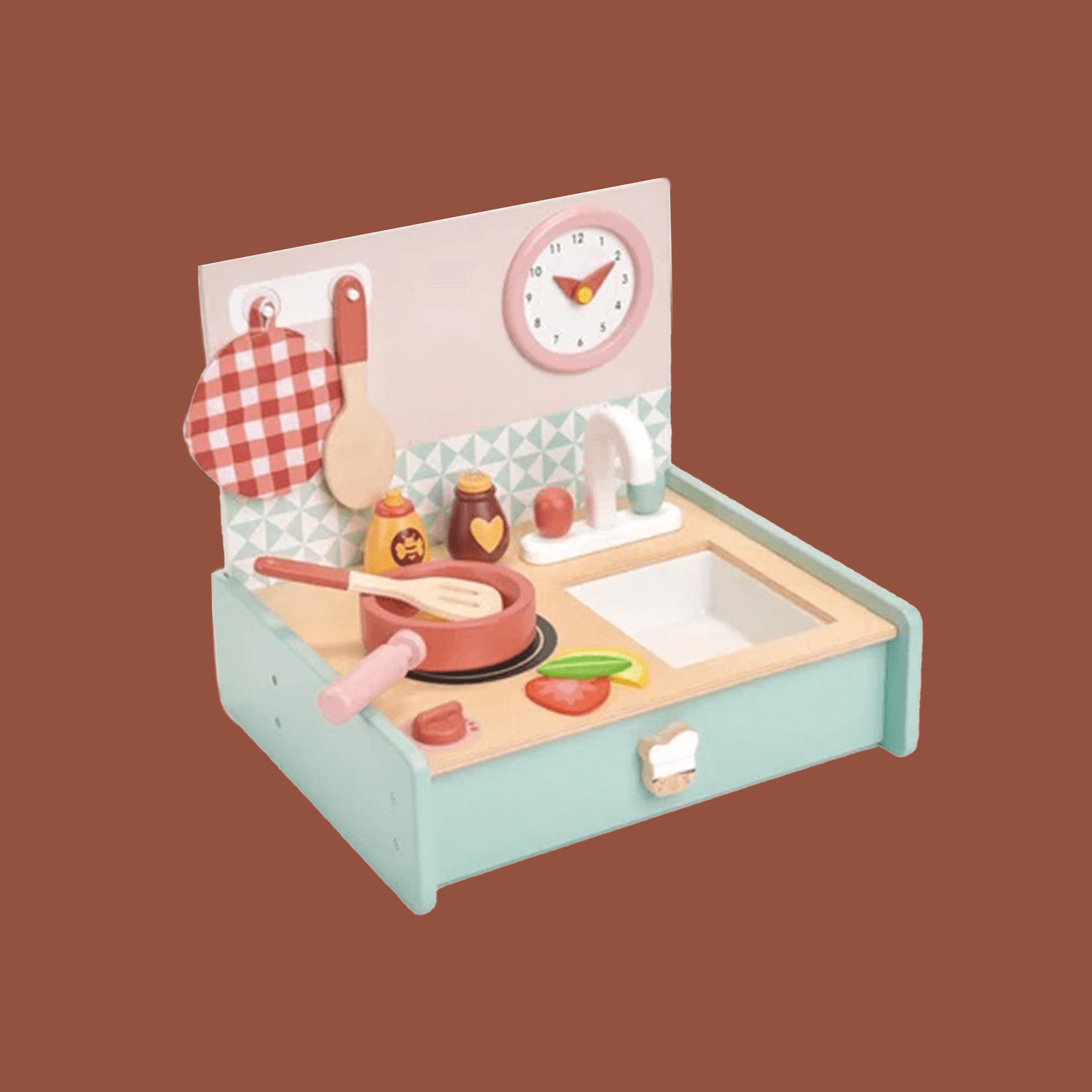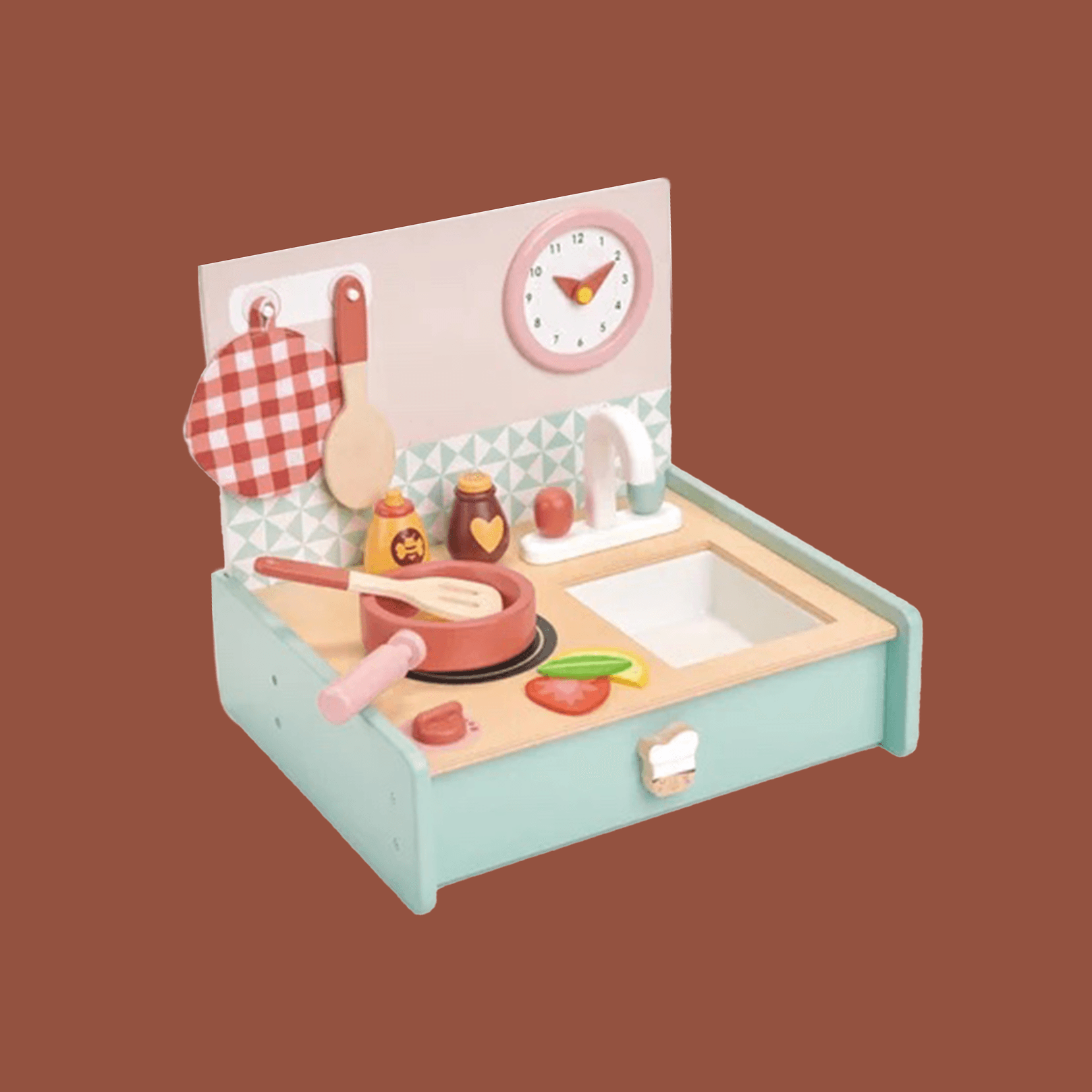 Teamson Kids Versailles Deluxe Play Kitchen
Does your mini need a luxurious kitchen that rivals your own home kitchen? Then this Versailles Deluxe Play Kitchen would be the perfect fit for your family. This kitchen features a highly sought-after farmhouse sink, real cabinet space, an analogue clock, stove with movable knobs and levers, an ice dispenser, and even gold hardware with marble details. It looks like The Property Brothers designed this kitchen just for your little.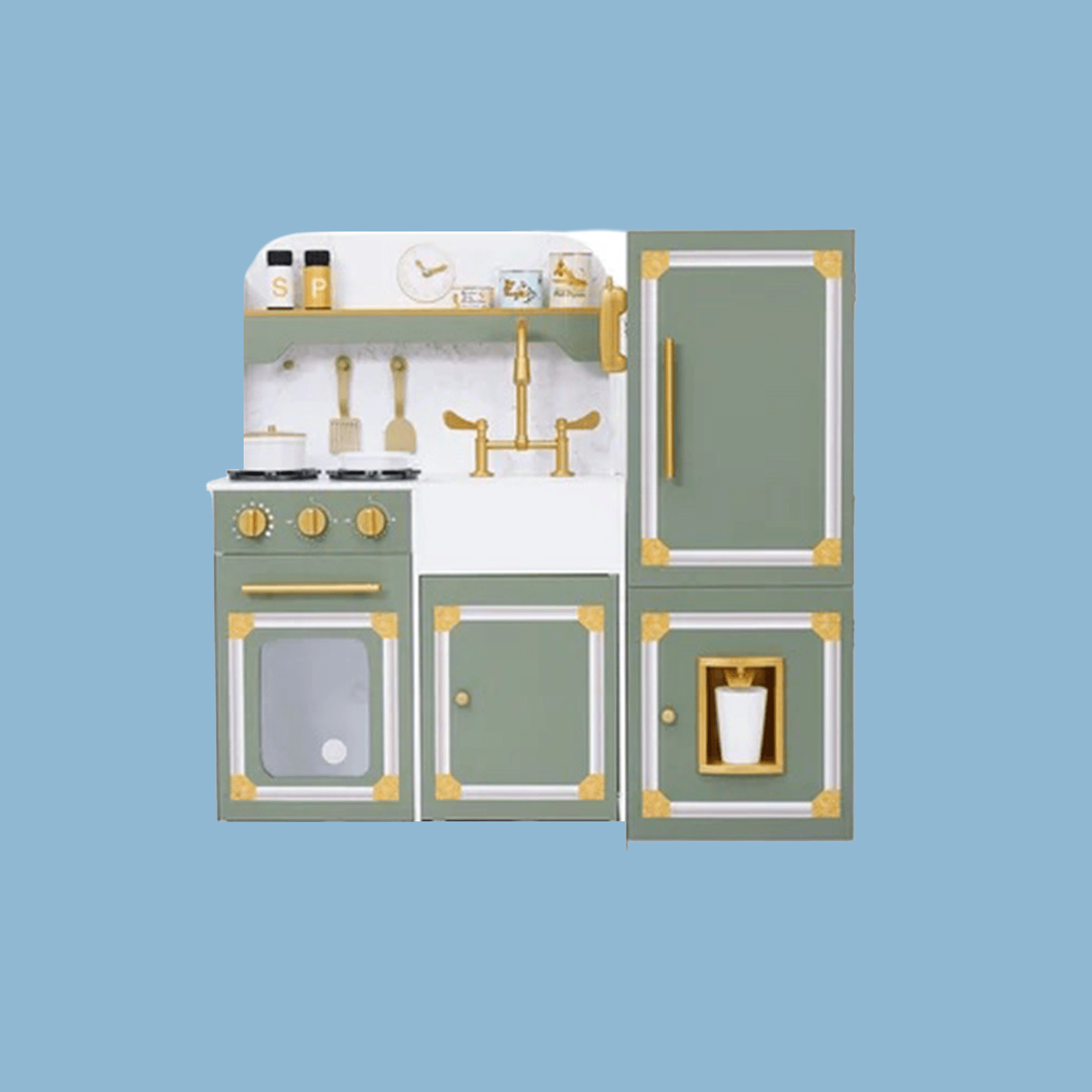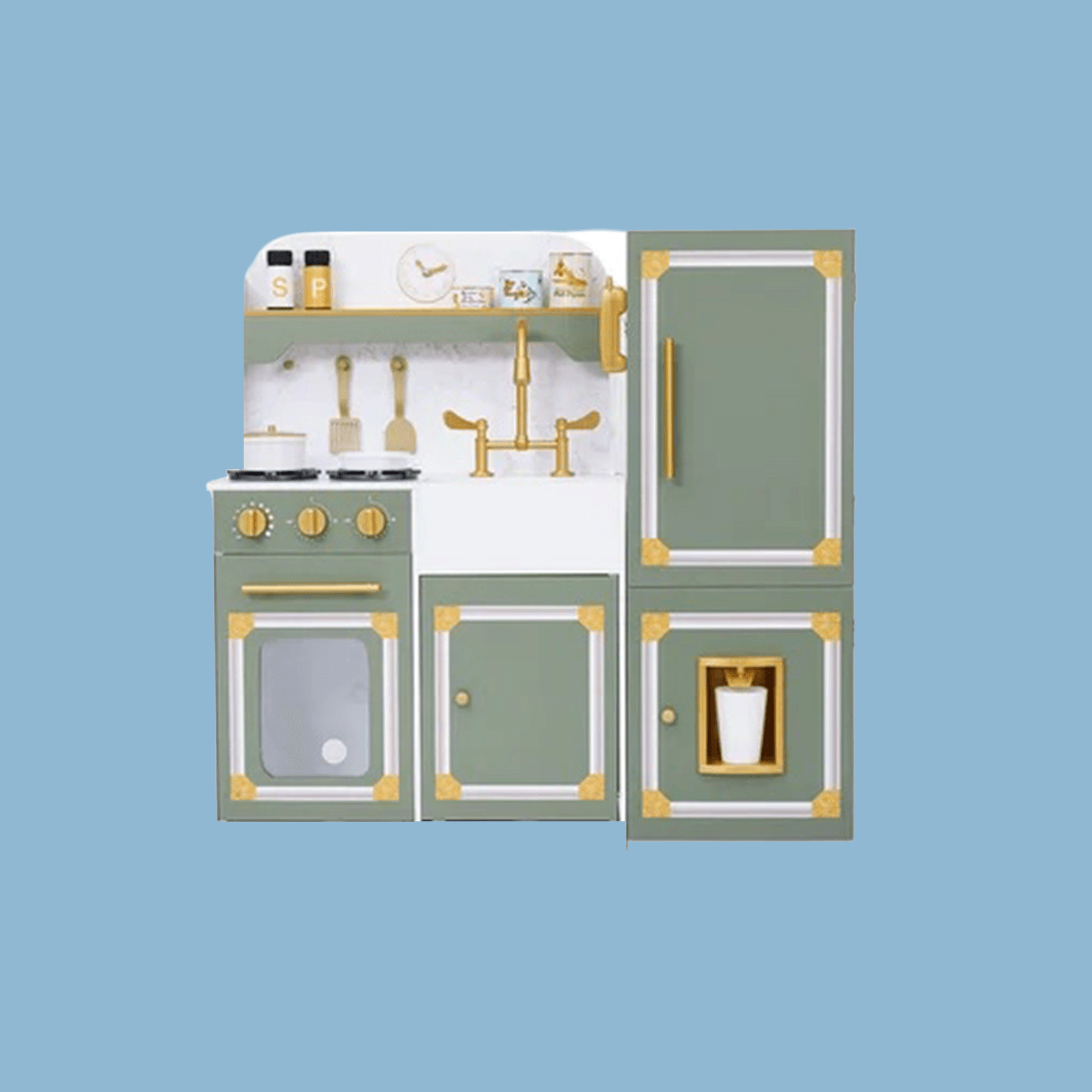 Don't Forget About the Accessorie
· Pots & Pans: This stainless steel cooking accessory set from Teamson Kids is so nice , you could probably even use them in your own kitchen. Your mini will feel just like a gourmet chef when using these durable pots and pans and accessories. This set includes everything they'll need to whip up a Gordon Ramsey-worthy meal: a pot, two frying pans, two lids, one spaghetti ladle, one slotted ladle, one strainer ladle, a pot holder, and more.
· Play Food: Not only does this Teamson Kids Little Chef Frankfurt look cute enough to eat, but your mini will have a blast practicing their fine motor skills trying to cut the produce into pieces during their imaginative play. The set comes with an environmentally friendly tote bag, an eggplant, corn, a chili pepper, carrots, a radish, a cucumber, a banana, a strawberry, kiwi, and a lemon.
· Apron: If you're going to pretend to be a famous chef in the kitchen you have to look the part, and this caramel is the perfect accessory to go along with your mini's play kitchen. The best part about this apron? They come in adult sizes as well, so your little can really role play and model their favorite people in the kitchen.
· Blender: Your mini can make their own make-believe green smoothie with this . Complete with a striped straw for the cup, your little will love blending strawberries, apples, bananas, and oranges into a delicious drink using this durable blender. This set even comes with ice cubes. A blender would look perfect sitting on top of one of the play kitchens above.
· Baking Set: Take your mini's play kitchen to the next level with their very own . They already have the oven in their play kitchen, but you just can't make a cake without a mixer, metal swivel whisk, wooden bowl, flour, butter, eggs, and food scale. The flour bag even includes 15 white felt discs, perfect for mixing.