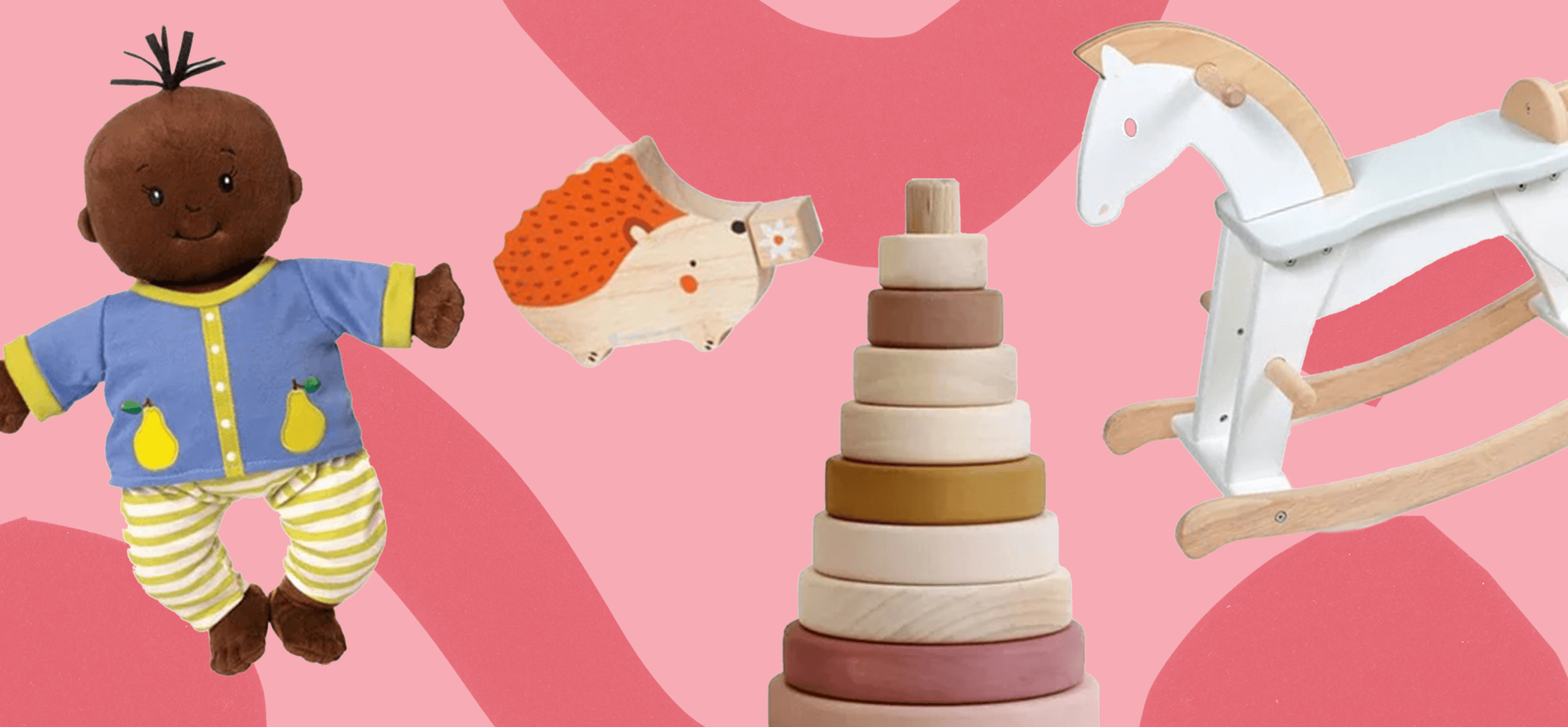 Gift Guides
The Best Toys for 1-Year-Olds
Here, the toys for one-year-olds that encourage every type of play, from sorting and stacking to snuggling, bath time, and beyond—courtesy of the mother of a one-year-old and some of her friends with similarly aged kids.
This is a moment where boundaries are starting to be tested—both spatially and interpersonally—and more and more personality (and knowledge) is apparent every day.
When it comes to milestone birthdays, the first one is definitely up there, particularly for parents. For children, it's a time of massive physical, emotional, and mental development and the entrée into toddlerhood. Many one-year-olds are in the beginning stages of walking and talking, while rapidly maturing in terms of motor skills and general awareness. This is a moment where boundaries are starting to be tested—both spatially and interpersonally—and more and more personality (and knowledge) is apparent every day.
One-year-olds' brains are developing by leaps and bounds. Toddlers are acquiring a number of new mental skills, including creating short-term memories and understanding cause and effect ("If I touch this, what will happen?") Constantly curious and exploring, children this age are rapidly refining their motor skills and storing up all the knowledge you share with them, even if it doesn't always seem that way. Though all toys at this age can be considered educational, these educational toys truly embrace t he one-year-old's approach to learning.
A Safari Zebra
This brightly-colored fosters motor skill development with ears that snap back and forth (my daughter's favorite feature), a built-in abacus, and enough dials and knobs to keep even a one-year-old still for a few minutes.
A Different Kind of Food Guide
As children's palates are developing, so is their ability to master new words. With we can help reinforce the names of different foods she's tried.
A Ball Tower
No playtime session is complete without the , which plays on the developing understanding of cause-and-effect. My daughter loves to watch (and hear) the light-up balls careen down the ramp.
A Toadstool Cottage
Though previously it was more exciting to take things out, our daughter is now just as fascinated with putting things back in. She loves holding and stuffing the little critters back into their home.
Per guidance from the American Academy of Pediatrics, children can start to sleep with stuffed animals once they turn one. Some kids begin to have strong attachments to plush toys around this time and as their sensory development increases, they're more aware of different fabrics and textures.
Baby Stella Doll
"The is the perfect size for a one-year-old and has a removable magnetic pacifier which is pretty fun to put in and out. It's soft and can go in the crib/basically anywhere with you."
—Nancy A.
A French Dachshund
Because we have a miniature dachshund, my daughter is naturally obsessed with her dachshund toys (her first word was his name, Strudel.) adorned with a jaunty beret, is the ideal size for her to tote around and snuggle and keeps her from constantly pestering her canine brother.
A Pull Apart Pup
Another in the pantheon of dachshund toys, features five individual pieces that attach—in any order— to form one very long dog. It's a perfect piece for travel, as the components stick together but also work as individual pieces.
The Winkel
Most one-year-olds are still furiously teething, so any toy that can function as a teether is supremely helpful. The must-have has stood the test of time—we keep it near the changing table for holding and biting (instead of squirming).
The Sensory Cube
We received when our daughter was born, and it has truly been with her at every developmental stage. Now, she loves to stare at herself in the mirror, opening and closing the flap, and gnawing on the yellow ring every so often.
Around one-year-old, many children are beginning to stack pieces on top of each other, thanks to a developing understanding of balance, and put together basic shape puzzles. Sorting and stacking toys are colorful ways to learn through play.
A Pyramid Stacker
Though it was previously simply a tower to knock over, has now become a fun piece to put together—whatever the order the pieces end up in. As she increases in dexterity, her grip of the pieces has become stronger and stronger.
Lights, Camera, Puzzle
Having toys that kids can grow with us is always a plus. We're strictly on the basic, early stage of this which is particularly enjoyable for our daughter thanks to the flashing lights. She is getting the hang of the different shapes, though, and starting to connect to the more complex ones.
Telephone Shape Sorter
The draw of isn't just the sorting aspect, but the telephone part, which we have a lot of fun with calling each other and the grandparents.
An Introductory Puzzle
We're still very much in the early phases of puzzles, but is a great place to begin and will continue to be in rotation for quite some time. The primary colors are helpful reinforcement for learning different color names.
An Dual-Function Avocado
Though my daughter isn't a big fan of eating avocados (unless in guacamole), she's very into , which relieves her teething-swollen gums and provides a chance to learn colors and stack pieces together. It's officially for 18 months+, but totally appropriate for a 12–month-old.
At one, kids are constantly on the move. From a ball pit to a climber, and a very aesthetically pleasing walker, these outdoor and playroom pieces encourage the unbridled energy that's developing at this age.
A Ball Pit
" is a fixture in our living room. Our very active one-year-old flips head-first into the ball pit and loves throwing every single ball out (and putting them back in)."
—Jennifer N
A Chic Walker
Children begin to walk at all ages, but most around one. Our kid is taking up to 10 steps at a time, but can go even farther with , which works for sit-down play, too.
A Classic Rocking Horse
I like the old-school vibe of and she's beginning to steady herself on it and enjoy the back-and-forth repetitive movement.
A Stowable Climber
Our kid has started to become obsessed with climbing *everything* and is an actually safe way to embrace that. I love that it folds up and can be easily stowed in our NYC home.
Musical toys
Our one-year-old is obsessed with music—playing it calms her on car rides and spices up mealtimes. These musical baby toys are a joy for kids (slightly less for parents, who will unknowingly memorize each song and tune).
A Phone of Her Own
When she repeatedly grabs for my phone, I like to introduce which is (seemingly) much more fun! She likes to press the buttons over and over and pick up the handle while we practice numbers and animal names.
An Animal Choo Choo Train
As she scoots and semi-walks around our living room, our daughter is often rolling with her, which barks, quacks, moos, and chirps to her delight.
A New Famous Trio
For when the electronic music gets too much, s perfect for her to make her own tunes. She particularly likes the hedgehog with the mallet.
Bathtime is an important part of many toddlers' nightly routines. And now that they're far more aware of their surroundings than ever before, it's also essential to level up the experience with plenty of interactive baby bath toys.
A Teething Bath Toy
My one-year-old is looking for a place to teethe in pretty much every situation, bath time included. I like because they're actually meant for chewing on.
An Easy-to-Clean Option
Bath toys can be a breeding ground for bacteria, as they are sometimes left behind in water and often not fully dried. is dishwasher-safe and each piece opens fully for optimal cleaning.
Stick-On Starfish
Any bath toy that can be stuck to the tub is truly a godsend, as we are constantly picking up toys that get hurled over the side of the tub. are a fun way to learn about sea creatures and won't budge when stretched and pulled on.
Stacking Boats and Buoys
This makes , as it incorporates a simple stacking game in and out of the bath. We like how many components there are, so she can stack, capsize, and drain—all in one.
Leah Bhabha
Leah is a Brooklyn-based writer, editor, and copywriter. She focuses on a number of topics including food, travel, style, and motherhood and writes for publications like Vogue, New York Magazine, and HTSI. She has a one-year-old daughter, Matilda, and a miniature dachshund, Strudel, both of whom are as food obsessed as their mother. Read more of her work here.