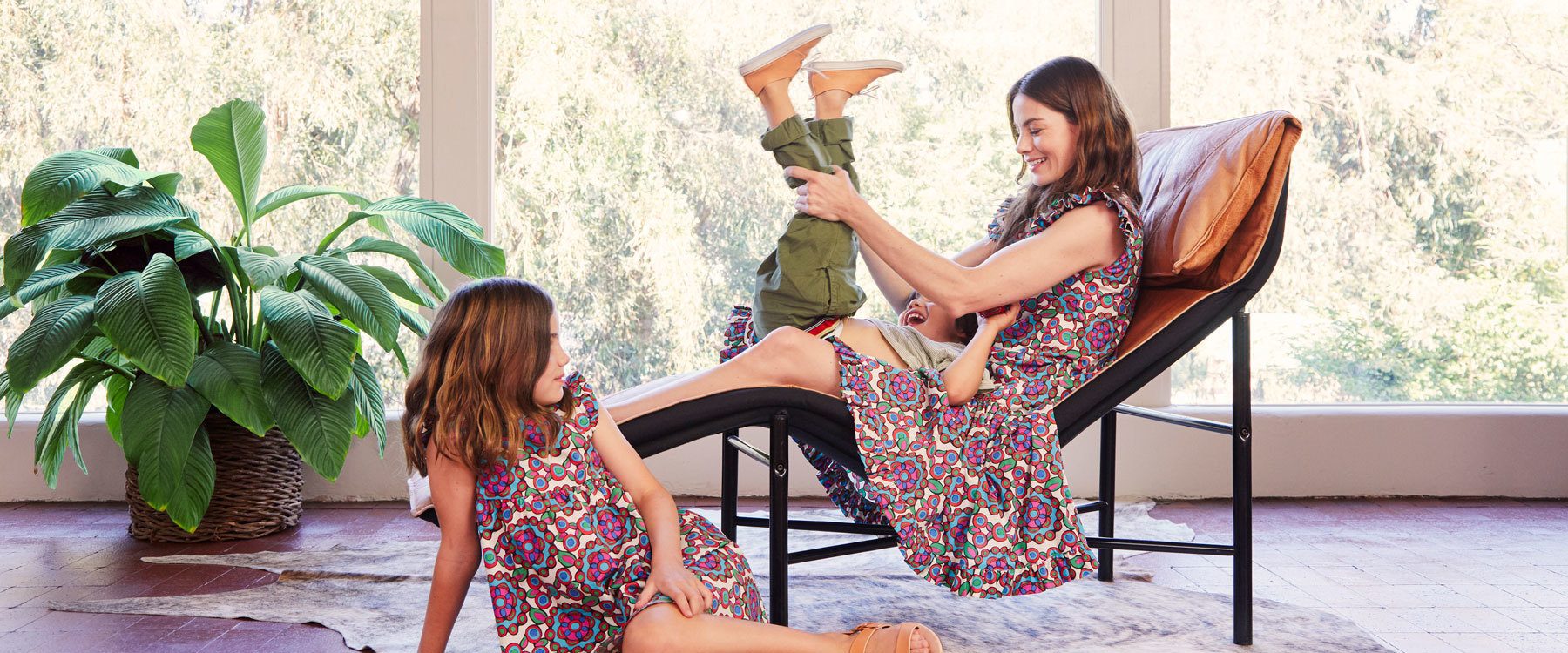 Maisonette Muse: Michelle Monaghan
Actress Michelle Monaghan is our Mother's Day Muse; this natural beauty radiates laid-back LA style, and her approach to parenting, much like her approach to life, is to take everything with a grain of salt. We sat down with Michelle to hear about how growing up in a house full of children gave her a sense of gratitude, the parenting advice she received from fellow actor Kevin Bacon, and why a sense of humor is the key to everything.
You grew up in a house full of day care and foster children – do you think that had an impact on how you define family?

Growing up in a house full of children impacted my life greatly. I don't think I realized what a gift that was until I got older. My mom ran a day care out of our home for 40 years, so there were always children there, and my foster brothers and sisters were like any one of us, of course with the exception that they had suffered things we never had to. And that certainly gave me an amazing sense of gratitude. One of the things that my mom always reminded us - and I still think about today - is how fortunate we were to be born into our family, in this country, in this particular time of our lives. It really rings more true than ever, and it's something I always take with me. I also learned from a very young age to have a sense of compassion. And to appreciate that there are people less fortunate than us out there, but that doesn't make them any less valuable or any less special. It compelled me to have a greater understanding and love for people, especially children.

Your mother seems formidable; is there a particular lesson you learned from her that you hope to instill in your own children?

My mother is the ultimate person to me. She is the most nurturing person. I am astounded by how big her heart is. By how much patience she has. She really believes in children. I always call her the baby whisperer. We were raised quite simply, by the golden rule: 'Do unto others as you would have them do unto you.' That is something I hope I'm instilling in my children, and it is also a daily reminder to me as an adult. It's something that we can all use as we go through life.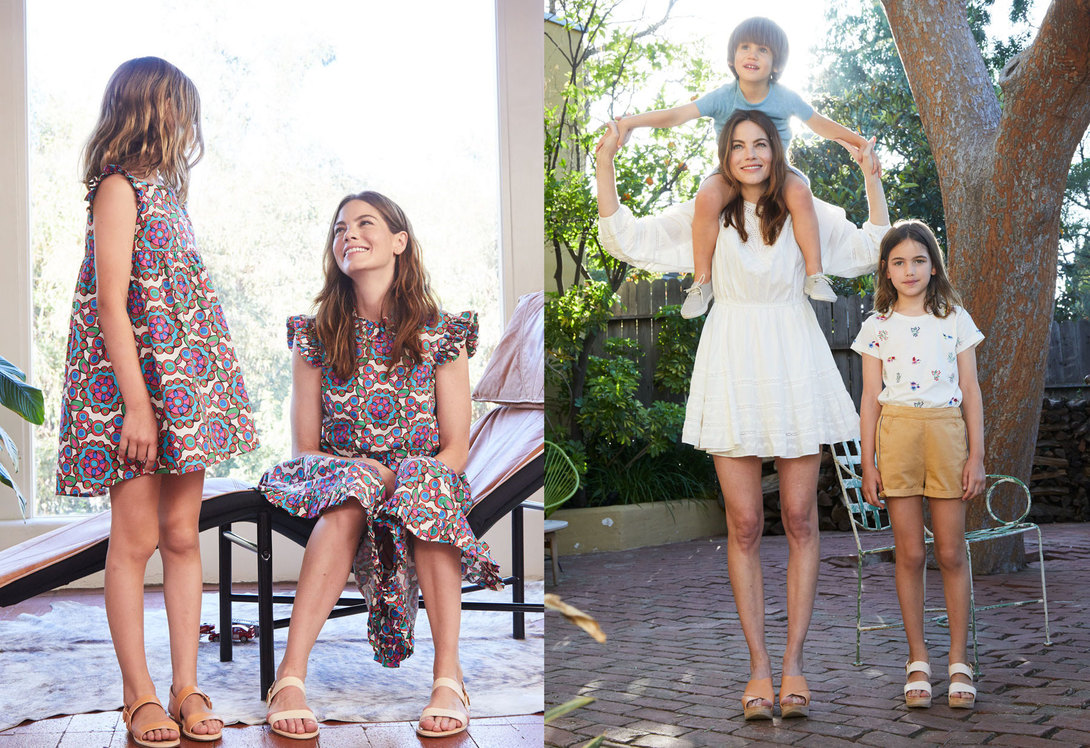 What has been your proudest moment as a mother?

Just having children, honestly, just going through labor! I think every mom will admit that there is such a fear the first time, like 'how am I going to get this thing out of my body?' And you live with that for 9 months and then you experience the miracle of giving birth, and that you did it! And you think 'I made a baby and then gave birth to it!'

I'm also very proud as I watch my children develop a sense of humor – and one that's similar to mine or my husband's sense of humor. I really take pride in that because I sort of see the imprint that we have on them as parents – that one is positive, but that's not to say we don't have some negative imprints on them as well! But that one really warms my heart.

And then it's little things, like when my daughter gets up in her classroom and presents something to the whole group. I am an adult – and an actress! - and that kind of thing still gives me anxiety. So just to see that confidence begin to flourish, I look at her with such pride and I just want to encourage her.

Do you have a favorite mother/daughter tradition?

We have a few – and they all involve food! We have this favorite ice cream shop that we go to, it's sort of our own little secret, and we get vanilla ice cream with dulce de leche. And we also really love linguine with clams. Nobody else in the family eats it, so it's our own thing, and I always crack up when I watch her eating it. We also bake together – Willow is a great little helper in the kitchen.

Do you ever dress alike?

We have a pair of matching red flats that we wear. If we are holding hands and walking somewhere and I look down and see that we're walking in the same shoes, it makes me smile. But actually, Willow wears a lot of my old clothes, and even my mom's and grandma's old clothes – they kept everything. She loves the old bubble dress my mom made me in the 80s, and my grandma's long pleated skirts. So Willow and I actually have photos of ourselves in matching outfits throughout the ages, which is so awesome.

What is the best parenting advice you ever received?

I got some great parenting advice from Kevin Bacon. I co-hosted an event with him about 6 weeks after I had Willow. We were getting to know each other and I told him my husband and I were really in the thick of it, sleepless nights, exhaustion, the whole thing. And he said to me: "This too shall pass." And it did. But what he also meant was to treasure every moment. Not to worry about when they'd be potty-trained, but to focus on every step along the way. I always wanted to tell Kevin how impactful that advice was. And I finally got the chance – we recently did a film together. When I finally saw him, he had actually just written a song to his daughter who was going off to college. And of course he called it "This Too Shall Pass."

Any wisdom for first time parents?

You know, we all have so many responsibilities outside of our family lives, and it is so difficult to manage that balance at times. I know how difficult it can be! I am not gonna lie, I put my tail between my legs a lot! This morning I was working on a new script when I heard my husband tell my son I would play catch with him. And my son said: "Mommy can't. She's busy." He could tell how focused I was on my work. And that broke my heart. I closed the script and we started to play. I try to remind myself to be in the present as much a possible.

Rules to live by?

I would say to always have a sense of humor. Truly. It is such a nice quality both in children and adults. It can also diffuse any situation. If the house is trashed and I can't deal, I will say ok, let's make Sunday "The Great Pajama Day." And that means I'm not worried about picking anything up. We just roll with it. When things get stressful and you feel overwhelmed, it is important to be able to laugh about it, and most importantly to be able to laugh at yourself.


TO TOP