Maisonette Muse
Lawren Howell
We caught up with the Ojai-based stylist about giving up her city wardrobe, community involvement and her newfound passion for woodworking.
Photography
Marko MacPherson
Interview By
Isabel Ashton
Until a few years ago, stylist Lawren Howell had lived in big cities her whole life. Raised in San Francisco, her fashion career began at Kate Spade in New York City, before she rose up the ranks at Vogue magazine. On returning to the West Coast as a fashion editor, the style maven – as talented with interior spaces as she is with clothes – went freelance in 2010. Howell and her family lived in Venice Beach, LA, until a camping trip inspired her and her husband to relocate to the idyllic valley of Ojai, where they recently welcomed their third child.

Your have a 10-month-old baby in the house again. Is there anything new you've learned as a third-time mother?

It's very different the third time around. The baby fits more into family life than the other way around. The first time you have a kid your whole world permanently changes, so with each kid after that it feels like less of an adjustment. I also think I'm a little bit more in tune with my third child. I feel much more engaged emotionally and empathetically with her. But she was born at a really challenging time. The Thomas Fire [one of the largest fires in California's history] broke out right after she was born [in November 2017], and we were displaced for five weeks. There was one night where we were sure that our house was going to burn down. The fire surrounded the town, but our home was luckily spared. All of Ojai came really close.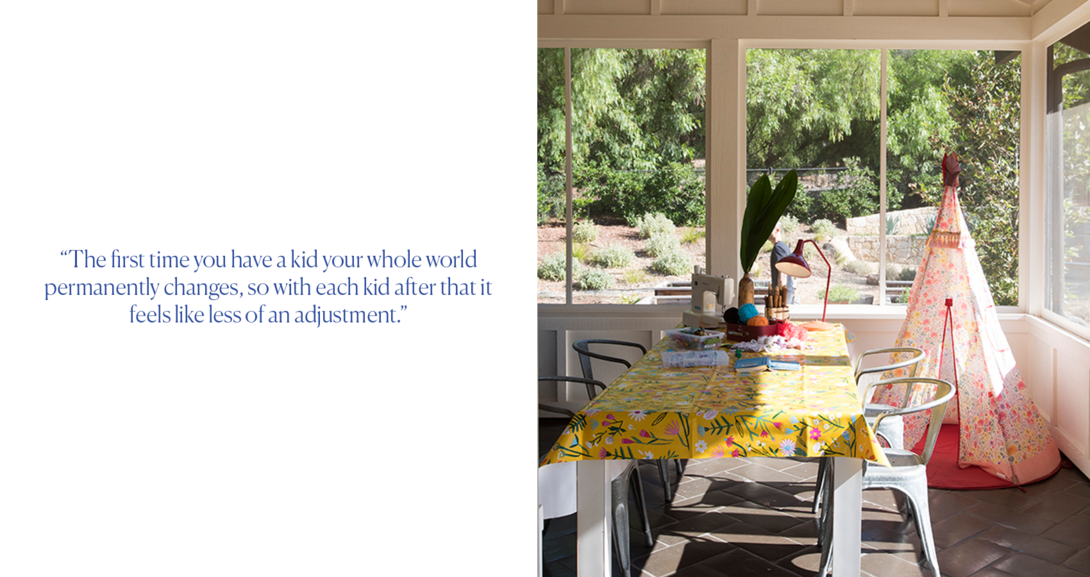 You moved to Ojai from LA three years ago. Tell me about that decision and how it affected your family life?

It was definitely not something that we had always envisioned for our family. My husband and I have always loved Ojai, and we did a camping trip nearby on the beach. We saw the house, and you know when you envision yourself somewhere? We were like, "OK, let's make this happen. Let's just do it." Living here has been a great thing for our family. You're a part of the community, and small-town living is really sweet with young kids. There's this sense of neighborhood that's lovely, and a great, almost grassroots feeling. I feel like I have more of a voice in a small community. In a town like this, if you believe in something, it's easy to gather people together and make change happen.

Do you have any tips for keeping a beautiful-looking home with young kids?

Choose fabrics that are durable. Everything's washable – literally, all the things I have. I had this sofa made, and I made sure you can unzip and wash all the pillows. So when my kids threw up on them recently when they all had the stomach flu, I could wash them. Having places to put things is really important because there's so much junk. If you go to a birthday party and there's a piñata, I'm like, "What do I do with this stuff?" So from a practical standpoint, having enough cabinets and drawers gives you sanity in making your house feel organized. I want to have things that don't feel too precious. I still have nice things, but I want people with kids and families to feel really comfortable when they come to our house.

How has your career evolved since moving to Ojai?

I've shifted towards doing lifestyle shots where I style people and also places. And my husband and I are launching a woodshop and line of wooden furniture pieces called Ojai Workshop. We're harvesting the fallen trees and trees that need to get cut down here, and we're partnering with someone who is making the wood into these very refined, beautiful coffee and dining tables. We've had heavy rains and fire here, and these extreme weather conditions have created problems for the trees in the valley, so we're educating ourselves about them and learning what it takes to preserve this wood. The whole process from the cutting down of the tree to the finished product is all done by us. It's very sustainable, and what's cool is making it about this town. We know the story of every tree and every piece and, especially if someone buys it in the area, it's never left the valley.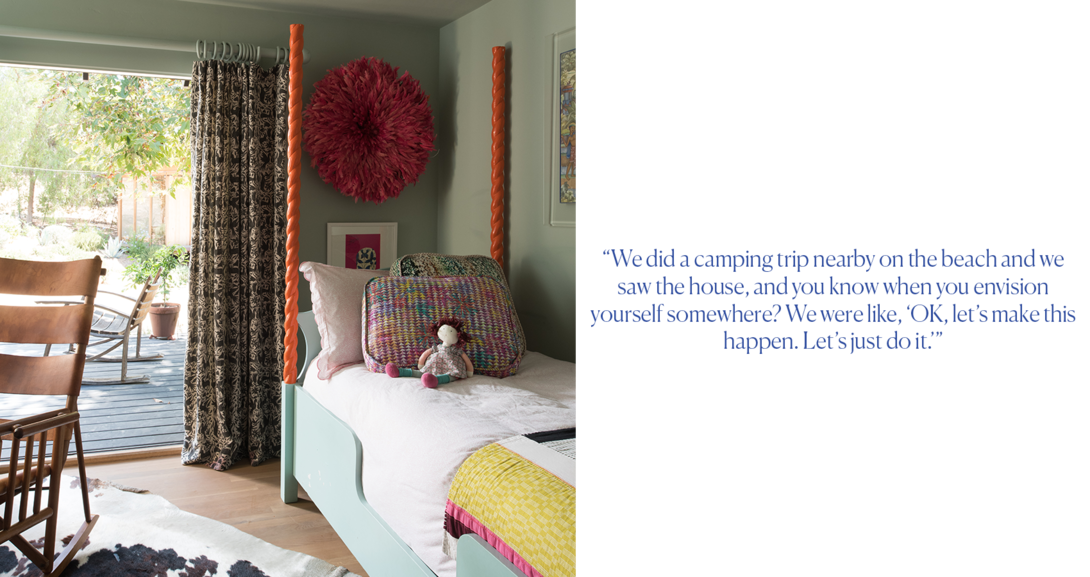 How has becoming a mom informed your personal style over the years?

I used to love to wear all white. White-on-white was a thing I used to do all the time, and I don't do that anymore. I have all these clothes from my former life living in LA and New York, like silks and nice leather shoes. I don't wear heels at all now, and I used to wear heels every day. Everything's dusty here; you come home from doing errands and everything has a layer of dust on it. To quote a friend, "To look good in Ojai, you need to think about chic camping." If you were to style a camping photo shoot, that's what you need to wear in Ojai.


Lawren Howell is a freelance fashion and interior stylist, and a contributing editor at Vogue and Architectural Digest. She is also the co-founder of Ojai Workshop.