Five Questions For ...
Jessica de Ruiter
We sat down with the LA-based stylist and Vogue veteran to talk about her career, dressing her daughter and creating interiors that are both kid-friendly and chic.
Photography
Nicki Sebastian
Interview By
Phoebe de Croisset
Jessica de Ruiter is known for her less-is-more approach to fashion: nothing in excess and quality over quantity. When pressed about how she developed this timeless, understated style, she says it's something that's always been innate. But much like being good at tennis or having a love of cooking, de Ruiter proves that impeccable style can truly be something with which one is born.

When did you decide to become a stylist?

I always wanted to be a stylist, even before it was a widely recognized career choice. I grew up in the 80s and 90s in Toronto, so my knowledge of style and fashion was informed by what I saw in the pages of the fashion magazines I devoured and on "Fashion Television" every Sunday night. The creativity and the energy of the industry at that time were so inspiring and enthralling to me. I had to be a part of it. The idea of a stylist has changed so much since then. Things were so much simpler and the historical hierarchy of the fashion world was very much in place.

So how did you turn your passion into a career?

I followed my boyfriend to LA, where I landed an internship at W Magazine. That led to a dream job in Vogue's West Coast office, where I spent a couple of years. From there, I moved to New York to take an editor's position at the newly launched Teen Vogue in NYC. I soon realized I missed LA, I moved back to focus on styling here on the West Coast.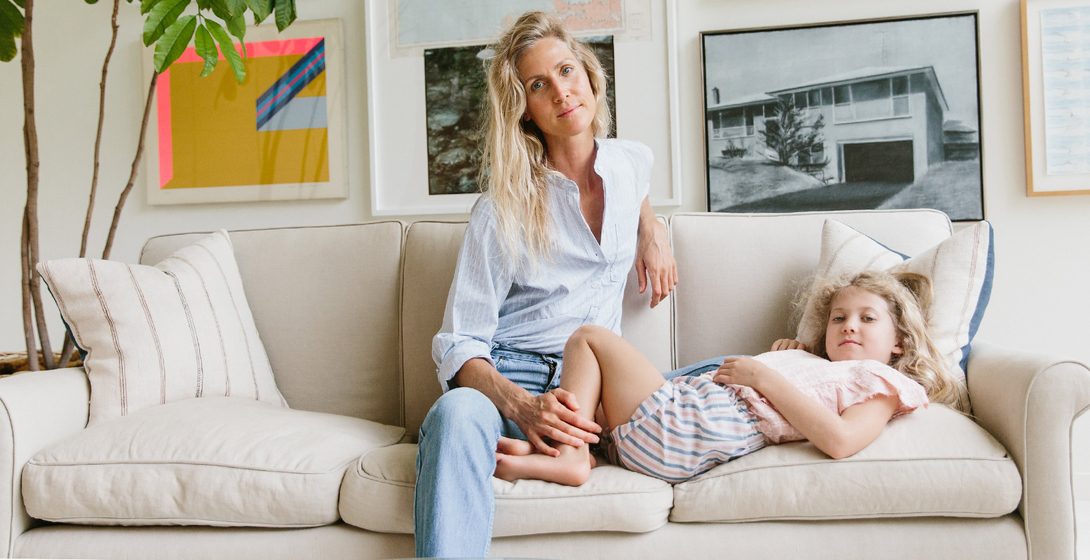 Your daughter James is 7 years old. How do you talk to her about fashion and beauty?

I don't talk about it that much to be honest. Recently she has been more interested in my work and has been asking questions. She now likes to be "my assistant" whenever the opportunity presents itself. I am cautious however not to place too much value on pure aesthetics. Both her father and I are very visual, creative people (he has his own interior design firm, Jed Lind Interiors) and make our livelihoods from creating beauty. However, we both feel it's important to also instill an appreciation of all the many other important things that add value to our lives on a daily basis. It's about striking a balance and modeling that for James..

Does James have strong opinions about what she wears?

Yes, definitely. She came home the other day and informed me that one of her friends from school had asked why she doesn't ever wear anything "fun." I had to laugh— kids are often decked out in kitty cat leggings, t-shirts with emoji prints and sequin flip backpacks. Of course that is totally fine by me, but comparatively I suppose her wardrobe is slightly more in line with my "classic, clean" aesthetic. I do, however, believe it's important to let her have a choice in what she wears and be creative herself, so my approach has been to only put things that I like in her closet and let her mix and match from there. She often puts together incredible looks that I would have never thought of. It's super fun to see her creations.

James' room is such a good mix of kid-friendly and chic. Can you share three tips for those hoping to achieve the same feel?

Be consistent with your tones and textures. There's no reason that the aesthetic of one's entire home can't be carried into a children's room.

Built-ins with storage are a good solve for hiding clutter and toys that you don't want to look at. Whatever is less attractive — those Legos and Barbies — just throw into one of the drawers!

Don't make it too precious. That's no fun for your kids.