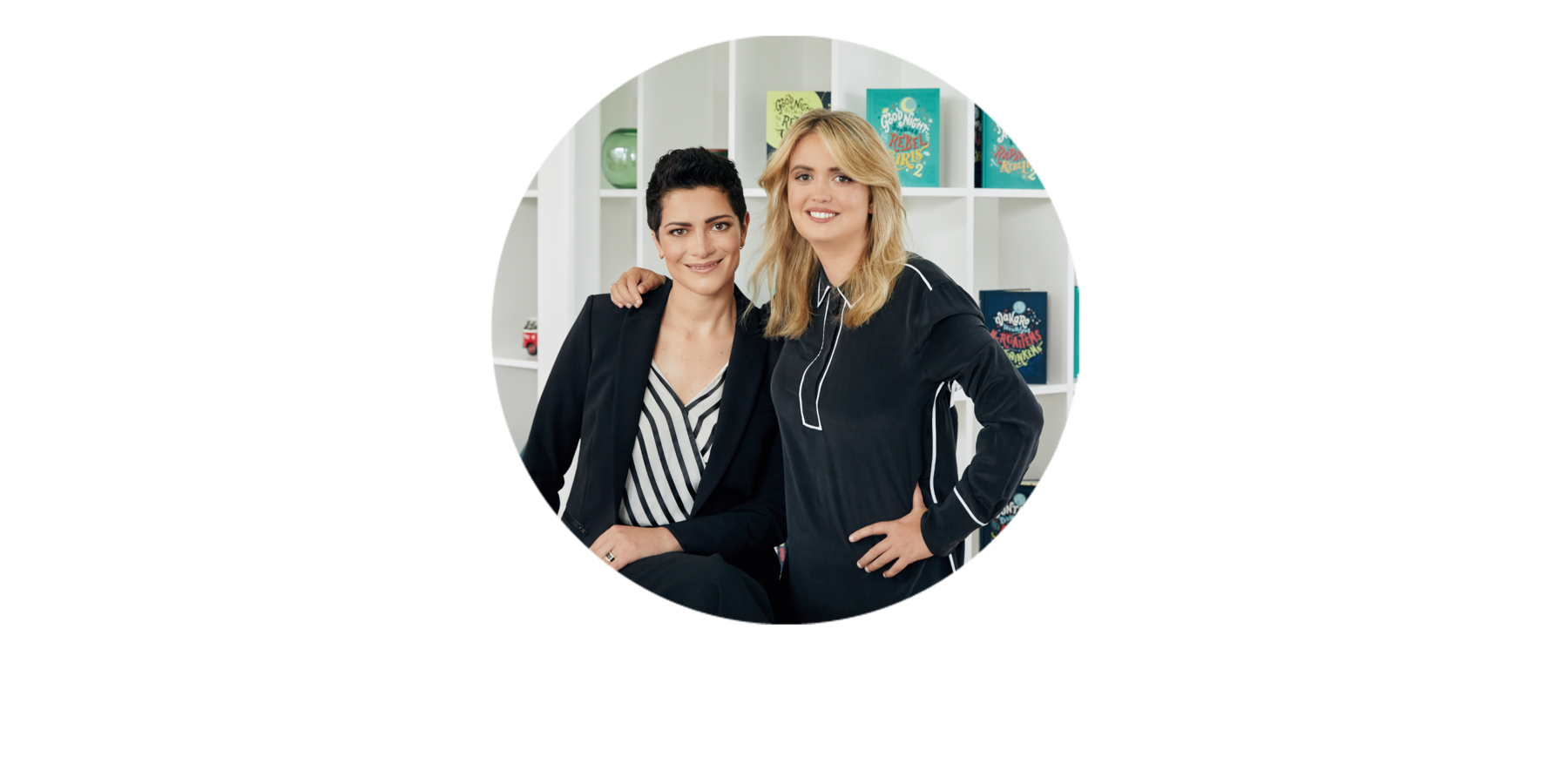 5 Questions For ...
Francesca Cavallo and Elena Favilli
The duo behind the female empowerment manifesto for today's youngest readers have some tips for raising confident girls.
Illustration
Helena Morais Soares
Do parents unwittingly act more protective of their daughters than their sons when it comes to riding a skateboard or climbing a tree? And does this dampen their daughters' appetites for risk, and instead instill reticence? These are the type of questions that the Rebel Girls (aka Francesca Cavallo and Elena Favilli) are wrestling with after having started a female-empowerment movement with their two international mega-sellers: "Good Night Stories for Rebel Girls" Volumes 1 and 2.

Each book consists of 100 different profiles of game-changing women ranging from Queen Elizabeth I to Yusra Mardini, the Syrian refugee who competed in the 2016 Summer Olympics. In between, you'll meet spies, engineers, activists, artists and authors who kicked butt. The one-page biographies – accompanied by artwork by female illustrators – are turned into feminist fairy tales that young girls will eagerly listen to and want to emulate. (Recently, my 9-year-old went climbing for the first time. When she reached the top of a 60-foot rock face, I asked her how she did it. "I wanted to be a Rebel Girl" was her response. Grrrr!)

The books are merely one cog in a publishing company called Timbuktu, which was co-founded by the authors. Prior to emigrating from Italy to California, they collaborated on the first iPad magazine for children, Timbuktu Magazine. Since then Timbuktu has created multiple educational apps, published books in English, French and Italian, and built a toolkit that allows underserved communities to design and build playable spaces in collaboration with the NFL, Kaboom, Zynga and the YMCA.

The idea for the Rebel Girls books grew out their entrepreneurial journey and the realization that "that 95 percent of the books and TV shows we grew up with lacked girls in prominent positions." The Rebel Girls books were financed with money raised on the crowd-funding website Kickstarter, and Timbuktu has just embarked on a campaign for a third book, this time with a self-help twist: "I Am a Rebel Girl: A Journal to Start Revolutions." In the run-up to International Day of the Girl, Le Scoop was thrilled (obvi) to chat with Elena and Francesca about girlhood today.

1. After having profiled two books worth of Rebel Girls, have you noticed any common traits shared by many of your role models?

We did find a common trait that is shared across women as diverse as Elizabeth 1 and [the Nigerian novelist] Chimamanda Ngozi Adichie: perseverance. None of them had it easy. They all had to overcome multiple obstacles and try multiple times before being able to do what they wanted to do. These women are as multidimensional as you could imagine. ​They are from every corner of the world; they are of different ages; they are past and present heroes; their achievements are varied. This diversity allows girls to see themselves reflected in the series. One of the reasons our series has been so successful is that it doesn't attempt to apply one label to the women we wrote about, but instead it allows them to be heroes in whatever way that may be, whether it's in the classroom with Malala Yousafzai or in a little blue house with Frida Kahlo. And the common characteristic that unites all 200 women is that they were determined to persevere against all odds.


"We want girls to love their bodies, which is why the journal will ask them to write love notes to their favorite body parts. We want them to know that they are capable of great and daring feats, which is why the journal will ask them to draw themselves climbing mountains."
2. As you have profiled 200 plus women, are there any curious connections that you've noticed? Are there similar traits that connect Queen Elizabeth I and Beyoncé, or the pirate Jacquotte Delahaye and mathematician Ada Lovelace? What are some of your favorite connections?

We didn't find any curious connections, but we did look for an element of surprise in each of these stories in order to engage readers. For example, it was surprising to find out how Yusra Mardini put her swimming skills to use to help fellow Syrian refugees arrive to Germany safely. It was also surprising to discover the pride of the Mexican activist Eufrosina Cruz, as well as the strategies that Ashley Fiolek – a motocross rider who is deaf – adopted to become a champion. ​The series is full of surprises!

3. When it came to selecting activities for your upcoming activity book ​"I Am a Rebel Girl​," what were the most important topics and tools that you wanted to give your readers? How, for example, are you helping young girls build up their immunity to body-shaming or teaching them to become activists?

"I Am a Rebel Girl" will help them train their own rebel spirit, embrace their own potential with joy and determination and become agents of change. We want them to love their bodies, which is why the journal will ask them to write love notes to their favorite body parts. We want them to know that they are capable of great and daring feats, which is why the journal will ask them to draw themselves climbing mountains. We want them to understand their rights, which is why the journal will ask them to write a letter to their elected representatives.​ ​We wanted to create a tool that would allow girls to find in themselves the traits that they'd come to admire in the women featured in the books.

4. What can parents do to help their children grow up to be Rebel Girls? Are there any commonalities in the ways the parents of the Rebel Girls profiled in Volumes 1 and 2 raised their daughters that today's parents can try?

There are many things parents can do, and the most important one is to be a role model for their kids. Equally distributing chores between father and mother is important; making sure that there are no chores for girls or chores for boys sends a very important message. We wrote a small e-book titled "How to Raise Confident Girls" and you can download it here.

5. If you each had to pick one or two favorite Rebel Girls from your books, whom would you pick and why?

Being Italians, we particularly love the stories of the Formula One driver Lella Lombardi, who is the only woman in history who has scored points in a Formula One race – she learned how to drive delivering steaks and salami with her dad's truck in the hills of Piedmont, Italy – and the cyclist Alfonsina Strada, who fought for her right to race in the Giro d'Italia, one of the toughest cycling competitions in the world.

6. And one bonus question: Have you met any of the living Rebel Girls who are profiled in the books? If so, what were those experiences like?

We've been fortunate enough to interact with many living rebels. One of our favorite interactions occurred after the 2016 election. ​We wrote a letter to Hillary Clinton to thank her because her campaign gave us the inspiration and strength to create "Good Night Stories for Rebel Girls," and we told her that we would keep fighting. She replied with a long letter that made us cry and gave us even more determination to promote girl-powered change all over the world.


Francesca Cavallo and Elena Favilli are the New York Times best-selling authors and founders of the Rebel Girls movement. In 2016 and 2017, they broke records creating the most crowdfunded publishing campaigns in history to launch their global bestselling series "Good Night Stories for Rebel Girls", now translated into 46 languages. In 2018, they produced a podcast based on the book series. They live in Venice, California.