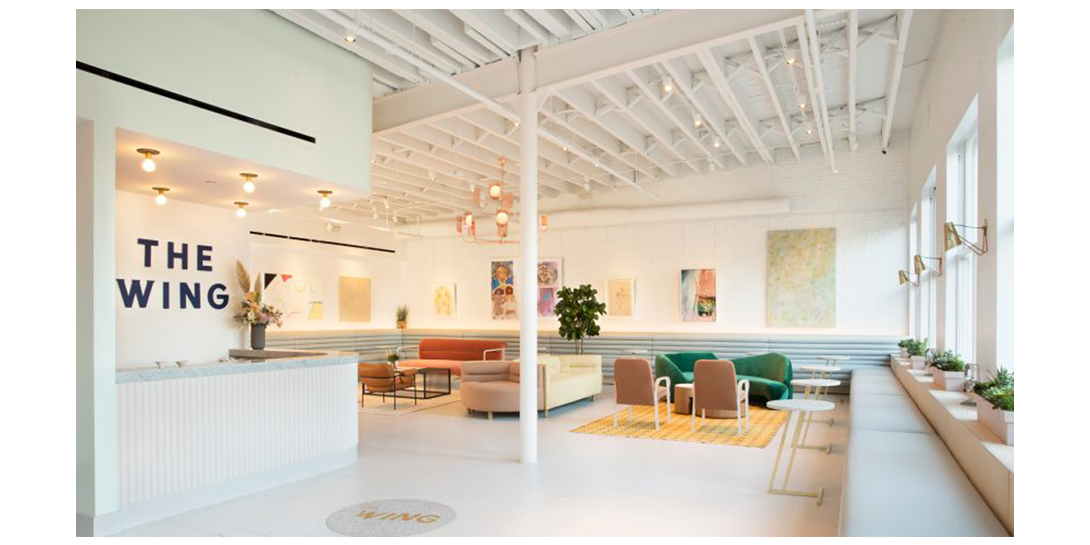 5 Questions For ...
Lauren Kassan
The co-founder of the buzzy co-working space for women shares her tips on balancing the demands of a start-up and a new baby.
Photography
Homepage portrait by Taylor Jewell; above courtesy of The Wing
Interview By
Phoebe de Croisset
What started out as an idea for a quiet haven where women could take a respite from their hectic work schedules has morphed, just over two years later, into The Wing, a social club and co-working space (think Soho House meets WeWork). Founded by 31-year-olds Lauren Kassan and Audrey Gelman, The Wing has raised $42 million in funding, boasts 5,000 members and will soon open in six new locations.

Club activities are a hybrid of the founders' previous lives: Kassan worked in the fitness industry – most notably as the first employee of Soul Cycle – while Gelman came out of politics. Activities include panel discussions, a book club, lectures, evenings with politicians such as Hillary Clinton, Kirsten Gillibrand and Alexandria Ocasio-Cortez, a field trip to The Women's March and most recently, Camp No Man's Land, a weekend getaway for members. The spaces include blow-out bars, showers, changing rooms with Glossier and Byredo products and cafes serving grain bowls and healthy snacks.

The Wing – which takes its name from the Latin phrase alis grave nil, meaning "nothing is heavy to those who have wings" – is proving that girl power is stronger than ever. When we heard that Kassan recently welcomed a son, we couldn't help but scramble to soak up some of her wisdom on that elusive work-life balance. Here, we chat about balancing a burgeoning start-up with motherhood.

1. What was the genesis of the idea for The Wing and how did you begin to piece your vision together?

My co-founder Audrey told me about the seed of the idea when we met. The concept was more of a utility and convenience space – a place for those in-between moments in your day. What resonated with me most was the potential it had to foster real community. Working in the fitness industry, I saw how quickly community can thrive in third-party spaces, and that's when the idea for The Wing really started to evolve. We worked with a historian who taught us about women's club movements in the 20th century and realized we wanted to build a modern version of that: not just a space for convenience but also for community, where women can work, gather and create genuine relationships.

2. As women on the verge of launching your own business, what were the some of the challenges you faced?

It was definitely challenging at first to find people who really understood what we were trying to do. There was no blueprint for The Wing and no special recipe that we knew would lead to success. A lot of people we pitched didn't get it or didn't believe we had what it took to make it happen. Fortunately, we were lucky enough to have some incredible female investors who supported our vision. The founders of Soul Cycle, Julie Rice and Elizabeth Cutler, served as sounding boards and remain true inspirations. I also looked to my former boss, Amanda Freeman, an incredible entrepreneur and a single mom, for advice and guidance.

3. What was the best advice you received as you built the business?

Not all money is the same color green. Make sure your investors believe in your business as much as you do. This is critical to its success. [Note: The Wing and Maisonette share an investor – New Enterprise Associates.]
"Motherhood really is a rollercoaster. Enjoy the highs and find ways to learn from the lows."
4. You're the mother of a little boy, Quincy. How did you set up yourself for success as you welcomed him into your life?

I definitely had to learn how to be more efficient with my time. You have to be thoughtful about your days, what meetings you're taking and make sure you're prioritizing. Working mothers truly are some of the most productive people. Another critical piece of advice I received is that "No" is a full sentence. Saying no is not only empowering but necessary! I'm also lucky enough to live around the corner from my office, which makes life a lot easier. After Quincy was born, it became commonplace to see me breastfeeding him in the middle of a meeting. Being a new mom drives me to create bigger and better networks for women in all stages of their lives. I love what I do and I truly believe in it. Staying focused on that helps me feel happy and fulfilled.

  5.What are three pieces of advice you would give to someone balancing their career with a new baby?

Ask for help! You don't need to be a martyr; it's okay to need and want help. In fact, it's imperative.

It sounds corny, but motherhood really is a rollercoaster. Enjoy the highs and find ways to learn from the lows.

Become a morning person! I definitely wasn't before having a baby and now that's my favorite part of the day. Waking up before him starts my day off right. It's our time to hang out before all the craziness begins.

Follow Lauren on Instagram @lololevine.