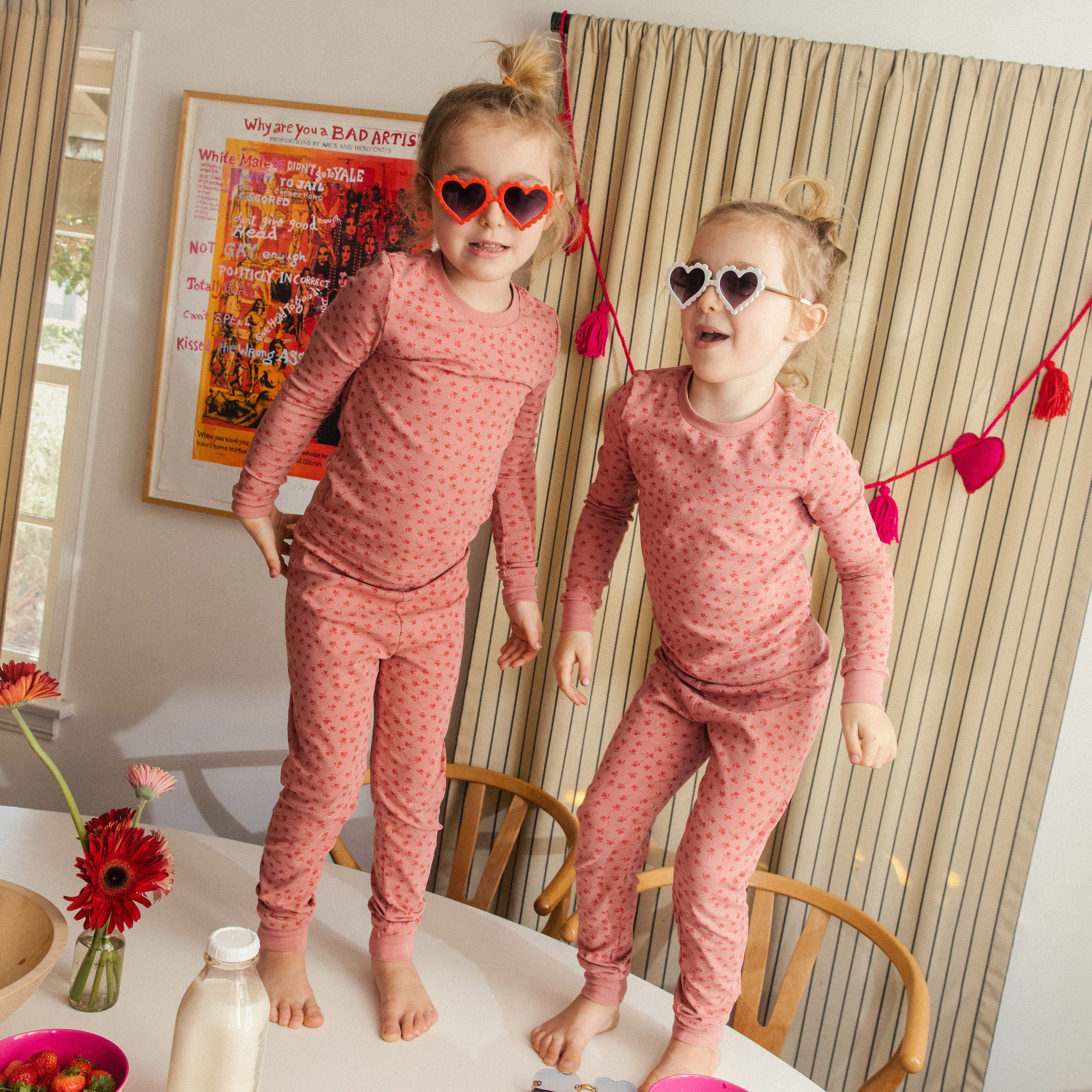 Valentine's Day
Does Your Child Feel Loved? Valentines Day Ideas Inspired by Their Love Language
Make minis feel the love with these Valentine's Day ideas for kids. Inspired by their love language, we've rounded up sweet crafts, gifts, and recipes–from waking up to (surprisingly simple) sprinkle toast to inventing a family handshake or the trick to flower arranging with the under six set.
Photography

James Branaman
"The question is not do you love your children," said Dr. Gary Chapman, the author of 5 Love Languages. "The question is, do your children feel loved?" All parents want the answer to that question to be a resounding "Yes!" of course.
According to Dr. Chapman, each child (and adult, for that matter) has a distinct love language, or how they show and receive love: Words of Affirmation, Acts of Service, Receiving Gifts, Physical Touch, or Quality Time. Valentine's Day is the perfect excuse to recognizing your child's preferences and use them to connect more joyfully. Not sure of your child's love language? There's a you can take to find out.
WORDS OF AFFIRMATION
If your child thrives off words of affirmation and praise, they look for encouragement, acknowledgment, and compliments. They're kids that read the room, include others, never tire of hearing "I love you," and notice a friend with a new haircut. Look for ways to put pen to paper or harness the power of the spoken word to express your love.
1. Write a love letter. Younger children love acrostic poems highlighting their name. Make it fun with colorful art supplies. For older kids, explore poems about love and friendship from reknowned authors together. Or craft printable Valentines together.
2. Collaborate on a writing project. We love this set of two fill-in books from Maisonette contributor Erin Jang, filled with activities to capture your parent-child relationship at a moment in time. Try filling in a page before bed as a nightly wind-down ritual.
3. Put a heart on their sleeve. Embroider a motif or nickname to a sweater, sweatshirt, or jacket as a reminder you're always thinking about them. DIY it with chain stitch in their favorite color thread or shop .
4. Say it with beads. We love Valentine's Day craft ideas for kids that you'll want to wear too, like a to create bracelets with a short love message like you'd find on a conversation heart: ily, xoxo, Dream Big, Be Mine, Super Cool, My Heart, Groovy, Shine.
5. Tell them a story about the day they were born or what you were like as a child. To memorialize a favorite family story, consider recording it with or signing up for a local storytelling event. A new journal is perfect for kids that want to start writing their own stories.
6. Let them overhear you sing their praises the next time you're on a call or talking to a friend at the park.
ACTS OF SERVICE
If your child responds positively to Acts of Service they feel loved when people doing nice things for them–from small surprises to grand gestures. They love it when you get involved with their activities, schedule a playdate with their neighborhood BFF, or make time to craft class Valentine's with them.
7. Start with something sweet. Channel Christmas morning energy (without all the shopping) with a surprise Valentine's Day breakfast, served in matching Valentines pajamas under a festive Valentine's Day decor. Go crazy with cupcakes and berry smoothies, or blow their minds with inspired by a Linzer cookie.
8. Make a heartfelt dinner with like heart-shaped pizzas (even the pepperonis are hearts!) or . Use a tiny heart cookie cutter on the carrots in your salad or mini grilled cheese sandwiches to dunk in tomato soup.
9. Begin a new tradition. Why not go on a weekend donut run? Hop in the car together and pick up a few dozen donuts, dropping them off at unsuspecting friends' houses along the way, inspired by .
PHYSICAL TOUCH
If your mini wakes up early for cuddles or lives for hugs, high-fives, and tickles, they thrive on physical touch. Find ways to be close to them throughout the day like a family hug, tons of kisses, or reading a book together.
10. Get sparkly with a spa day by painting each other nails with kid-friendly polish or having a bubble bath.
11. Snuggle up in matching PJs to read a chapter in your favorite childhood book or " a funny fable from beloved author-illustrator duo Mac Barnett and Carson Ellis.
12. Make up a secret family handshake or dance together. Whether you post it to Tik Tok is up to you.
QUALITY TIME
Kids whose love language is quality time crave your undivided attention, so close the laptop and focus on them. They thrive on eye contact and telling you all about the latest Roblox drama. Make a weekly date to put all your devices on airplane mode and go for a walk together, even for 10 minutes.
13. Think pink. Make cookies to decorate together after school. Mix up a few shades of pink icing and let them do their thing. We love this recipe from but you can use store-bought dough and skip to the icing if you're short on time.
14. Make a mess together with washable tempera paint or watercolor in shades of pink and purple. Roll out a long section of white butcher paper and tack the edges to the table or floor with painter's tape.
15. Play florist. With the right (hardy) variety, flower arranging is Valentine's Day activity even toddlers can do. We love classic Valentine's carnations or daisies with straight, sturdy stems. Set flowers, scissors (for older kids), and a small vase filled ¾ full of water for each of you on a table. Remove any leaves that would be underwater and start arranging.
16. Get crafty together. Littles will love purse from set-designer and mother of two, or from P.S. I Made This made from fabric scraps or ribbon.