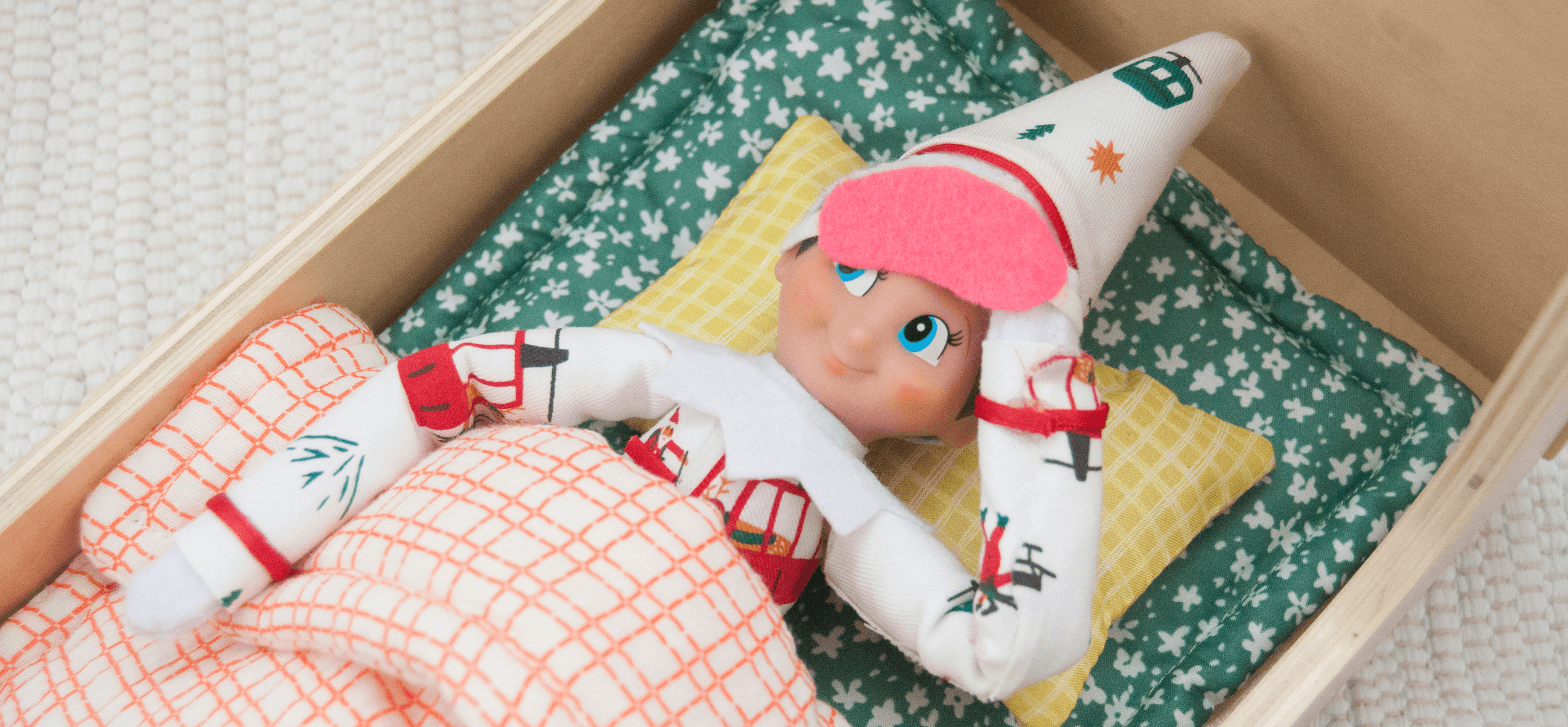 Holiday Activities
They're back! If it's the 11 o'clock hour in December, we know what parents are doing: looking for Elf on the Shelf ideas. Fear not; these elf hiding places range from the funny to the last-minute. But you won't find any naughty, messy, or gross pranks here; these elves are all on Santa's nice list. Plus, crafter Kathleen Ballos walks us through funny Elf on Shelf ideas step-by-step.
Photography

Kathleen Ballos
Styling

Kathleen Ballos
Move over advent wreaths and chocolate-filled calendars. The newest Christmas activity on the block is the hijinx of an army of magical elves with funny names that do the daily North Pole to your house commute in the lead up to Christmas, keeping an eye on kids and reporting back to Santa on their behvior. If you haven't decided if an Elf on the Shelf is right for your family, stop everything and read our primer first. Still here? Great. Settle in with a hot chocolate and get ready to make a little holiday magic.
Elf on the Shelf Arrival Ideas
Elves arrive the last week in November and kids hotly anticipate their re-entry. To celebrate you can:
● The Classic: Leave out welcome letter (there are ton on Pinterest or write your own) and read the book The Elf on the Shelf: A Christmas Tradition together to introduce the story.
● Wacky Walker: With two pieces of duct tape or heavy package tape, hang Sparkles The Elf on the ceiling or walk up a wall. Try this one right before kids wake up to avoid a late-night crash.
● Elf Movie Night: Begin the season with an invitation to an Elf-watching party.
● Elvin Bobsled: Have your elf sledding in from the North Pole atop several candy canes taped together fashioned as a sweet sled.
● Christmas Reading Nook: Unpack any Christmas books, set them up in a reading corner and arrange for the Tinsel the Elf to read a favorite holiday story.
● The Zipline: Using painter's tape and string, create a zipline between two walls. Rest a candy cane on the line and attach the elve's hands to the candy cane with a hair tie to allow the elf hang.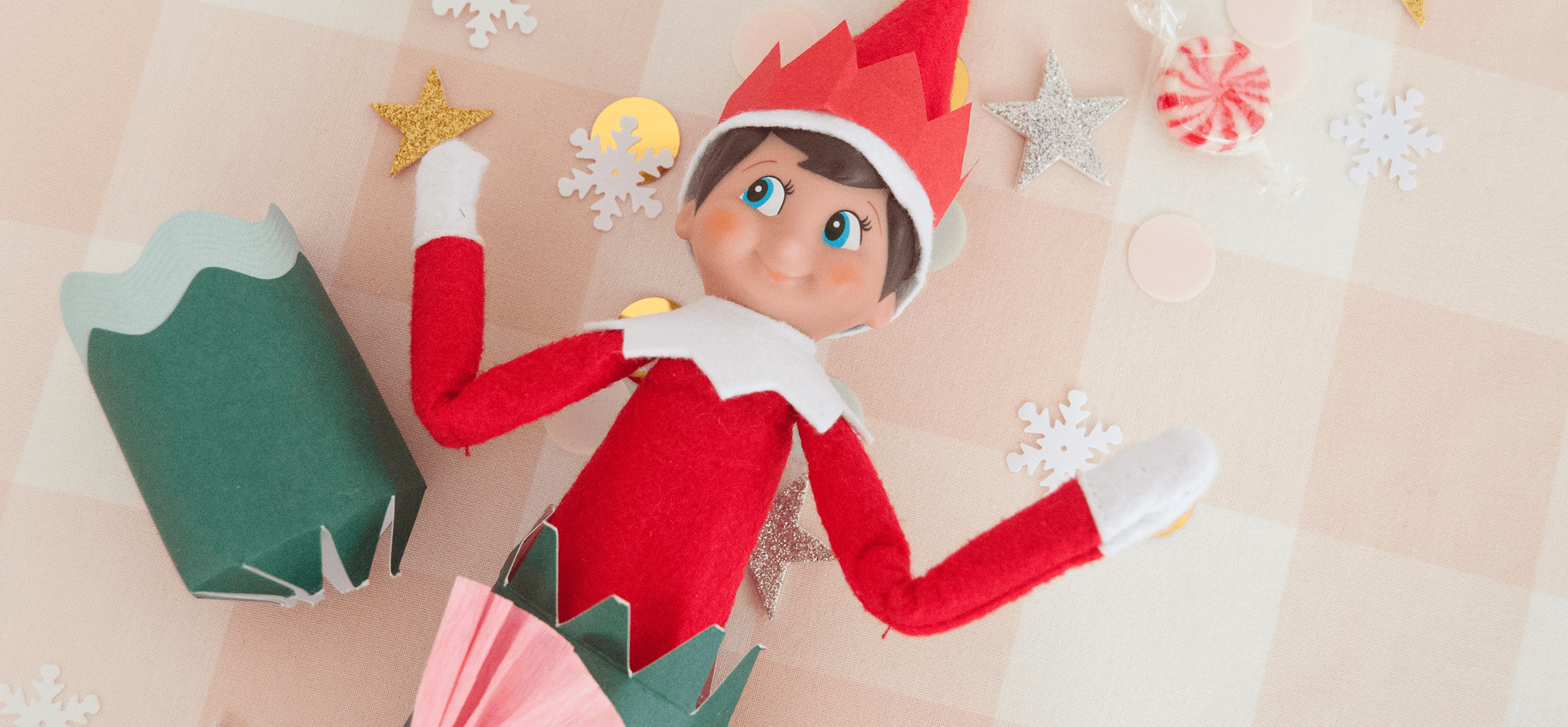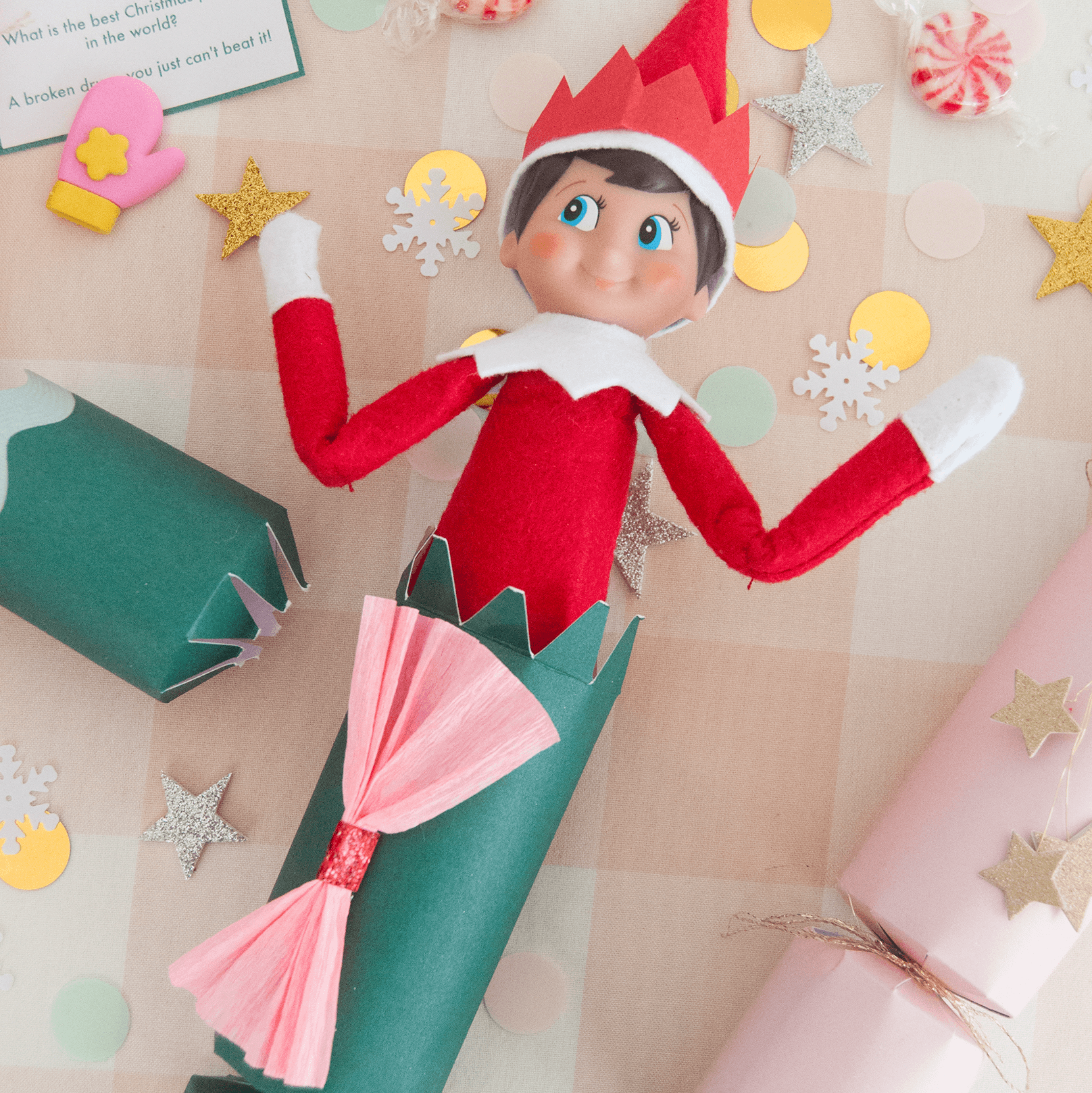 Elf on the Shelf Christmas Cracker Surprise
This Christmas cracker has an extra special surprise inside: an elf! This simple Elf on the Shelf arrival idea is the perfect way to put any extra crackers to use - there always seems to be an extra one or two leftover after Christmas day. Add in some extra confetti and candy and your elf is ready to shine.
● Christmas cracker(s)
● Scissors
● Double-sided tape (or a glue stick)
● Confetti and candies (optional)
:
1. Pop your Christmas cracker and remove the tissue paper crown.
2. Unfold the crown and cut out a rectangular piece of tissue that's an inch or two tall and about six inches long. Fold this in half several times, so that you have a narrow folded piece about as wide as your finger.
3. Cut a triangular peak into the tissue paper and unfold - you should now have a long flat crown.
4. Wrap the tissue crown around the elf's head, trim away the excess tissue, and use double-sided tape to secure the crown down to the size of the elf's head.
5. To set up, scatter some confetti on the table, and then place the elf into the opened cracker, with the other piece next to it as if he's just popping out. Add the treats from inside the cracker as well, with some added candies if you like. If you have an extra Christmas cracker or two, those are also fun to include in this set up.
Easy Elf on the Shelf Ideas
● Boo-Boo Elf: Sparkles The Elf must have fallen on the way back from the North Pole. Place him on the bathroom sink with a perfectly placed bandage.
● Artsy Elf: Leave your elf on an easel or your crafts area along with a drawing of the North Pole or a self portrait with Santa nearby. Think candy cane castles and smiling snowpeople.
● Pink Milk: Did you know elves drink pink peppermint milk? Add a drop of food coloring to a cup of milk for breakfast.
● Frozen Elf: Leave the Elf in the fridge wrapped in a tiny scarf.
● A Reason to Clean: Hide Blitzen the Elf in the bottom of your child's clothes to pick up or at the bottom of a pile of stuffed animals. How long will it take them to find it?
● Sniffly Elf: Oh, did Twinkle Toes The Elf get the flu cold too? Crumple a few tiny tissues around her and tuck them under the covers (a washcloth) to create a sick day setup. If you move her around in bed, you can squeeze a few days out of this one, as even elves sometimes need a break.
● Candy Cane Heart: Place two candy canes facing each other for a sweet and simple treat.
● Grocery List: Sugar, maple syrup, candy canes, and peppermints. Write out a teeny grocery store list with all elf food groups and leave it next to the elf on the kitchen counter.
● Hitching a Ride: Set Snowflake The Elf on top of the largest stuffed animal in your mini's bedroom as if she's riding that giant puppy dog around the house. Then, line up other animals behind them to create a parade.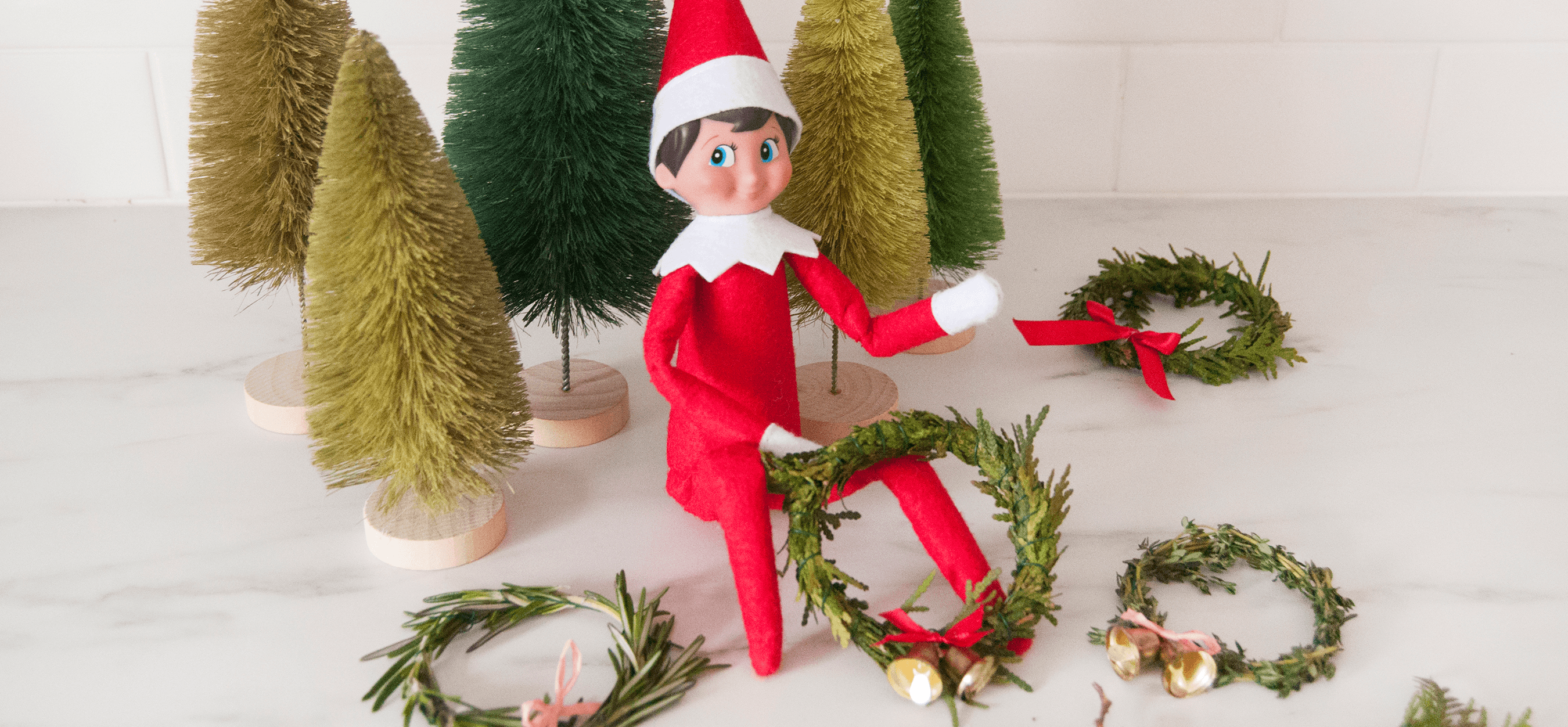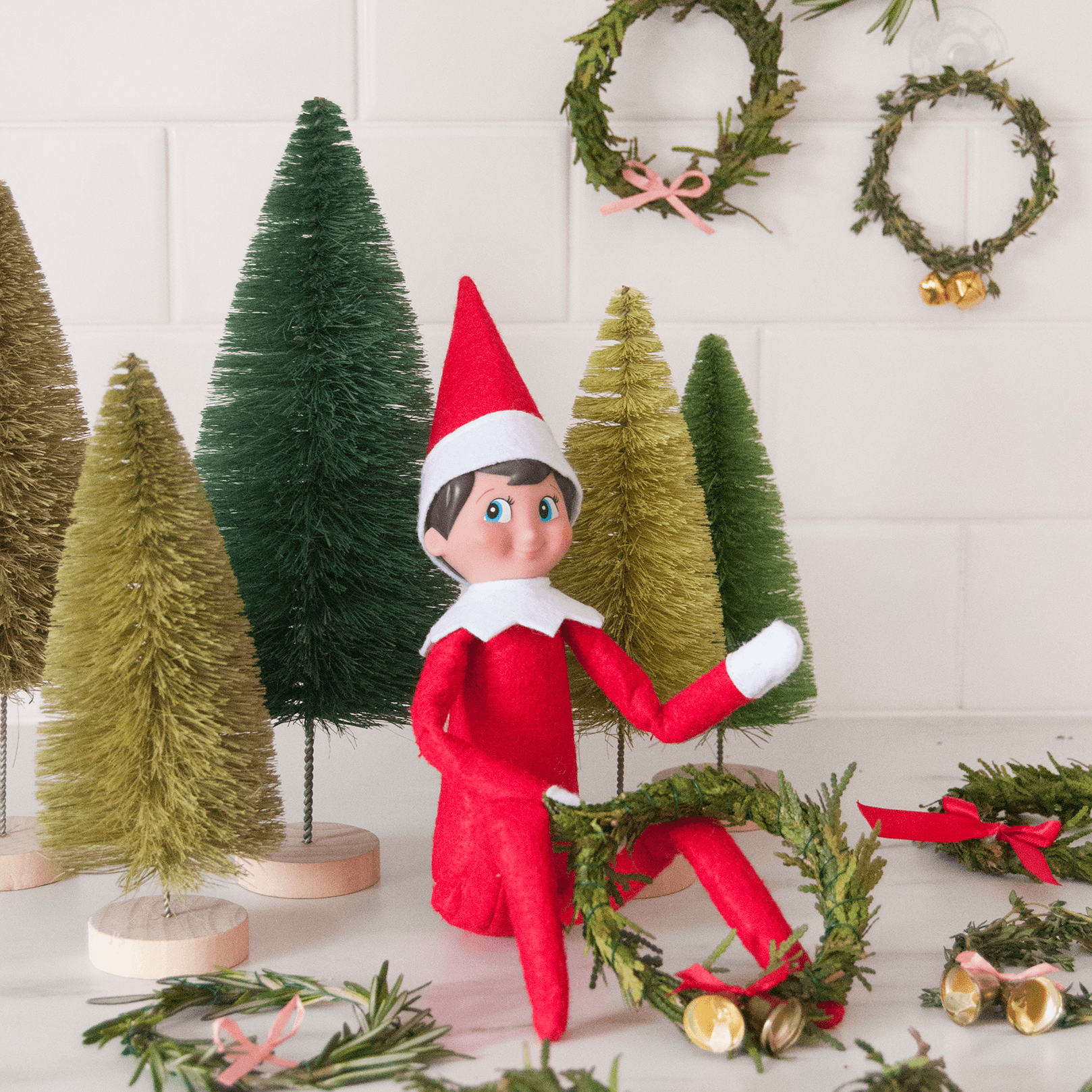 Elf on the Shelf Wreath Workshop
Looking for a sweet and easy Elf on the Shelf ideas this holiday season? Instead of throwing out tree or garland trimming, make these. This holiday wreath set-up is a fun way to deck the halls - plus, the mini wreaths smell amazing and can be hung around the kitchen afterward!
● Cedar clippings (or fresh herbs like rosemary or thyme)
● Scissors
● Thin wire (green floral wire is perfect, but any thin wire will work.)
● Wire cutters
● Mini pom poms, bells, or ribbons
● Hot glue gun
1. Gather a few cedar clippings (or sprigs of fresh herbs) in one hand.
2. Use your other hand to begin twisting the wire around the clippings, securing them together. Green floral wire is perfect because it will blend right in with the greenery, but any thin wire will work here. You could even try the wire that attaches Christmas lights or ornaments to their boxes.
3. Continue wrapping the wire around the clippings, adding more as needed.
4. When the piece is long enough to form a wreath about the size of a jam jar lid, it's time to attach the ends together.
5. Hold the two ends together so that a round wreath forms. Continue wrapping the wire to secure it in place, and then use wire cutters to trim off any excess wire from the end.
6. Use a hot glue gun to decorate the wreaths with mini pom poms, tiny bells, ribbons, or other cute bits and bobs you have around the house.
7. Make as many or as few as you wish!
8. To set up, sit up your elf on the kitchen counter, with the wreath in his hands and others around him. You can also use suction cups like we did here to hang some on the tile backsplash. Leave cedar clippings and an unfinished wreath next to the elf to make it look like he's made all these wreaths himself!
Funny Elf on the Shelf Ideas
● Roasting marshmallows: Find a few elf-sized sticks and a marshmallow from the pantry. There always seems to be a handful left from summer's smores, or borrow a mini from your hot chocolate stash. Use twigs to create a mini bonfire and place one twig with a marshmallow in the elve's hands as if they're roasting a marshmallow.
● Secret Message Elf: With your child's magnetic letters, dried alphabet soup, or letter puzzle pieces, write a short but sweet note or your child's name. Older kids might enjoy decoding a longer message made with disappearing ink. Channel that Creative Writing class and recount Twinkle The Elf's latest adventure, or remind your mini they're a great friend.
● Christmas Paper Chains: Use these paper chains as a countdown to Christmas. Cut strips of construction paper and tape or staples to make interlocking rings kids of all ages will love taking off one chain every day in December.
● Make a Snowman: No snow in the forecast? No worries, you can make snow by mixing one cup of baking soda and adding a few tablespoons of water at a time. Stir the mixture, and when it's light and fluffy like snow, it's time to build a mini snowman or make an elvin snow angel.
● Downdog Elf: Bend the elf at the waist and situate it on a yoga mat made from construction paper. Namaste!
● Paper Snowflakes: Cut snowflakes out of white printer paper (or even recycled paper from school or receipts as if the elf used whatever they found) and tape them up on the wall at elf height.
● Pom Pom Ball Pit: Raid the craft cabinet for enough pom poms to fill a small bowl and slide the elf underneath.
● Christmas Village: Don't recycle those cardboard boxes yet. Instead, transform them into a Christmas village for your elf with the help of some paint, paper, and glue. Use this template to design the homes or create your own.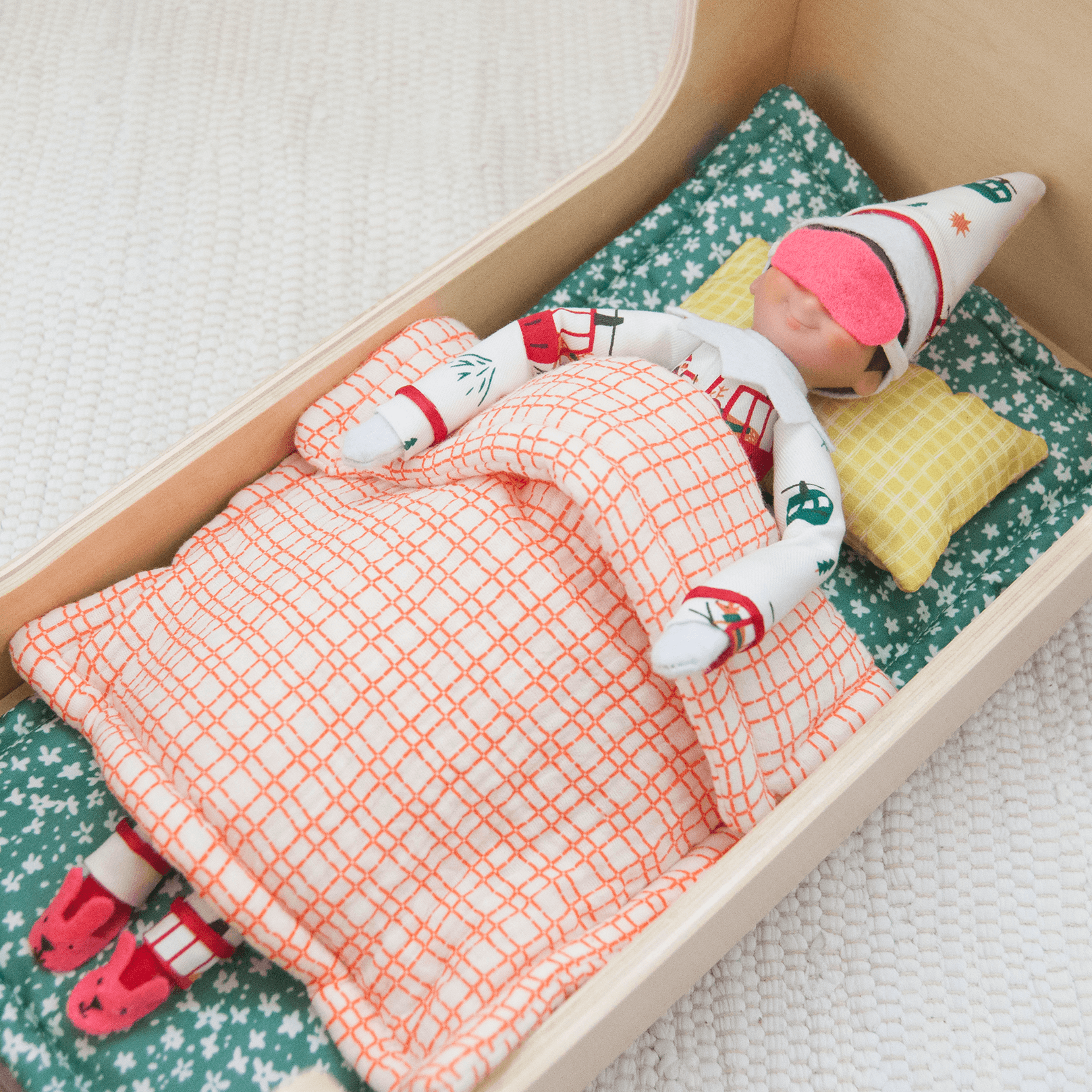 The Elf on the Shelf Sleeps In
Even elves need a little bit of shut-eye! This playful Elf on the Shelf idea is especially perfect if your kids have an elf-sized doll bed. We couldn't help but craft a set of custom pajamas for this little elf to wear too, but they are completely optional - the mini eye mask and bunny slippers come together quickly and you can use any color of felt that you have on hand.
● Felt
● Scissors
● Hot glue gun
● Thin elastic (from a hair tie or face mask)
● Black paint
● Toothpick
● Doll bed with blankets
1. Cut out all the shapes needed for the felt eye mask and bunny slippers. Hold the eye mask up to the elf's face to make sure it is the right size. For the slippers, the sole just needs to be an oval (about the size of a jelly bean) slightly wider than the elf's feet, and the top bunny piece should be even wider.
2. Hot glue one end of the piece of elastic to one side of the face mask, then hold the mask up to the Elf on the Shelf and wrap the elastic around his head to reach the other side of the face mask. Trim off the excess elastic, so it's pulled taught, and the mask will fit snugly around the elf's face. Hot glue the other end of the elastic in place to secure it.
3. For the bunny slippers, apply a tiny dab of hot glue to the tip of the sole and attach the tip of the bunny slipper top.
4. Apply a very thin line of hot glue along the edge of the sole and then press the bunny slipper top to it, securing them together. Do the same for the other side, and then repeat for the second slipper. If any blobs of hot glue are overhanging the edge of the felt, use scissors to trim them away.
5. Use a toothpick and black paint to make a tiny bunny face on each slipper. You can also use beads, sequins, or paper and glue these on as bunny features instead if you wish - we cut two tiny triangles from black paper for the noses.
6. To set up, place the eye mask and slippers onto the elf, and arrange him in a doll bed with his toes sticking out from under the blankets so that the slippers are visible. If you don't have a good-sized doll bed, you can instead set him up sleeping in a Christmas stocking like a sleeping bag or fold up a cloth or swaddle for a makeshift bed.
Elf on the Shelf Ideas That Are Actually Presents
If you're doing the Elf on the Shelf instead of a traditional advent calendar, it can be sweet to include a few Elf on the Shelf ideas that incorporate small presents kids can play with afterward. A few of our go-to's for elves to be interacting with: a tea set, board game, stickers, bead kit, or cookie cutters. On their last day "in the office" before flying back to the North Pole the elves sometimes bring cozy Christmas pajamas.
Kathleen Ballos
Kathleen Ballos is a Canadian craft stylist and DIY contributor. She collects vintage girl scout badges, loves crafting with pasta noodles, and can smell maple syrup from a mile away.