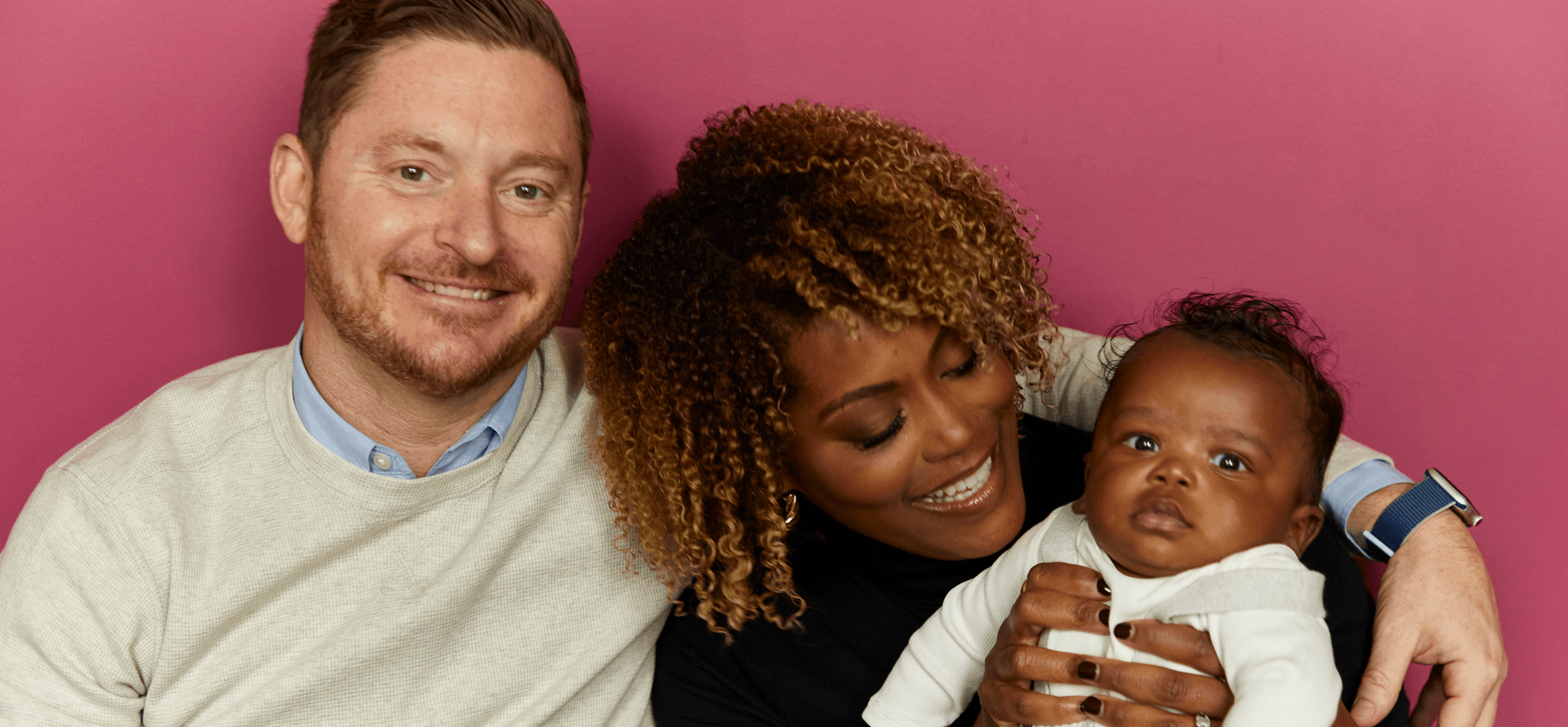 Adoption
How To Support a Family During the Adoption Process
In honor of Adoption Awareness Month and to celebrate all the ways we create families today, we sat down with Marisa Renee Lee, author of Grief is Love and mama to toddler Bennett. She shares the incredible ways her community supported her throughout the adoption process, including what to do and say–and what you just shouldn't.
Photography

Marisa Renee Lee
Interview By

Katie Covington Crane
I'd love to pick up where we left off, from your book , in which you shared your pregnancy loss and grieving your decision to stop trying to get pregnant. Was adoption an obvious next step for you to explore, or did you need time to pause and think about how you would grow your family?
Honestly, my mindset at the time was one of grief and failure. It didn't feel good to say, "I'm not doing this anymore." I felt embarrassed and ashamed. I am known for working hard and pushing through no matter what, and this was a situation where I couldn't keep going. I knew that continuing to push myself was not the right answer, so it was tough for me to reconcile, in my mind, that this was no longer something that would happen for me.
It was, it was really, really hard.
We had our pregnancy loss in August, and I decided that I would no longer try to get pregnant in November. I spent time just recovering. I still had underlying health conditions that I was dealing with, so my priority was giving myself permission to grieve what I had planned for myself and my family –– giving myself time and space to feel.
We began having more intentional conversations around what we would do early the following year. I wasn't immediately ready to say yes to adoption, not because I didn't want to do it, but because I wanted to be very intentional about it. I struggled because so much of what I saw around adoption felt steeped in saviorism and I didn't want to have anything to do with that.
I imagine the early exploration stage is a time that can be lonely if you're not widely sharing your choice to adopt. But, if someone lets you know that this is something they're thinking about, are there ways to support them?
When people consider adoption and share that with you, I think the best thing you can do is not judge. Instead, let them know you are there to support them, whatever decision they will ultimately make. Knowing that you're open if they want you to serve as a sounding board or a thought partner or to provide practical support can be helpful.
When we were first considering it, I felt very overwhelmed. One of the challenging things about adoption is how hard it is to get good information about how it actually works. If you have a friend who's thinking about it and you know other people who have gone through it, one way to offer practical support is to connect the families.
Google is not actually helpful for accurate information on adoption. I remember being online one night and reading the time to adopt a child was usually between three and seven years. What we found online was incredibly discouraging, so if you have practical adoption resources or knowledge, being ready and willing to share those is really important.
Is there a way to support families when you've decided this is the route you want to go but are in the waiting stage?
When you're in that period, you're just going through the process, which is a lot of work. I don't want to scare people away from adoption, but it was incredibly labor-intensive, time-consuming, and expensive. And all of those things add stress to your life. So as a friend, be prepared to listen when it's hard and create space for people to be heard because some of this just can't be fixed. For example, it takes however long it takes to get your security clearance and fingerprints back from the FBI. There's nothing anybody can do about that; it's annoying, but it's a part of the process, so if friends need to vent or complain, give them space to do that.
Even if you don't know much about adoption, we all probably know enough to understand that it's hard, complicated, and long, right? So be prepared to show up throughout the process in different ways, whether to serve as a reference, write a proper letter of recommendation, or bring over dinner when the family has to fill out mountains of paperwork. I remember my girlfriend Adriana got us Mexican for dinner one night when we were dealing with a setback; having that care helped us feel supported.
Are there any misconceptions about the different types of adoption that you learn through the process?
The biggest misconception I've found frustrating about adoption is that most people believe that they know more than they do because they know someone who was adopted. There are so many ways to adopt, and people have a range of experiences. Adoption is not one-size-fits-all. We have to widen our lens of how we think about adoption so it doesn't center the adoptive parents as saviors, that they are saving these kids who are so lucky and should be grateful. My son isn't a rescue dog, he's my child and it makes me crazy when people call him lucky. I'm the lucky one.
Often after a lot of waiting or stops and starts, families don't have time to react when they get the call. Can you share how your community showed up for you during that time?
We got a call about Bennett on a Thursday, and we became his parents 24 hours later. And we had nothing. The day we left for the airport, I took pictures of what would be Bennett's room so I could remember how unprepared we were. We didn't even have diapers. I texted three girlfriends, my childhood best friend Allison, my husband Matt's best friend's wife Megan, and my other best friend and roommate from college, Liza, who has seven kids.
I told them, "Here's the deal, we got the call, and I'm 90% sure that it's going to happen, but we don't know for sure until tomorrow morning, at which point we're gonna have to get on a plane, fly over different state, go spend however much time in a city where we don't know anyone with our newborn. So we need help."
And they were on it. They organized all the logistics from the stroller, car seat, and diapers. They sent groceries to our Airbnb, created a registry for us, and coordinated meals for us when we got home. It meant we could focus our energy on managing our emotions (which were a mess) and dealing with the paperwork, financial requirements, and lawyers. I don't know how people go through adoption on their own. I honestly don't know if it's possible to do it alone.
People often want to offer rituals like baby showers to show support. Still, you want to ensure that the parents feel emotionally ready for that support. How did you approach celebrating growing your family? Did you consider having a baby shower?
It was tough because we're both organized Type A people, but I was not in a place where I could handle having my heart completely broken again, so I just couldn't prepare in those ways. We decided to not decorate a nursery and buy all this stuff until we had more certainty. They tell you at the outset that 30 to 40% of matches with birth moms don't actually come to fruition. Anyone who's been through the process knows families who had matches fall through and their hearts broken.
People get caught up in scams; sometimes, the woman gives birth and changes her mind, or the grandparents get involved. So many things can happen, and so, knowing that risk, I didn't feel the need to prepare our physical space because I really believed in the strength of our community. I knew they would step up whenever it happened and we'd end up having everything we needed. I am also pretty good at asking for help. I learned through the loss of my mother that when things are hard, you have to ask for what you need, and give people a chance to support you. Also, tbh, I am pretty sure my best friend from childhood started working on our registry even before we got the call, just so she could be better prepared to support me. We've never even talked about it, but I know her; she took that on when I couldn't. People wanted to throw us a shower once we came home with Bennett, but with COVID it just got too complicated. Still, we ended up throwing a big party for his baptism to celebrate with our friends and family.
Regardless of how supportive your friends and family are, there is value in having people on your team with similar experiences. Are there any communities or resources you found helpful?
So for me, and this was the same when my mom died, I have always felt most comfortable opening up to the people I'm already closest to. But, it was helpful to have a consultant, somebody we hired to guide us through the process. Having that professional support was a game changer because it took us from a place of fear, uncertainty, and lack of understanding to a place where we felt like we had the information to make the best possible decisions for our family. And so for folks in it, I would say to seek the support that feels most comfortable to you because it's a little bit different for everyone.
Now that you've gone through the process, how do you approach celebrating adoption awareness and the general perception and understanding of adoption in our culture?
I am all about being very open and public about the fact that Bennett is adopted because I never want him to feel any discomfort around that. We have never had any discomfort around it, and we are proud of it. We are grateful that adoption gave us an opportunity to have a child that we had been hoping for so long.
However, our adoption isn't just my story. One of the things I want to discourage is asking about the details of the adoption itself. I'm not going to tell people things like "Where is he from?" because I feel there is a line where it goes from being just my story to being his story. While I am very big on and comfortable with celebrating adoption and even telling people that we have a somewhat open adoption, I never get into the other details. I want to protect my son, his privacy, and his feelings.
I'm also very mindful that a whole other human being was involved in the creation of our family and I want to protect her as well. I get so angry about the response from some communities about how the answer to the end of Roe v. Wade and a woman's right to choose to give birth is adoption. That's just not how it works.
Thank you so much for sharing your beautiful family's experience with us, Marisa. While every family's story is unique, I hope it helps communities thoughtfully rally to support other families through the complex rollercoaster of heartbreak, tedium, anticipation, and, ultimately, celebration.
Marisa Renee Lee
Marisa Renee Lee is a writer, speaker, entrepreneur and author of the bestseller,
To know Marisa is to know her mother Lisa. Marisa served as a caretaker for Lisa who had MS and ultimately died from breast cancer in 2008. Marisa has also battled, and these experiences have t aught her that grief is really just another form of love. Her writing has been featured in , and a host of other outlets.
In addition to her writing, she has served as the founder of several organizations, including, a social impact consulting firm.