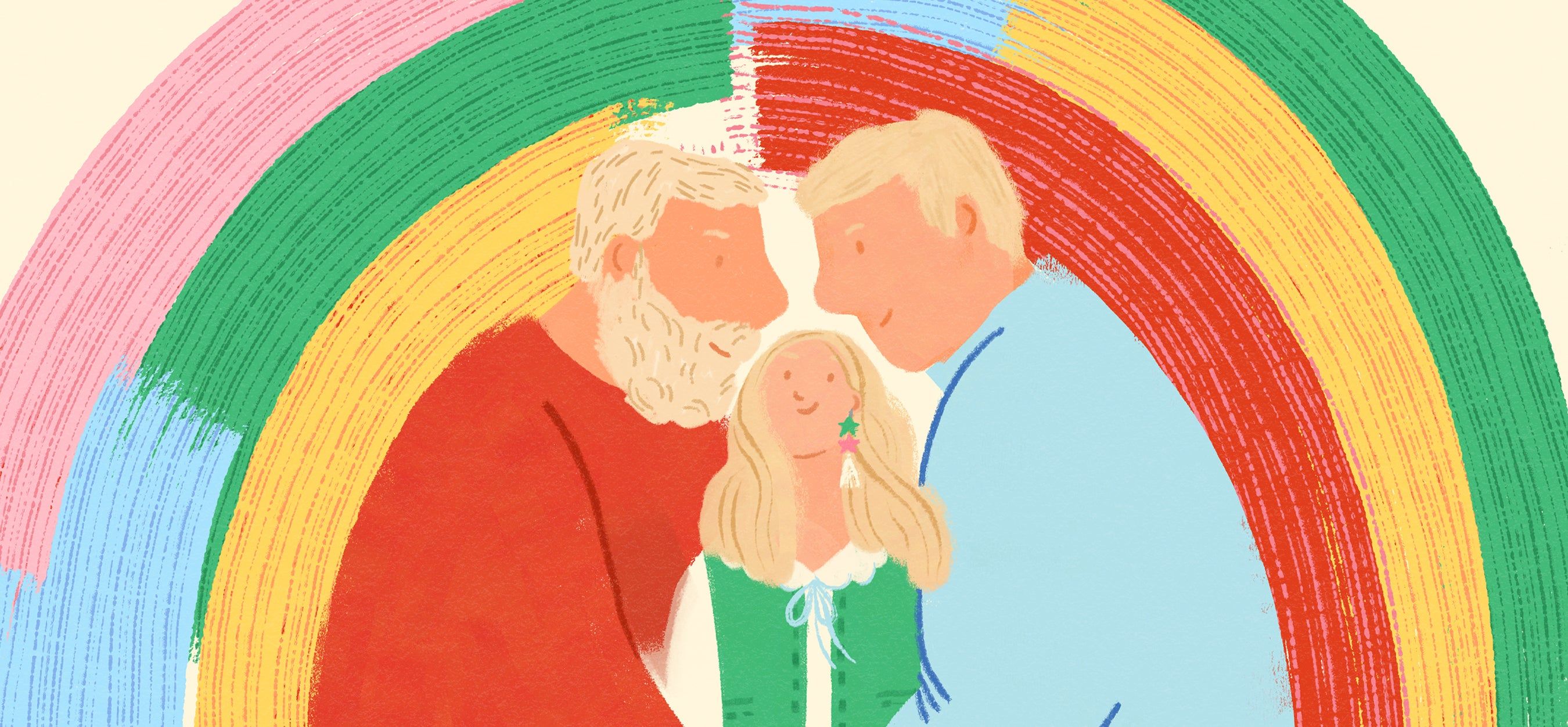 Why Open Adoption Was the Right Choice For Our Family
John Petersen, half of the father-daughter design duo behind Gunner & Lux on finding love in unexpected places, starting a family, finding community, and knowing that the kids will be more than alright.
Written By

John Petersen, as told to Katie Covington
Illustration

Violeta Noy
Finding Love
I grew up in Nebraska and moved to Atlanta after college in 2000. Shortly after I arrived, I met my husband William through Yahoo Personals, which I don't even think exists anymore. I worked a lot, so there wasn't a lot of opportunities to spontaneously meet someone. In fact, back then I didn't even have a cell phone; I just used an old school computer to chat! We finally made the leap to talking on the phone, but William wouldn't meet with me until I could send him a photo of me. At first I didn't know how to send a photo…remember, no cell phone or digital camera. He finally convinced me to go to Kinkos and have a photo scanned to a disk. I went home and uploaded the photo to my computer, and emailed it to him. I guess the photo worked because we had dinner the night I sent them. Two weeks later, we went on a weekend trip to NYC, and we've been together ever since.
My husband often jokes that he's raising two kids. And honestly, he's not wrong. Our daughter and I call him Joy Killer. You need somebody like that to balance the creative energy we have. Someone that will say no when our crazy ideas cost more than we can afford.
Starting a Family
I had always wanted a child; I just didn't know how it would be possible for a gay couple. William grew up in a very accepting community, and knew that having a family was something we could do. He told me, "of course, we can have a family," and we started to explore different ways to start.
Open adoption quickly became the best choice for us. If we did international adoption, at the time, you'd often have to bend the truth–one person would officially adopt, and then you say the other person is a roommate. While we know that's the right choice for some people, William always said that he didn't want to start a family with a lie. So, we chose open adoption because our child's birth mother would choose us, making a conscious decision that we would be the child's parents. So, after some more research, we found a great agency in California that was friendly and knowledgeable. They were very open with us that everyone's path to parenthood is unique and that there are a lot of different challenges that we might be presented. We really appreciated that they gave us the straight truth on all the red flags to look for during the process.
"The Book"
At that time, when you are going through the adoption process, you would make a book - really more of a flyer - about yourself with pictures and stories about yourself and what you hope your future family will be like. Then, the agency would work to get our book to potential birth mothers, who would look at our book, and the books of many other potential families and choose the family they think will be the best fit for their child.
Our book gave the standard information about where we grew up, our hobbies, our extended families, and things we hoped to do with our future child. Things like eating dinner at the dinner table every night, playing games outside, traveling, and treating our child and others with openness and kindness.
We also shared the little family traditions we wanted to keep up: cutting our own Christmas tree, special trips with family, and traveling to places from our childhood, like Maine, where William grew up.
The Adoption Journey
The agency had given us a long list of not-so-fun things that might happen during our adoption journey and noted that most people only had to deal with one or two of them. I think we, on the other hand, had every single thing that could happen, happen. So it took quite a while. At the time, the average couple working with our agency waited about 11 months before they adopted a child. It took us much longer than that. When a birth mother chooses you, and we choose her, it is called "matching." We matched with three different potential birth moms.
We matched with a mother we met by phone, flew out to meet her and her family, and never heard from her again. Another mother decided to keep her baby shortly before it was born. The third family was very, very young and hadn't told their parents about the pregnancy or the fact that they were planning on pursuing adoption. We brought that baby boy home to the hotel from the hospital since you can't leave the state until the interstate adoption paperwork is processed. Two nights after the baby was born, the couple decided to tell their family (a good thing), and their family flew down the next day to see the baby. We brought the baby to see them, and 24 long hours later, we were informed that they had changed their mind and the child's grandparents would help raise him. We never saw him again. We took a red-eye home that night, knowing it just wasn't meant to be and that our future baby was still out there somewhere. We had many more calls, lots of women who wanted to talk for hours, and we listened–all things our agency told us were part of the process. It took us almost four years before our daughter Riley was in our arms.
Meeting Riley
Riley's birth mom had found us through our agency and had read the blog we'd created about our hope to adopt. She sent us a long email (not unlike many other first contacts from potential birth mothers) introducing herself and asking us a few questions. As had become our practice, we responded within an hour of getting the email, and not long after, she replied. The email exchange continued, and then - after a week or two - she called us. We spoke for some time, and by the end of that call, she told us that adoption felt right to her and that she hoped we would adopt her child when it was born. Our agency told us this is how it would happen, that it would just click, and we'd just fall in love with someone. They couldn't have been more right! Given the rollercoaster we'd been on, she was amazing. Despite us never mentioning it, she constantly assured us she wouldn't change her mind, listing why she felt that adoption was the best choice for her child. It was really a match made in heaven as we got along wonderfully!
We named our daughter Riley–we thought Riley was perfect because it would work if we had a boy or a girl. That was the only thing we decided on before she was born. The agency stressed that we shouldn't plan a room, paint the nursery, or buy anything because we'd look at that room every day and say, "When will this happen?" In reality, you need very little before a child is born.
After talking with Riley's birth mom for months on the phone, we flew out to meet her a few days before she was going to deliver. She asked us to be in the room during the delivery. William even cut the umbilical cord, while I thought I would pass out. It was amazing!
Once we were discharged, Riley's birth mom would visit us in the hotel where we stayed until the interstate paperwork was complete. Then we shared tearful goodbyes, agreeing to talk soon, and flew back to Atlanta when Riley was only five days old.
It was truly meant to be. I cannot believe the love we have for our daughter. How lucky we are to watch her grow and change every day. We love her more than we ever thought anyone could love someone.
On Having Two Dads
Having two dads is something some people still have questions about. We welcome the questions. When people are open and curious, it's great. While we were certainly not the first gay couple to adopt, it wasn't as common as it is today for people to see two dad families. Even from day one, the nurses at the hospital had never seen a family like ours; they checked on us all the time and could not have been nicer. They asked us about being gay and how adoption worked for us, legally speaking.
As for Riley, having two dads seems to be a total non-issue. Once in Atlanta, a child in our neighborhood talked to Riley for a while, trying to figure out who William and I were. William and I just stayed back and listened. He kept asking, "So is one of them your Dad and the other one is the brother? Is one your Dad and the other got divorced from your mom?" Riley said, "No, I just have two dads." and continued playing. To this day, we're amazed that young children just get it. Once they are told that she has two dads, they just go about their business. They don't have any preconceptions, so it's easy to accept and understand. When kids are exposed to different types of families, it only makes them more open and more understanding.
An Act of Love
We chose open adoption because everything is out there, no secrets, just openness. We tell Riley this all the time. Open adoption is an act of love. Her birth mom chose us out of love; she picked us from all the other potential couples because she believed we'd be the best possible parents for her. Open adoption gives Riley a chance to get to know her birth mother. Ask her questions about her genetic heritage, family health, etc. Riley will always know her birth mom. It's not something that's hidden. Whenever Riley wants to connect with her birth mom, she is only an email or text away.
We made a book for Riley, so she could read and see her birth story. So she can always go back and see how her Dad's met, her birth, and the early days when she was just a baby in our arms. We want her always to know her story. Open adoption is all about being open. Your child can always come to you with questions, and they don't have to feel weird about it. Being honest and open is a cornerstone of our family, and it's certainly good practice for parenting the pre-teen we have now!
John Petersen of Gunner & Lux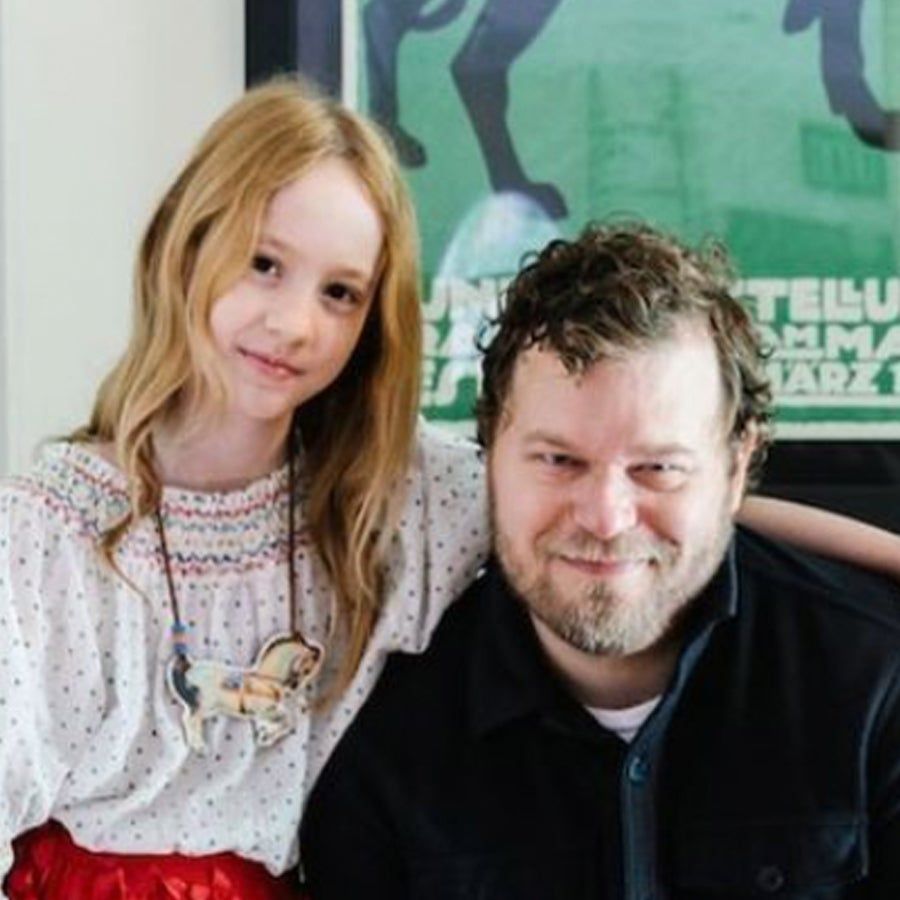 Founded by daughter-father duo Riley and John, GUNNER & LUX was born out of mutual love of whimsy, one-of-a-kind jewelry. Riley began making her baubles by hand at the tender age of 5 at her summer lemonstand. Now she's approaching her teen years, she's been carried by Barneys, done a collab with J. Crew, and brought her inspired mix of neon cord, pom-poms, animals, and empowering messages to kids (and more than a few adults) all over the country.