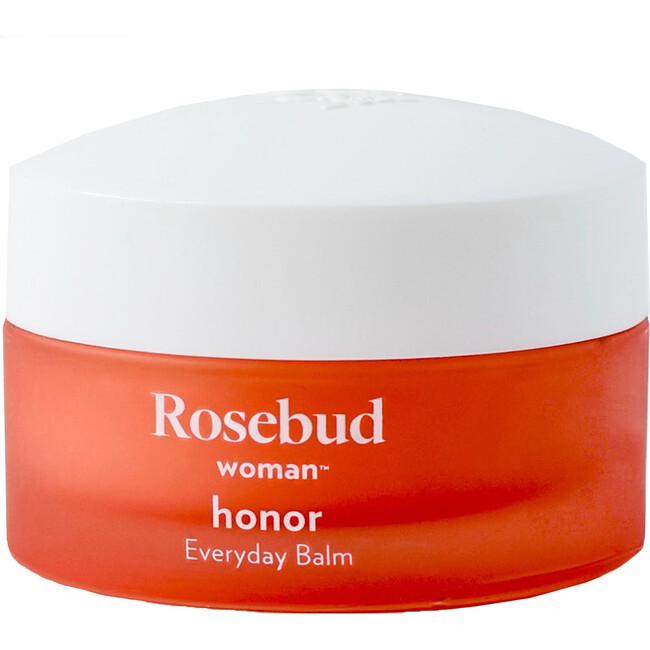 Description

Honor, Rosebud Woman's Signature Balm, adds Moisture, improves skin density and provides daily nourishment. It moisturizes, conditions and replenishes intimate skin. In the jar, it's a thick, translucent unguent, but when placed on the skin it dissolves quickly into a luscious oil, with 10 to 15 minutes of "play time". Honor has a tender scent and a great texture. Our full-size jar is generously sized and meant to be used every day.

About Rosebud Woman: Rosebud Woman is a luxe, plant-based intimate care line that offers self-care products, information, community, and ritual to honor and celebrate our experience as women. Our flagship offerings are luxury vaginal/ vulvar skincare with impeccable plant-derived ingredients. They are formulated for daily and specialty use, to meet the specific concerns and desires of women.
Details

Maisonette Product ID: Item number ROSE06665877
Key ingredients & Benefits

Bisabolol: Acts as an anti-irritant, protecting the skin from everyday damage. Stimulates and promotes the skin's healing process.
Ginger extract: reduces skin roughness, encouraging soft skin that is smooth to the touch.
Full list of ingredients

Asian Rice, Chamomile, Drumstick Tree, Evening Primrose, False Daisy, Ginger, Jojoba, Licorice Root, Rosemary, Sunflower, White Meadowfoam, Ammonium Glycyrrhizinate (See Licorice), Beeswax, Bisabolol, Caprylic/Capric Triglyceride, Lecithin, Linoleic Acid, Oleic Acid, Palmitic Acid, Phytosteryl Canola Glycerides, Sodium Stearoyl Glutamate, Stearic Acid, Tocopherol, Tocopheryl Acetate, Triolein
How to use

We recommend that it's kept on the nightstand or bedside table, and used before bed as a self-care ritual: Massage yourself starting at the hip bones, working into the pressure points on the pubic bone, the inner thigh, and the groin, then onto the inner and outer labia and, finally, the inner fold including the clitoris. This is a great time for a little loving affirmation, too! Leave the balm on, allowing its active plant ingredients to work overnight.
Moms to Be & New Moms: Honor is especially useful for perineal massage prenatally, and on helping tissue to recover postnatally. Perineal massage, even once or twice a week in the last 6 weeks of pregnancy reduces the risk of tears and episiotomies with vaginal births. PS!!! We also like it on cracking nipples, and very dry skin anywhere on the body.
Menopause: 58% of postmenopausal women report concerns with dryness. Use daily, along with Arouse, to counteract the skin symptoms of menopause.
Good to know

Free of Parabens & Phthalates
Free of Synthetic Dyes or Fragrance
Plant-Based
Free of Endocrine Disruptors
Awards