Parental Arts
Painted Pumpkins
Our craftiest mom makes the case for keeping the pumpkins in one piece with easy painted pumpkin painting ideas perfect for kids of all ages. No knives or fire needed!
I don't know about you, but this year has brought me enough spooks and scares to last a lifetime. Now don't get me wrong, I'm no Halloween Grinch, but whoever suggested pumpkin carving as a "fun" or "family-friendly" activity has clearly never gotten a hand cramp while scooping out the flesh of a ten pound gourd. I for one, refuse to spend another year clutching my cobwebs as I imagine the 1000+ scenarios in which a child carving a toothy gaping mouth into slippery squash could possibly go wrong. May I present a delightful and drama-free alternative: the painted pumpkin. These no-carve pumpkin decorating ideas swap the knives for paintbrushes and keep the slimy squash exactly where it belongs.
Here's what you need for your easy painted pumpkin designs:
• Pumpkins (any kind of squash will do!)
• Acrylic paint
• Paint brushes
• Acrylic spray sealer (optional)
• Paint markers (optional)
• Painters tape (optional)
Here's what you do NOT need:
• Knives
• Fire
• Upper body strength
• Burnt salty seeds posing as "snacks"
A few tips for no carve pumpkin decorating ideas:
Wipe down your gourds with some water and let them dry before painting. This will prevent any earthy residue from causing your paint to flake.
For those who prefer their pumpkins neat and tidy, use painters tape to block off pieces of the pumpkin from any unwanted spillage.
Alas, your gourdeous art will not last forever, but you can extend their short and beautiful lives by sealing them with an easy spray acrylic sealant.
Unlike jack-o-lanterns, the possibilities of painted pumpkins are endless. Here are a few ideas to get you started: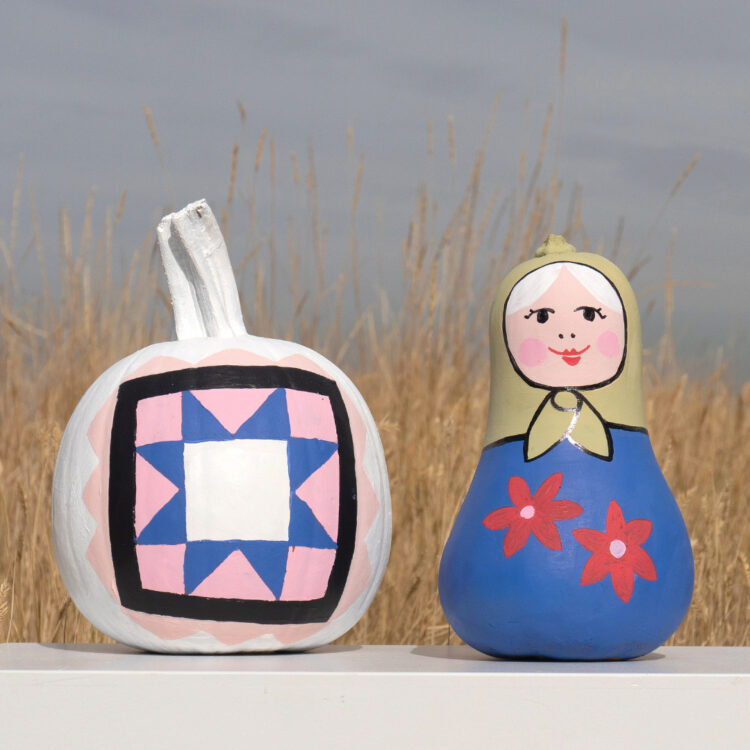 Colorblocking: Use painters tape and unexpected color combinations to produce this simple yet visually striking effect.
Starry Night: Use glow-in-the-dark paint to create a moon, stars, and other celestial objects (is that a UFO?) on a darkly colored pumpkin.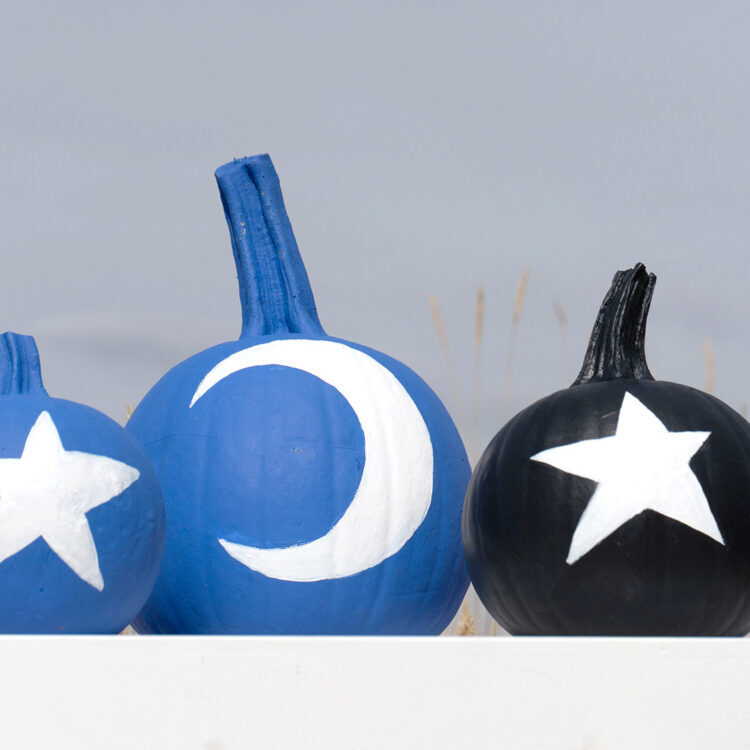 Slogans: We all seem to have a lot to say this year. Why not get your message across with painted words. Want to remind people of your favorite cause? Just want to say hello from the other side? Paint it on a pumpkin! Just please, not another Facebook post.
Florals: Give the humble country squash a new makeover with some fresh floral designs. We could all use a little extra beauty and levity this year.
Printable Painted Pumpkin Designs
Or use our printable painted pumpkin designs for an easy no carve pumpkin decorating idea to make Halloween magical, even for least crafty among us.