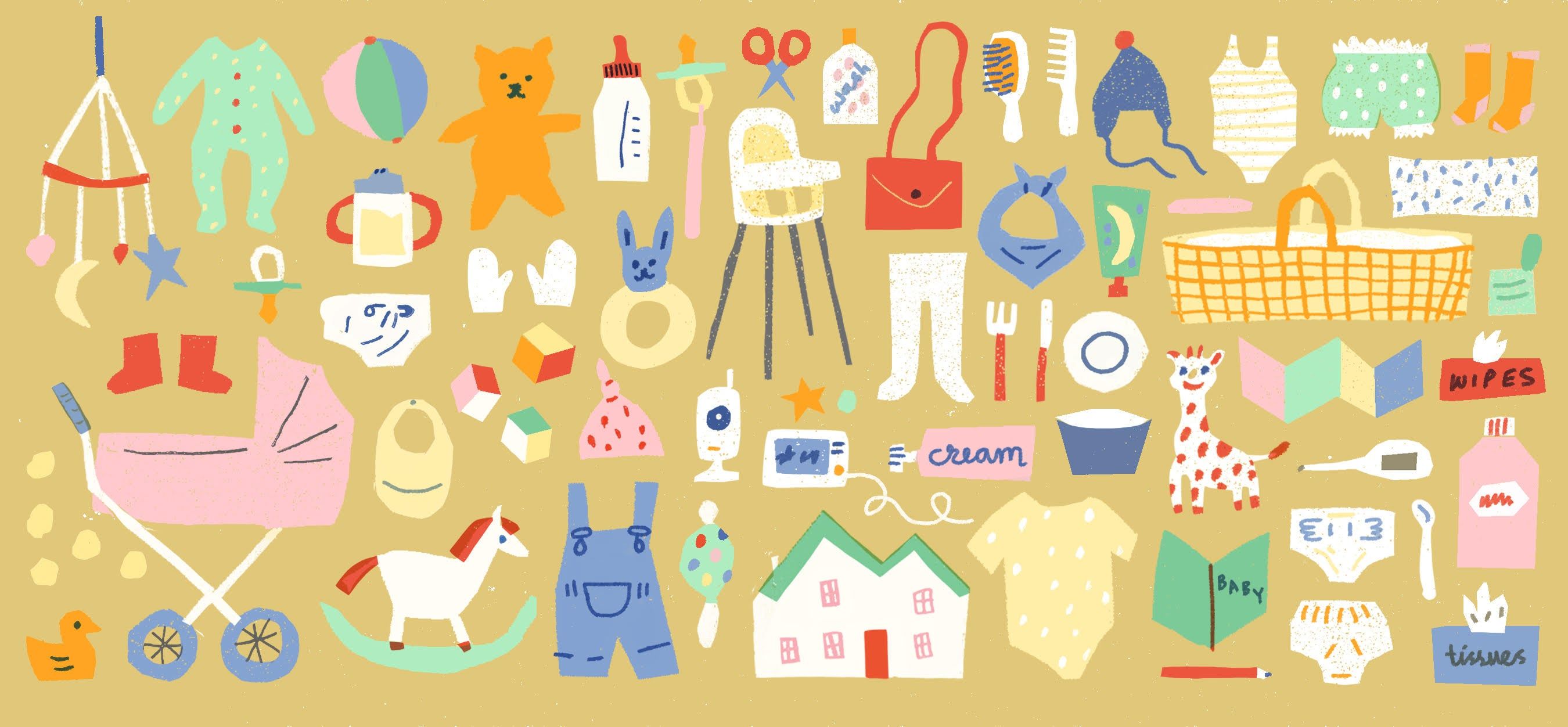 Baby
Baby Registry Checklist: The Ultimate Guide
There's no doubt that creating a baby registry can be overwhelming. Even if—especially if—your friend insisted on sharing their list of 100 must-haves, 99 you've never heard of. WTF is a wipe warmer, and do you need one? Our ultimate baby registry checklist will guide you through the essentials, the nice-to-haves, and what you can live without.
Written By

Katie CovingtonCrane
Illustration

Louise Lockhart
How Baby Registries Work
Think of a baby registry as an opportunity to curate what you need for the first few months of your baby's life. In addition, a registry can serve as a wishlist for friends and family that want to support you and help you keep track of the more significant purchases like a crib or stroller. Our baby registry checklist also includes smaller items like a baby thermometer or onesies – it's helpful to have a mix of price points and types of baby registry items.
While you can create unique registries as a range of stores, many parents use a universal registry that pulls the best baby registry items from any site into one list these days.
When to Make a Baby Registry
You can start a baby registry anytime (before you're ready to share your good news). Most of the parents I talked to started their registry around the end of the first trimester and shared them as they headed into the second half of their pregnancy, but it's entirely up to you. Adoptive parents or families with cultural norms to celebrate babies may wait until after birth to share a registry. In this case, they focus more on diapers, clothes, or gear for slightly older babies.
What to Include On Your Baby Registry
There are no right or wrong answers here, as you know what works best for your family. So here we break down the essentials for your baby registry and how to think about what products work best for you.
Top 10 Must-Haves According to Maisonette Parents
Even at Maisonette, we have a different opinion on things like wipe warmers, but we suggest you start with these items you'll probably use early and often. In the case of a car seat, you'll need one to leave the hospital with your babe in tow.
• Car seat
• Stroller
• Crib
• Rocker or glider
• Activity mat
• Diaper pail
• Pajamas
• Rocker or bouncer
• Carrier
You can never have too many: bibs, pajamas, crib sheets, and changing pad covers — stock up anything that needs to get thrown in the wash after a spit-up or blowout.
People love to gift toys, stuffed animals, receiving blankets, and muslin swaddles, so while you should certainly register for anything you feel like you can't live without, know that you'll likely end up with more than enough of these gifts.
Baby Clothes
Register for in a range of sizes – babies grow fast. Consider registering for mostly cozy casual newborn and 0-3 size clothing in knits with lots of stretch, then incorporate more dresses or formal clothes in 3-6 sizes.
Some genius functionality we love in baby clothes:
• Footed pants in cooler months mean you don't need to keep track of socks and pants.
• Zip-up pajamas make late-night changes painless.
• Swim rashguards give full coverage for babies that can't wear sunscreen yet.
• Kimono-style onesies are perfect for newborns as they're easy for newbie parents to get on and off.
Essential Baby Clothing:
• Soft knit hats
Baby Clothing Nice-to-Haves:
• Baby laundry detergent
• Seasonal gear like a bathing suit, sun hat, and a snowsuit
Baby Gear
A car seat and stroller are generally some of the priciest and most personal items on your registry, but you could use them every day for a few years, so make sure they fit your lifestyle before adding them to your registry.
The one thing you legally must bring to the hospital before they release you with your babe. The that infants and toddlers be in rear-facing-only or rear-facing-convertible seats until kids are two. Consider if you want it to be compatible with your stroller, if it fits in your car, how easy it is to clean, and if it's a rear-facing-only seat, can you easily carry it to and from the vehicle?
Stroller: What typ e of stroller is best depends on where you live and how you're typically getting around. For city kids, a stroller must stand up to uneven terrain going up and down stairs and have more storage than kids in the burbs who may drive more. If you're a runner or live at the beach, you may prioritize a jogging stroller. If this is your second child or if you plan on having more kids.
Try a few that friends have and see what feels comfortable, as many parents have preferences on baby carriers that buckle, slings that adjust with a C-ring, or wraps that tie. Your baby will feel more comfortable in one over another (and it may change as they grow!), but ultimately you'll need to feel confident getting them in and out.
Health & Safety
Look, much of this list you might not need to register for – you could pick up most at a local pharmacy – but friends and family usually have the best intel on which nail clippers or thermometer.
: Maisonette moms suggest springing for a temporal artery (forehead) thermometer to get a quick read on wiggly babies.
Yes, there are three types of nail trimming tools on this list. Nail clippers can nick a newborn, so parents typically use a file until you're bold enough to try scissors or baby clippers.
If you're planning on circumcision, you'll need petroleum jelly and gauze pads for care. Babies are more likely to get cradle cap around 3-12 weeks. Having a cradle cap brush on hand means you'll be prepared if it happens to your mini.
Health & Safety Essentials
• First aid kit with gauze, alcohol prep pads
• Baby nail scissors, clippers, and file
• Baby thermometer
• Nasal saline spray
• Chest rub
• Baby pain reliever
• Antibiotic cream
• Baby bandages
• Brush or comb
Diapering
Whether you use cloth or disposable diapers, you'll need a place dedicated to diaper-changing with a changing pad or basket, diaper cream, a diaper pail, and wipes.
Wait until you know what changing table or dresser you'll be using before registering for the changing pad to ensure they're compatible. Register for a few changing covers (blowouts are real) in different patterns.
A word on diaper bags: They don't have to be ugly or even have to be a bag. We love and fanny packs for on-the-go. Look for something that fits your lifestyle, whether you need it to fit in your stroller or slip into the tote you bring to the office. Brands like Caraa, TWELVElittle, 7Am Enfant, and State design bags that you'd never know secretly contained dirty diapers.
Resist the urge to skip an Ubbi. I was hesitant to add this to my registry (Why not just throw diapers in the trash? Is it weird for someone else to buy you a souped-up trash can?), and it was the first thing that arrived from our friends who just had a baby.
Diapering Essentials
• Diaper pail & liners
Diapering Nice-to-Haves:
• Diaper caddy to organize your changing station
• Wipes box
Bathing
You don't need a lot of , and minis will use it well into their toddler years, so register for you don't mind looking at daily or that vibe with your child's bathroom – stacking cups are perfect for giving newborn baths in the sink and as grow they'll use them to pour, stack, and splash. Store them in a pretty basket or mesh bag to let them air dry in between baths.
We love soothing cream or a balm for sensitive skin on baby's cheeks and hands. Look for formulas that are fragrance-free or have a light, calming scent.
Bath Essentials
• Pack of soft washcloths
Bath Nice to haves:
• Faucet cover
Nursery
Your space will determine what nursery furniture you need – and can fit if you're working with a lilliputian space. Some things like a rocker or glider and a bassinet you'll want from Day One, and some you can register for or purchase as you find what works for your mini. The AAP updates its sleep guidelines regularly, so talk to your pediatrician about how to keep your baby safe and review their .
While having a nursery feel "finished" feels fantastic, the AAP suggests infants and parents sleep in the same room for the first six months, so if you're short on space or plan to have family stay with you in the first few weeks, you could consider holding off on setting up your crib for a bit. Regardless of when you set it up, seek out cribs that transition to a toddler bed if you want to be one-and-done.
: Stock up on several sets and keep them in your baby's room so you can change sheets at any point in the night.
Most newborns sleep best with their arms and legs swaddled tightly to their body like in the womb and then slowly move to sleep positions and swaddles that get looser. Once babies try (even think about trying) to roll over, stop swaddling and transition to a sleep sack or wearable blanket.
Babies tend to have sleeping preferences, so many parents register for just one of each type of swaddle or sleep sack and only invest in more if they know it works for their baby. Hand-me-down swaddles and sleep sacks are an excellent way to test a few different options.
: If you have space on your changing table or dresser, a diaper caddy to organize all the little things makes the space more functional. Add an O-ball or easy-to-hold items from around the house to entertain your wiggly mini during changes as they age. Some parents mentioned hanging a graphic mobile or art over the changing station instead of the crib.
There are fan-based white noise machines like the OF Dohm Natural Sleep Sound Machine and options that do double-duty with a nightlight or clock feature.
A chair in the nursery is a cozy place to nap, nurse, and read books well into your mini's school years. Find one your love as you may spend lots of time here. Even if you think it won't fit, find an ottoman or footrest to pair with it.
Nursery Essentials:
• Bassinet
• Crib mattress & washable crib mattress pads
• Sleepsack swaddle
Nursery Nice-to-Haves:
Feeding
Feeding a newborn can be a wild ride. If this is your first baby, this is not only something your infant is learning how to do, but you're learning along with them, so have patience and be flexible – you may end up trying different techniques, tools, and accessories to find what works for you both. Have the you think you may need to start pumping and nursing but try to stick to the essentials until you get started. If you have a friend who has recently breast or bottle-fed it can be helpful to show them what you have and see if they have any suggestions.
• Pump (if not covered by insurance)
• 4 oz. & nipples (try 1-2 of a few types to find the kind that works best)
• Milk storage bags that work with your pump and bottles
• Milk freezer storage container
• Bottle brush & drying rack
• Nursing pads
• Nipple cream
Formula-Feeding Essentials
• Newborn formula
• Several (try several types to find one that works best for you)
• 4 oz. bottles & nipples (you may want to try 1-2 of a few types to find the kind that works best for you before buying 10-12 of each)
• Bottle brush & drying rack
Play
Your mini will have their entire childhood to collect all the toys, so consider a few play essentials you enjoy and add to their toy arsenal as they grow.
Babies won't be able to hold or shake a toy for three to four months, so in the early days, an for is ideal – they're available in sweet prints and bold shapes, often with flaps and textures for sensory play. Add an activity gym to support their cognitive development, hand-eye coordination, and sensory perception as they focus on and reach for the colorful soft toys hanging above them.
Books, cards, or soft toys with bold black and white graphics are a favorite of infants and developmental experts. Wee Gallery and Manhattan Toy make great versions with woodcut-inspired animal illustrations or modern shapes.
A bouncer like a is really for you – it'll allow you to take a shower, load the dishwasher, or send an email while watching your happy baby bounce next to you. DockATot also makes a stationary spot for safe lounging that we love for infants.
Play Essentials:
Play Nice-to-Haves:
What NOT To Add to Your Baby Registry
Now that we've told you everything we think you might need (or want!) to put on your registry, here are a few things you don't need:
• Crib bumpers: The AAP guidelines recommend nothing in a crib besides a flat fitted sheet.
• Shoes: They're cute, but your newborn won't need shoes until they start walking.
• Baby blankets: You'll get sweet receiving blankets whether you register for them or not
• Breast pump: Check with your insurance company first, as most insurance plans will cover an electric breast pump.
What To Put On a Second Baby Registry
A second baby registry is a perfect time to start on essentials like diapers, formula, wipes, and items that can grow mold or bacteria. Think: pacifiers, bottles or bottle nipples, breast pump parts, and bibs.
Look at your car seat expiration date to see if you need a new infant car seat. Do you need a double stroller, attachments, or adjustments to fit two kids?
If your kids share a room, moving your older child into a toddler bed and using their old crib for the new baby can save you from doubling up on cribs. If they'll each have their own space, you have the opportunity to design a room just for them - add a crib, changing station, and sound machine to your registry.
Use our Baby Registry Checklist to keep track of everything on your personal list. To print, save to your desktop and print.