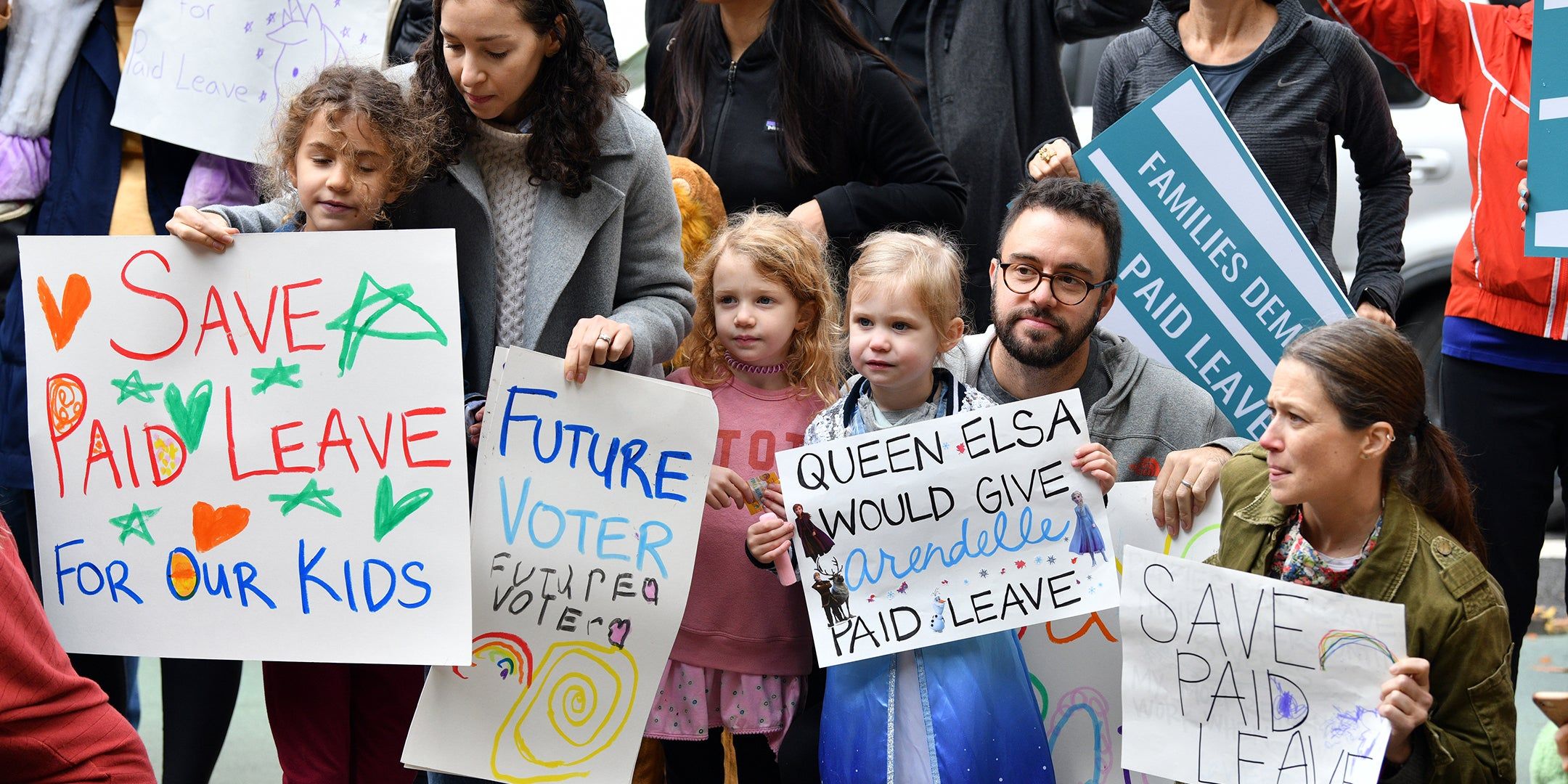 Let's Discuss
5 Ways To Explain the Urgent Need for Paid Family Leave
Columnist Lauren Smith Brody has been on the front lines fighting to ensure Paid Family Leave stays in the final Build Back Better legislation so we don't leave American families behind. Here, she makes the case for why Paid Family Leave is so important and gives you a cheat-sheet for dealing with any nay-sayers.
Photography

Bryan Bedder
Written By

Lauren Smith Brody
I'm basically here to live tweet the Paid Family Leave situation going on in D.C., because between the time I started to write this article 24 hours ago and now, progress has been made, and the reconciliation bill now looks like it will include paid leave after all.
That progress was made by YOU. By everyone who has been on a Zoom with a child on their laps, or toted a breastpump on the subway, or driven their dad to chemo every Wednesday at noon. By everyone who has realized, as Wisconsin Rep. Gwen Moore said at the Paid Leave for the United States rally on Tuesday in the pouring rain on Capitol Hill, "We're all going to need this one day...whether it's for a brand new baby, or our hip replacement, or to stand by our mother as she takes her last breath." If you have a child, you know this in your bones.
In fact, . This is not a partisan issue. It's a human necessity.
And yet, over the past five days, as my fellow advocates and I have hustled and assembled to get paid leave put back into the Build Back Better legislation, I've been shocked again and again by how many people simply don't understand what paid family leave is, what it's meant to do, and how good it is for the health of our economy, not just of our people.
Maybe you have a colleague or a grandparent or, ahem, a co-parent who doesn't fully get what all of the fuss is about. It's important to bring them up to speed so we can get this bill onto the President's desk to be signed. Parents -- for whom the pandemic is not at all over yet -- already have to do too much right now, so I'm going to spare you the work of coming up with the right words. Here's a cheat sheet for how to handle any nay-sayers.
To the person who says: "But I don't believe in hand-outs. Our country can't afford this."
Our country can't afford NOT to have Paid Family Leave. You knew I was going to say that, right? But seriously, the economic case for paid leave is airtight. We have 2.8 million fewer women in the workforce right now than we did pre-pandemic. That's not just some kind of "bummer" for women's equality. That's an economic crisis that must be solved.
Lots of data to hit you with here, but put on your math hat because it's worth it: Women are profitable. Research has shown that companies with more women in leadership have a and achieving gender equality in the workforce would . We must retain these women (and all parents and caregivers) at their most vulnerable moments.
Next, our population is decreasing. Families are having fewer children than it takes to sustain our future economy. And all fingers point to as the cause.
And, looking specifically at the immediate economic boon that would be spurred by PFL: from economist Lenore Palladino at UMass that shows that even four weeks of paid family and medical leave would add $43 billion to the economy and create 65,000 jobs each year.
To the person who says, "But I don't have kids...why should I pay for yours?"
Were you a child ever? Ah. And are you currently a person living in a human body? A full 51 percent of unpaid FMLA applications are . The current paid leave proposal is meant to cover your need to care for a child, a partner, an elder, and in fact -- as I was told in a White House briefing earlier this year -- anyone you consider to be "chosen family." Paid Family Leave is not a prize for having a baby. It's a human right.
To the person who wonders: "But maybe the states should just handle it individually."
The Paid Family Leave that's been passed as law in nine states and Washington, DC is an incredibly valuable proof of concept. We have , for instance, that shows that PFL has had a neutral or positive effect on productivity, profitability, retention, and morale by businesses surveyed. But the Motherhood Penalty is real, and in order for mothers to be compensated fairly for the long-term, shows that PFL works most effectively in conjunction with childcare supports (akin to those in the BBB bill -- both a stipend to reduce childcare costs and a child tax credit). Individual states also have, predictably, a real hodge-podge of eligibility rules that make PFL confusing to navigate at best (for individuals as well as HR departments), and inaccessible at worst. Often, public workers like teachers (teachers!!!) aren't covered. Or the benefit is being rolled out over many years, or postponed (Oregon, for instance, has delayed its PFL until September, 2023), which is obviously unhelpful for currently pandemic-ing parents. Long story long: We need a consistent, universally accessible federal leave policy as a foundation. Then the states can improve upon it.
To the person who says, "But big companies have already stepped up and offered paid leave. Let the private sector pay for this."
I am a bit biased here. The organizations that hire my company The Fifth Trimester to support their employees tend to already be on the side of supporting parents (or wanting to). They also tend to be in the financially healthiest sectors...tech, finance, big law. I absolutely believe that private businesses should do their best to invest in PFL. The case is easy to make: It attracts people, retains people, helps offset the pervasive gender wage gap, gets women in the pipeline to leadership where they're proven money-makers, etc.
But that is a bubble. The waitress I interviewed who went back to work at one-week postpartum and had to line her bra with diapers to catch the milk whenever a kid cried in the restaurant? She needs a national paid leave plan the most. Let the Googles of the world offer more, sure. But if paid leave is only accessible to the 2 out of 10 of us who work at employers who prioritize providing it, we are only perpetuating and growing the class divide in America.
To the person who says, "A paltry four weeks of paid leave is pennies in a tip jar. Let's hold out for an independent bigger, better bill."
I wish. You know who else wishes? All of the lawmakers (both Democrats and Republicans, by the way) who have proposed versions of Paid Family Leave like the Family Act and the Cradle Act for at least eight years now. Neither version has ever had enough support from the other side to be signed into law. And there's no reason to believe that's changed. I will refrain from telling you which structure I like best (okay, okay, it's the one that includes dads too and doesn't force moms to borrow from their own retirement), and instead will say this: Four weeks is absolutely insufficient, but it is vital for our country's most vulnerable families. Twenty-five percent of new moms take 10 days or less of leave. Four paid weeks would save careers and save lives. And it would set a precedent of paid leave as an American right that would become quickly normalized, and that we could all then improve upon. It's not just a start. It's a sea change. Starting now.