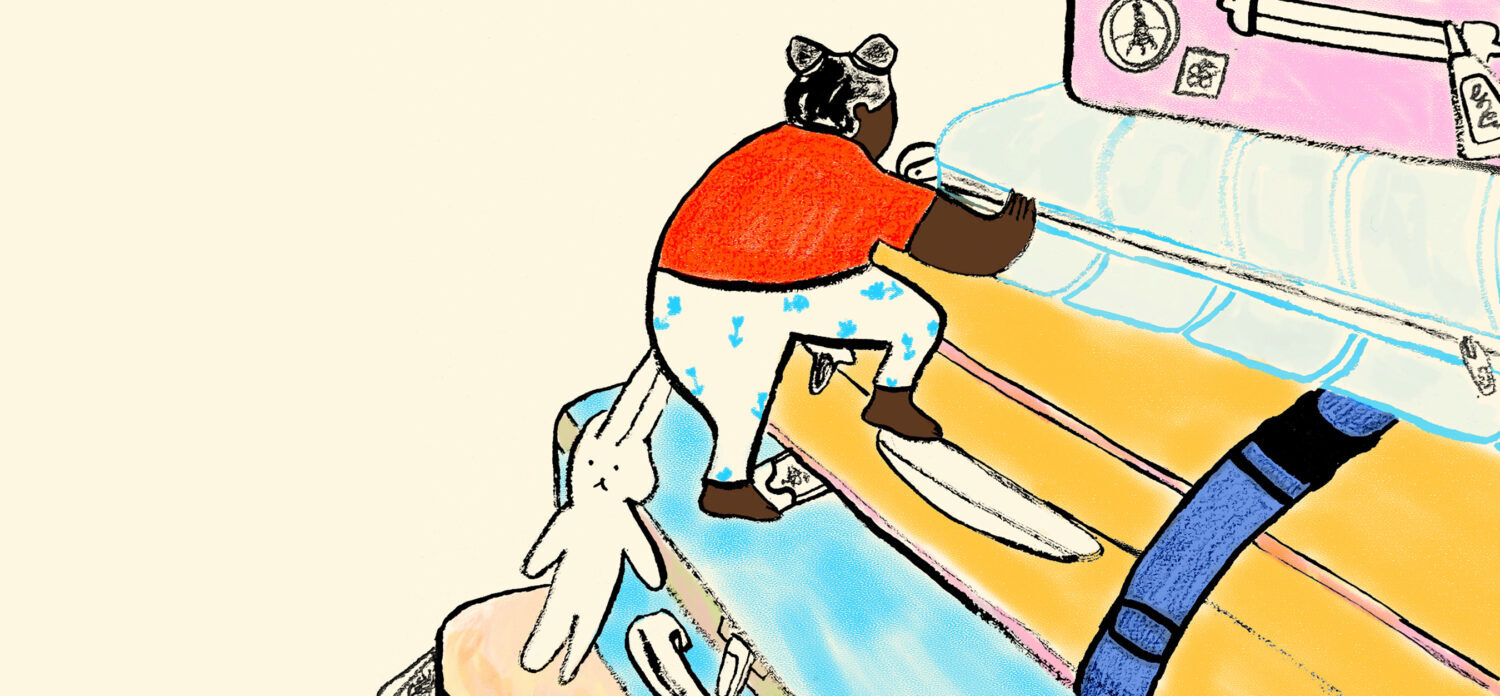 Traveling With Kids
Montessori Travel Tips for Your Next Family Vacation
Early childhood expert Blanca Velazquez-Martin of Whole Child Home shares how to prepare for your next trip the Montessori way – no, not by packing all the wood toys, but by inviting your child to participate in the preparation and nurturing opportunities to learn on the go.
Written By

Blanca Velazquez-Martin of Whole Child Home
Illustration

Danielle Rhoda
Your toy shelf cannot travel with you, but that's okay. The magic of the Montessori method does not come from specific materials but the respect we offer children as capable learners–and this, we can take with us anywhere. As adults, the key is to trust children with active participation in purposeful hands-on learning experiences that nurture their natural drive and interest to feel like a capable member of the family (and the world!).
The idea of traveling with young children can seem daunting at first, and it often leads us to minimize their involvement in the process. Other times, we avoid their participation in an aim to maximize the surprise element or to avoid frustration, but that also leaves them out of key aspects of building life-long skills in the process. Most importantly, lack of involvement means a lack of awareness of an important shift in their routine, which can lead to big emotions and less cooperation. Engaging your child as a capable learner during travel actually begins before you even leave the house.
Whether you routinely integrate Montessori into your lifestyle, or simply want some strategies to honor their capable role in your family during travel, consider these tips to promote hands-on learning and joyful independence.
"We're going on a trip, and I want to tell you about it."
Many of us eagerly await the opportunity to travel after months of not seeing our loved ones and cannot wait to share the travel experience with our children. However, in our excitement, we tend to forget that even the smallest part of the trip may be a completely new experience for our child, which can quickly become overwhelming and lead to big emotions. Imagine the sight and loud sound of the subway for the first time! Or suddenly seeing hundreds of people at once after being used to a small group of close friends for the past two years?
Engaging your child as a capable learner begins with considering their unique perspective and connecting with them before travel even begins. The challenging moments we aim to avoid (hello meltdown right as we're boarding!) do not come from a place of your child's lack of cooperation, but instead from feeling unsafe, overwhelmed, and with no control over an unfamiliar situation. You may not entirely avoid these tricky moments, but connecting your child with the experience of travel ahead of time can enhance your child's awareness, sense of safety, and trust in the new experience. A few tips:
• Learn about where you're going. How are you getting there? In the days leading to travel, explore together books related to airports, air travel, hiking, public transportation, or whatever seems to fit your upcoming adventure. You can also look at short clips or videos of other children exploring the airport, traveling by plane, and even scenes from the city you will visit. Imagine how exciting it will be to see a real subway train pulling up or smell the forest in person after only looking at it on video!
• Look forward to who you'll see. Are they meeting new friends or family members? Those count as new experiences too! Consider a FaceTime call with your hosts or family members they will meet, or look at pictures together prior to travel so they can begin getting familiar with your loved ones. We are so thrilled that children finally get to connect with family after so many months apart, but remember that many of those faces are new for your young child.
• Look back at past trips. Have they traveled already? Print a few of the many pictures you still have on your phone from that trip. They may not remember their last plane ride and may not have seen aunt Tracey since their first birthday party, but looking at pictures of themselves traveling will fill them with confidence and joy.
• Read up, together. For older children, consider websites or books that help you learn about the destination together prior to travel. Not only will you connect as you become familiar with the adventure, but you will learn about what your child is interested in and what they look forward to about your trip.
"Packing is how we get started, so we can bring our things with us. This will be your very own suitcase."
Even the youngest toddler will be excited and motivated to pack (their bag, and even yours! )if given the opportunity. The goal is not perfection—the goal is to engage them with purpose and set the tone for trusting them as partners in the travel process before you even leave the house. When children participate, they feel trusted. This trust leads to more learning, cooperation, and collaboration—and who doesn't hope for a tiny bit of all of these elements during travel?
Packing is not only a great introduction to the travel experience but is a practical life activity that builds a sense of responsibility and self-care in the process. My favorite outcome? That engagement leads to motivation. When they participate in the packing process, they are more likely to help with the lugging and carrying as well! It also supports their understanding of the travel dynamic, which involves packing as a practical activity to prepare for the return home. A few tips to gets started:
• Model packing. Learning about packing begins the moment you pull out your own suitcase. Honor their observations by discussing the purpose of packing, and what is important for you to include "I pack the clothes that I will need while we're away, my toothbrush, glasses, and I will also need a swimsuit!"
• Explore together. Offer them a small piece of kids luggage that they can potentially carry independently (a small backpack or kid-sized rolling suitcase). Let them get familiar with it through play and exploration in the days leading to travel. Exploration prior to travel helps them enjoy the novelty of the item in advance and focus on its purposeful use when the time comes.
• Let independent packing happen! As random as the result may be, it represents your child's purposeful effort to be part of the experience and prepare for it. Separately (and without correcting your child's efforts), pack the actual necessities or what your child may have missed. The goal of this bag is not function but belonging, responsibility, and respect for their learning process.
• Engage then with purpose. In addition to the random items they will likely pack in their luggage, gently guide them to some functional elements of the process. Narrate a simplified version of your plans to offer them context for what they will need: "We will sleep at grandma's house for three nights! That means we need to bring three pajama sets in your bag. Can you help me find them in your dresser?" For really young toddlers, guiding them to pack key items like a lovey, water bottle, and a snack inside a small backpack is impactful enough.
"We are learning from the world this week."
Packing a few favorites and some novelty items is key to easing everyone's journey to and from your destination. Travel journey aside, the most engaging experiences come not from continuing a toy rotation on the road but from the joyful experiences that travel offers. From a lamp in the hotel that they have never seen before (or the dial telephone they did not know existed!), Grandma's vanity drawer, to the new paths they will walk and new flavors they will discover–what they have not seen before will bring the most excitement and joy and capture their attention the most. Still, we all want some pointers on how to feel more prepared–consider the following as you bring child-led learning with you on the road:
• Prepare for the road. Exploration is an important part of the child's work in and outside the classroom. Bring items for the road or plane that your child has never seen before. Bonus points if you have time to pre-wrap them in leftover Christmas wrapping paper or even magazine pages. The work of unwrapping alone can lead to more play and convenient practice of fine motor skills. Don't forget to save a few items for the ride back! Even random items like clothespins, a key, toy cars, and a tiny stuffed animal inside a cosmetics bag can become the most magical mystery bag.
• Find meaningful contributions. From the moment you leave the house, even small jobs can be meaningful and filled with purpose–exactly the learning young children crave. Maybe they can pull their own suitcase (we covered that!), help you count luggage pieces, feel empowered handing out their own boarding pass, and we can always use some help finding the nearest trash can or elevators. As simple as it may seem, these tiny jobs foster belonging, engagement and collaboration through purposeful work.
• Practical life is everywhere! Packing ceramic plates and child-sized cleaning tools is not necessary to bring Montessori with you. Opportunities to engage independently in practical life activities are available everywhere you go, such as cleaning after ourselves at the table or plane seat, finding a place for the shoes and toothbrush as you unpack, and the practice of greetings and turn-taking as you get on and off the elevator.
• Create invitations to play on the go if needed. If you spend extended periods inside the hotel or with relatives, bring along two to three favorites you know are of your child's current interest. Set them up on a windowsill, under a table, or simply along an empty wall. You do not need a shelf to create an open invitation to play–simply a visible spot at your child's reach with a couple of items neatly displayed.
"I can do this."
Yes, YOU CAN! It is important to consider setting a foundation for awareness and collaboration Still, it is also crucial for you to approach the process with self-compassion, expect the unexpected, and adjust your expectations along the way Remember that you deserve just as much patience and grace in the process–traveling with littles is no small feat! You are already doing so much by sharing more of the world with your child.
All the tips above are helpful to prepare a foundation but not meant to make you feel pressured to make it all happen. They will probably pack toys they won't use, and the plane may still be overwhelming no matter how much you read about it in preparation. As you face challenges along the way, remind yourself that your child is doing the best they can with the overwhelming emotions of the new experience. Practicing connection with your child, especially as you travel, will be more important than anything you can pack.
After all, the most exciting part of the journey for your child will be to experience it with you–safe travels!
BLANCA VELAZQUEZ-MARTIN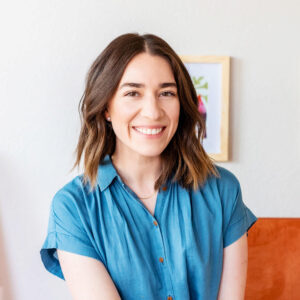 Inspired by her journey as a certified Early Intervention specialist, research professional, clinician and parent, Blanca launched Whole Child Home as a space to share some of this research and leave you with evidence-based information that you can use to help support your child's development at home.
Whole Child Home integrates inspiration from the Montessori philosophy. The Montessori method is based on scientific observation, and now has research to support its principles as ways to enrich many areas of child development—of the whole child.