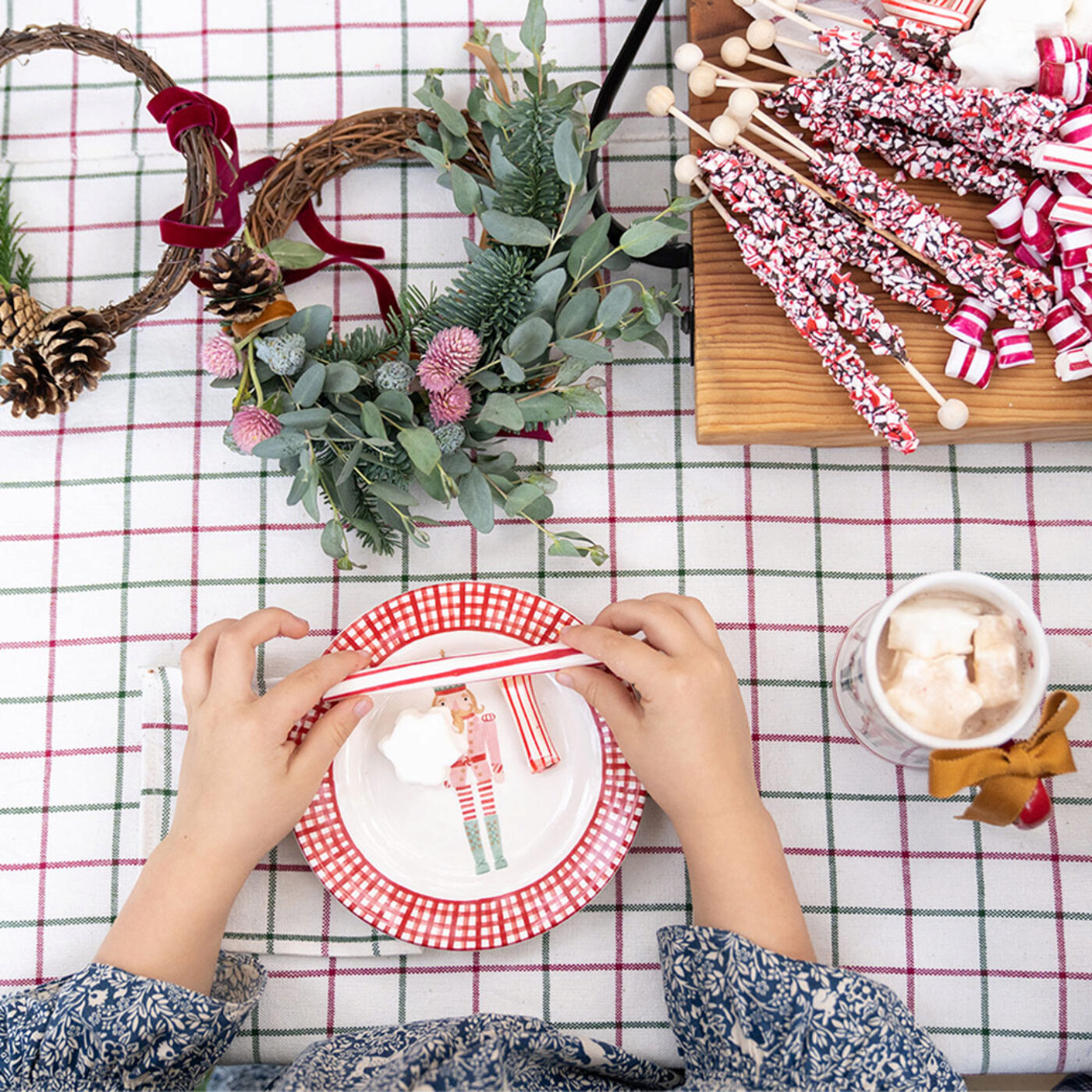 Parental Arts
Heather Taylor on Setting the Kids' Table With Style
Heather Taylor offers up handwoven linens in swoon-worthy designs with her eponymous
Heather Taylor Home
. Here, she offers her best tips for creating a kids' table they'll flock to.
Photography

LA Kids Photography
Written By

Heather Taylor
Have A Theme
It's always fun to have a theme. For example, this post-Nutcracker party is a playful extension of a holiday tradition. Whatever the theme, use it to guide the food, the décor and the activity. For a holiday party, I always want to do something extra festive so I used our special holiday linen for the table cloth, added some beautiful greenery and Nutcracker plates. We served hot chocolate and the children loved it!
Keep Little Hands Busy
When planning the kids table, I always want to have an actionable item for them, something they can take pride in and that they can sit and do before they eat. Kids inevitably end up running around, so it's a great way to keep them at the table as long as possible! For this, I love collaborating with my friend Amy Blessing. For the Nutcracker party, she brought little wreaths and all of the supplies so the kids could make it themselves and really get into the holiday spirit.
Think Functional Decor
I love to be practical when it comes to decorating the kids' table. Whatever you're serving, present it so beautifully that it can double as the decor. So for the hot cocoa, we made these really gorgeous platters with all of the marshmallows and other sweet accouterments. I'm all about using what you have or something that can be repurposed, like the greenery. And while I always use real plates and glasses, I do not recommend putting anything on the kids table that you would be sad to see broken!
Make It Special
There are so many ways to make the kids' table a place they want to be. Of course I always start with a really beautiful linen just like I would for adults and honestly I want it to feel sophisticated. I also like to include something that will spark their imagination, like those Christmas crackers are always fun. And a personalized moment like a name tag or you could do a special holiday mug with their name on it, makes them feel special and can be used year after year. Finally, don't forget the soundtrack! Having a couple of great playlists at your finger tips will make it fun for the kids and the adults!
Flip The Table Cloth
One easy way to transition from the craft to the snack or meal that you're serving is to just remove any excess and then flip the table cloth. That way, any mess made from the craft will be forgotten and voila, you have a fresh (and beautiful) slate. Another linen-related tip: really pretty cocktail napkins make great kids' napkins!