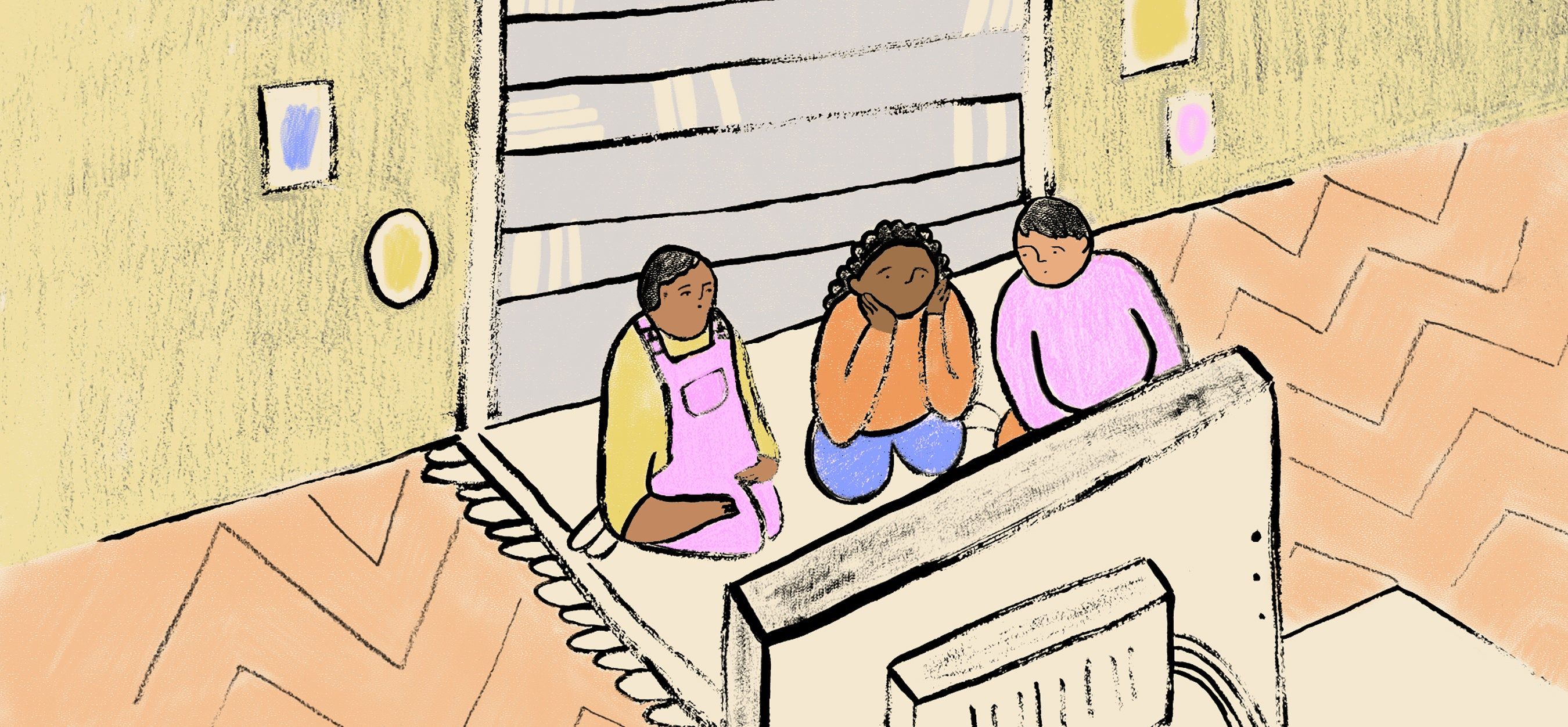 Ask An Expert
When To Talk to Your Kids About Frightening News – And What To Say
In our increasingly connected world, it can feel like there is a new heartbreaking event happening around the world with every news cycle. From war to hurricanes, it's overwhelming to process these events even as an adult. But is talking to your kids about scary news events really necessary? We spoke to media and child psychology experts to find out when to have these hard conversations and what to say.
Written By

Katie Covington
Illustration

Danielle Rhoda
When To Talk to Your Kids About Scary News
Our parents didn't have to explain things like school shooter drills, pandemics, or the impact of climate change. It can feel like one too many things on our parenting plate, but talking to our kids about potentially traumatic news events is a parenting skill we're collectively going to have to learn to prepare and protect our kids.
According to , PhD, a psychologist and Professor at Duke University Medical Center, "When we talk about difficult topics with our children, we're laying the groundwork that we're available to talk, even when it's hard, which is so critical as children grow up. You want them to know they can come to you to talk about anything – bullying, peer pressure, even potential violence."
Conversely, she says, "There's solid science that tells us that when a tragedy happens, if we try to shield our children from it and they find out anyway and don't have our support, they are at higher risk for mental health issues like anxieties, worries, and depression."
No, this doesn't mean you have to discuss every hurricane. Not every kid needs to know about every news story. "If they are younger (under the age of 5) and not in preschool or exposed to news events, then it may not be worth it to bring up a breaking news story. On the other hand, if your child is older and they will hear about breaking news at school or from peers, then parents need to help them understand what the news story is about and allow time for processing." says therapist , LCSW.
How to Talk to Kids About the News
If you know or suspect your child knows or will find out about a scary news event, the goal is to create a safe space for them to ask questions, let them know they are safe, and find outlets to process their feelings. Here's how:
Find the right time and place to talk.
Take your time to find the right moment. Avoid times when you're "rushing out the door or trying to get somewhere. Put away your phones, and ensure everyone is ready to listen. Skip late at night or bedtime to avoid scary dreams." suggests Morrison.
Tell the truth - but not the whole truth.
It can help to have a script to start the conversation. Something like "________ has been in the news a lot. What have you heard about it?" is a helpful opener. Then the APA suggests responding with "brief, simple information with reassurance." It's ok to say you don't know why something happened or not have all the answers.
Joanne Cantor, PhD, Professor Emerita at the University of Wisconsin-Madison, who studies the psychological impact of the media on children,  suggests we "answer their questions in a hopeful and specific manner and avoid talking about worst-case scenarios." Instead, focus on any good news, like people helping others after a natural disaster or the discovery of effective vaccines or cures during a pandemic
Validate their feelings.
Naming feelings can be an essential first step for younger children. Are they angry, sad, or confused? Always validate their reactions and refrain from judgment. These can help:
"This is really hard for you/us."
"I can see you are feeling _____ about this.'
"It's hard not to have all the answers."
Reassure them that they are safe.
If the threat is far away, you can comfortably tell them they will be safe. For threats closer to home, like school shootings, focus on all the specific protective measures in place to keep them safe. If violence is a real threat in a child's community, share age-appropriate ways to stay safe, like seeking out a trusted adult.
Find ways to help.
One way to bring kids a sense of agency is to help those affected by the news. Common Sense Media suggests these ways to help:
• Write postcards to politicians.
• Attend a protest or community meeting.
• Assemble care packages or donate needed items.
• Raise funds from a bake sale or lemonade stand. You may need to tell younger kids what the money will be used for to make it real for them.
Even if it's unrelated to the tragedy on the news, kids may regain a sense of control and feel like they are doing something by helping people in their own community. For example, Dr. Gurwitch explains that "If there is a horrible snowstorm and people are without electricity, there may not be anything to do to directly help them, but you could bring up our neighbor's trash cans or rake their yard. If you're in the same community, even if you are experiencing the lack of electricity yourself, reaching out to help by something as simple as shoveling a neighbor's drive can increase resilience." (Bottom line—when we find a way to help others, we help ourselves)
Keep the door open.
If kids don't want to talk about the news, that's ok too. There is no need to push the conversation further if kids aren't interested. Often, hard conversations aren't one-and-done so let kids know they can always ask more questions later.
Set boundaries around access to media and information.
Dr. Cantor recently studied the impact of news of COVID in the media on kids and found that "children who had [devices] in their bedroom were significantly more likely to be frightened by COVID news than those who did not." Also, children frightened by the pandemic lived in homes where significantly more hours of COVID news were received. She suggests keeping smartphones, tablets, computers, and TVs out of kids bedrooms and limiting your own consumption of the news when kids are around.
Dr. Gurwitch encourages us to "monitor our own conversations because we may think our children are not listening, but they do, even if they may not completely understand what we're talking about which can lead them to fill in the blanks, this can be much scarier than the reality."
Talking to Kids 2-6
• Kids age 2 to 6 are less likely to worry about abstract concepts, but the images themselves are scary. In her study of children's responses to COVID news, she found that "for the youngest group, the visuals themselves seemed to cause fear, without any interpretation."  She advises parents to attempt shield very young children from news coverage of war, death, sickness, and disasters.
• Kids process their feelings through play. Pretend play and art involving violence can seem upsetting, but it's how kids explore and express their feelings. Encourage role-playing or drawing the helpers like doctors, nurses, or firefighters.
• These kids may express trauma with changes to their eating and sleeping habits, withdrawn behavior, or clingingness.
Talking to Kids Age 7-12
• Abstract, nonvisual threats like talking about the disease or shortages of equipment tend to be more frightening to older kids as they better understand the impact.
• "Since at this age they can understand that news stories are real, they may have a lot more questions than younger children." so as they get older, you may have to reassure them more often, according to Morrison.
• Help kids separate reality from fantasy. If you start with what they know, you can find out if there is misinformation or misperceptions. "This gives the adults a chance to clarify and gently correct." says Dr. Gurwitch.
• Kids are starting to see morality in stark black and white terms. Help them make room for the messier interpretation of the world. Avoid classifying people as "bad" or "evil," and do your best to explain the basics of prejudice, inequality, bias, and civil and religious strife when it's relevant.
• These kids may react to traumatic events by being afraid to go to school, act younger than their age, or become aggressive if traumatic news events stresses them.
Talking to Teens
• Dr. Gurwitch's tip for getting hesitant teens to open up: Ask them what their friends are saying about a news event as they may be happy to tell you what their friends think, which can be a good stand-in for their feelings. It gives you a chance to listen and validate them, no matter what.
• With older teens, you can share how the media works. Watch news coverage together and talk about it. Explain that news is a business and that they need to attract audiences which can influence editorial decisions on how events are reported. Teens often get their news from social media, so steer them to reliable sources. Show them how to find out whether something they saw online is true using from Media Smart.
• Older teens may claim to be fine, deny their reaction to an event, complain about seemingly random physical pain, or engage in risky behaviors.
If you're concerned about changes in your child, your pediatrician can direct you to the appropriate resources or check with the APA to find a local trauma specialist.
Helpful Resources
from Substance Abuse and Mental Health Services.
from National Association of School Psychologist
from National Child Traumatic Stress Network
Experts
is a licensed clinical psychologist with close to 30 years of experience in evidence-based treatments and the impact of trauma/disaster/terrorism on children. She is a professor in the Department of Psychiatry and Behavioral Sciences at Duke University Medical Center and the Director of Parent-Child Interaction Therapy (PCIT) and Child-Adult Relationship Enhancement (CARE) Training at the Center for Child & Family Health. She is a member of the National Child Traumatic Stress Network and Senior Advisor to the Terrorism and Disaster Program of the National Center for Child Traumatic Stress.
Liz Morrison, LCSW is a child psychotherapapist who received her Masters in Social Work from Columbia University and a Certificate in Children and Family Therapy from New York University. She's been sought out by expert publications such Elle Magazine, Psych Central, and Psychology Today.
Joanne Cantor, PhD is Professor Emerita in the Department of Communication Arts at the University of Wisconsin-Madison. She has been doing research and teaching on the subject of children and adults' emotional reactions to media since the early 1980s. In addition to dozens of scholarly articles and chapters on the topic, she has written a parenting book, Mommy, I'm Scared: How TV and Movies Frighten Children and What We Can Do to Protect Them, and a children's book, Teddy's TV Troubles. Her latest publication centers on kids' responses to COVID in the media.
Along with American Pyschological Association, Common Sense Media and Media Smarts.