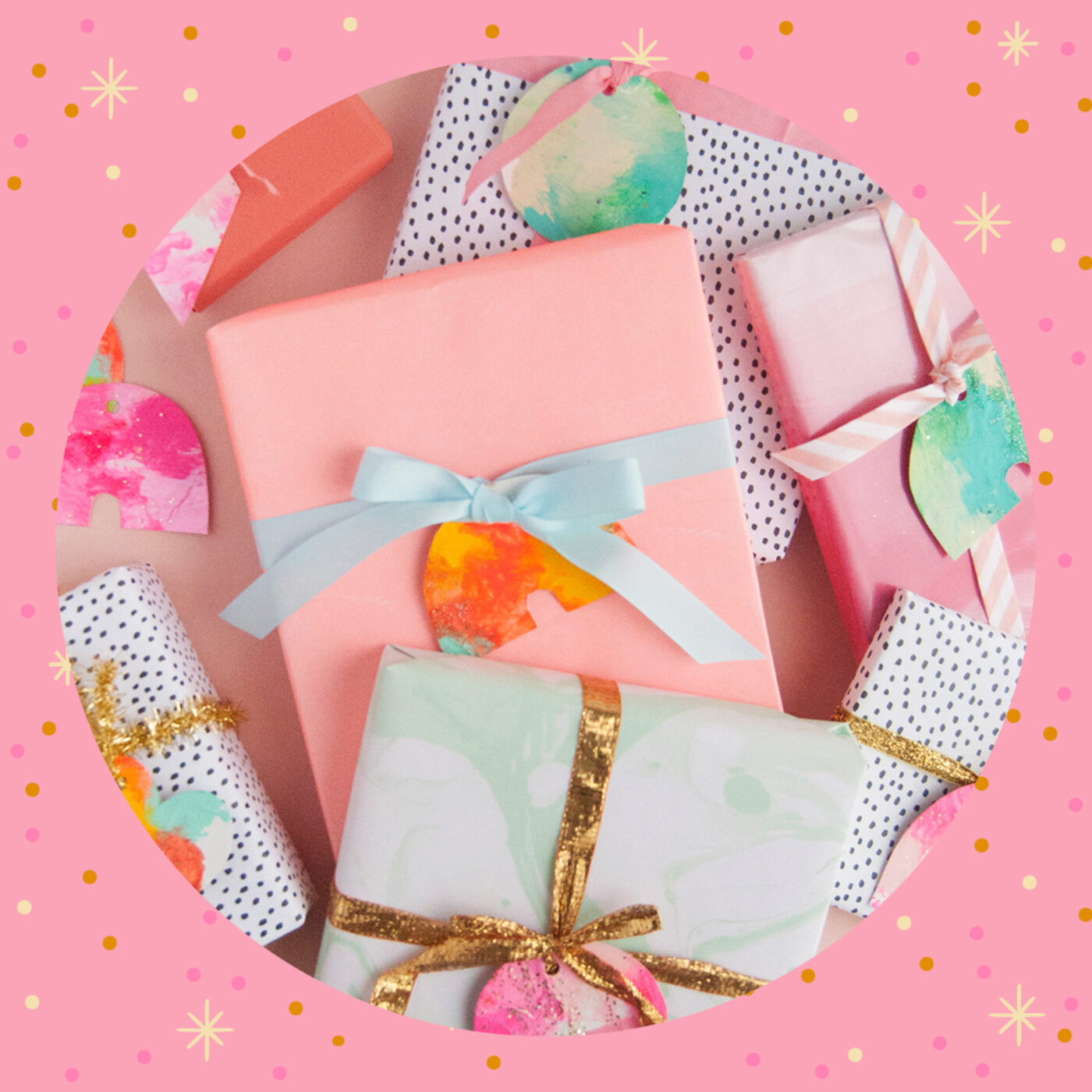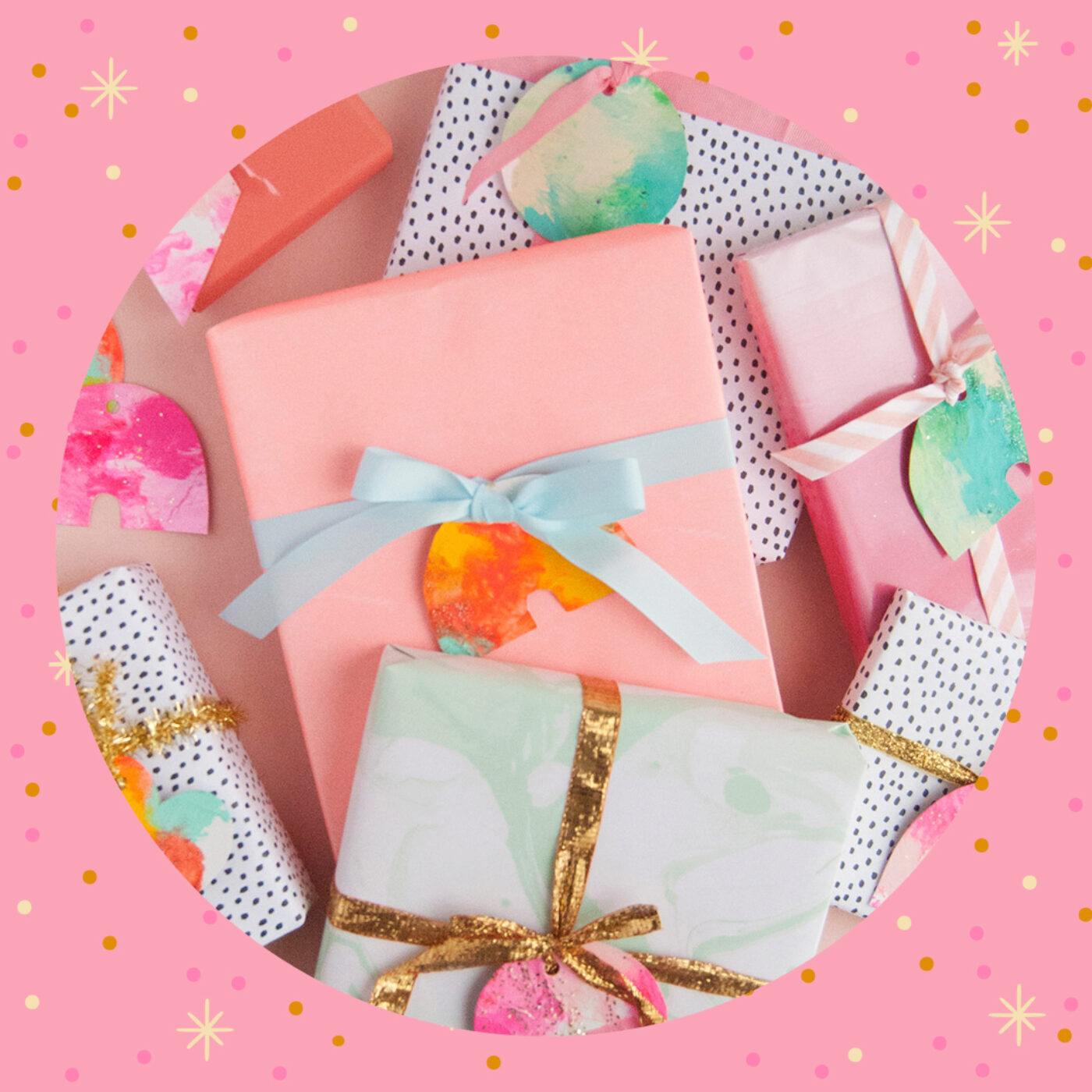 Holiday Spectacular
DIY Gift Tags
The
Handmade Charlotte
team talks DIY gift tags and how to get your little ones excited about holiday crafts.
Can you walk us through the "smoosh" style art technique you used step by step?
This is a great technique for kids of all ages, even really little ones because it's mess-free!
Step 1: Cover your work surface with a plastic tablecloth or garbage bag. Place your white cardboard (we used the inside of a white cardboard cracker box) on the plastic and apply blobs of paint all over it.
Step 2: Gently place another tablecloth or plastic bag over the paint blobs— this will keep all the messy paint contained.
Step 3: Have your little one use their hands and/or feet to press on the paint blobs, which will move the paint around under the plastic in different shapes and sizes. (Note: for very little ones, it can help to tape down the edges of the plastic onto your work surface to prevent them from pulling it up and getting messy in the paint.)
Step 4: Once the paint is all spread out, carefully remove the top piece of plastic (throw it away or set aside somewhere safe to dry to reuse later) and let the paint dry completely.
Step 5: Draw simple shapes onto the cardboard with a pencil and cut out. Punch a hole in the top and your tag is ready to use! You can use a marker to write a name on the front over the paint, or if the back of the cardboard tag is blank, you can write there instead.
What materials do you recommend and what was the inspiration behind the project?
For the cardboard base of the tag, take a look in your recycling bin! Cereal box weight cardboard is great for this as it's sturdy enough to not warp with lots of paint on it, but easy enough to cut with a pair of scissors. We used ooly paint in these super fun metallic, neon, and glittery colors.
We've seen this paint-inside-a-plastic-bag technique used before as a fun way to have kids create painted art mess-free, and we loved it! Oh Joy did a super fun take on the method, too, and we loved how it looks just like elevated, abstract art. We thought it would be a really fun technique to use during the holiday season so that kids can help out and add a fun custom touch to your gifts.
Particularly in a year when many families will be shipping gifts, it's so important to make a package feel personal and special. What is your best advice for getting even the littlest ones involved?
Don't worry about things being perfect! Little ones are so happy to be involved and help out, so even if things aren't going exactly as you first envisioned, go with it and know that you're creating some great holiday memories for everyone.
More generally, what are some things to keep in mind when getting kids of all ages excited about holiday crafts?
We are huge fans of using and repurposing items you already have at home. The holiday season is busy enough without having to make special trips out to get materials. Raid your recycling bin, dig into the back of your craft cupboard and see what you can find around the house—you'll be surprised!
How will you and your family celebrate the holidays this year?
We're looking forward to spending time all together and recharging for the new year. We have so many fun projects on the go this year, including our new brand book The Handmade Charlotte Playbook (it's available now!) so we're excited to be relaxing as a family and dreaming up new creative ideas for 2021.