Dishing With Bailey
Getting Kids to Love Fish
A happy outlook and the ability to heal quickly are just some of the benefits of eating fish. Here are some fool-proof recipes for getting your kids to dive in.
When people say their children don't like fish, my response is this: They haven't had it properly cooked. As a mom, I understand the challenges – strong flavor, icky texture. As a nutritionist, I need to tell you that cold-water fish is an essential food to introduce to kids and definitely worth the effort. The younger they try it – from 8 months onwards – the easier it is to establish in everyday eating. Aim to make it part of their diet three times per week.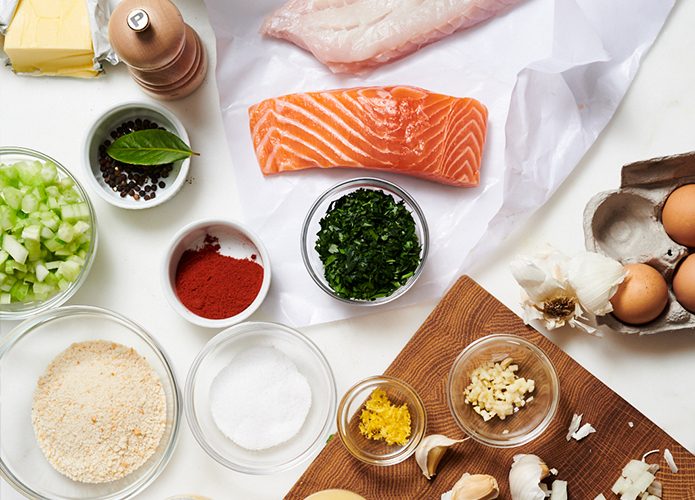 Antioxidant Selenium
Fish is particularly rich in selenium, which underpins our antioxidant system and protects us from environmental toxins.
5 Tips for Getting Kids to Eat Fish

1. Absolutely no bones.

One bad experience can put them off for years. So, try to buy fish directly from the counter and ask the fishmonger to check the fillet for bones. Before cooking, pat the fish down, just to make sure.

2. Poach, don't grill.

Omega 3 fats are volatile and break apart at high temperature, and that breaking apart is what makes that fishy flavor. So, try poaching. This lowers the cooking temperature and gives the fish a subtle flavor and soft texture.

3. Go raw.

I'm yet to meet a kid that doesn't like sushi if they try it young enough. There is a ceremony of sharing involved in sushi that kids love, and with no cooking at all, the fish flavor is very delicate. Begin age 4 to 6 with a simple salmon maki roll. They will soon be asking for all the extras: avocado, shrimp, shredded veggies, omelet, edamame. Maki rolls with fish, avocado and veggies make a perfectly balanced meal. To avoid personal bankruptcy, try our recipe for making sushi at home!

4. Mix it up.

In Scotland, fish cakes are a classic kids' dish, a combination of poached fish, mashed potatoes and savory vegetables or herbs. For a child who is not wild about salmon, our fish cake recipe sneaks in salmon and cod for a savory favorite.

5. Keep trying.

All children develop food aversions from time to time. My son started eating fish at 8 months, but when he was two, he threw it in my face. From then he claimed to hate fish, and I mistakenly stopped serving it. When my daughter came along, she never rejected fish and eventually, my son became aware of salmon as a family meal and happily began to enjoy it again. Children pick up on what is valued in the family.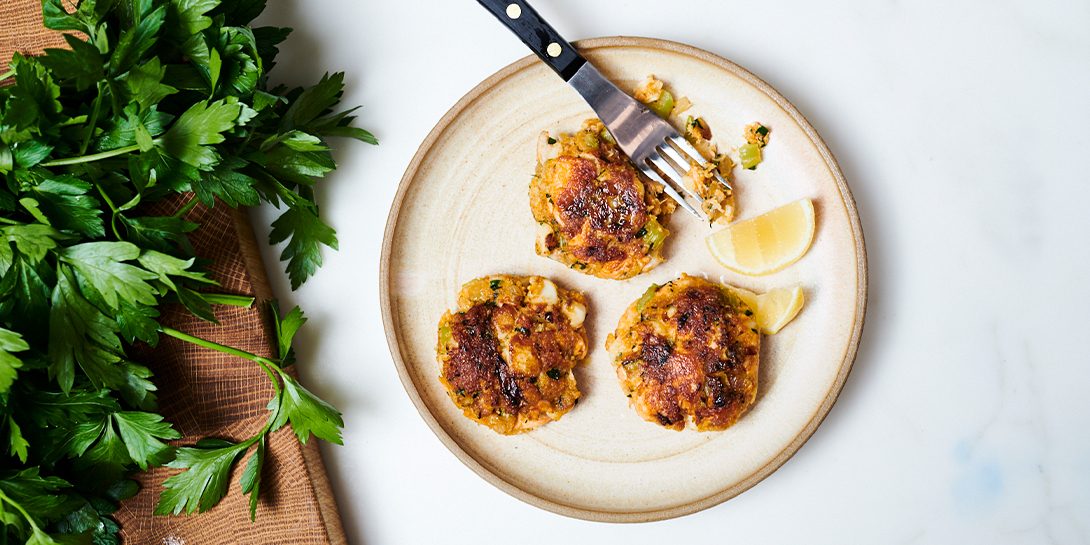 Best Fishcakes Ever ... Seriously!
Yield: 6 servings
Nutritional Information: 10g carb, 20g pro, 230kcal

Ingredients
8 oz cod
8 oz salmon
1 bay leaf
½ lemon
6 black peppercorns
1 medium onion, chopped
2 celery sticks, trimmed and chopped
1 tbsp garlic, chopped
2 tbsp grass-fed butter
1 tbsp mayonnaise
2 pasture-raised eggs
1 tbsp Dijon mustard
¼ cup chopped parsley
1 cup (gluten free) Panko bread crumbs
2 tsp paprika
1 tsp salt
I tsp lemon rind, grated
Pepper to taste
Olive oil spray

1. In a skillet, place fish, lemon, bay leaf and peppercorns. Cover with cold, slightly salted water and bring to a simmer on low to medium heat. Cook for 3 to 4 minutes and lift from pan to drain.
2. In a frying pan, gently sauté the onions and celery until softened, about 10 minutes. Add the garlic continue for another 2 minutes.
3. Mix all other ingredients in a large mixing bowl. Add the fried veggies and flake the fish in carefully. Combine ingredients lightly and form into round patties.
4. Chill patties for at least 1 hr before cooking – the longer they are chilled, the more they will hold together.
5. Spritz with olive oil and sauté each side for 4 minutes. Alternatively, bake them at 375F for 15 to 20 minutes.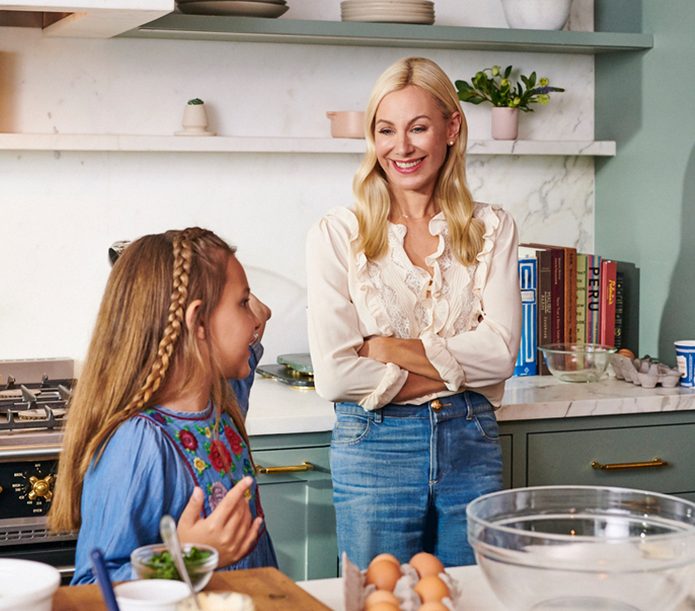 DHA: Mood-Enhancing & Anti-Inflammatory
DHA (docosahexaenoic acid) is the superstar of the Omega 3 fatty acids. It is one of the longest and most unsaturated fats in nature, and fish that swim in very cold water are full of it.

DHA is key to brain development and sustaining mental health and happiness throughout life. It is also profoundly anti-inflammatory and without it, we cannot heal. It is incorporated in every cell in the body. When infection and inflammation occur, DHA breaks down into molecules called resolvins which turn off fever, swelling and pain.
Sushi for Beginners

Sushi is all about the mise en place. Once the ingredients are prepared, it's super easy to put together and great fun for kids. I'd start with maki – rice on the outside – as opposed to seaweed wrap. If using salmon, always buy a fillet – not a steak – to easily remove bones and achieve the correct cut. Wash well and cut lengthways into ½ inch strips. If raw salmon feels like a stretch for your younger children, cooked shrimp is a good substitute. (Include 3 medium shrimp per maki.) You will also need a bamboo sushi mat, which are widely sold supermarkets. Cover the mat in cling wrap before each use.

Yield: 6-8 rolls
Nutritional Information: 30g carbohydrates, 15g protein, 300 kcalories

Ingredients
2 cups sushi rice
1 tsp salt
1 tbsp sugar
¼ cup rice vinegar
6 to 8 nori sheets (toasted seaweed)
1 pound raw salmon, deboned, washed and cut into ½ inch strips
1 avocado, cut in approximately 8 strips
½ cup of cucumber or carrot, julienned
Soy sauce for dipping

1. In a skillet, combine rice with 2 cups cold water. Bring to a simmer and cook with the lid on for 20 minutes. Turn off heat and let sit for 10 minutes.
2. In a small pan combine salt, sugar and rice vinegar. Heat until all solids are dissolved into a dressing.
3. Transfer rice into a wide mixing bowl and sprinkle evenly with the dressing.
4. Let cool for 40 minutes at room temperature. Rice may be refrigerated for up to 6 hours if you aren't using it immediately.
5. Place nori sheet on the bamboo mat.
6. Take a ball of rice (approximately ½ cup) in the palm of your hand and form it into a sausage or oval. Place lengthwise in the middle of the nori sheet and press outward to fully cover. Leave a 1-inch lengthwise strip of nori uncovered by rice.
7. Place the nori rice-side down on the bamboo mat and add filling along the center.
8. Gently roll with the mat until both sides of the nori overlap. The uncovered strips will bind the maki.
9. Cut and serve with soy sauce and any leftover avocado or vegetable strips.


Alainn Bailey MS RD CNSC is a clinical nutritionist at Stony Brook Southampton Hospital and founder of Hamptons Clinical Nutrition.