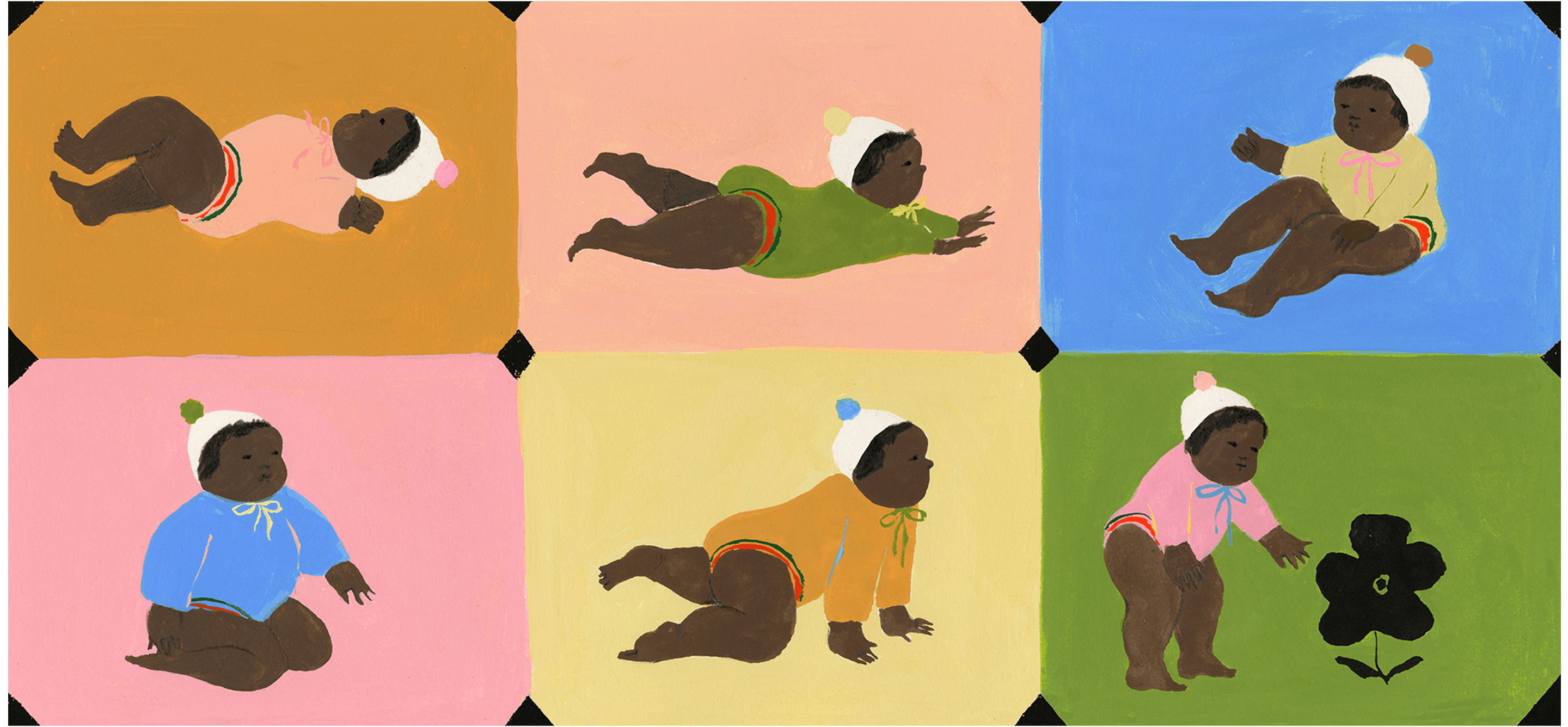 Medical Corner
What Is Early Intervention and Why Is It Important?
If you've ever asked yourself, "Is this normal, or should I be worried?" about your child's development you're not alone. Anjuli Srivastava Gans, MD, attending physician at the Children's Hospital of Philadelphia, breaks down everything you need to know about how crucial Early Intervention Programs can empower you to support your child.
Written By

Dr. Anjuli Gans
Illustration

Emily Isabella
Last week, I saw one of my favorite patients, who I'll call "Harold," for his one-year-old check-up. Harold has always been a delight – a sweet and loving boy with a quick eye and smile. We went through his visit cheerily, talking about how he was eating and sleeping and what new things he was doing. He played on the exam table, showing the physical agility and social skills that I would expect for his age.
But I also noticed Harold's mother did most of the talking. She got quiet when I asked about language and communication as part of his standard development screening. She noted that, though Harold was making a lot of sounds and screeching a ton, he had not yet started saying any words. Like many "pandemic babies," Harold had been at home mostly with his parents and older sister. He had few playdates, a (very) vocal older sister at home, and a grandmother who answered his every need before he asked. His mother worried about his speech but wasn't sure what, if anything, she should be doing.
"Is this normal, or should I be worried?" This is one of the most common questions I get from parents about their children's development every day. I always share with parents that every child follows their own path, and while that path may be different for their child, it is no less valuable. And I do understand. Milestone anxiety is very real for parents, especially over the last two years. Many families have had disrupted social networks, and it can be hard to interpret your child's developmental growth without that context. Knowing where to turn and what to do next for developmental questions is even more overwhelming.
I want to share what I've learned over my years in practice as a pediatrician and as a mother with my children.
The First Three Years Matter. We know that the first three years of a child's life are critical for their health, cognitive, and social development. A child's brain makes an incredible number of connections during this period, which lay a foundation for their learning and health. So it's essential to identify challenges early and offer support - the foundation that these tools lay for your child will last a lifetime.
Information is Power. The more data points we have about a child's development, the more we can offer tailored tools that will help them thrive. Collecting that data is important - it's part of why children see their pediatrician so much in those early years. It gives your team a roadmap for how to best address your child's needs.
Early Intervention Works. Many parents share that they would feel better just waiting and seeing how their child does. And I can certainly understand that instinct. Many children do catch up on milestones without early intervention. But for those children who don't or who have other conditions that might require more support, intervention is more effective when provided earlier in life. And children who receive early intervention services make tremendous developmental strides. Data shows that early intervention programs have shown benefits in physical health, developmental progressions, academic achievement, and behavior.
Parents Can Help. Here are some tips for parents worried about their child's development (i.e., language and communication, cognitive, motor, or emotional skills). First, take stock. For example, if you're concerned that your child isn't crawling, take some notes of what they are doing. Are they rolling? Sitting up? Lifting their head without support? Getting up on their knees? There are a lot of "ministones" that come before big milestones like crawling, walking, saying your first word - knowing them will allow you to seek the right kind of support and help you see all of the great things that your child is doing already. Second, talk with your pediatrician. Your pediatrician can be an invaluable resource for support services - if you or your doctor is concerned, you can ask for a referral to a specialist directly or seek help (with OR without a doctor's referral) from your state or territory's Early Intervention Program.
Is This Normal, Or Should I Be Worried? A Guide to Early Intervention
Early intervention is a term that describes individualized support services for young children (usually birth to 3 years old) who need support in their development. It serves to help children who have or are at risk for developmental delays, disabilities, or certain health conditions. In the United States, early intervention services are specialized and publicly funded. They vary by location but often include speech therapy, physical therapy, occupational therapy, counseling, nutrition support, medical services- and additional support for children and their families. Here are some examples:
• A parent is concerned that their two-year-old only says "mama." A speech therapist can work with the child and family on specific strategies. They could teach the parents things like how to emphasize functional words (i.e., "more," "all done"), engage in purposeful play by repeating words and giving the child opportunities to try and speak, copy sounds and gestures for high impact). They could model those tools for the parents and work with the child directly during individual sessions. They might also give parents advice on how to talk with teachers in a childcare setting to support the child's language development further.
• A pediatrician is concerned that an eight-month-old isn't rolling yet. A physical therapist can give the child and family tools to support their motor development. They might help the family with core strengthening exercises, give them games to play that will encourage the baby to use their supporting muscles, or show the family simple adjustments in their daily activities to support more movement. They can also offer daycare providers or caretakers resources to ensure that everyone has tools to help the child's progress.
Early intervention can make a big difference in a child's growth and has been shown to improve their academic and social success. Early Intervention programs are available in all US states and territories. They are provided for free or at a reduced cost. And you don't need a physician's referral - you can contact Early Intervention yourself and request an evaluation. You can find more information on programs in your state here.
What to Expect Throughout The Early Intervention Process
• You or your doctor will make a referral to your state or territory's .
• Someone from the program will contact you (times vary depending on the state - some reach out within a few weeks, others may take longer).
• You will set up a time for your child to have a full developmental evaluation. Even if you are focused on your child's development in one area (for example, their language), a multi-disciplinary team will conduct a thorough, evidence-based evaluation of all areas. This helps to ensure that they are seeing the whole clinical picture. Your child's evaluation may be done in person (in your home) or as a telehealth visit.
• The specialists will determine whether or not your child meets criteria to receive additional services.
• If your child meets their criteria, they will have an appropriate therapist (speech, physical, occupational, etc.) set up a schedule for sessions. Every child has an individualized plan of care. Some children receive services once a week and others less frequently depending on their needs. The sessions can be at home, by telehealth, or at school/childcare.
• The team assessed your child's progress regularly. Some children "graduate" out of services early, and others have services that continue on and eventually wrap into their school curriculum.
Early intervention was so helpful for Harold. He met with a speech therapist every week for a few months - she helped Harold's mother with simple tools that she could incorporate into their everyday activities. Harold's mom started narrating the events of her day, leaving space for Harold to participate in the conversation. They showed his older sister how she could contribute by repeating words during playtime and encouraged his grandparents to sing songs with him. Within a few months, he had made tremendous progress. When I saw him at his next visit, he babbled and said many words.
These services can be so beneficial for your child – it was for Harold. But they can also be incredibly helpful for you as a parent. They will give you support and tools to build on for a lifetime. They will help you know how to advocate for your little ones if they need additional school support. And most importantly, the education and skilled support will help you feel empowered caring for your child.
DR. ANJULI GANS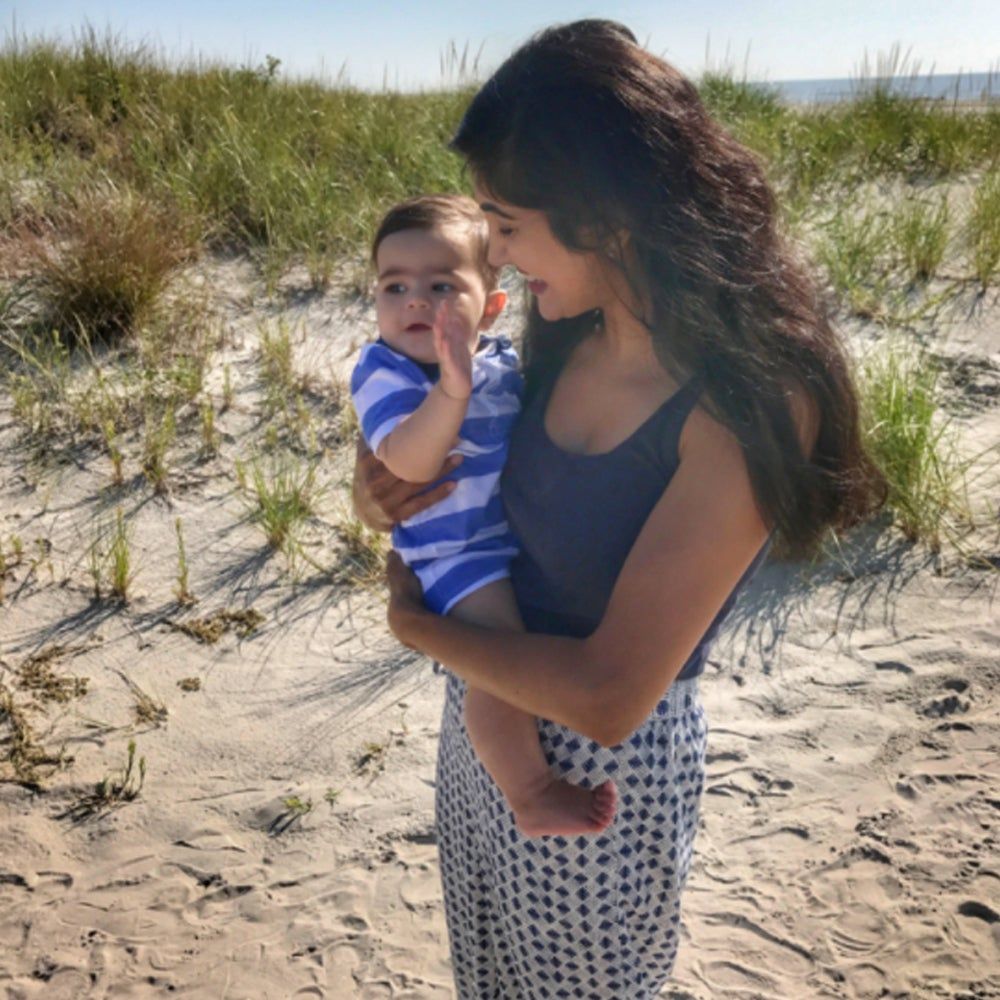 Anjuli Srivastava Gans, MD, is founder of Resilient Rascals and an attending physician at the Children's Hospital of Philadelphia. As a leading expert on early childhood health + development, she hopes to bridge the gap between parents' instincts and practical medical care that they can use at home. She lives in New Jersey with her husband and two children. For more advice from Dr. Gans check out her tips on traveling with kids or coughs and colds.