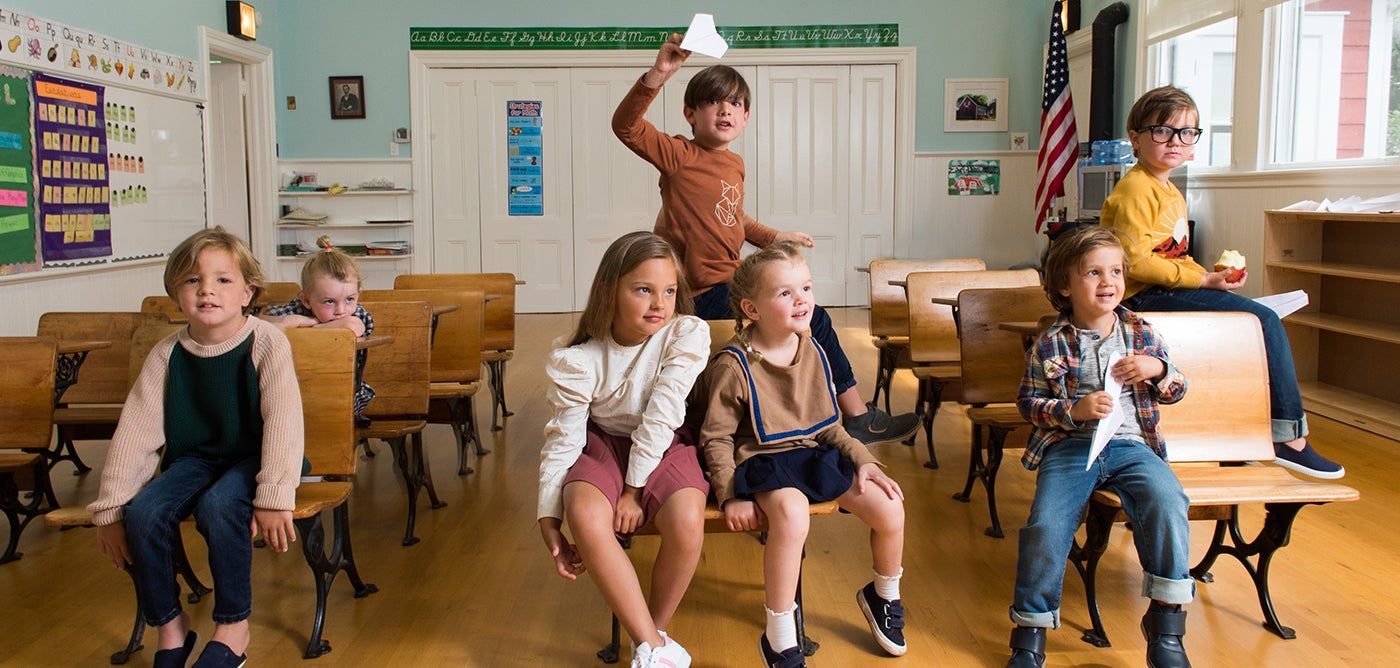 Parenting
Our Top 5 Tips For Surviving The Pre-School Application Process
It's that time again. Pre-school applications are out and New York City parents are simultaneously fretting about, and recognizing the absurdity of fretting about, their not yet two-year-olds' education. Having been through the process ourselves, we gathered our best advice and spoke to Pre-School Admissions Consultant (yes, that's a thing!)
Emily Shapiro
. Here are our top five tips for navigating the independent pre-school process with your sanity in check.
Start Earlier Than You Think
Cut-offs vary from school to school but, generally speaking, the time to actually apply is one year prior to when you would like your child to attend. So, if you want your child to start in a two's program next fall, you should be completing applications now and don't be surprised if you find yourself answering questions like "What activities does your child most enjoy?" when he is only one. Shapiro recommends that parents start their research in the spring, particularly if they are going to work with a consultant as they tend to have a full roster of clients by the fall. Spring is also a good time to start asking friends and moms in the park so you can familiarize yourself with what's out there well before submitting applications.
Determine What's Most Important For Your Family
The consensus among Maisonette moms is that few things trump location. Shapiro agrees. "I urge parents to really think about geography, not just how far they are willing to go, but in terms of the child's experience. You have to picture your two-year-old on a winter day sitting on a bus or climbing into a car. You don't want them to be exhausted before they even get there," says Shapiro. "Another thing that's great about a school in the neighborhood is when you go to the park on Saturdays, you're more likely to see friends from class."
So start the search in your neighborhood and determine other key factors for your family. Maybe you know you want a religious affiliation or you're not willing to compromise on the teacher to student ratio or you would like for your child to be exposed to a second language. Considering these things in advance and knowing what you are willing to compromise on can help you narrow your list of schools. Shapiro recommends applying to 8-10 schools, which might sound like a lot, but what you're doing is playing the odds. The good news? "I have yet to see a family apply to that many and not get a school they're happy with," says Shapiro.
Finally, consider what time of day you'd like your child to attend. Morning programs tend to be most popular so it's always a good idea to let a school know if you are flexible and willing to send your child in the afternoon.
Keep A Detailed Calendar
Some schools have only one open-house per year and require that you rsvp by a certain date. Others host a mandatory playdate on a designated day in January. Some schools have a certain date when they make the application available. Make sure to research each school you're interested in and note all deadlines in advance. The more organized you are, the better off you'll be. When you learn that you make it through the lottery, for example, is a good time to ask for recommendations if there's anyone you know at that school so they have as much notice as possible.
Have Stationery On Hand
You'll want to write at least one thank you note to the directors of each school you are applying to and to anyone who takes the time to write a recommendation. "I usually suggest sending one note after you've completed the process at a given school," says Shapiro. And when it comes to the notes themselves, keep them short, sweet and specific: "Try to include something about why you like that particular school and why it's a good fit for your child or family," says Shapiro.
Stay Calm
While the process can seem stressful while you are in it, most children (and parents) are happy where they end up. If securing your child's spot in a great Kindergarten program is your main goal, Shapiro points out that most Kindergarten classes come from a wide variety of pre-schools and not the two or three so-called "feeder" schools as parents are often led to believe.
It's also important to understand how much of the process may be out of your control. You can give your child a good breakfast on the day of the play date, for example, but you can't keep him from throwing himself to the ground in the name of the blue block. Or you may have your heart set on a school that after granting siblings and legacies priority, has only a few spots to offer. All you can do is what each school asks of you and hope for the best.
"It's almost like a zen exercise for some New York City parents," says Shapiro. "You do your part and what happens will happen."