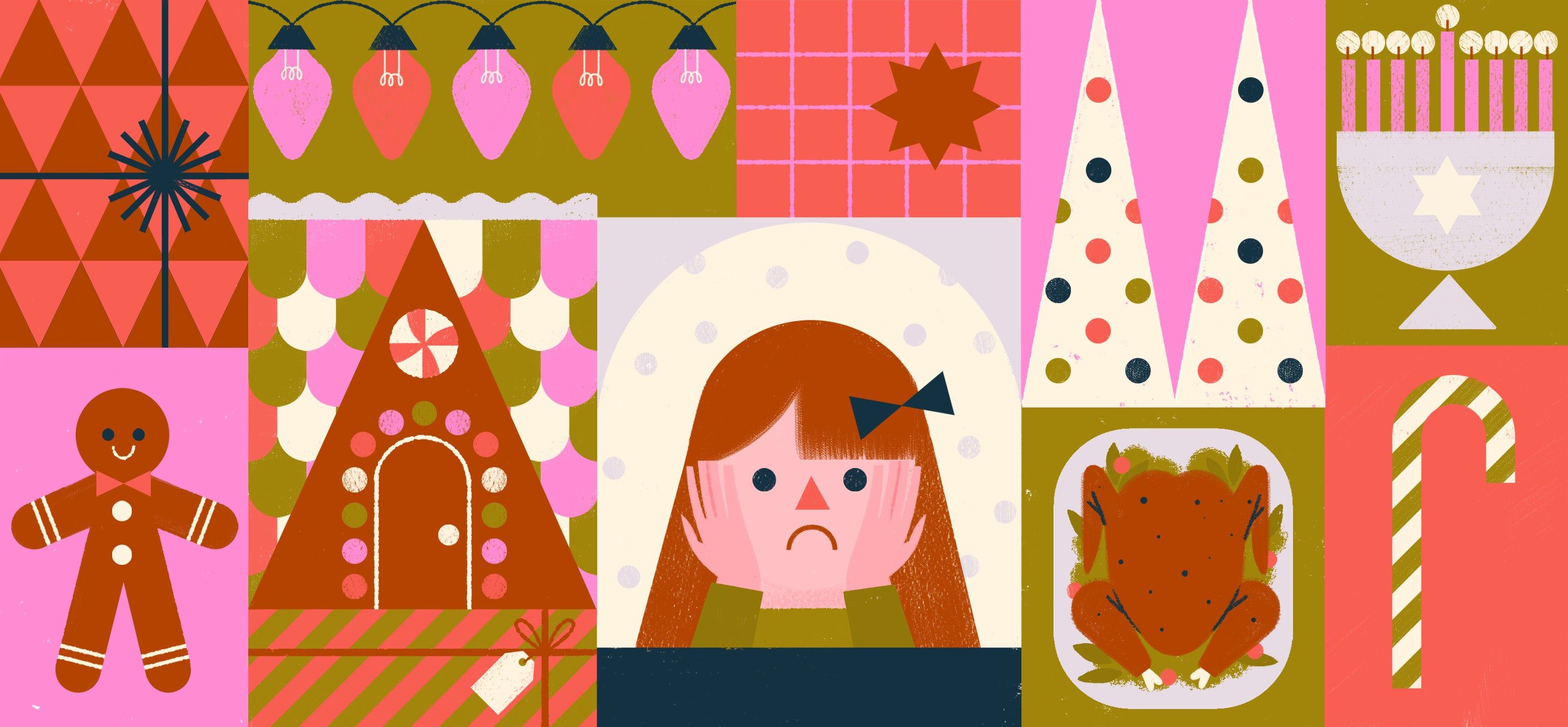 Ask Dr. Bronwyn
How To Minimize Holiday Meltdowns
From parties and presents to late bedtimes and sugary treats, holiday overwhelm is real, especially for the younger set. Here, our resident child development expert, Dr. Bronwyn Charlton of
seedlingsgroup
, offers strategies to minimize the meltdowns and make the most of a magical time.
Written By

Dr. Bronwyn Charlton
Illustration

Loris Lora
'Tis the season to be jolly, for sure. But, it can also be the season of meltdowns, power struggles and unpredictable behavior—thanks to the excitement, anticipation and sensory overload caused by disrupted routines, visiting relatives, busy social schedules, pushed-back bedtimes, crowds, lights, sugary treats, and party clothes.
Making matters worse, when the reality doesn't match the vision of holiday-family-magic that we have in our head, we're likely to end up feeling just as stressed, frustrated, and volatile as our child.
So, as we navigate this holiday season, here are some things to keep in mind, which hopefully will set you and your family up for a more peaceful and joy-filled season.
. The holidays can be so overrun by preparations and celebrations that it's easy to miss moments of connection with your child. One-one-one time should be a priority, if you don't want your child to resort to negative behaviors to get your attention instead. Even more importantly, it's the moments of snuggling on the couch watching the Grinch or dancing around the room together singing holiday tunes that are the most meaningful.
. More than any other prevention strategy, planning for changes in the routine is the key to minimizing meltdowns and tantrums over the holidays. Create a calendar that everyone in the family can read or follow in some way (e.g., using pictures) and go over it together each day. Before any holiday event, give your child a head's up—about what it will be like, who will be there and how long you'll stay. Prepare them for success by making sure there's no surprises to throw them off.
. Travel, houseguests, and nighttime celebrations pretty much guarantee children's sleep will suffer over the holidays, which means depleted resources to manage big emotions, just when they need them the most. If you know your child's regular bedtime is going to be pushed back, or their nap times disrupted, do what you can to fill up their sleep tank in other ways, like putting them to sleep extra early the following night, or taking a pass on something the next day, so they can get some sleep instead.
. The holidays aren't the best time to insist your child try new foods or rely on them to eat well at parties or other peoples' homes, given all the extra sugary holiday treats. Given, though, how much children's behavior is influenced by food, it's a good idea to stock up on your child's favorite protein-packed and nutritious snacks, and always have some on hand, just in case.
. Be on the lookout for signs that your child's reaching their limit and avoid inevitable behavior breakdowns by protecting downtime. Balance out the tree-trimming, errand-running, cookie-decorating, and holiday-merrymaking with some unstructured time to rest at home, so your child's tank doesn't become so empty that the tiniest mishap could cause them to come undone.
. If you anticipate some situations will be especially challenging for your child, talk about them ahead of time and figure out ways to make things easier for them. Instead of battling over "itchy tights" and "uncomfortable dress shoes" the day of the party for example, let them know they'll have to dress up on some occasions over the holiday and come up with options everyone can live with in advance. If you're worried the gift exchange could pose some problems, practice various scenarios beforehand, e.g., Impatience -- needing to open their present first; Impulsivity -- not being able to resist telling people what their present is before they've opened it; Gratitude -- not thanking someone for a gift they didn't want. Or, if greetings and conversation have posed problems in the past, discuss how your child can offer a handshake or a fist-bump instead of a hug or kiss, if that feels more comfortable to them. Come up with things your child can share or talk about, so they'll be less likely to freeze-up when someone asks them a question.
. When you acknowledge the likelihood of tantrums, crying, impatience, whiney, irrational, unreasonable and even aggressive behaviors happening, before you're in the thick of it and emotional yourself, it's easier to see them for what they are – a dysregulated child who needs your help to get back to calm. And, as a result, to come up with a more compassionate plan for responding, then when you're in the moment, and emotionally "triggered" yourself.
. Kids with different temperaments can have very different reactions to social gatherings, disrupted schedules and novel events and the holidays can really intensify these differences in temperament. So, if you have a highly sensitive and/or slow-to-warm up child, remember that they could use some extra compassion and patience at this time of year.
. We all want our children to be grateful and not entitled but flipping out and forcing them to hug and thank grandma or risk losing all their presents isn't going to make them feel gratitude. That's not to say we shouldn't expect manners, especially if those expectations are made clear beforehand, but just that gratitude as a character trait is something that's fostered in little moments over a long period of time. So, if you're bothered by what feels like your child's entitlement, make a mental note to make practicing gratitude more intentional in your family going forward. Do show yourself and your child some compassion though. Gratitude grows and you have many more years to develop it.
. If your child spontaneously thanked the host as you left the party or didn't throw a fit when the kid behind them grabbed the cupcake they'd been eyeing, be sure to let them know how impressed you are.
n. There are bound to be moments when your child becomes overwhelmed, overexcited, and/or overstimulated, so have a back-up plan ready for how to give them the space and quiet to regain their calm. Put together a bag with a few things that they can do/use/look at on their own, so that if they do need some quiet time you can find a spot for them wherever you are, and they can rest and reset.
." Tying presents to whether a child's been "naughty or nice," can exacerbate stress for young children who struggle with self-regulation and aren't sure whether they'll ever be "good enough," to make the "nice" list. Maybe this season instead of "naughty or nice" requisites let's use a more growth-mindset, since there's no such thing as perfect. Let your child know that it's hard for everyone to make good choices all the time or to do the right thing, but that everyone can learn from mistakes and do better the next time, and that's what makes the "good list."
. If your child's refusal to wear the bow that matches their dress or take a picture with the toy soldier at the Nutcracker makes you threaten to take back all their Christmas or Hanukkah presents, pause, and recognize that it's not their behavior, but your tank that needs attention. With all the planning and focus on making the holidays perfect for everyone else, your own resources and tolerance for minor misbehaviors are likely to be especially low. So, in order to manage being the positive model and safe refuge your child needs more than ever over the holiday season, prioritize taking care of your own emotional needs and filling up your self-regulation-resources as well, through exercise, healthy food, rest, downtime and whatever else gives you the strength to be the calm in your child's holiday storm.