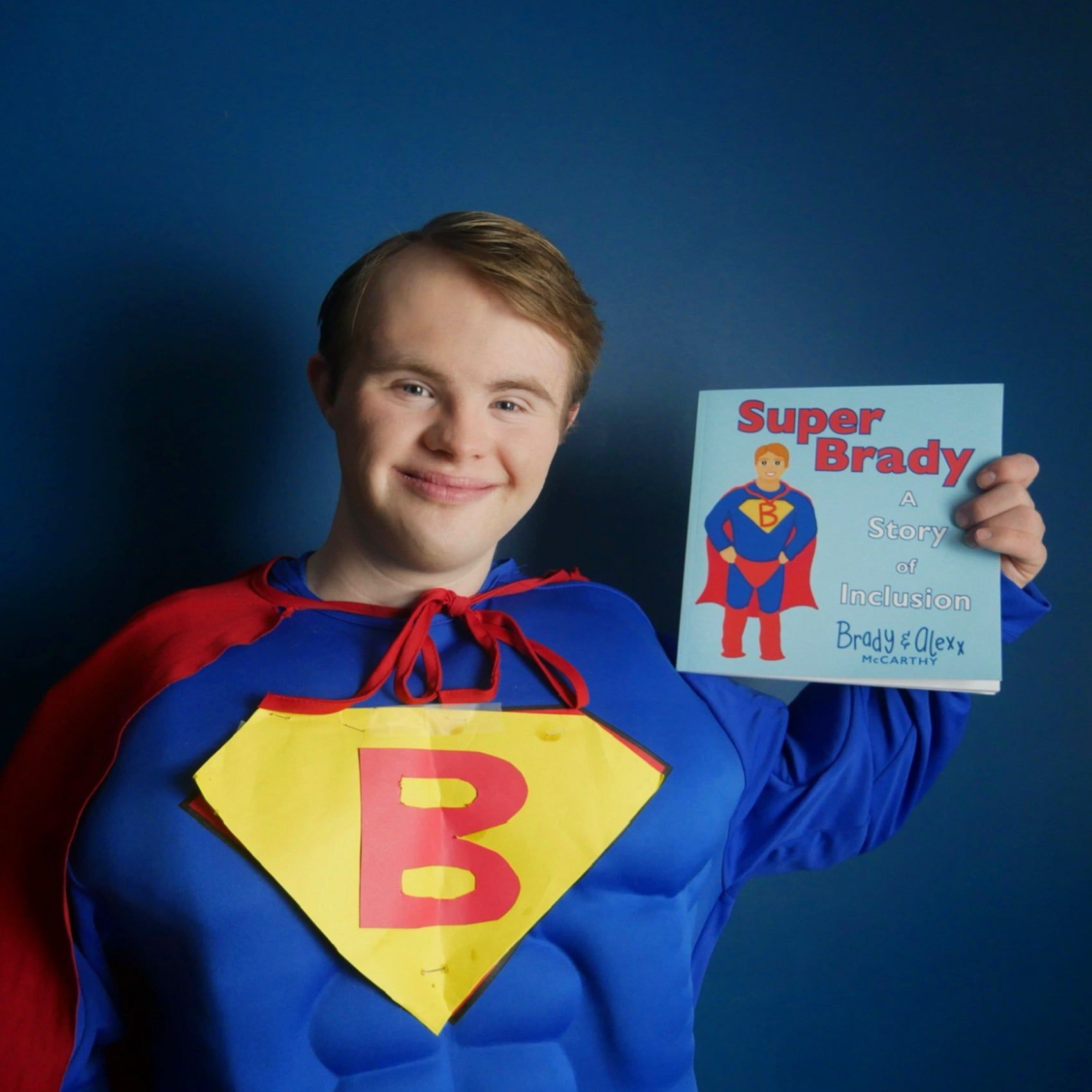 Lessons from Down Syndrome and Inclusion Advocates Brady & Alexx McCarthy
When our co-worker shared Brady and Alexx McCarthy's new book,
SuperBrady: A Story of Inclusion
with us, we knew we needed to learn more about this brother and sister duo.
Brady has been changing people's minds about what kids with Down Syndrome are capable of doing his entire life. Here, the siblings share their philosophy on inclusion and eight simple but powerful ways we can all include those that may seem different at first.
Interview By

Katie Covington
Hi Brady & Alexx, we love your new book, . How did you get the idea to write a book, and what do you hope younger kids will learn when they read it?
When Brady was entering 3rd grade, the school district we were in would no longer include him in mainstream classes. They even said, "Why do you want him included? He doesn't have any friends anyway." So, our family moved to a school district that would include him. Brady loved his new school. He made so many friends who were supportive and helpful. He did well in his classes and graduated with a high school diploma which he wouldn't have received if he hadn't been allowed to be mainstreamed. Our family has seen what a difference inclusion has meant for Brady, so we wanted to spread the message of the importance of inclusion for other students that have disabilities. We decided to write a children's book because when Brady was in elementary school, Brady and I, along with our younger brother, Bailey, made a video for his 3rd and then 4th-grade class, all about Brady and the things he liked doing. We wanted the kids in his class to know all the things they might have in common with Brady, even though, at the time, it was hard for him to communicate clearly. These videos made a big difference and helped the kids in his classes feel a connection with him. It helped educate his peers, answer some of their questions, and made them feel more comfortable including him. Years later, many of these peers are still close friends with Brady and have commented on how they still remember those videos and how impactful they were. So we know how important it is to start the conversation of inclusion at a young age. That is how we hope our book will help.
Brady, you've been changing people's minds about what people with Down Syndrome are capable of doing your whole life. You've performed in school plays (and been an extra on tv), passed your state Algebra Regents Exam with a 75%, received your high school diploma, and were captain of your wrestling team. You aren't afraid to ask for help if something is hard and persevere through struggles – something so many adults have a hard time doing. Why was it important to highlight all the cool things you've accomplished in your book?
It is important to me to show what people with Down Syndrome can do. I can do things just like everyone else. It is important to show the kids how people like me are more alike than they are different. I do cool things just like they do cool things. When you have things in common, friendships can grow stronger than before. I want to help others make friends and not be afraid of someone because they look or act differently. People with Down Syndrome can be in school plays, go to the prom, and be in school sports such as wrestling, basketball, and track, just like I did.
Why is inclusion important?
Many studies have shown that inclusive classrooms are better for both the student with disabilities and their peers. Students with disabilities who are included in mainstream classes are taught more academics, are immersed in peer language, and have access to more social interaction. Their peers tend to acquire more empathy and more acceptance. The integrated classroom consists of more differentiated teaching, which is better for all students.
Your Mom and Dad fought for an inclusive school and classes for you, Brady. Why is it important to include kids in a classroom with their peers instead of special education classes?
It is important to include kids in the classroom so I will explain this. So when included in a classroom, the other kids will get to know you more than if you are in a separate classroom. You have a chance to make many more friends. These friends can be Superheroes of Inclusion, and they help you in your schoolwork, and they are so proud of you when you answer questions and do presentations. You learn a lot more in classes with your peers because you hear all the students answering questions and you listen to your teacher, who teaches so many more ideas and facts than in a special education class. You learn how to work really hard, and you are proud of yourself. You become braver than ever before. You become very smart, just like your peers. You can graduate for your hard work in school, and you believe in yourself that you can do whatever you want as your goals.
Can inclusion be taught?
For those with visible disabilities (physical or behavioral), unfortunately, it's their differences that others tend to see first. The goal of inclusion is to shift people's focus to instead see where they may find similarities. Eventually, we hope they see where they are more alike than different. In order for this to happen, people first need to be educated. Children might be fearful of differences. They might not know how to interact with those with differences.
How can children be educated on how to become more inclusive?
Children can be educated on different disabilities – what they are/what they aren't–like the videos we put together for Brady's class when he was in elementary school.
Students can be provided with tools on how to interact with a child with disabilities, such as the list from our SuperBrady book that we will share with you in this blog. Teachers/Parents should encourage the child to ask them questions if they encounter a person with disabilities.
More discussion should also be had around looking for things we have in common even with people who look or act differently than ourselves. The more similarities a child can see they have with someone who has a disability, the less afraid and more at ease they tend to be, and they are more likely to include that person. This is why our book showcases SuperBrady's strengths and activities to help the reader focus on his abilities instead of his disability. This is also where the focus is on Brady's Website–his fun videos, his sports/theater/clubs, and his advocacy work.
Why is it important to spread the message of inclusion?
Only 17% of all people with Intellectual Disabilities are included most of the day in general education classrooms (according to a study done by Matthew Brock, assistant professor at Ohio State). Many children aren't around people with disabilities, so they don't see them often or interact with them readily as peers. Our goal is to try to get a copy of SuperBrady: A Story of Inclusion in as many elementary school libraries as possible in order to spread the message of inclusion.
What is a Superhero of Inclusion?
A Superhero of Inclusion is someone who can see what makes a person's differences special. They can see that though a person may have a disability, they are more alike that person than different. A Superhero of Inclusion treats others like they belong and have value, and they are willing to help others when needed.