Birth Stories
A NICU Miracle
Britni Soto was surprised to find herself expecting during a pandemic, and even more surprised to be admitted to the high-risk unit of her hospital where she gave birth at just 24 weeks. Here, Britni reflects on her daughter Gracie's earliest days in the NICU during a global pandemic—and the strength and community that carried her through.
Photography

Jessie Penprase
Written By

Britni Soto
My husband Mike and I were married in June of 2019 and on Christmas Eve that same year we found out that we were having a baby; I was five weeks pregnant. We were excited but also a little scared to bring a life into this crazy world. We just had to tell our families as soon as we found out. We shared the news right away and they were all so happy. We knew it was common to wait until you got through the first trimester but we thought if anything happened we'd want our family's support anyway.
From our first appointment with my OB everything looked to be developing on track, the baby's  heart rate and growth were good. From week six to ten I was monitored a little more closely after having been rear-ended, and still everything looked good. When we found out we were having a girl, we shared the news in our home with both sides of our families on Valentine's Day, 2020. Our family was so excited and rather surprised because everyone was convinced we were having a boy.
When Los Angeles issued the mandatory stay at home order, I had already been working from home for a week; my company was being very cautious and giving its employees the option to go into the office or work from home. Of course for mine and the baby's health I opted to stay home. My heart went out to those mothers that were having to deliver their babies during the pandemic. I was convinced everything would blow over by August when our baby was due. Well, weren't we mistaken. Not only is the pandemic still not over, but as it turns out our Summer baby preferred the Spring.
I was set on preparing a birth plan that made me feel safe and gave me some control of what would be happening to my body. At 22 weeks, I was showing signs of preterm labor and after a few weeks of discomfort and two days of pain, urged by my husband, I finally called the after hours nurse. I was directed to go immediately to labor and delivery. Due to COVID restrictions, I was there alone in a room with no idea if my baby was going to be okay. I didn't cry on the way over with my husband, but once I was on my own it was a different story. I was scared. I was put at ease by the sweet sound of her heartbeat. I thought (I hoped) they would tell me that she was okay and that I just needed to take it easy. When the doctor came in to tell me I needed to be admitted into the high risk unit, that is when the severity and the reality of what was going on really hit me. I wish I could remember what she said. I just remember thinking she looked sad, and I wondered what she knew that I wasn't picking up on. I was told I would need to stay in the high risk unit until Gracie was born, which the medical staff was hoping would be at least 32 weeks. However, there was so little amniotic fluid surrounding Gracie, that we had to follow her lead.
My husband arrived the next morning and we had to decide if he was going to wait it out with me in the hospital room, neither being allowed to even leave the room due to the COVID restrictions, or he would go home and only be able to visit once a day for 2 hours. After our conversation with the Perinatologist and Neonatologist it went without saying that he was staying. They shared with us our baby's chance of survival: 27%. If she did make it there was a list of complications that came with survival. It turns out that at 24 weeks they'll automatically do whatever they can to save a baby, but anything sooner you have to tell them you want them to. Since I was 22 weeks, they told us, "If she comes before 24 weeks you can tell us to do whatever we can, or you can let your baby die a natural death." My stomach drops every time I think of that moment, that conversation, those words. Weren't we just celebrating that we were having a girl? Wasn't I just stressing about needing to get planning on our baby shower? Wasn't I just worrying about if the hospital would let me bring a tub to labor in? Now we were faced with making the decision of giving our baby a chance at life or letting her die. That's what it felt like. Choosing anything but doing everything they could, felt like giving up on her and letting her die.
As soon as I entered the high risk unit, the NICU was preparing for her. Her bed was all set and waiting for her. They were getting updates about me every day and once it was showtime, the NICU doctor, nurses and respiratory therapist would be in the operating room ready for Gracie.
At 24 weeks and 2 days at 2am, there was so little fluid surrounding her, and her heart rate was slowing. My OB said we needed to get her out ASAP with an emergency c-section. Gracie Ann Mackintosh was due on August 27, 2020 and was born on May 9, 2020 at 4:31 a.m., measuring 12.2 inches and weighing 1 pound and 3.8 ounces. It took two attempts before they could successfully intubate her.
Due to COVID restrictions, only one parent or guardian was able to visit the baby each day and once you left that was it. I used the day she was born to recover and build up my strength and do all of the things I needed to do post-op. My husband went to see her and would take the drops of colostrum I was squeezing out so that they could do oral care with her.
I was able to officially meet my girl the next day, on Mother's Day. It's not an easy thing seeing your baby for the first time and not being able to hold them. The incubator gave her the warmth and safety that my womb would have; I'm grateful for that, but it's still not something you really get used to. Putting your hands through holes to touch your baby because she's so fragile and sensitive to touch and wasn't able to manage her temperature. One hand through one arm hole to cup the top of her head, the other hand in another arm hole to cup her feet.
Gracie was really sick. That's what the doctors kept telling us, "She's very sick, but she's feisty." She was born with seriously underdeveloped lungs causing chronic lung disease, there were two brain bleeds, a grade 4 and grade 3, a PDA (Patent ductus arteriosus), she needed several blood and platelet transfusions, she had two infections, and had retinopathy of prematurity. Through it all, she never struggled with tolerating my milk, our "saving grace."
Gracie was intubated for two months and slowly came down on her oxygen. Girl friend was running the show and we were following her lead. Babies who are intubated for long periods of time often struggle with taking their feeds by mouth. This was Gracie's experience. After five long months in the NICU (during a pandemic), it was time to get her home so that she could finally just be a baby!
Before she could go home she had laser eye surgery for her retinopathy and surgery for the g-tube placement; everything from intubating her to the procedures themselves went smoothly. However, we were reminded in the days that followed how delicate she was when she had a lot of fluid around her lungs. Like they always did, the NICU doctors had a plan and after a few days she was back to herself. We had to make some big decisions for her to come home and when her doctor told us that the following Friday was the day, it was surreal. We needed a full week to get all of her oxygen and g-tube needs in order and delivered to the house but she was coming home!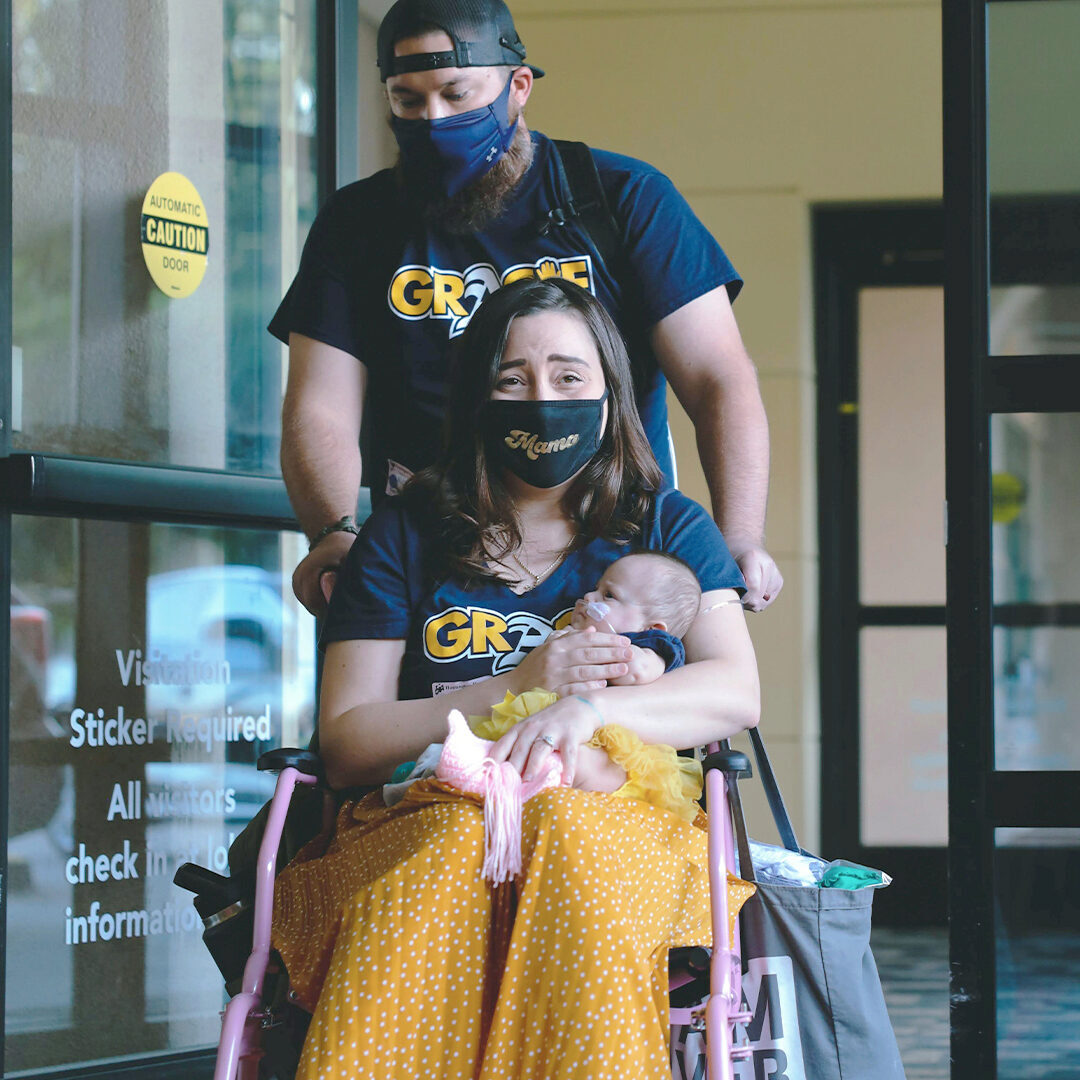 It took me a while to get her room ready. I was so afraid of getting ahead of ourselves and getting too excited about her finally coming home. It felt like the day would never come. Families in the NICU that came after us left before us. We were always so happy for them, but it was still pretty hard to see because we wanted so badly to be them. I finally started to let myself feel excited that she was coming home when I was able to bring her car seat to the NICU. There are certain requirements that a baby has to meet in order to be discharged and the car seat study is one of the final things the baby must pass. Once I brought that car seat, I knew it was finally happening.
After 160 days in the NICU, ups and downs, good days and tough days, we made it out. October 16, 2020 was an incredibly happy day for everyone. Gracie had nearly every doctor, nurse and respiratory therapist assigned to her at some point and we grew close with everyone who worked in the NICU. We felt so loved and held on that day we left. They reminded us we could handle everything she needed, as much as we weren't so sure ourselves. We had an amazing send off from inside the NICU with everyone wearing their "Gracie Strong" shirts and we were met by our immediate family outside the hospital. It was very emotional for them to be able to see her in person after five months. Gracie came home on oxygen and with a g-tube to make sure she gained weight and grew to help her lungs grow. She's been home for six months, has the cutest glasses and rocks her helmet for some moderate head flatness. Her face and personality radiates love and joy, you would never know all that she's been through. To this day, and even though our time in the NICU feels like a lifetime ago, I can't believe she's home. Since she's only on oxygen when she sleeps, the greatest feeling is being able to hold her without needing two people to help put her on my chest and to not have a bunch of wires attached to her.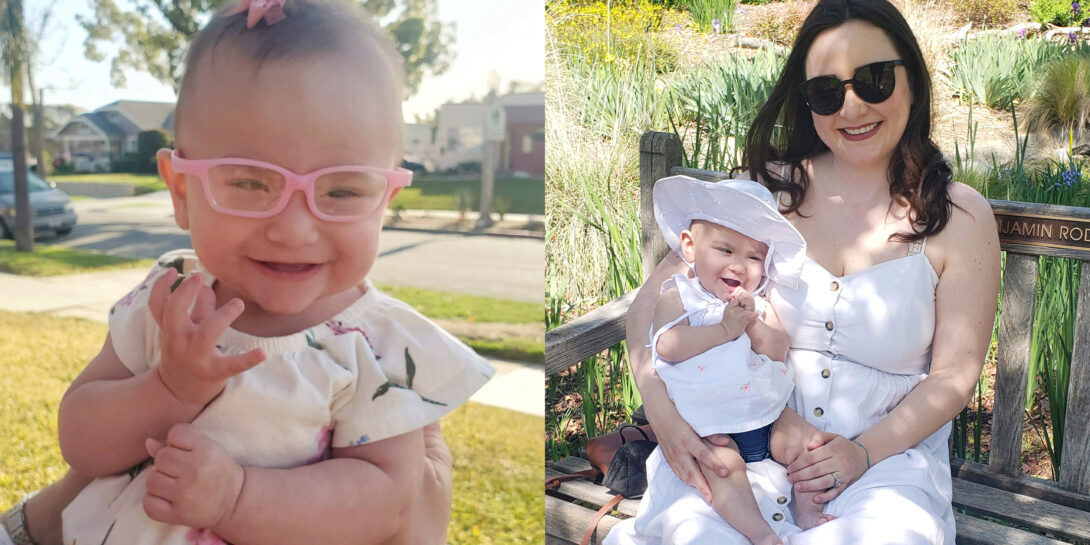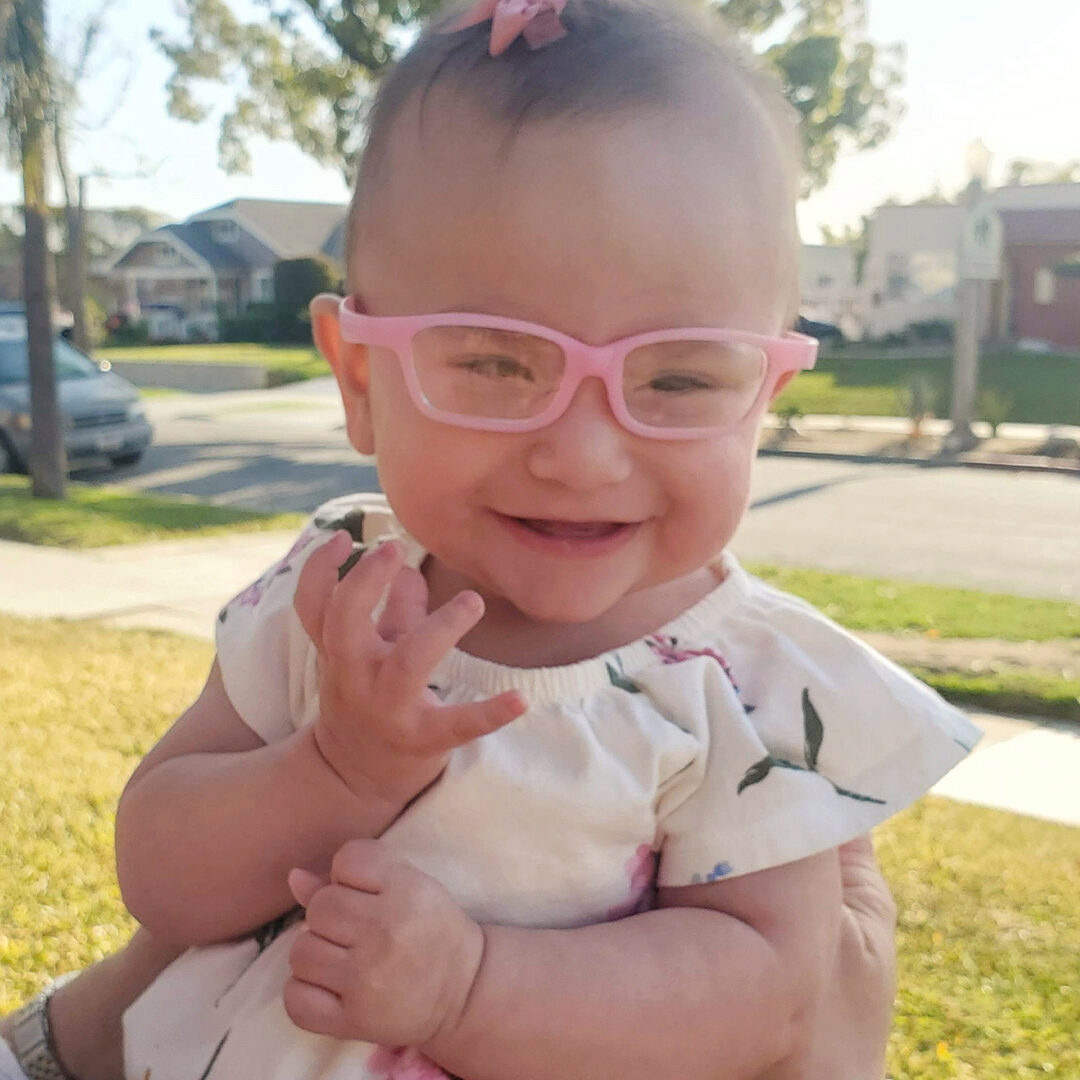 When we left the NICU, Gracie was the longest baby they had during the pandemic and for a long time she was the most critical. So during our time there we were the veterans trying to offer any tips or support. Because of COVID a lot of the opportunities the NICU offered families to connect were on hold. The cafeteria was closed off to us so our way of connecting with other families in the NICU was in the designated waiting room. It was comforting on both ends to be able to share and hear from people who were in the thick of it also. Having a preemie is hard enough but it was even more crazy during a pandemic. Feeling isolated in many ways was only amplified. I've connected with many NICU mamas who have offered us great hope and understanding and I stay in contact with one family who also had  their little one in the small baby unit of the NICU.
One word I use to describe having a baby in the NICU is unnatural. If we had to we would go through it all again to have her with us. Prematurity affects in the U.S., with black women experiencing preterm birth at a rate of than other women. I had no idea how common preterm birth and NICU stays are. However long any newborn stays in the NICU is, the feelings that come along with that are real and valid. No matter the length, nothing prepares you for it. And at the same time the miracles you witness in one of the scariest places you'll ever be will leave you humbled and inspired. We are inspired by our miracle baby, every day, and are in awe of the odds she has defied. May 9th will mark her first birthday and my second Mother's Day with her, but this time I'll be able to hold her in my arms. Gracie Strong.