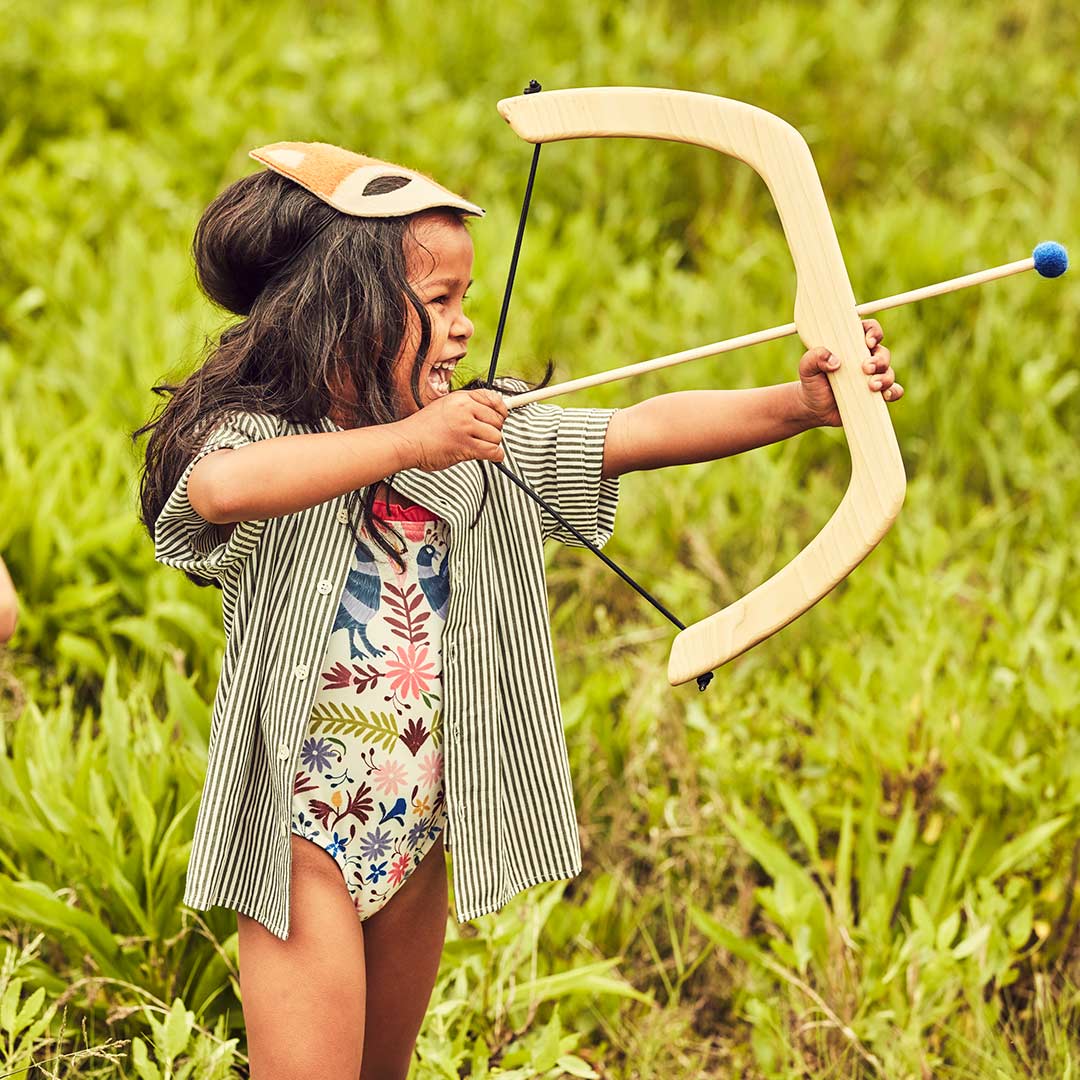 Parent Hacks
Make Your Backyard The Most Fun Ever
Whether you are staycationing or prepping for after-school fun in the backyard once the weather warms up, keep kids entertained with these tips for transforming your outdoor space.
Written By

Marnie Schwartz
Just Add Water


Nothing says summer like a frolic through the sprinklers. Host a jump-off, where kids can think up creative ways to jump through the spray, with a high-kick or a ballet twirl. For younger children, pour some water onto any low table and watch them splash and spatter the cool water - or create a sensory bin by filling a large clear container with different objects of different shapes, sizes and colors. They'll be bobbing for them for hours.

Give Old Toys New Life


Pull out some old favorites and reimagine their second life as outdoor toys. Train sets work so well on the patio, or any hard surface, and children will love accessorizing the set with objects they find outside: tiny flowers for trees, grass for green hills, etc... Plastic trucks are great on garden duty, stacking cups are perfect sand toys, cooking toys become a "barbecue set," and so on.

Set Up an Art Station


Find a shady spot and settle into crafting projects. Tap into this year's tie-dye trend and experiment with reinventing some plain white clothes into colorful creations. Coloring books, paints and paper, and classic camp crafts like lanyards will also do the trick. A simple change of scenery will ignite their creative minds.

Go Camping!


Set up a tent in your backyard, and have the kids bring in blankets and pillows to make it extra cozy. Cook hotdogs and s'mores over the barbecue, and watch the stars come out together.

Stock Up On Chalk


It's a summer classic for a reason: it's versatile and can be used in a hundred different ways. Have kids lie down flat on their backs while you trace their silhouette. Then let them decorate with their features, hair, eyes, clothing. It's a chalk self-portrait! Take hopscotch to a new level by having kids suggest different challenges, like hopping, or whistling, or spinning round and round. Draw big circles with titles like 3 fat leaves, or 5 twigs, or 4 yellow flowers and send kids on a scavenger hunt. Whoever fills their circles first wins.

Take Movie Night Outside


Pop up some popcorn, pile some pillows onto an outdoor couch or lay out a picnic blanket, and set up a movie projector and a screen to stream a family favorite after dark. (Or, just bring your laptop outside and queue up Disney+.) If your kids don't have the attention span for a full movie yet, an episode or two of their favorite show works, too.