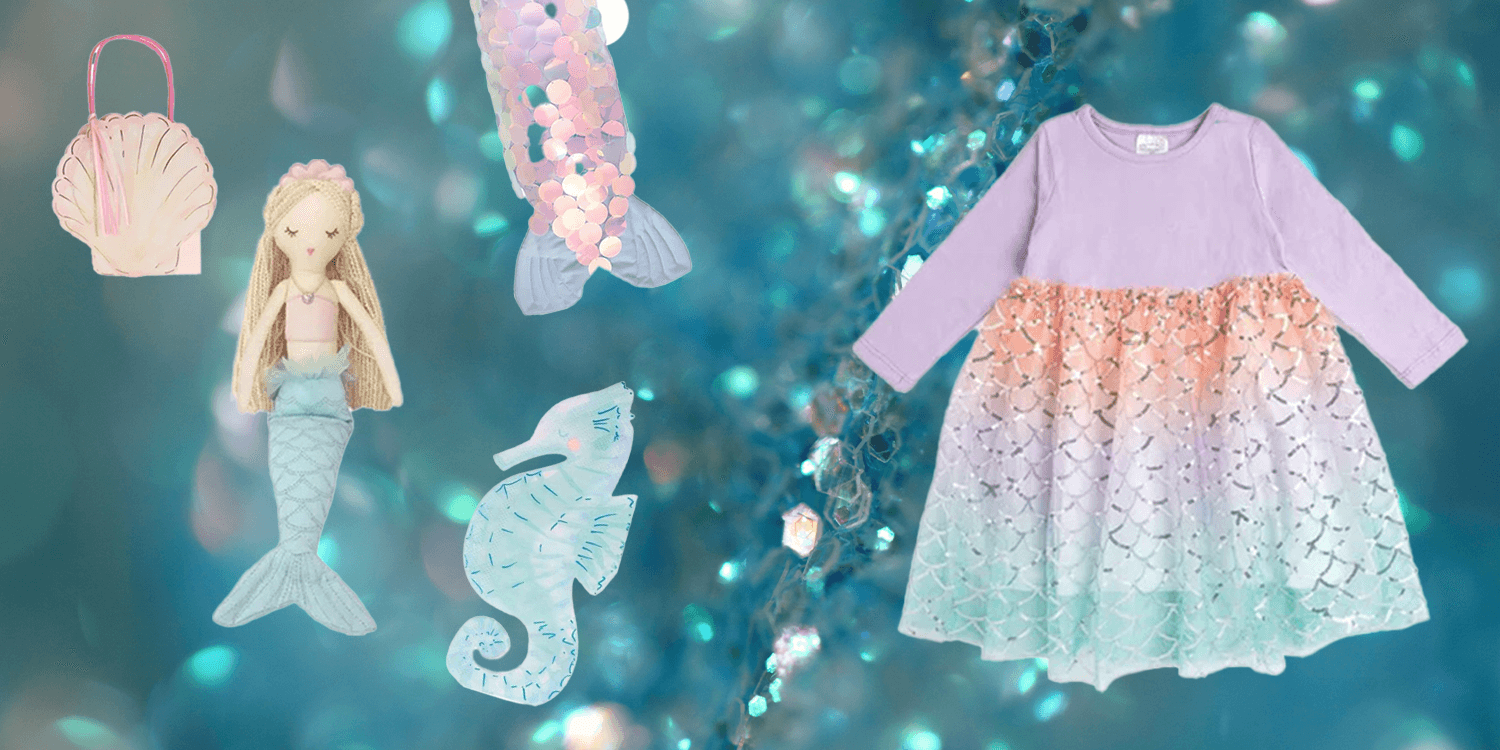 Birthday Parties
The Best Ideas For Planning A Mermaid Birthday Party
It's the Ariel effect: Toddler boys and girls start to obsess over everything under the sea around age two. If your little one loves flipping their fins in the bathtub, they'll really flip when you throw them a
mermaid birthday party
. Here's how.
Don't worry if you don't have a pool out back. With this bounty of under-the-sea gear, it's easy to make any venue a fun and colorful part of their world.
How many fathoms deep do you want to go? Opt to keep it simple with a cake and paper goods in a mermaid theme, or make it an aquatic princess dress-up party complete with take-home "fins."
Mermaid Birthday Party Food Ideas
Goldfish Colors crackers are just the beginning. Try fruit for kids—it's finger food that's delicious and surprisingly easy to assemble in advance. Ocean-themed make these snacks even more tempting to little kids. Add "octopus" , "seaweed" and "sea" cucumbers for dipping. It's a low-stress spread, since everything can be prepped and chilled ahead of time. For adults, you can just order regular sushi; they'll be thrilled to have something healthy and filling to eat.
Ariel cakes abound at bakeries and even grocery stores, and we love them. To personalize one a bit, you could add mermaid cake topper. If you want to do something a little more custom, consider Rainbow Fish–inspired cupcakes. Take this in a softer, shimmery direction by baking cupcakes in then icing them in pastel "scales." (You could also ask a local baker to do it.) This is all you need for another DIY dessert.
Mermaid Birthday Party Decorations
Start with a bubble blower for an under-the-sea effect. This battery-operated or plug-in runs for 30 minutes continuously. Kids will love running around in the waves of bubbles.
in shades of pink, purple, green and blue stand in for shimmery mermaid scales. You can create a photo backdrop wall by adhering "tiles" made of balloon-covered poster board to it with double-sided foam tape. Looking for something a bit less crafty? You can also find on Etsy; these would be adorable at the entrance or near the snack area at your party.
Just remember that latex balloons aren't safe for kids to play with, so hand them mylar balloons only. Tie one of these to each guest's chair.
Mermaid Birthday Party Supplies
Buy shimmery pastel plates in your color palette, or go even deeper on theme with special mermaid cups, plates and napkins. match your balloons. Reusable are one great sustainable option; these disposable are made of eco paper. It doesn't get cuter than these —adults and kids alike will love them.
Mermaid Birthday Party Activities
Start collecting bubble wrap now! There are so many fun mermaid games kids can play with it. (As if just popping it weren't fun enough.) Lay out a bunch of bubble wrap on the floor, turn on the Little Mermaid hits and play the freeze game: Tell kids to jump around popping bubbles until you stop the music.
Bubble wrap is also the perfect material for making mermaid tails. Cut out fin shapes in advance. Older kids can make their own mermaid tail wrap by gluing on and just add the fin.
If you're looking for something premade, these color-your-own are adorable. Set them out with that kids can take home.
A mermaid dress-up treasure chest is another sure hit. Fill it with all the finery Ariel might have saved from a shipwreck (ruffly shirts and dresses from your closet; anything with sequins, floaty scarves), plus , , and other . Just be sure to have multiples so nobody fights over their favorites.
Mermaid Birthday Party Gifts
As for what to gift the birthday girl or boy themselves, there are so many cute mermaid birthday gift options. Here's what we know: Anything sparkly is sure to be a hit.
Dress-up ideas never fail. This is cute for smaller kids; a sparkly or magical will get a lot of mileage with bigger ones. Then there's this or —any mermaid-loving kid's best treasure.
Who wouldn't want to star in their own mermaid dreams? This glittery lets them play Ariel in all their pretend games. It comes with a matching pillowcase that puts a seahorse crown atop their head.
For summer birthdays, you can't miss with a swimsuit. Our favorite is this for kids 24 months to size 7; it has built-in sun protection too. for kids 6 and up; with ove rsize paillettes is adorable for toddlers up to big kids. Complete the gift with bejeweled or a .
Mermaid Birthday Outfits