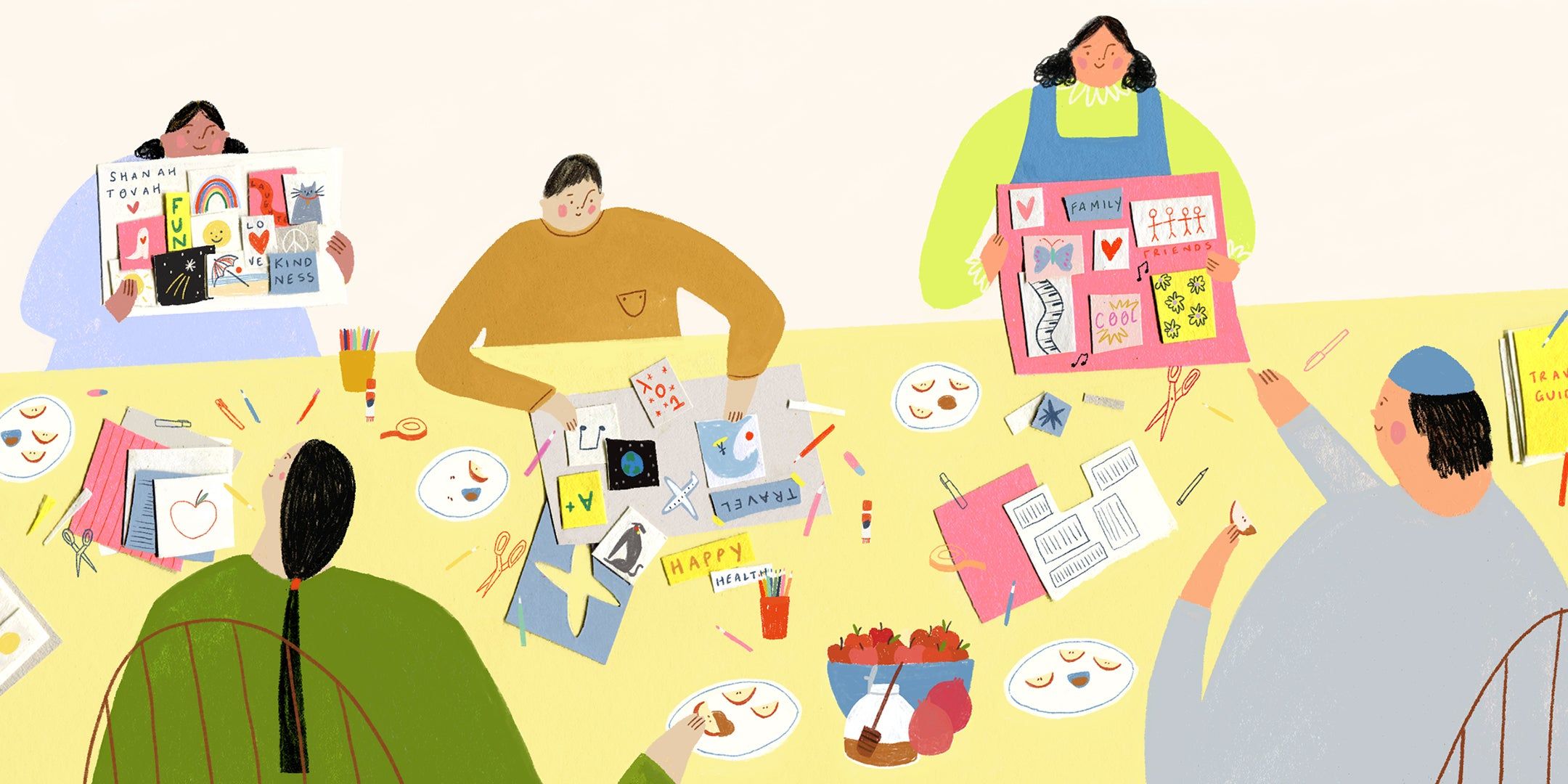 Everyday Magic
Rosh Hashanah: A Time for Hope
In her column, Everyday Magic, Eleni N. Gage explores Rosh Hashanah rituals steeped in tradition. This time of hope and fresh starts gives us a moment to slow down, observe the world around us and connect with those who came before us. Plus, dip and crafts.
Written By

Eleni N. Gage
Illustration

Sarah Wilson
My mother called me from her local Target a few weeks ago. "I love watching all these kids buy school supplies," she said. "It's so hopeful."
I knew exactly what she meant. When I was single and had been out of school for a decade or so, September always made me think of sharpened pencils and blank notebooks, empty pages full of possibility.
Now, with two kids, buying school supplies is a little more fraught. Turn over that blank page and the flip side of hope is worry: Will they get the teacher they want? Will their friends be in their class?
I appreciate a fresh start, a do-over, a new beginning. Which may be why I love Rosh Hashanah with all my gentile heart. It's the Jewish New Year, but given that it arrives hand in hand with back-to-school season, right when everyone is just settling into their new routines, it feels like a fresh start for all of us.
That's not the only reason a holiday that is not my own makes me smile each time I see it on the calendar. First of all, I find the traditions, imagery, and even the food of Rosh Hashanah deeply moving. My friend Maxine says her two-year-old's favorite part is eating apple slices dipped in honey, meant to usher in a sweet new year. Not only is it tasty, it's a way to involve a little one in a holiday that is mainly about praying and fun, but long, family meals. "Toddlers love to dip food," she explains. "And then there's the round challah that can be turned into French toast the next morning."
Instead of its usual braid shape, the sweet bread is round, some say to represent the cycle of the year, others to call to mind a crown because God is crowned King on Rosh Hashanah. In some Sephardic traditions, challah rounds are given dough heads to resemble lions, birds or other Biblical animals. The change in challah shape also signifies that a special meal is being shared.
Another friend with older children says their favorite part of the holiday is making Shanah Tovah (Happy New Year) cards for friends and family. "They're similar to Christmas cards but handmade," she said, showing me examples featuring construction paper pomegranates. The fruit is a beloved cross-cultural symbol of abundance, but especially apt on Rosh Hashanah because it's considered one of the "seven species of Israel" (alongside grapes, figs, olives, dates, wheat, and barley) and lore had it that each pomegranate contained 613, seeds, one for each of the commandments in the Torah. (The truth is, the number of seeds varies per pomegranate, but I've never been one to let facts get in the way of a good legend.)
Her own favorite Rosh Hashanah memory was when her family would go to the beach to symbolically "throw away all the bad things that happened last year into the ocean, and make room for the good things." She describes the seaside visit as their prayer-free take on Tashlikh, an atonement ritual observant Jews may perform before Rosh Hashanah, casting their sins on an open body of water, sometimes by throwing pieces of bread.
I have my own unofficial, non-religious tradition I practice around Rosh Hashanah, even though I'm not Jewish. At some point, a decade and a half ago, I read an article in which some philosophical thinker—A rabbi? A psychologist? Oprah?—noted that Rosh Hashanah takes place around the fall equinox, when the hours of daylight and darkness are equal. This person, whose name I forget but words I remember, wrote that the equinox is the time of year when the world of possibilities and the world of reality are most open to each other. They suggested that, at this time, you should think about where you'd like your life to be a year from now and write a scene from it, like a diary entry from the future. The only stipulation was that the scene be written in the present tense, not "I will be living in our new house" but "I'm sitting at the kitchen table in our new house." It's like a verbal vision board, although I imagine a traditional vision board, with images drawn or cut out of magazines, would work too.
Every time Rosh Hashanah comes around, I do this. It brings me a feeling of peace as I write the scene, a jolt of joy and affection for my future self. This year, I plan to have my kids—and husband, too—write a Rosh Hashanah scene, or draw a picture. It's a kinder, gentler take on resolutions, thinking not about goals you must accomplish, but of possibilities, that, if you can imagine and articulate them to the universe, larger forces will come into play to help you realize.
What I love about this ritual, and any ritual, is that it feels proactive, offering a practical action rather than just feeling a sense of yearning, of hope and worry combined. Every time I do a ritual, I feel like I've done what I can, and I can dial down the worry or hope a little bit.
Wanting to share that sense of peace with people I care about, I've described this ritual many times over the years. Just as many times, I've searched for the source of this long-ago article. And I've never been able to find it. I was starting to think I'd made up this whole Rosh Hashanah/Equinox writing assignment.
Then, when Queen Elizabeth passed away, people began sharing their reminiscences of her on social media. I'm of a generation that basically thinks of her as Princess Diana's mother-in-law, so I had no deep thoughts or significant memories to share. But I came across a post a rabbi shared, telling the story of Berel Gartner, a 12-year-old boy who, during World War II, found himself in an orphanage England, having been removed from Germany as part of the Kindertransport which relocated Jewish children to the UK to escape the Nazis. The orphanage staff brought their charges into town on a day King George and his family—including then Princess Elizabeth—would be driving through in the royal carriage. Berel jumped the barricade, ran up to the carriage, and (once the King instructed the guards to let him speak), begged the regent to bring his parents to him. King George replied that would be impossible, given the war, but he asked for Berel's parents' names anyway. A month later, they appeared at the door of the orphanage.
It's a beautiful story, and also a terrible one—what about all the other children and parents who were separated forever? Still, after relating the incident, the rabbi concluded, "Our sages teach us that in the days leading up to Rosh Hashanah, the Almighty leaves his palace and roams through the villages and fields to be closer to his subjects... It's the time we can pour out our heart and ask Him for anything." He advised, "This Rosh Hashanah…Clarify the goals you deeply yearn to accomplish this coming year, and beseech God to invest in you a year of tremendous blessings and joy."
For me, this post was a minor Rosh Hashanah miracle—the confirmation I sought that this is, indeed, a magic time of year, a season of possibilities. I don't mean to co-opt another religion's meaningful celebration. What I want to do is say thanks for the annual reminder to believe in possibilities and to be brave enough to hope with as little worry as possible. And, whether you believe in God, the natural powers of light and darkness, or in the school supply aisle at Target, to wish everyone the happiest of new beginnings.
Eleni N. Gage