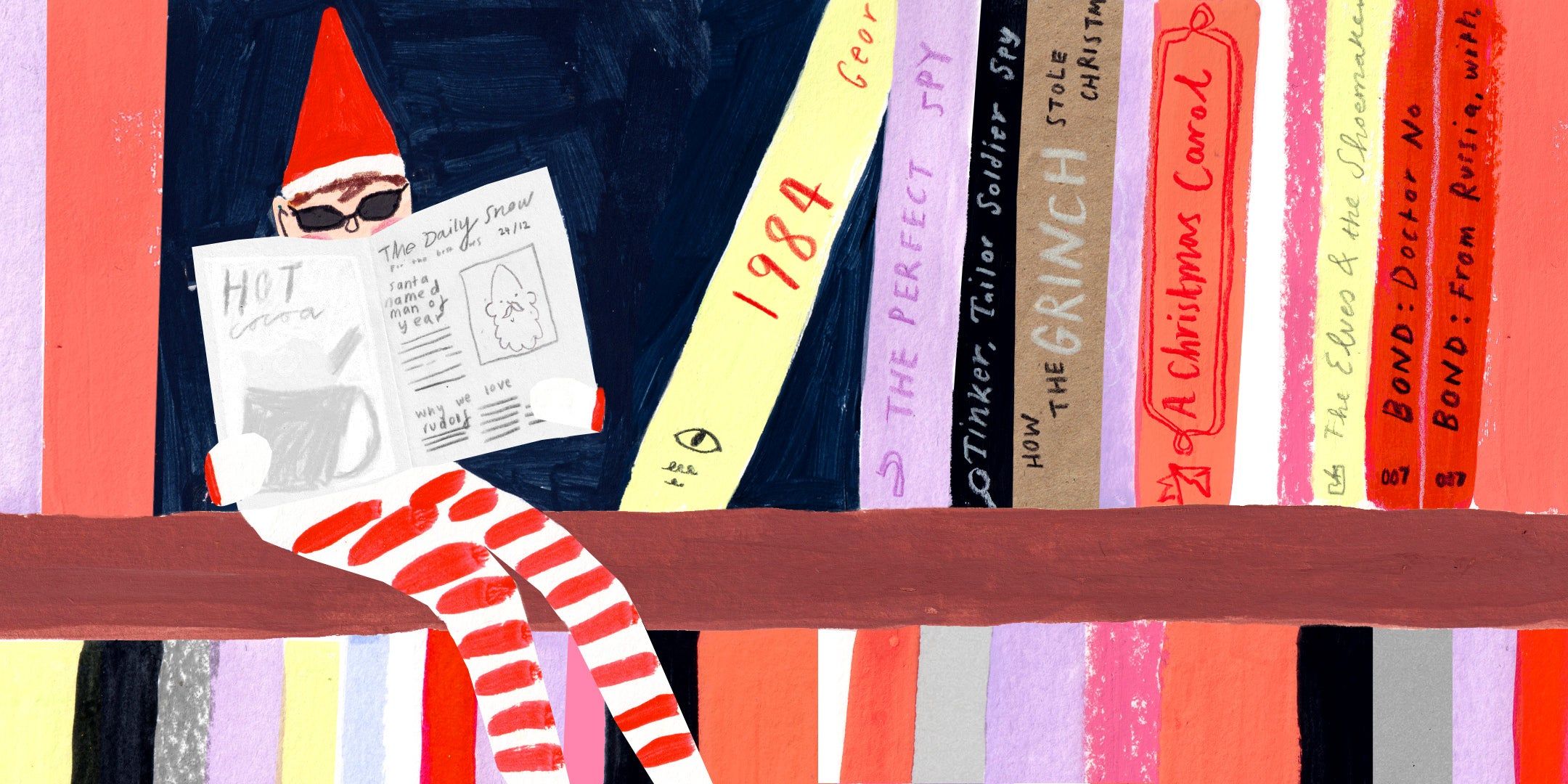 Elf on the Shelf
Can We Please Stop Elf on the Shelf?
How did we get here–Googling Elf on the Shelf ideas at the strike of midnight for twenty-four merry nights? There are tiny props and kits and probably spreadsheets. Carla Ciccone reexamines the surveillance state phenomenon we've welcomed into our holiday homes and proposes how you can make it all go away with one last lie.
Written By

Carla Ciccone
Illustration

Lucia Vinti
If there's one thing I know about Elves of the Christmas variety, it's that they work in Santa's workshop building toys. Of course, there are exceptions: Hermey from the Rudolph movie who wants to be a dentist, and Buddy from Elf, who is actually human. These are two extraordinary elves and we wish them the liberty to pursue their career dreams. The Elf on the Shelf, however, has chosen to be a snitch.
Bringing a surveillance doll into the house to observe a family's behavior and report it all back to an old man sounds like something that happened during the Cold War, and not an activity that parents in 2021 should be expected to participate in. Despite my opinions, the Elf on the Shelf phenomenon thrives. It started when the book "The Elf on the Shelf: A Christmas Tradition" was self published by Carol Aebersold and her daughter Chanda Bell in 2005. It centers around a story Carol made up about watchful Santa's "scout" elves who camp out in people's homes during the day and fly back to the North Pole nightly with their intel. The threat of the Elf on the Shelf reporting bad behavior to Santa and knocking a child from the nice to the naughty list was used to keep her kids in line at Christmastime, and this Big Brother State is the overall message of the book. The Elf returns every morning, and conveniently hides himself in a different spot, so the kids get a little game of hide-and-seek when they wake up and parents get to spend their evenings remembering to move that damn doll somewhere. The book plus Elf on the Shelf toy combo hit the marketing jackpot, in part, as advertised on the book cover, because it encourages families to: "adopt a new family tradition this holiday season."
The thing is: Christmas has enough traditions. No one asked for more. During one of the most stressful times of the year, do we really need the added pressure?? Family traditioms can be fun, and they can be overwhelming. Usually, they are both. One of mine is frantically wrapping Christmas presents on Christmas Eve, running out of wrapping paper, and cursing myself for not planning better. Other families might sing carols or roast marshmallows around the fireplace. These things are fine. Do what you want! But I maintain that too many families have turned monitoring their children with Elfin spies into a yearly must. The Santa Claus story is already full of lies, why add espionage to the mix? If a small toy who looks like a young James Marsden's voodoo doll comes into my home and says, "I watch and report on all that you do!" I will tell them to kindly get the hell out.
Another reason to stop the Elf on the Shelf is that it comes with its fair share of unpaid parental, and usually maternal, labor. Because these elves don't just sit on shelves. Social media has morphed the Elf Shelf phenomenon into the performative parental Olympics. People who clearly, desperately missed doing dioramas in elementary school willingly commit themselves to the task of thinking up and carrying out daily vignettes involving their elves making mischief in and around their homes. I admit, these are fun. Two Elves pair skating on the little patch of ice on your deck? Brilliant. Elves falling to a bag of flour while baking Christmas cookies in your kitchen? Goddamn adorable. If over-the-top Elf on the Shelf ideas brings you and your family joy, by all means, please continue to do it—the world needs your creativity and commitment. And there IS something magical about children believing in all that whimsy and waking up excited about it during the lead-up to Christmas. I just don't want people forcing themselves to produce Elf content if they'd rather be drinking eggnog and binging Emily in Paris. Like most ev erything aimed at parents via other parents on social media, these show-off elves, no matter how adorable, can stir up as much parental guilt as a momfluencer displaying only the perfect aspects and angles of life and selling it to us as reality.
Am I not doing enough as a parent because I refuse to put an Elf on my shelf, let alone write and direct said Elf in a daily made-for-Instagram photoshoot? (Once again, love the photoshoots, please keep doing them so I don't have to). If I don't do this, will my kid find out about the Elf when she's a little older and ask why I never indulged her in the tradition?
I'm not anti-Elf, but I am very tired. After we've collectively been through a global pandemic that helped spotlight the dire repercussions of massive societal inequities, it seems especially misleading to teach small children that they are either naughty or nice. Why not both? Parents are more than simply good or bad, nice or naughty, and so are the little humans in our charge.
If you've been doing the Elf on the Shelf thing for a while and want to stop but don't know how at this point, maybe just tell your kids the Elf had a change of heart. He's been inspired by all the homes he's seen and is going back to school for interior design. We wish him luck on his journey and can't wait to watch his HGTV holiday home makeover show one day.
Carla Ciccone is a writer and mom from Toronto. Her work has appeared in The New Yorker, bon appétit, and The Cut.
Still curious about this Elf on the Shelf thing? We're answering all your Elf FAQ:
How does Elf on the Shelf work?
Each December, an army of elves flies from the North Pole to live with families around the world. Technically they're called Scout Elves. They come with firm instructions from Santa that nobody can touch the elf, or its holiday magic will disappear (although grownups can use tongs in an elf emergency). The elves fly back to the North Pole each night to tell Santa Claus whether children are naughty or nice. Elves return each morning while kids sleep and are never seen in the same place day after day (no, they're not always on a shelf). Kids love to find them each morning – often caught mid-action doing funny, potentially mischievous things.
Is the Elf on the Shelf right for your family?
Elf on the Shelf can be a sweet family holiday tradition that spreads Christmas cheer, a go-to December behavioral strategy, another chore to add to parents' more-than-full plates to make holiday magic –– or a creepy spy that encourages kids to behave in exchange for toys. What you think about Elf on the Shelf depends on the family. And the day.
Like Santa, some families suggest elves can promote creativity and imaginative play. Others worry that it teaches kids to disregard critical thinking and tests the trustworthiness of parents.
What should I do for the Elf on the Shelf's arrival?
Suppose you're embarking on an elf adventure. In that case, you should know one thing: the Elf on the Shelf comes back every year, so once you start, it's a multi-year commitment to move the elf daily for approximately 24 days a year. That's conservatively 120 Elf on the Shelf ideas you'll need to sort out throughout the years. Will your elf's nightly exploits live up the elf around the corner's as your kids wonder why their classmates' elves do more and more elaborate activities each year? When the trend started a few years ago, parents all over thought it was a fun little thing to do that year, but now that it's here to stay, go into it with your eyes wide open.
If you choose to pass go and introduce your Elf on the Shelf for the first time, you can do a few things:
● Print out a welcome letter (you can find one on Pinterest) that introduces the elf and explains the premise: elves don't talk but are great listeners and very good watchers. They'll report how kids behave to Santa each night between now and Christmas.
● Read the book The Elf on the Shelf: A Christmas Tradition together to introduce the story.
● Place the elf on a shelf to make it easy to connect the dots, along with a note or a candy cane.
When does the Elf on the Shelf come?
Elves arrive the last week in November during what's called "Scout Elf Return Week™." If your elf gets lost on the way from the North Pole, needs to help Santa with something super important, or has a previously scheduled vacation this week can stretch into December. These dudes are unpredictable!
How do you choose Elf on the Shelf names?
As the grownup here, you have the power to either name the Elf on the Shelf in your house by adding it to your arrival letter or small note the elf arrives with or opening naming rights up to your minis. Choose your own adventure. Elves can have sweet holiday-inspired names like Sparkle, Candy Cane, Merry, Jingle, Jolly, Sprinkles, Peppermint, Cookie, or Ginger. Elves can also have perfectly normal names; we know a lovely elf named Stanley.
What's the deal with the Elf on the Shelf bad behavior business?
It's 11:30 PM on December 12th, and you've exhausted your elf hiding spots. Google will give you hundreds of ideas that involve elves getting into mischief, like pooping chocolate kisses or tee-peeing the house, wreaking a tiny bit of havoc every day. If you're wondering why the elf that tells Santa can be naughty while kids have to be on their best behavior, same. It's hypocritical and downright snitchy, so you can either:
● Not think about too much
● Stick to just moving the elf, skipping the elaborate mischievous Elf on the Shelf ideas
How does an Elf on the Shelf goodbye letter work?
The Elf on the Shelf tradition wraps up on December 24th as Scout Elves return to the North Pole to help Santa prepare for Christmas. They often leave a "Goodbye Letter" that details the fond memories they'll take back with them. Occasionally they'll leave Christmas pajamas, reindeer food or supplies to make cookies for Santa.
Suppose your kids are getting older, you're running out of ideas, or you're ready for your elf to retire. In that case, letter is a good time to say the ultimate goodbye. After all those years of holiday magic, they may need to move someplace warm, go back to school, or travel the world. Bon voyage!