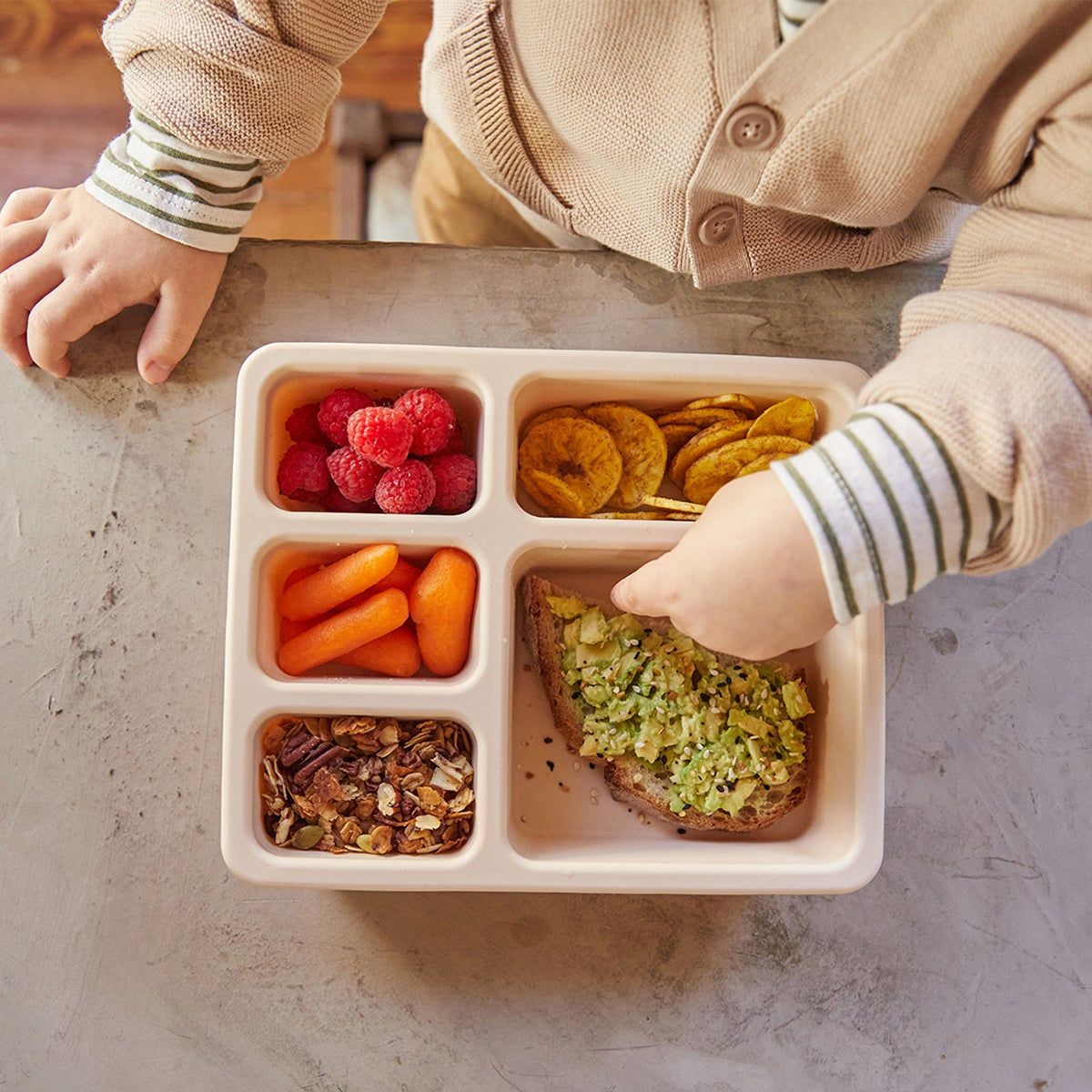 Master Class
6 Ways to Up Your Lunch Box Game
Need some back to school lunch inspiration? We asked six foodie friends for some attainable and nutritious ways to feed your child and your Insta feed.
Written By

Olivia Villanti
Parenting real talk: Coming up with creative ways to spice up a picky eater's lunch is a chore. Not only is there pressure to please your kid, but there's also the thought that the teacher – or worse, a fellow parent – is quietly judging your selections. To unlock a little inspiration, we asked six foodie parents to share what they pack their littles.
Kale, Sweet Potato and Falafel Bento

Alissa Wagner, co-owner of Dimes & Dimes Deli

Mother of Henry, 2 ½, and Rowan, 1

Ingredients

Sweet potato falafel (recipe below)

Hummus

Crudités

Fresh fruit and almonds

Note: If your meal needs to be nut-free, substitute dried coconut.

Falafel Recipe

2 medium sweet potatoes, roasted and diced

1 cup wilted kale or other seasonal green

6 tablespoons all-purpose flour

1 (15-oz.) can chickpeas, drained and rinsed

1/2 large yellow onion, finely diced

2 tablespoons garlic, minced

2 teaspoons fresh cilantro, finely chopped

1 teaspoon cumin

1 1/2 teaspoons ground coriander

2 tablespoons lemon juice

1/2 teaspoon salt

breadcrumbs to coat

Optional: 1 tablespoon moringa powder and/or 1 tablespoon ground flaxseed

Instructions:

Place all ingredients (including add-ins, if using) except breadcrumbs in a food processor. Roll into two-inch balls and place in refrigerator to chill for 1 hour. Roll in breadcrumbs. Place on lightly oiled baking sheet and bake until golden brown.

Note:

For a gluten-free version, substitute 4 1/2 tablespoons chickpea flour for all-purpose flour and roll in ground nuts or gluten-free Panko. Moringa powder is a great way to sneak into a picky eater's diet a high level of plant protein, vitamins and minerals. Additionally, flaxseed is high in Omega-3s.
Antipasto Bento

Heather Moore, photographer

Mother of Penelope, 7, and Quinn, 4

Ingredients

Prosciutto and mozzarella wraps

Naan triangles

Fruit mix

Red bell peppers and carrots

Candied sunflower seeds
Esquites & Queso Bento

Guillaume Guevara, owner of Miscelanea NY

Father of Lalo, 2 ½

Ingredients

Sliced jicama

Sliced avocado

Sliced queso fresco

Diced tomato

Esquites (recipe below)

Sliced oranges

A slice of lime

Tortilla chips

Esquites Recipe

2 tablespoons olive oil

4 cups of freshly shucked corn

½ cup of white hominy (canned or fresh)

½ vegetable stock

1 ounce of dry epazote

1 tablespoon of mayo

1 tablespoon of crumbled cotija cheese

Juice of ½ lime

Salt to taste

Instructions:

Heat the oil in a non-stick skillet, and add corn and hominy. Stir once or twice and let corn char for a minute or two. Add vegetable stock or water, epazote and two pinches of salt then bring to a boil. Once boiling, turn off the burner and let cool. Remove excess liquid, then add mayonnaise, cotija/fresco cheese and stir. Taste, and if necessary, add more salt and stir.

Buen provecho!
Fish and Potato Bento

Laura González Fierro, founder and design director +ADD

Mother of Theodora, 2 ½

The Ingredients

Steamed tilapia filet

Steamed broccoli

Steamed potatoes with red and green peppers, onions, garlic, vinegar, olive oil and parsley

Grapes
Breakfast-for-Lunch Bento

Jane Reilly Johnson, co-founder of Wiley Body

Mother of Henry, 6, Wayne, 5, and Goldie, 1

Ingredients

Trader Joe's Belgian waffles, cut in half

Cheddar cheese cubes

Fresh strawberries

Optional: Side of syrup
Flight-Friendly Frittatas and Fruit Bento

Dulci Edge, art director Mother of Charley, 2 ½

Ingredients

Tomato, ham and sharp cheddar mini frittatas (recipe below)

Toasted cream cheese and jelly sandwich

Clementine

Berries

Frittata Recipe

3 eggs

Whole milk

Tomatoes, diced

Ham, diced

Salt and pepper

Instructions:

Beat the eggs, then add the whole milk, salt and pepper. Pour the mixture into a mini-muffin tin, and add cheese, tomato and ham. Bake at 350° for 10 to 15 minutes.