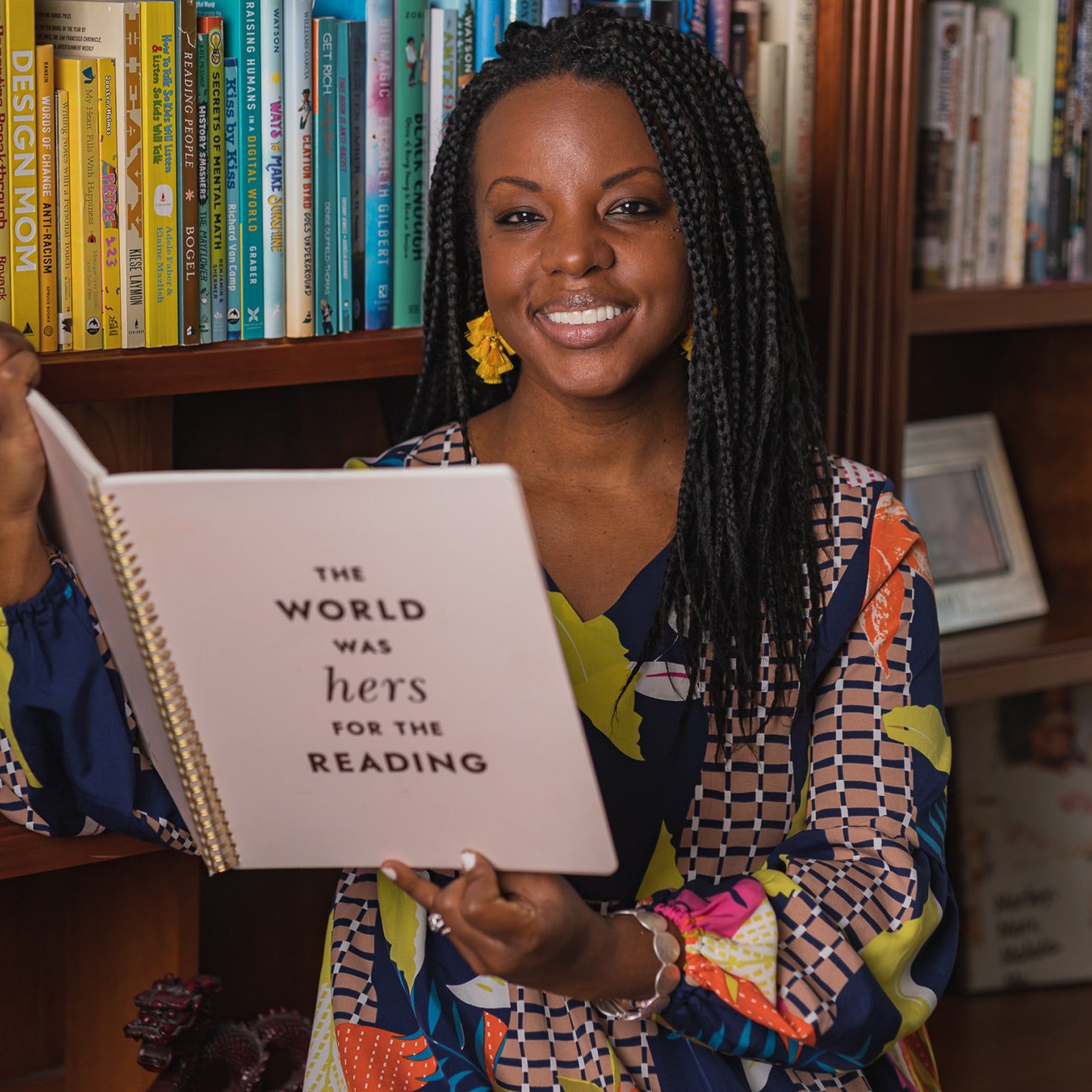 Celebrating Black Stories
Meet Charnaie Gordon: The Mom on a Mission To Diversify Kids' Bookshelves
Every story has the power to help us see the world anew. So in honor of Black History Month, we're celebrating Black stories from founders, families, and creators in our community. Charnaie Gordon's story is especially inspiring. Ahead she shares her mission to bring diverse stories to families through her blog Here Wee Read and her non-profit 50 States 50 Books.
Interview By

Katie Covington
You may have seen her book suggestions on her wildly popular Instagram account Here Wee Read, where Charnaie has built a destination for families seeking to diversify their reading. But you may not know she turned her daughter's genius idea to donate books into a non-profit, 50 States 50 Books, that brings diverse stories to deserving kids across the nation. This February, for every dollar spent at Maisonette on Black-owned or Black-founded businesses, we will donate a dollar to 50 States 50 Books. We caught up with Charnaie to find out how essential it is for all children to read diverse stories.
Can you share the inspiration behind Here Wee Read and its evolution?
I started my blog in February 2015 when my kids were one and two. During those early years of my parenting journey, I looked for a creative outlet to help keep my sanity. I've always enjoyed reading and writing, so I decided to start blogging about books to provide others with book recommendations.
Over the past seven years, the blog has evolved into a brand that parents, grandparents, caregivers, educators, and librarians trust for high-quality book recommendations for children and adults. I also became a published children's book author and editor as well as started a podcast (Here Wee Read: A Bookish Podcast). I now sell printable resources for families, work with brands and publishers on campaigns, and create a set of Black History flashcards with an illustrator. I'm also writing additional children's books set to publish over the next 1 – 3 years.
At the end of 2021, we picked up our first partner! When customers buy a curated bundle of books from DylPop's, they make a $5.00 charitable donation to us on the customer's behalf. This amazing and generous partnership has helped us tremendously so far.
Why is it important for kids of all backgrounds to have access to diverse and inclusive books?
Children (and adults) need to be constantly reminded they can achieve anything regardless of their differences. Simply put, a lack of diversity can hinder a child's ambitions and aspirations of the underrepresented even while they are still young and their minds are impressionable. I want my children to know that excellence can look like them, too! Even something as seemingly small as a similar hairstyle on a doll can reaffirm the way people see themselves — and encourage them to value their uniqueness.
Beyond representation, having diversity in literature is important because it helps people become more compassionate toward others and allows them to help push the lever toward true equality. In essence, diversity can let us see beyond superficial outward differences and look deeper for common interests, similar likes and dislikes, values, beliefs, and attitudes. Being able to empathize and sympathize with diverse characters means that we as people are more open to understanding others in general. It is a crucial aspect to promote, more so in the time and place we live in today. We all have a story to tell.
Did you have any books (or stories) that showed you the power of storytelling or any stories you wish existed growing up?
My favorite book to read as a child was Corduroy by Don Freeman. It is the first book from my childhood where I remember seeing myself represented and reflected back to me on the pages of a book. I wanted to be just like the character Lisa in the book.
Growing up, I wish I had some of the amazing diverse books available for kids today. I'm thrilled that I'm able to re-live parts of my childhood through the lens of my children. Not only am I able to read some of my favorite childhood books like Corduroy, but I'm also able to read a myriad of new diverse and inclusive stories alongside them.
Do you have suggestions for using books as tools to spark questions and conversations with kids?
Books can be excellent tools to use for helping to spark questions and conversations with kids. It is important to understand kids are ready to learn about "tough" topics (in age-appropriate ways) a lot sooner than many adults may think. Often, grown-ups are the ones who have issues discussing complex issues and need to do their internal work to overcome any implicit or internal biases they may be harboring from their childhood.
My best advice is to start having conversations early as often as needed. Don't just wait for a school incident or current event in the news to happen. The sooner you start having age-appropriate conversations with kids about tough topics like bullying, fairness, using their voice, standing up for what's right, etc., the better.
Are there ways to support diverse authors for families that have the privilege of filling their bookshelves with their stories?
Yes, absolutely! Purchase a variety of diverse books and read them with your children or students throughout the year. Also, pre-order books written by diverse authors, leave reviews of diverse books online, ask your local library or bookstore to order them when you don't see them represented on the shelves. Doing any of these things may help send a clear message to publishers that there is a demand for books written by diverse authors.
What does the daily reading routine look like in your house? Any tips for encouraging kids to read for enjoyment?
I aim to read aloud with my kids for a minimum of 30 minutes per day. So that time, coupled with their 30-minute independent reading time and my own scheduled morning reading time, adds up to about 90 minutes of combined family reading time per day. Of course, there are days when we may read more or less, depending on our schedule.
Although we typically have designated reading times, I like our storytime sessions to be as organic as possible, so it feels enjoyable and not like a chore. Most mornings, I read aloud a picture book with my kids during breakfast. We call this "Breakfast Over Books." Then, at night we have another storytime session right before the kids go to bed, that's usually me reading aloud our family chapter book of the month while cuddled up in the "big bed," me and my husband's king-sized bed.
The kids also have a 30-minute independent reading period to do on their own. Again, they get to choose when this gets done throughout the day. I also let them select the books to read for their independent reading sessions. Most days they remember, but sometimes they do not, which is OK, too.
My first tip is to find out what interests a child has. What types of activities or hobbies do they like to do? What is their favorite subject in school? Then try to find books that match their interests.
I like to incorporate different resources like Reading Comprehension Cubes, educational flashcards, Tell Me a Story Cards, and Story Wands for younger kids. Sometimes I will have an craft activity to do after reading the book. These things allow us to have a deeper discussion about the book.
For older kids, perhaps you can enhance their reading experience by being genuinely interested in what they are reading. If they are willing to share, ask them questions about the book and find out what they liked or think could have been better.
Beyond your work with Here Wee Read, you started a nonprofit with your children. Madison (age 9) and Barrington (age 8). How did you three start 50 States 50 Books? We love how you've teamed up to share books with kids across the country.
Madison & Barrington: We started 50 States 50 Books in July 2018. Madison came up with the idea to donate our unwanted books to other places besides our local library. We purge our books once per quarter, and we're always donating books to others in need.
Our Mom got to work and hired an illustrator to create our logo, made our website and set up our social media pages, and within just a few weeks, we were up and running and started receiving our first book donations from kind donors on social media that wanted to help. We donated 2,500 books across the United States within nine months!
You've done this twice! What have you learned? Do you have any tips for kids wanting to start something that might seem overwhelming at first?
Madison & Barrington: Yes, we've done this twice, and we're currently making our way across the U.S., donating another 2,500 books.
Madison & Barrington: Over the years, we've learned there may be times we need to be creative and pivot. COVID has shown us that over the past two years (and counting). In addition, we learned how many kind people there are in the world who genuinely want to see us (and others) succeed. We also learned a lot about nonprofit organizations, the post office, and how to start and run a business.
We help pack up the boxes with books, stamp the books, and sometimes we go to the post office and help with shipping the books. We do not help choose books; our Mom does that job.
Tip: Keep going even when things get too hard. It will be worth it in the end.
What are you reading now?
Madison: I currently like The Dreadful Tale of Prosper Redding and The Last Life of Prince Alastor by Alexandra Bracken.
Barrington: I currently like reading books in the Desmond Cole Ghost Patrol series and the Clubhouse Mysteries chapter book series.