Arts & Crafts
Fall Arts & Crafts For Kids
Celebrate the changing season with these colorful crafts for aspiring artists–from a genius Thanksgiving kids' table idea to a new twist on our go-to playdough recipe along with simple cozy gifts to make for the holidays.
A Colorful Cornucopia
When
Laura Prietto
found herself in a creative lull between Halloween and Christmas, she tried this ornamental corn painting activity and it was a hit. We love this idea as a harvest-inspired Thanksgiving kids' table decoration that doubles as an activity for creative kids–you could even use butcher paper for the tablecloth and let kids decorate it with their corn drawings.
You need:
Ornamental corn
Pencil
Watercolor
Paper pad or butcher paper
How-to: Lay several pieces of ornamental corn along the center of the table for decoration and encourage kids to trace the outline of the corn, draw in the kernels, and embellish with watercolor.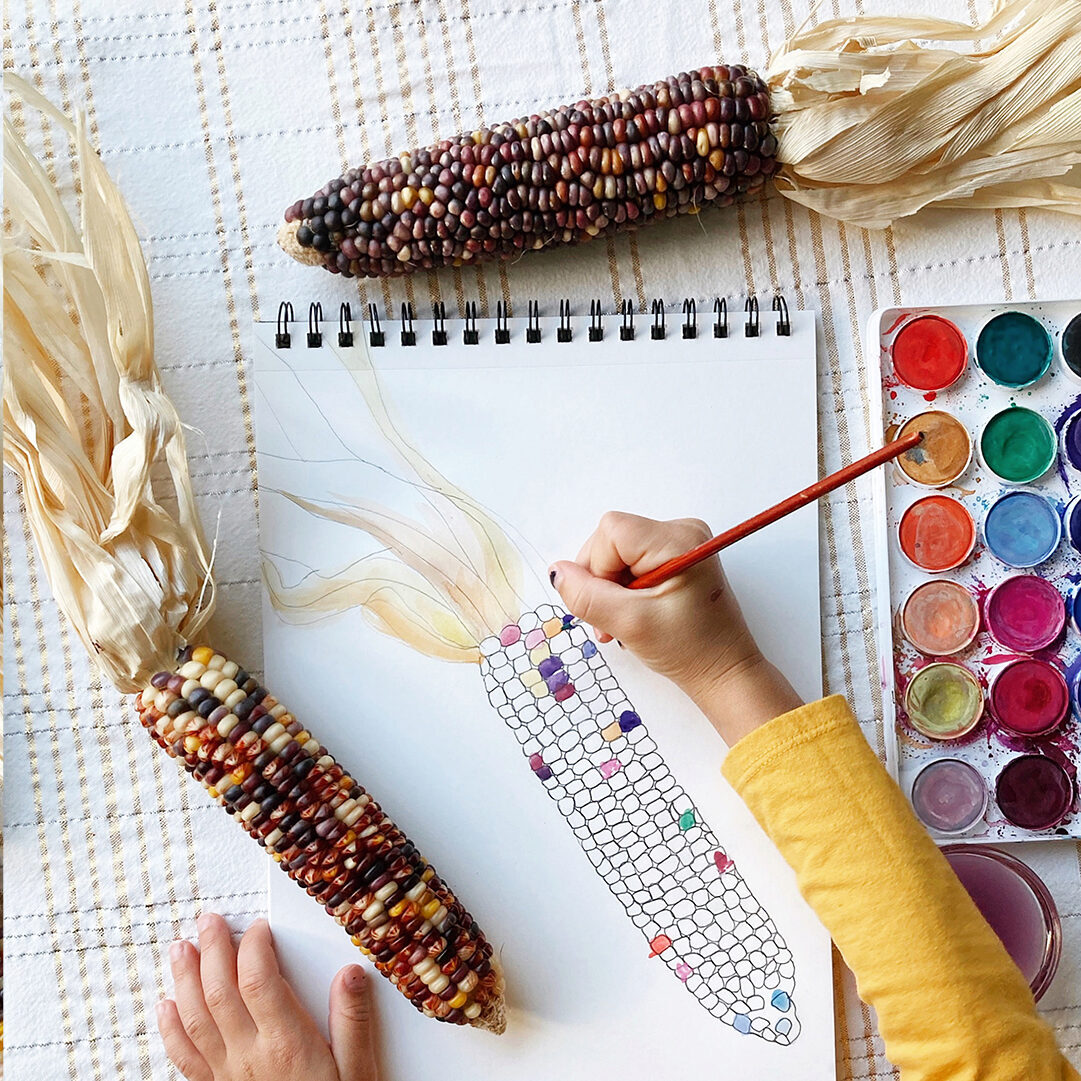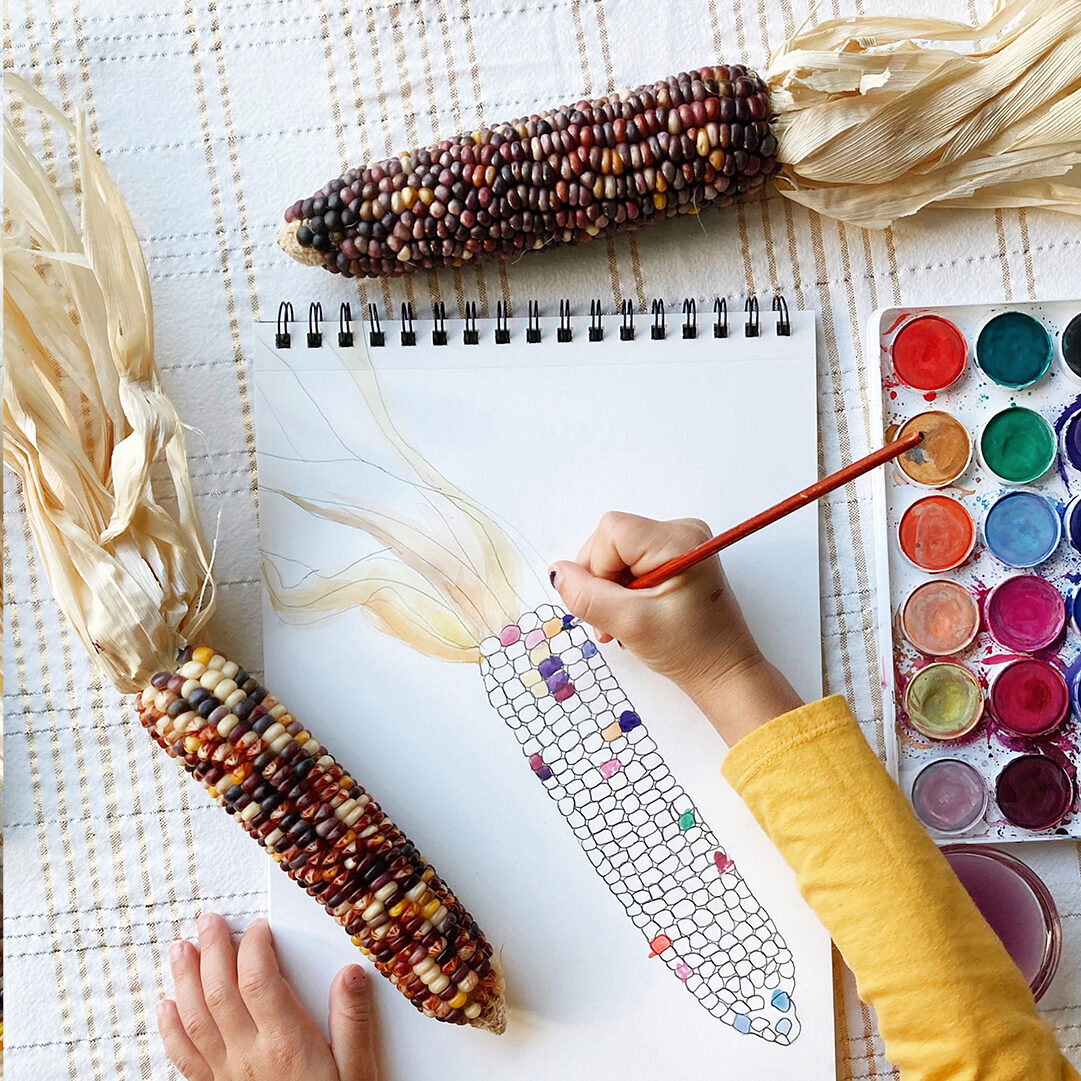 Cardboard Tube Hedgehog
How adorable is this toilet paper roll hedgehog? It's the perfect activity to follow a chilly neighborhood walk. Use them to decorate the kids' table at Thanksgiving or liven up a bookcase filled with fall favorites.

You need:
Fall leaves
Toilet paper roll
Scissors
Paint
Glue

How-to:
Collect leaves on a walk and pull a cardboard roll out of the recycling. Pinch slightly and cut one side to create the hedgehog's nose and belly. Paint the hedgehog's eyes, nose, and stomach. Add glue to the tube and add dried leaves as quills.
Egg Carton Mushrooms
Every hedgehog needs a forest, of course. These are made from things you already have around the house to create a cozy woodland vibe.

You need:
Paint
Small sticks
Egg Carton
Glue
Air dray clay or playdough

How-to:
Break sticks into small pieces the size you'd like your mushrooms and paint them white. Next, cut an egg carton to create the mushroom caps and paint them red and white. Here, we used the sections that separate the eggs for tall, skinny shrooms. Then, roll a small ball of air dry clay or playdough to support the mushroom. Smoosh the stick into the clay and top it with glue & the mushroom cap.
Cozy Pom Pom
Use them to top a winter hat, add to a backpack zipper, make a garland of mini pom poms, or hang them from the Christmas tree – nothing is cozier than a fluffy pom pom. School-aged kids will love to dream up their own color combinations and designs with this kit from
Purl Soho.
You'll Need:
U-shaped pom pom maker
Yarn
Embroidery floss
Scissors
How-to: Wrap yarn around a U-shaped pom pom maker. Secure with embroidery floss, tying tightly around the center of the yarn. Slide the yarn off the maker and secure again with floss. Trim with sharp scissors until it's a sphere, then fluff it into a pretty pom pom. For more tips and designs
Purl Soho
has a thorough guide and inspiration.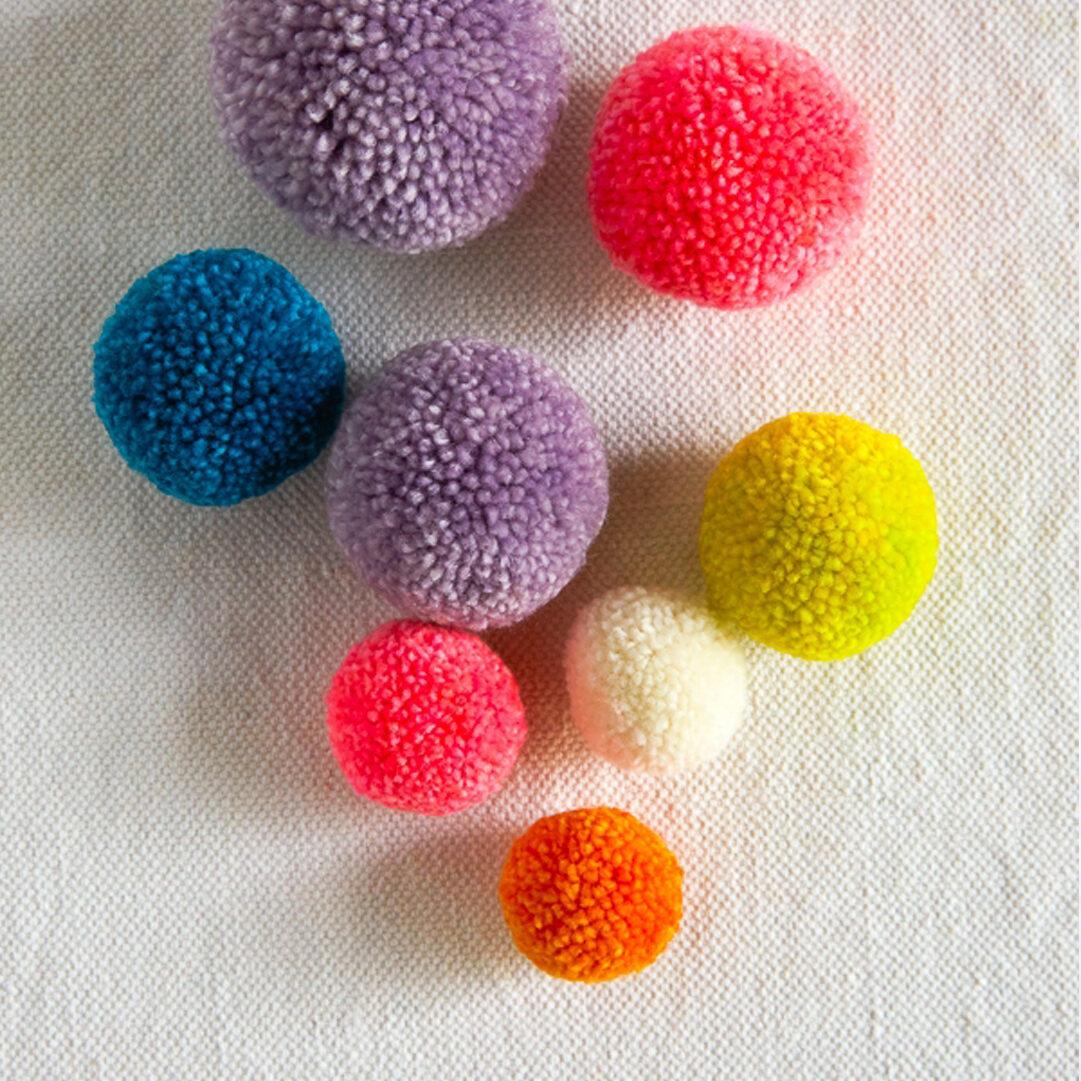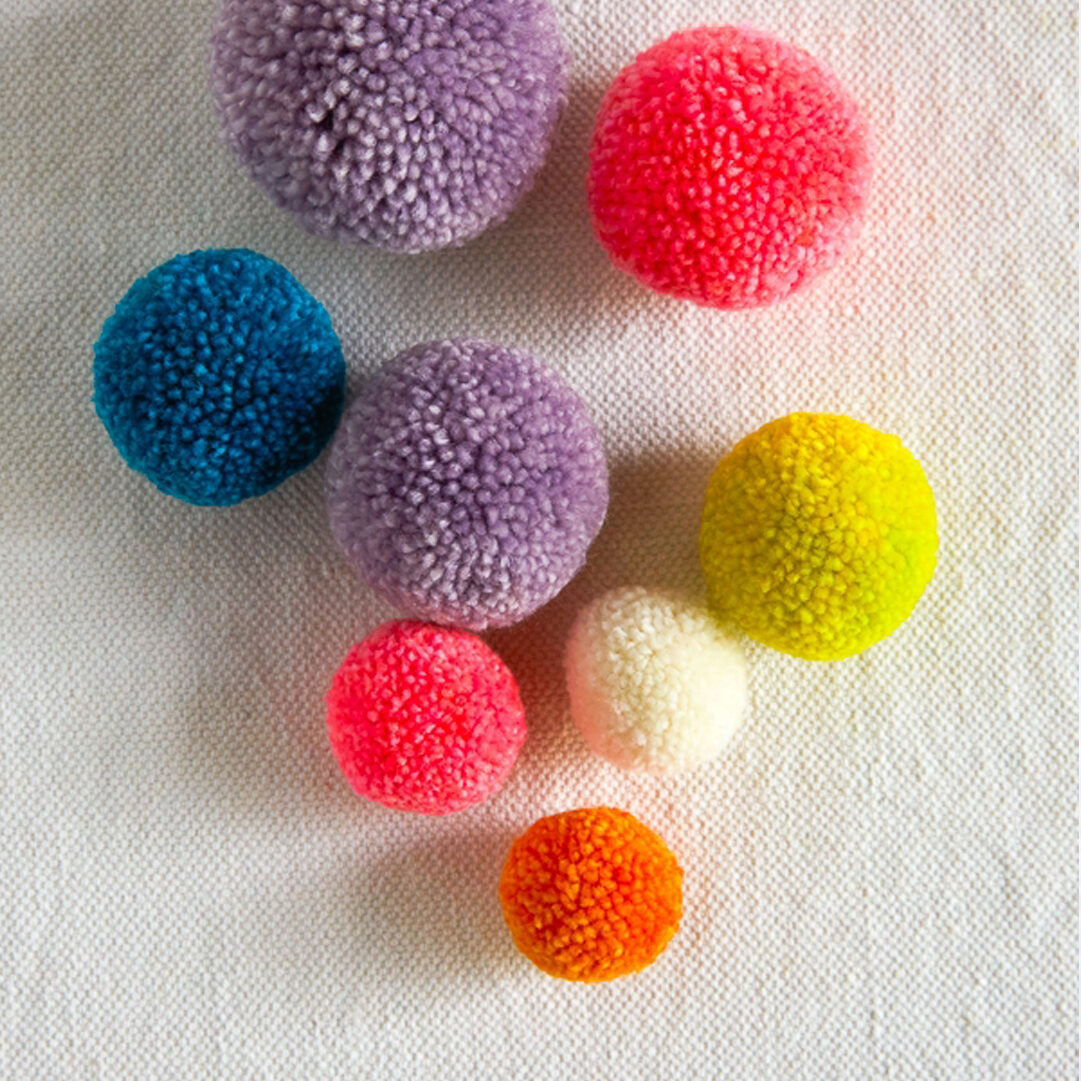 Fall Seasonal Mobile
Exploring nature is one of the delights of childhood. Skip the craft store and head outside to find everything you need to make this simple, seasonal mobile from
Fanny & Alexander's
handbook of nature-based activities for all seasons,
The Nature of Play
.
You'll Need:
A long branch wrapped into a circle or an embroidery hoop
Thread, string, or fishing line
Objects collected in nature
Scissors
How-to:Collect materials like leaves, pinecones, or seedpods while you're out on a walk or in the backyard. Tie a piece of string to each object and tie them to your circle, arranging them in a way that looks great to you.
Polka Dot Pumpkins
Wondering what to do with the pumpkins and gourds on your front stoop after Halloween? The kids in the Drawing Club at
Oh! Canary
drew their pumpkins from observation, then "inspired by the infinitely interesting Yayoi Kusama pumpkins" added color and pattern.
You'll need:
Pumpkins
Paper
Pencil
Vellum
Tape
Paint & Paint Brushes
How-to: Set a pumpkin on a table in front of your budding artist, along with a pencil and paper. Tape vellum over the paper and add spots of color, just like artist Yayoi Kusama. You can create new prints and patterns by swapping out the vellum for a new sheet.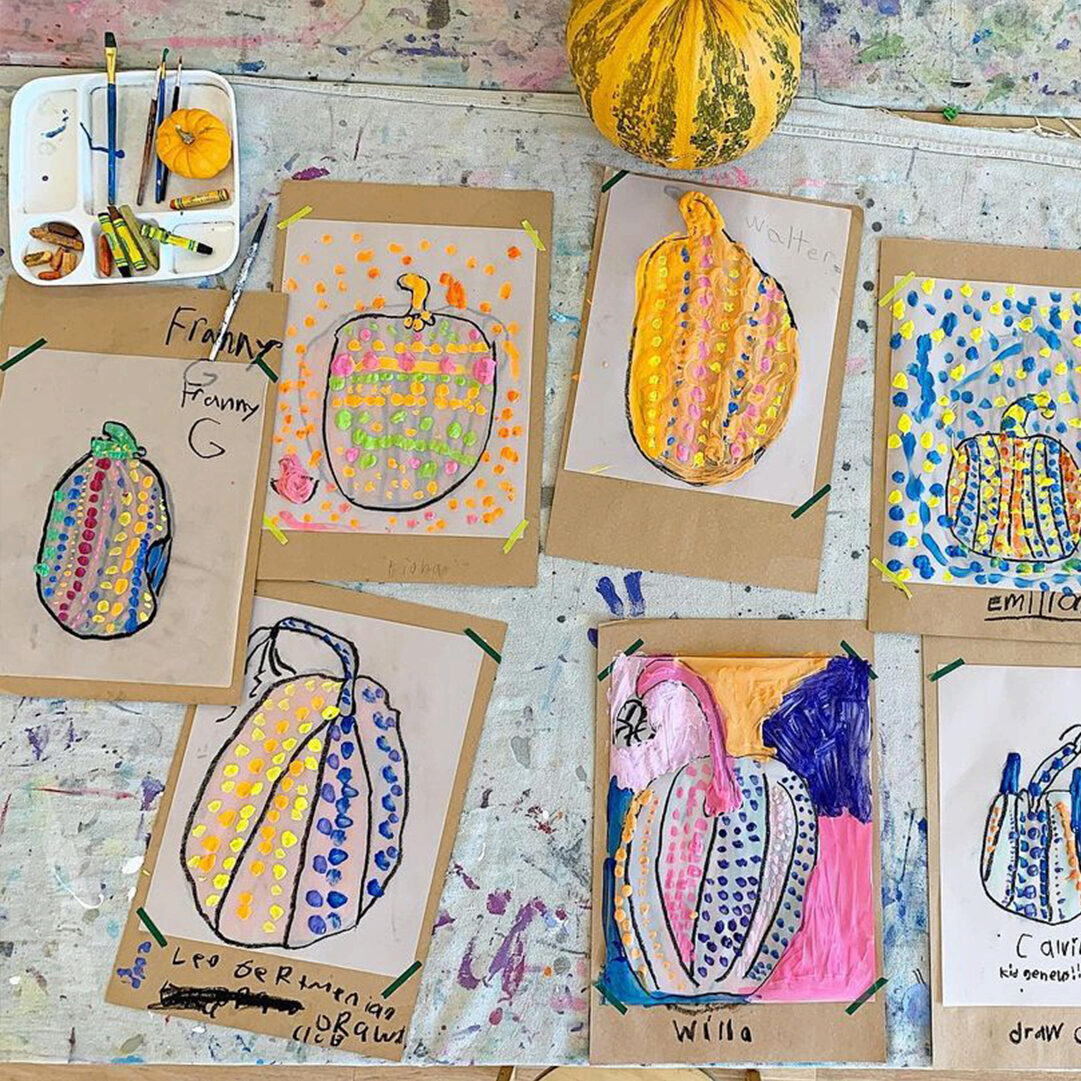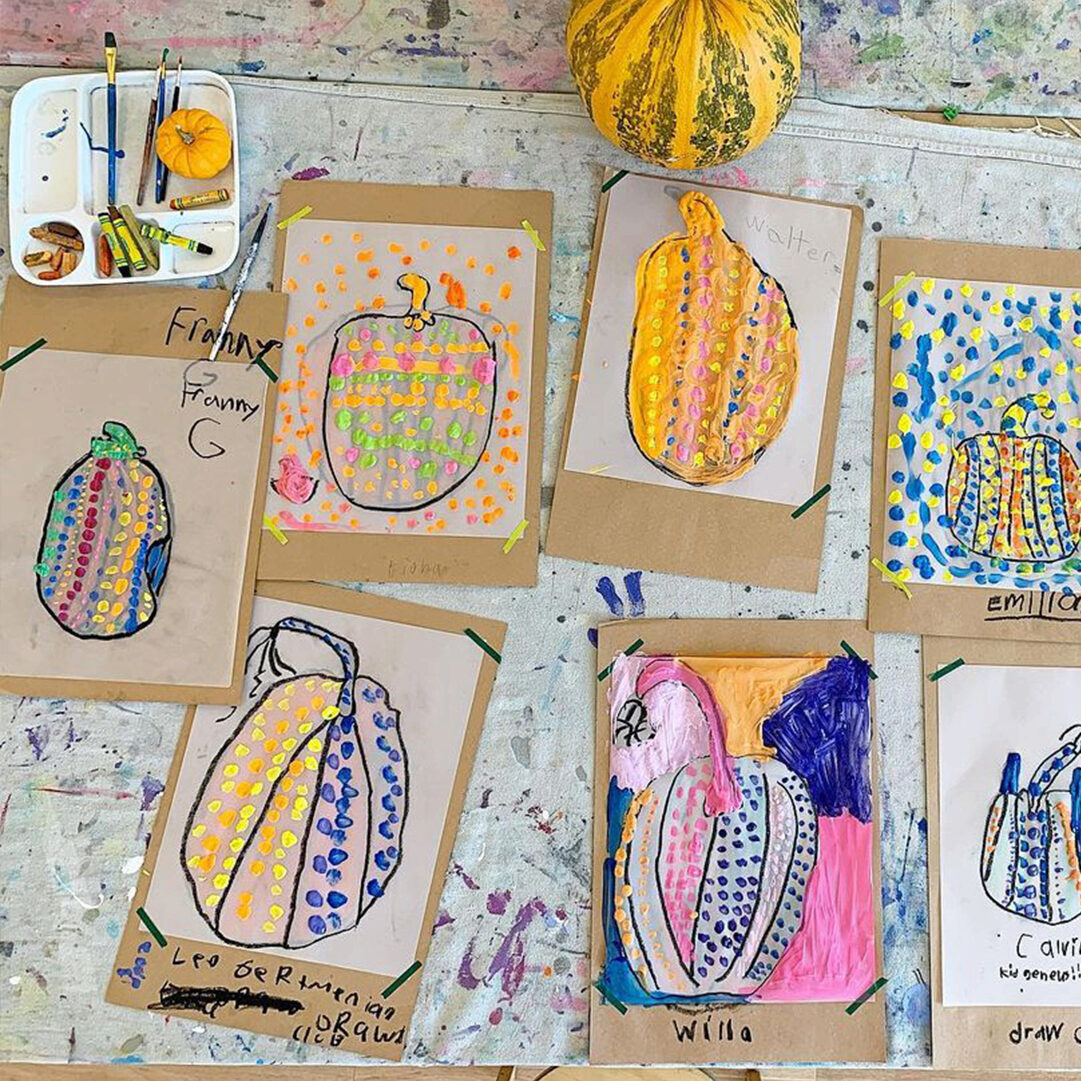 Make Your Own Playdough
As we head into fall, engaging kids inside becomes more and more important. Allison Klein shared her super simple
playdough recipe
with ingredients from the kitchen and suggests "involving kids in the whole process, from creation to playing, makes the experience even more valuable." Add a few drops of essential oil for kids to explore scent as they play.
You'll Need:
4 cups of flour
3 1/2 cups of hot water
1 cup of salt
4 tablespoons of vegetable oil
2 tablespoons of cream of tartar
Food coloring and essential oils
How-to: Add the flour, salt, and cream of tartar to a pot over the stove. Add hot water and oil along with food coloring and essential oils if you'd like. Stir until it becomes a ball. Let the dough cool until it's not hot to the touch and knead until smooth. Store in a container or airtight bag to keep it soft.
Handmade Wreath
It may still be fall, but we already have holiday on our minds. This mini evergreen wreath is perfect for getting kids into the holiday decorating spirit. It would be a sweet way to top a gift or hang on their door with a bit of ribbon.
You'll Need:
Cardboard
Rubbler bands
Tape
Scissors
Evergreen branches
How-to: Create a circular wreath template out of cardboard. Add rubber bands to the cardboard circle and tape them in place. Add evergreen branches, berry bunches, or any other nature bits you find by sliding them under the rubber bands. Find the full directions and more inspiration at
Little Pine Learners
Rolled Beeswax Candles
An update to the potholders of yesterday, these rolled taper candles are a sweet holiday gift kids can make that friends and family will actually use. Tie them with string or ribbon and a note, like Kristen from
Live Simple
. A kit makes it mess-free and simple to do on a cold afternoon.
You'll Need:
Honeycomb beeswax sheets
Cotton string
Scissors
How-to: Cut a beeswax sheet in half. Press a string into the edge of the sheet, making sure there is an additional 1" of wick at the top of the candle. Fold the outside edge of the sheet on top of the wick and continue rolling the sheet until you have a long cylinder.
Create a Fall Fairy Garden
Make fall magical.
Tami O'Malley
put together DIY fairy garden kits for her kids to play with while she's gardening. Add succulents, moss, or rocks. Use what you have in your backyard–pea gravel creates paths, pine cones can be lids, and a jar lid painted blue turns into a fairy pond.
You'll Need:
Terracotta planter
Potting soil
Pea gravel
Mini decorations
Plants and flowers
How-to: Lay out all the materials and let kids add them to their terracotta planter, starting with potting soil and pea gravel, and then adding plants and decorations.
Thanks to our crafty contributors!
Laura Prietto lives in California and shares colorful crafts and DIYS with her two girls through her Instagram.
Purl Soho is the best source for sewing, quilting, knitting, and fiber crafts.
Fanny & Alexander creates toys fro m natural materials along with beautiful books for kids and the adults who love them.
Oh! Canary offers workshops, camps, and classes for kids 1+ in South Orange, New Jersey with materials that celebrate play and promote artisitic development.
Allison Klein is the foudn er of Rose & Rex, a retailer with toys thoughtfully selected by education professionals to foster well-rounded skill building.
Little Pine Learners is a resource for ideas to inspire kids to spend more time learning and playing outdoors.
Kristen from Live Simply shares tips for simplif ying food and natural living on her blog.
Tami O'Malley shares creative DIYs, curated finds, and inspiration for creative living.