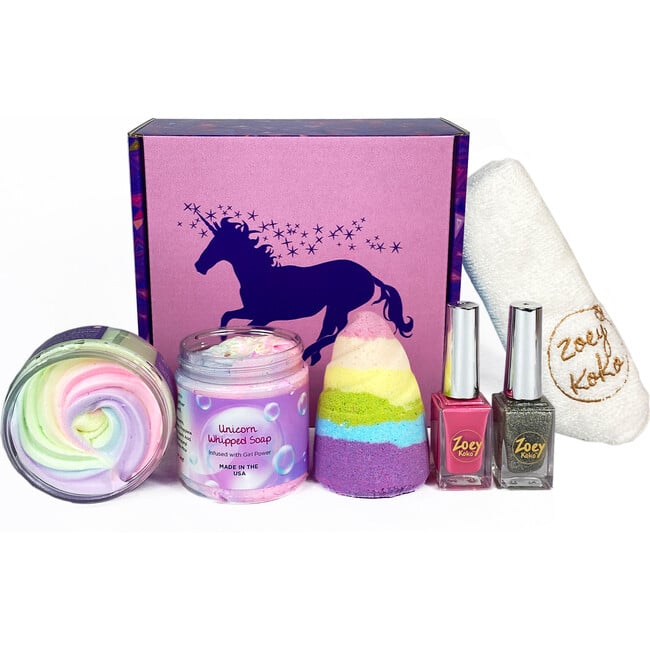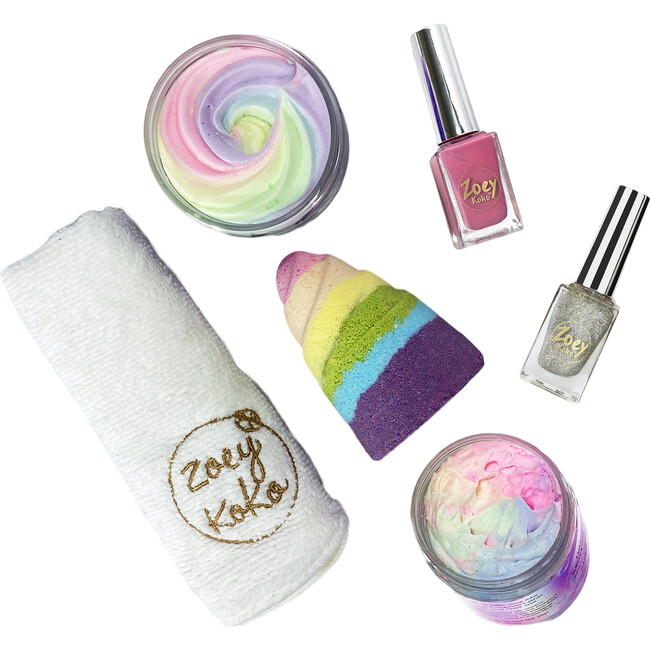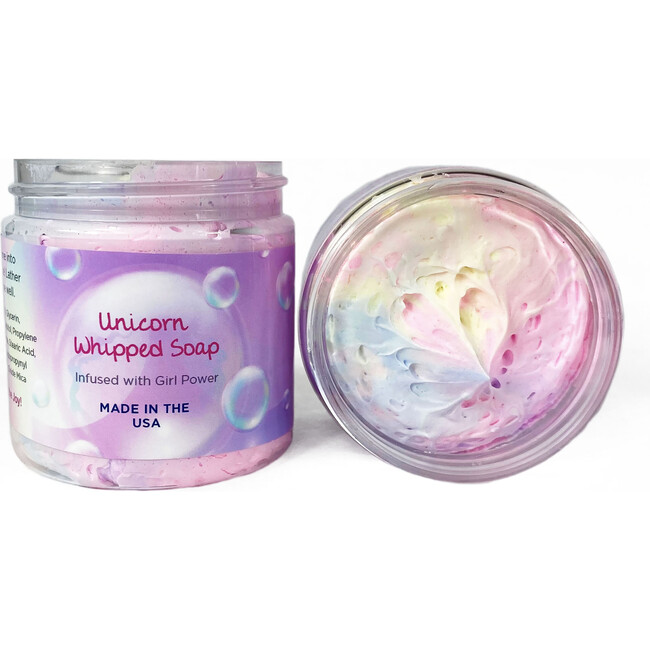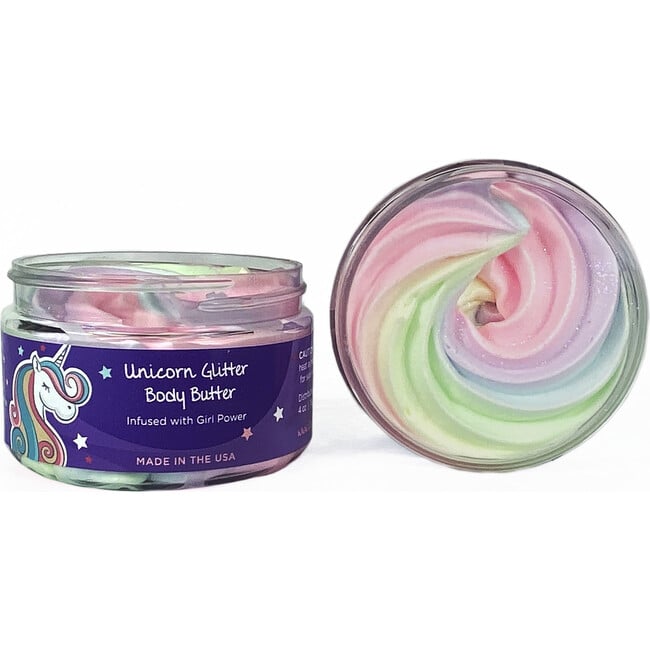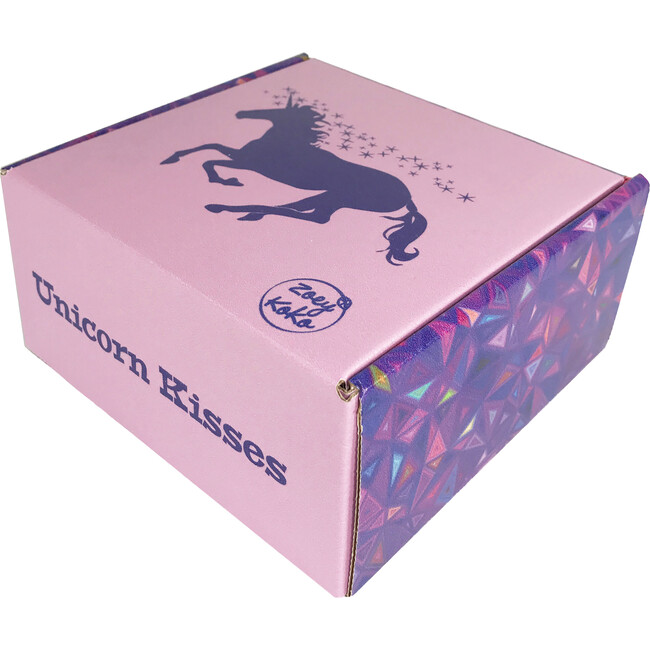 Description

Why be ordinary when you can be a unicorn? Fulfill every girl's unicorn desires and create hours of smiles with this Unicorn Kisses Gift Set. Bursting with rainbow colors, biodegradable glitter and the yummiest cotton candy scent, these products are sure to make your little one's unicorn transformation complete! The Unicorn Kisses Set includes: Unicorn Glitter Body Butter, Unicorn Whipped Soap, Unicorn Horn Bath Bomb (won't stain the tub!), Kid Friendly Nail Polish in our princess pink shade "Radiantly Rosy" and our holographic silver glitter "PartyTime" and Microfiber Face Towel. All products areformulated for sensitive skin with no harsh chemicals. Cruelty free and ethically sourced. Nail polish isformaldehyde-free, toluene-free and DBP-free. All bath and body products are made in the USA. For ages: 5+ years.

About Zoey Koko: Founded on the belief that building confidence in young girls through self-care is essential, Zoey Koko is a woman owned business looking to create a brighter future for all girls. Bath & bodyproducts are made in the USA and a donation to the Big Sister Association is made with every purchase. All products are infused with girl power to remind girls everywhere that they are worthy, strong and capable.
Key ingredients & Benefits

Cocoa Butter: An antioxidant powerhouse that hydrates and nourishes the skin. This rich moisturizer also forms a protective barrier to combat dryness
Shea Butter: Loaded with antioxidants to nourish and hydrate skin, while also creating a moisture seal to alleviate dryness
Olive Oil: Leaves skin feeling hydrated, moisturized and baby smooth.
Full list of ingredients

Unicorn Glitter Body Butter: Shea Butter, Cocoa Butter, Jojoba Oil, Coconut Oil, Sweet Almond Oil, Vitamin E, Fragrance Oil, Mica, Biodegradable Glitter.
Unicorn Whipped Soap: Shea butter, Coconut Oil, Glycerin, Water, Sodium Cocoyl Isethionate, Sorbitol, Propylene Glycol, Disodium Lauryl Sulfosuccinate, Stearic Acid, Sodium Chloride, Diazolidinyl Urea, Iodopropynyl Butylcarbamate, Fragrance, Titanium Oxide,Mica.
Unicorn Horn Bath Bomb: Baking Soda, Citric Acid, Epsom Salt, SLSA, Organic Coconut Oil*, Organic Essential Oils*, Fragrance Oils, Natural Colorants.
Kid Friendly Nail Polish: N-Butyl Acetate, Ethyl Acetate, Propan-2-ol Isopropyl Alcohol, Isopropanol, Titanium Dioxide, Yellow 3, D&C Red 6 Lake, Ultramarine Blue 29, Violet 16, D&C Green 6, Black Iron Oxide Colorant, Blue 27, Brown Iron Oxide Colorant, Mica, Shimmer Bronze
How to use

Unicorn Glitter Body Butter: Apply a small amount of this cotton candy scented body butter onto desired area to experience silky smooth skin.
Unicorn Whipped Soap: Lather this fluffy, moisturizing soap with water and rinse well.
Unicorn Horn Bath Bomb: Drop bath bomb into the tub and watch as the rainbow fizziness ensues. No staining of the tub means all fun and no mess, guaranteed.
Kid Friendly Nail Polish: Apply 1-2 coats of this pigment rich, quick dry nail polish. Our formula does not contain the "toxic trio" ingredients (Toluene, Dibutyl Phthalate, Formaldehyde). Paint and play with no worries!
Good to know

24 Hour Moisturizer
Good for Sensitive Skin
Gentle Non-Toxic
Non-Greasy

Plant-Based
Antibacterial Properties
Allergy & Dermatologist Tested
Awards