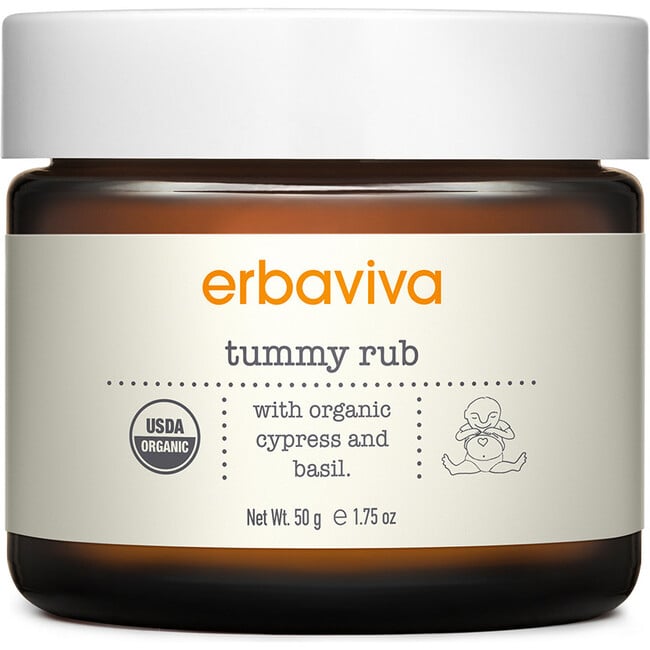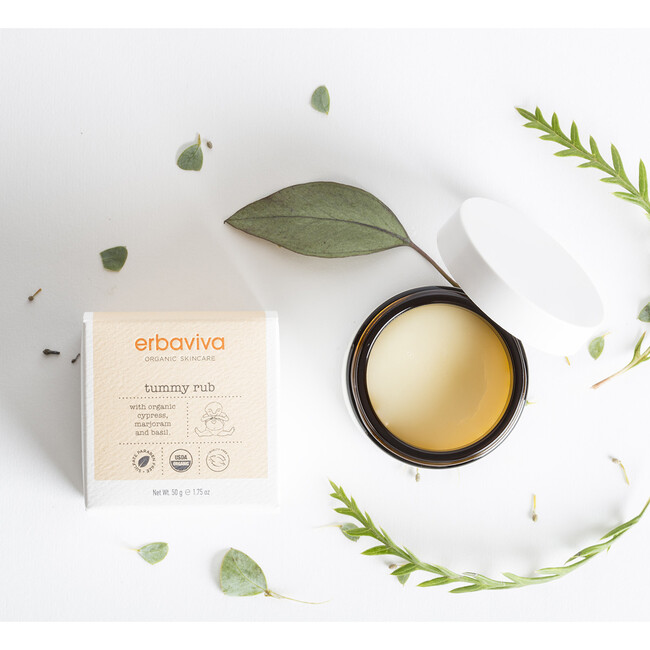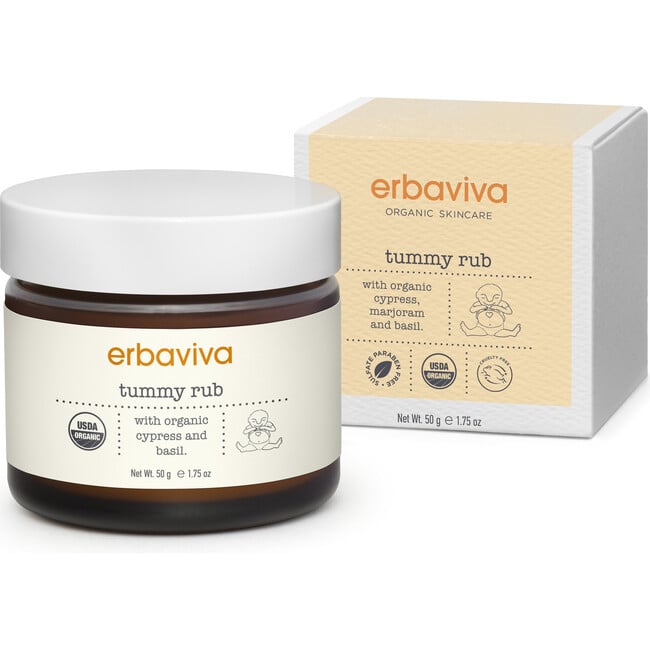 Description

An organic way to ease and comfort baby's tummy. Crafted with beneficial organic essential oils to naturally calm and soothe baby's upset stomach. Tummy Rub has a soft, silky, texture to massage the baby's tummy with ease.

About Erbaviva: Co-founder and CEO Robin Brown has been personally involved in the ideas and formulation of every Erbaviva product since the debut of the baby collection in 1996. Everything is made sustainably in our solar powered facility is Los Angeles and 75% of our products are Certified USDA Organic. Erbaviva sources the highest quality organic ingredients from all over the world, with the utmost levels of therapeutic efficacy in mind. We work closely with farmers and distillers we trust, who practice certified organic farming methods that are in harmony with nature, protect soil, conserve water and safeguard wildlife.
Key ingredients & Benefits

Organic marjoram essential oil: marjoram essential oil is known for its restorative benefits including promoting digestion and relieving pain. the aroma alone is said to stimulate the digestive tract. marjoram is also traditionally used to relieve aches and pains when added to massage oils or to the bath.
Organic basil essential oil: basil has been used in ayurvedic medicine for centuries. it is known for its ability to treat nausea, cramps and digestion issues.
Organic cocoa butter: derived from the exotic cacao bean, this cream-colored butter has a soft sweet aroma and is rich in antioxidants, vitamins and minerals that are known to fight free radicals and protect skin.
Full list of ingredients

*helianthus annuus (sunflower) seed oil,*beeswax.*theobroma cacao (cocoa) seed butter, *lavandula angustifolia (lavender) oil, *simmondsia chinensis (jojoba) seed oil, *rosmarinus officinalis (rosemary) leaf extract, *anthemis nobilis flower oil , *cupressus sempervirens leaf/nut/stem oil, *ocimum basilicum (basil) oil, *origanum majorana leaf oil.
*Indicates organic ingredient
How to use

Warm tummy rub between hands before application.
Gently rub onto baby's tummy massaging in slow circular motions, moving from the tummy to thighs.
Repeat as necessary.
Good to know

Good for Sensitive Skin
Fast Absorbing
Gentle Non-Toxic
Plant-Based

Free of Endocrine Disruptors
Free of Synthetic Dyes or Fragrance
Free of Parabens & Phthalates
Recyclable Packaging
Awards