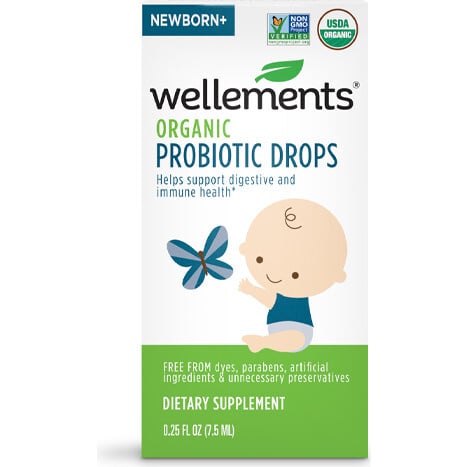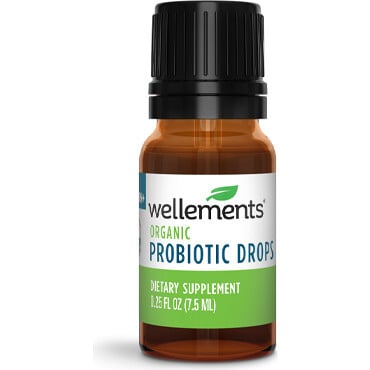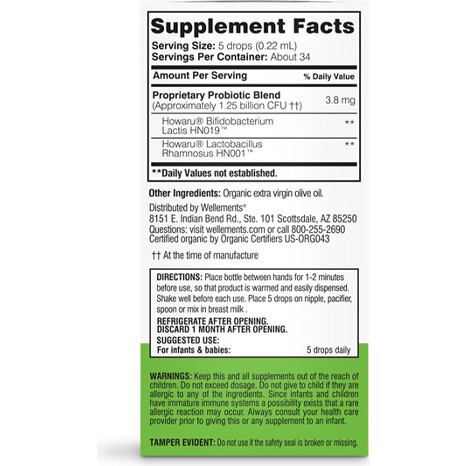 Description

Because healthy guts are happy ones, these probiotics help support your little one's digestive and immune health.* This gut-friendly probiotic blend combined with organic olive oil makes for a simple, safe, and effective formula.

These statements have not been evaluated by the Food and Drug Administration. This product is not intended to diagnose, treat, cure or prevent any disease.

About Wellements: Helping families grow and stay healthy means supporting them with the best products we can produce. That's why every product we make is USDA certified organic, made without the use of chemical preservatives and bottled in glass. In doing this, we know we are providing products that truly make a difference.
Full list of ingredients

Proprietary Probiotic Blend (Howaru Bifidobacterium Lactis HN019, Howaru Lactobacillus Rhamnosus HN001), Organic Extra Virgin Olive Oil.
How to use

Shake well before each use. Place 5 drops on nipple, pacifier, spoon or mix in breast milk or formula.
Awards