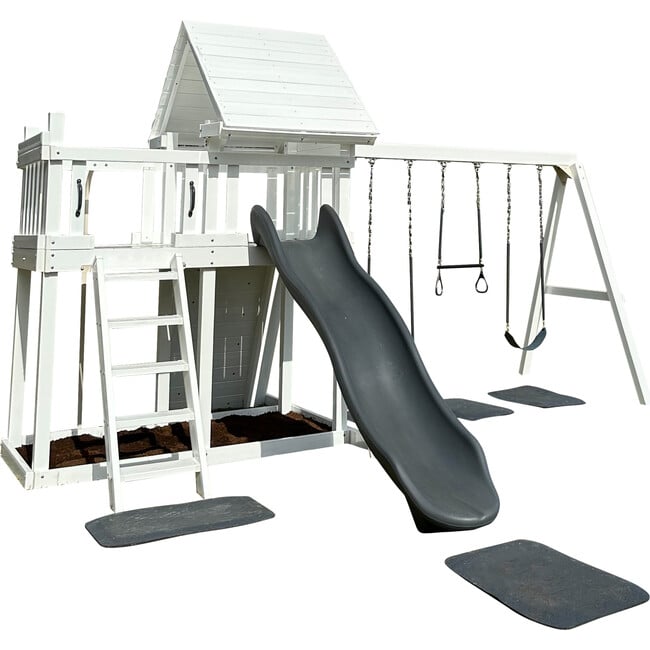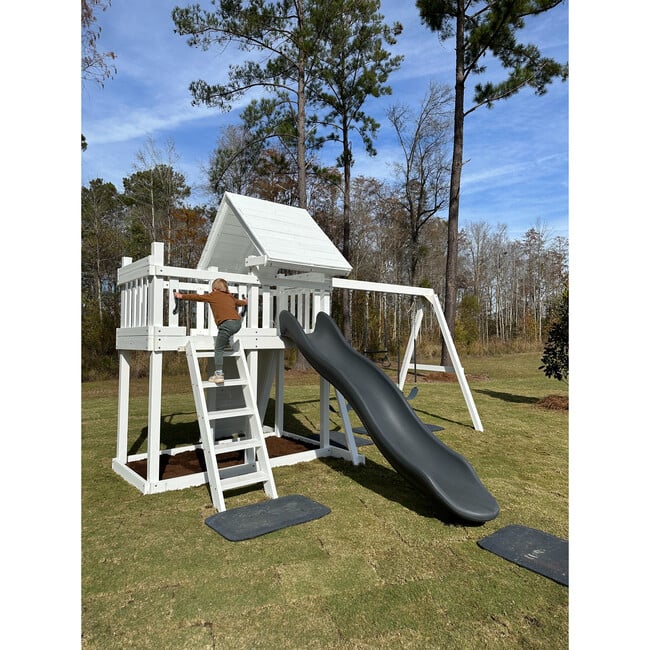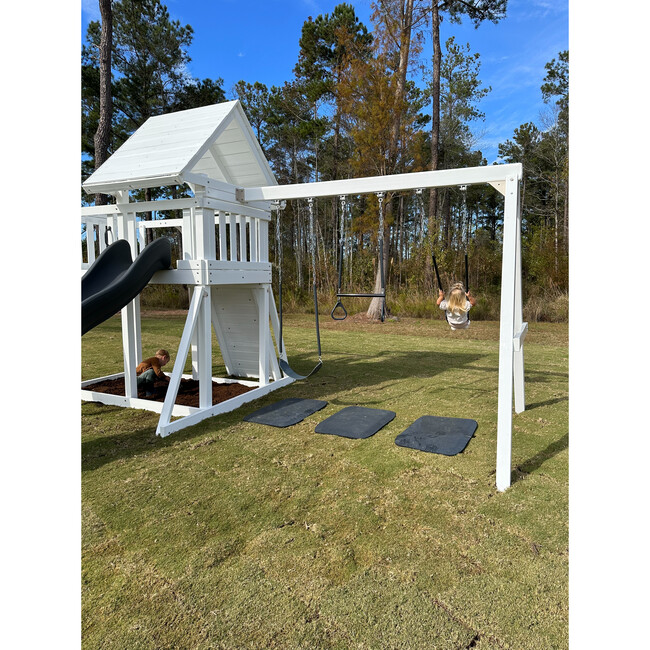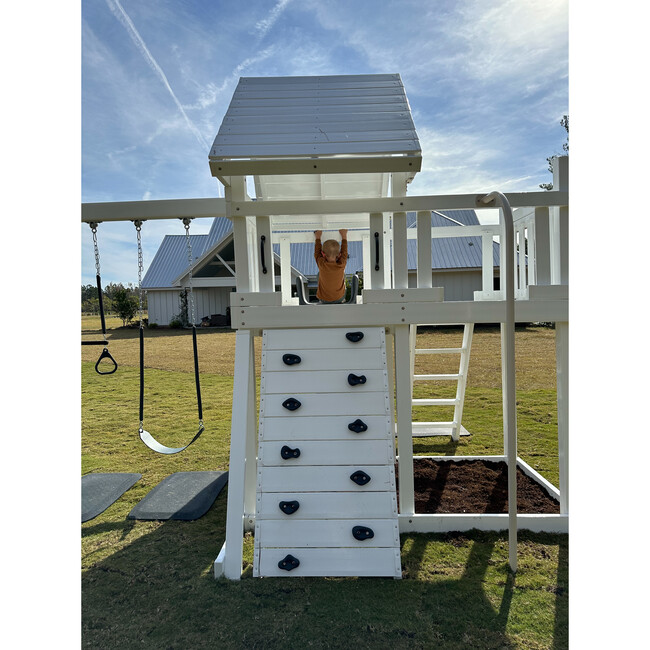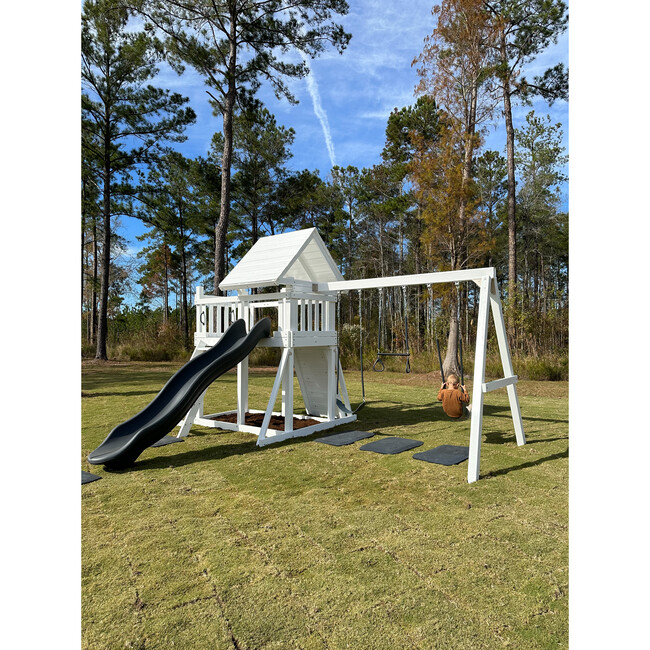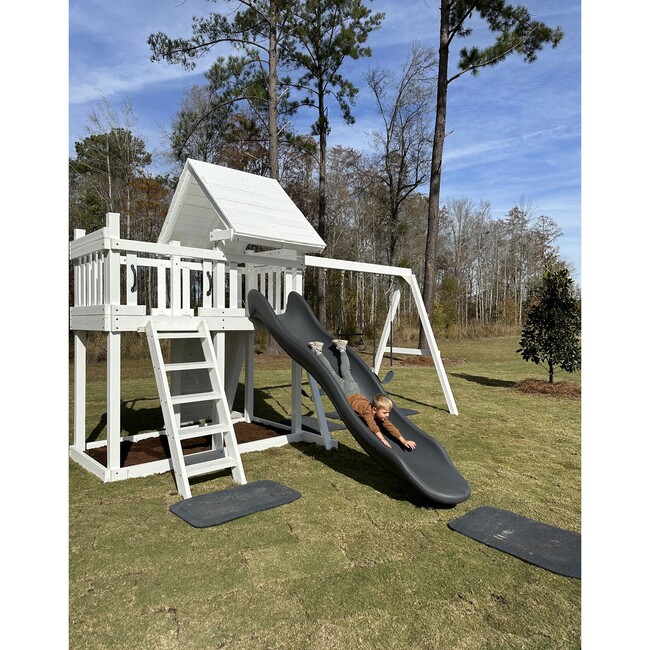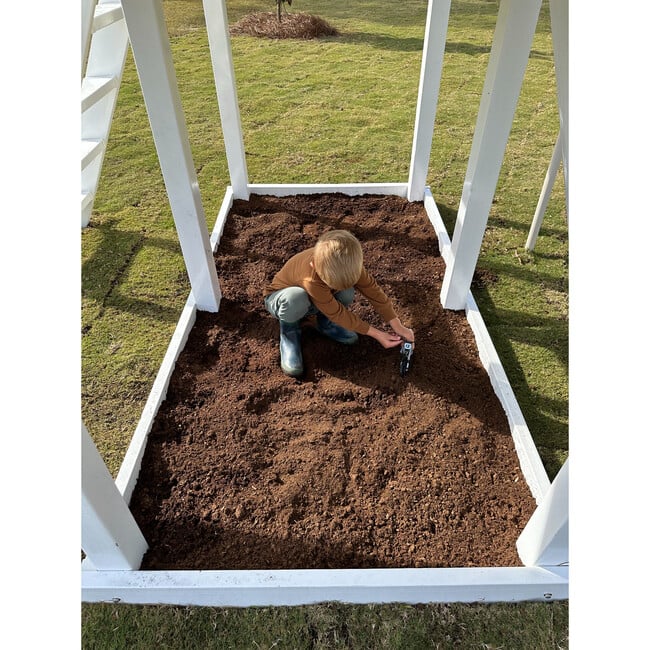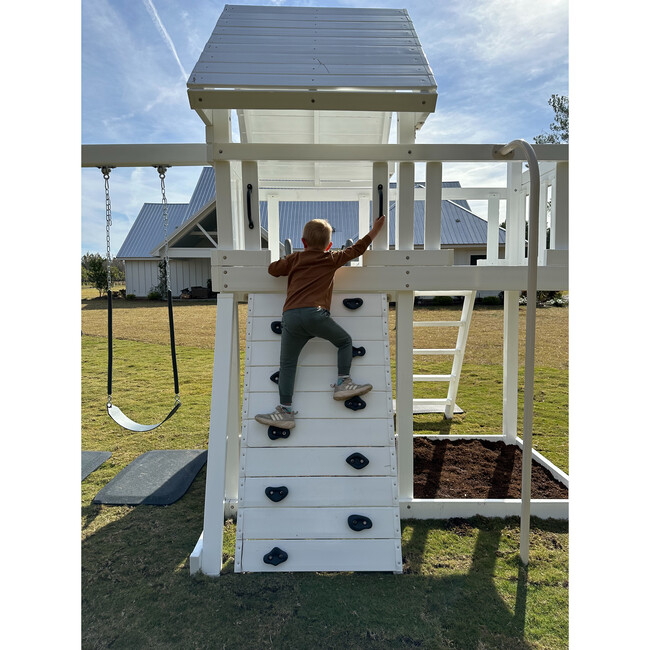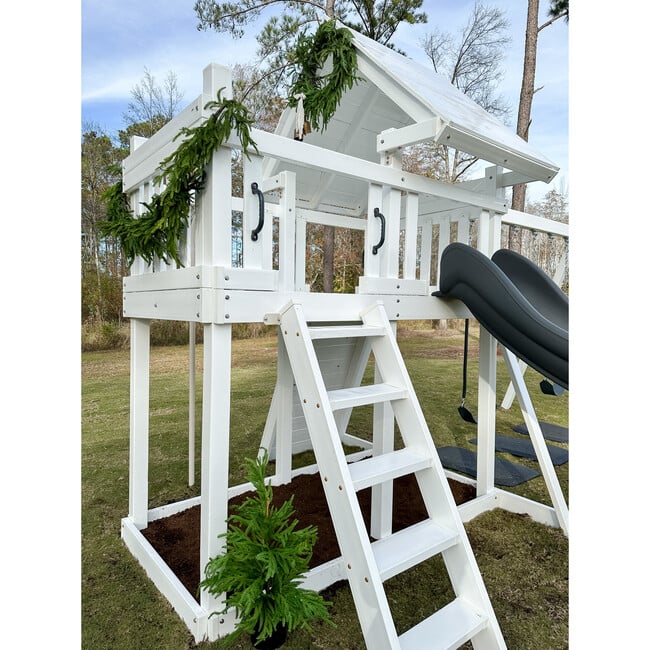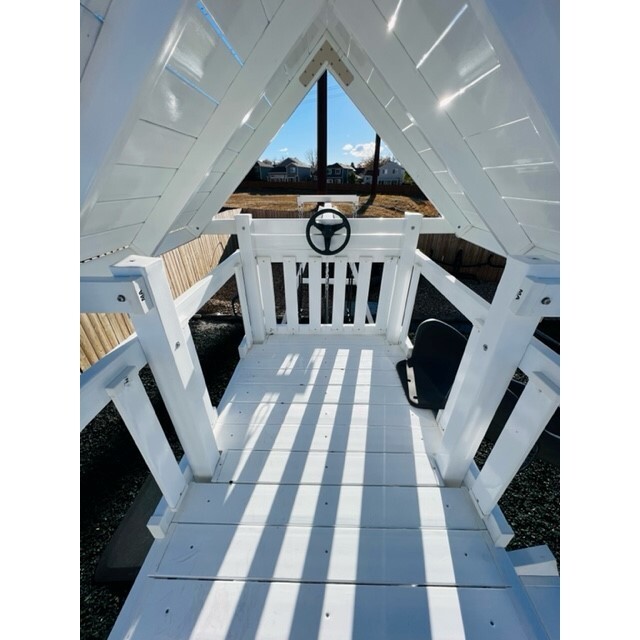 Description

New Neutral White & Grey Color Scheme

4' x 7'6" Fort (5' deck height) with Wood Roof
5' Rock Wall with 10 composite rocks
Stainless Steel Hardware
Premium (Made In The USA) Commercial Grade Grey Avalanche Slide
Fireman's Pole
Sand Box
9 Foot - 3 Position Swing Beam (including 2 swings and a trapeze bar)!
Steering Wheel & Telescope
DOES NOT INCLUDE 5ft Turbo slide (add-on required)
All metal components are sand-colored
Recommended dimensions with safety zone: 28' x 26'
Overall dimensions: 16' x 14' x 10'6" H



About Monkey Playsets:

The lumber is pre-cut, pre-drilled, and ready to assemble!
The play set comes with an owner's manual including step-by-step instructions.
Conforms to or exceeds current safety standards
Requires adult assembly and supervision
Intended for Residential use only, commercial and public use prohibited

About the Lumber:

Our lumber is premium-treated Western Timber. Featuring Woodguard Polymer Coated Lumber 100% maintenance and splinter-free! The benefits of coated lumber are endless, especially when it comes to playsets:
Will, not chip, crack, or peel
Lumber will not twist or warp
U.V. stabilized formula will not fade in the sun
Polymer coating protects the lumber
Solid wood core provides a 100% structural product
Excellent cold weather impact properties below -20F; does not become brittle in cold weather
No harmful chemical treatments; safety tested for lead and phthalates
Non-toxic borate treatment protects against rot and termites!
Maintenance-free- no need to paint, seal, finish, or sand ever again!
Easy clean up- spray with bio-degradable cleaner such as Simple Green and rinse off

About the Assembly:

Lumber and hardware included
Simple, illustrated instructions provided
More than one person is recommended for the assembly of this playset
Assembly will take between 8-16 hours depending on experience level
Place the set on level ground, not less than 6ft from any structure or obstruction such as fence, garage, house, overhanging branches, laundry lines, or electrical wires.
ASTM Guidelines recommend a 6' safety zone around the entire playset
Tools required: 3/8" Cordless Drill or Electric Drill, 1/8", 5/16", 3/8"Drill Bits, Drill attachments: Phillips head screw, 3/8" socket driver, torque head screw, 1/2" & 9/16" Open-end Wrenches, Tape Measure, 6 FT Ladder, Carpenter Square, 1/2" & 9/16" Nut drivers, 1/2" & 9/16" std ratchet and sockets, Hammer, Phillips screwdriver #2, Level 24"

Materials, Care and Warranty Information:

Lumber is covered by a 10-year Woodguard warranty
Non-wooden parts, hardware, roped or chained accessories, slides, metal or plastic components, and canopies/tarps carry a one-year warranty against manufacturer's defects,
All defective parts are discovered and reported immediately and will be replaced at no charge to the registered customer.
After 30 days the customer will be responsible for shipping charges on warranty replacement items.
For replacement parts and Customer Service please contact KidWise Outdoors at 866-543-9473
Nonresidential, public, or commercial use will void all warranties.

About KidWise Outdoors: KidWise Outdoors Products Inc. is all about kids and bringing them the best in outdoor play. We strive to promote safe play for kids of all ages through outside activities.
Material / Ingredients / Care
Details

Assembly Required: Yes
Country of Origin: United States
Maisonette Product ID: Item number KIDW26378044