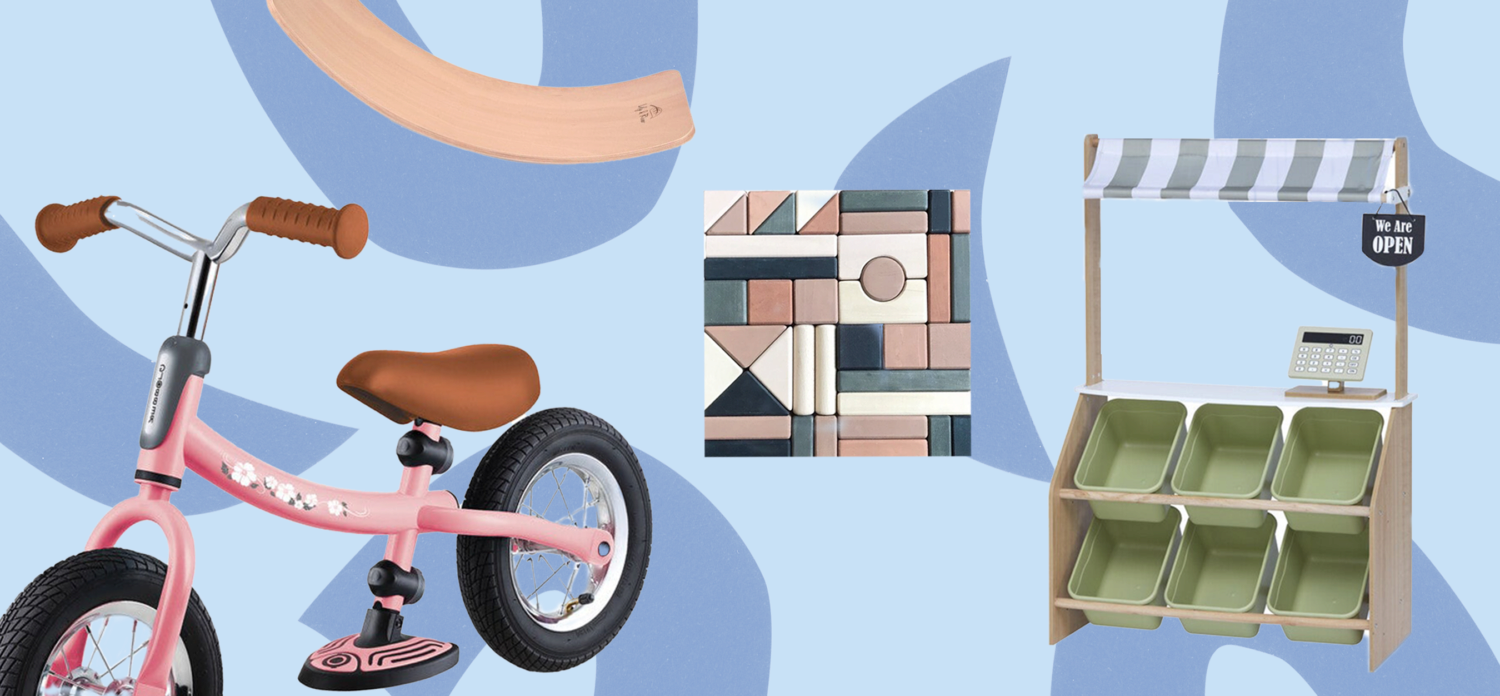 Gift Guide
The Best Toys For 3-Year-Old Girls
Ah, three. The pivotal age when toddlers start to tell you what they want for birthdays, Christmas or just because they need a new toy to play with right this second–and we mean, now! From big ticket play kitchens and bounce houses to age-appropriate puzzles and must-have dress up, we break down the top toys for 3-year-old girls. Get ready to 'add to cart'.
Written By

Elizabeth Mitchell Kadar
But first, what to keep in mind before clicking 'buy':
Will my child (niece, daughter's BFF, etc.) like this? Is it open-ended? These are two good questions to ask yourself before purchasing any toy for a three-year-old, says Tovah P. Klein, Director of the Barnard College Center for Toddler Development and author of How Toddlers Thrive. "There sho uld be many ways a child can interact with a toy, not simply one way to play with it. When there are lots of possibilities, the child can bring their own ideas to decide how to play with a toy and what they want to make of it." The good news is open-ended toys grow with your kiddo, so toddlers can continue to enjoy them for years to come–a win-win for all.
Most importantly, try not to overthink it. "There are so many types of toys and games out there that it's easy to be overwhelmed," points out Dr. Rebekah Diamond, Assistant Professor of Pediatrics at Columbia University and author of the book Parent Like a Pediatrician. "Parents should remember that there's nothing specific a kid needs." So whether they're into climbing and crafting or rainbows and butterflies, rest assured, these top toys for 3-year-old girls are bound to delight them.
The Best Educational Toys
Magna-Tiles they can draw on? Yes, please! This cult-fave STEAM toy makes the ultimate gift for any mini artist or architect. Toddlers can color directly on the tiles, bring their designs to life and then wipe 'em clean to create something entirely new next. Bonus: they're compatible with all other Magna-Tiles too!
EDC Usborne Books Forgotten Fairy Tales of Brave and Brilliant Girls
A twist on the traditional, this series includes eight lesser-known fairy tales reimagined for the modern girl (no instant marriage to Prince Charming here). Heroines embark on epic adventures, doing good deeds, outwitting giants and triumphing evil along the way. But don't worry, there's still a happily ever after.
Begin Again Toys Animal Parade Puzzle
Lions and tigers and bears, oh my! Learn all about animals from A-Z with this clever, handcrafted and eco-friendly puzzle for 3-year-olds. Each piece has an uppercase letter on one side and a lowercase on the other. Kiddos can put it together, play with the animals or practice their alphabet, counting and colors.
The Best Montessori Toys
A Montessori staple! This chic, 35-piece non-toxic wooden block set, featuring a variety of architectural shapes handmade in beautiful earthy hues, can be a princess castle one day and a Paw Patrol tower the next. "Building with wood blocks teaches children about size, shape, weight, and all kinds of basic mathematical principles," says Klein. "There's so much creativity and thinking in building. What do I want to build? How do I do that? It's this figuring out of toys that lays the groundwork for cognitive skills and dealing with frustration–all necessary for ongoing learning."
Crayons they can't break? Um, count us in! Easy for little hands to grip and gentle on the planet, these non-toxic, jumbo-sized crayons are made of 100% pure New Zealand Beeswax (which smells delish!) and food-grade ingredients. Bonus: they can be used without opposable thumb dexterity. Little artists will love creating mini masterpieces with the 12 bold colors.
So many ways to play. This handcrafted balance board is great for getting the wiggles out, stretching, surfing, jumping, working on balance, coordination and building self-confidence. Turns out, it also makes a nice chair for chilling, an obstacle course addition or a bridge for walking and racing toy cars down.
The Best Pretend Play Toys
Tender Leaf Toys Garden Wheelbarrow Set
You grow girl! The perfect prezzie for the budding horticulturist, this adorable wooden gardening set comes with everything they need to "plant" and tend to their own make-believe garden: tiny seed packets, mini flower pots (carrot, tomato and sunflower plants included), a watering can, trowel and even some pretend pruning shears. Pretty soon, they'll be keeping your houseplants alive.
Teamson Kids Little Chef Frankfurt Stainless Steel Cooking Accessory Set
Complete their play kitchen with this realistic, 11-piece pots and pans set designed for your Top Chef. Kiddos can practice important problem-solving skills, using their imagination to whip up yummy meals they see mom and dad make or, more likely, cook questionable concoctions (mac-n-cheese topped with strawberries and ice cream, anyone?) that they try to make you actually eat.
Meri Meri Flamingo Cape Dress Up
So fly! This fab flamingo costume is what toddler dress-up dreams are made of. We love that the cape can be worn separately to turn them into a superhero, princess or whatever else they can think of. "Through imaginative play, children interact with other children, decide on roles and work out conflicts, all of which are key for social development," notes Klein.
The Best Outdoor Toys
Globber Go Bike Air Balance Bike
One of the top toys for 3-year-old girls to help develop their gross motor skills: a balance bike! This bad boy grows with them, boasting a low to high frame position and a 6-height adjustable saddle and removable footrest. So enjoy a family ride around the block (AKA, wear them out!) while building core muscle strength and endurance.
Wonder & Wise by Asweets Good Wood Mini Golf Game
Mini golf just got a hole lot more fun. This wooden golf set has everything they need (3 holes + flags, 2 wooden balls, a rainbow tunnel, bridge and more!) to create their own course, over and over again. Little tigers will strengthen hand-eye coordination, improve concentration, problem solve and bond with parents and playmates as they putt.
A favorite pastime of toddlers? Catching ALL the bugs. Explore the great outdoors together as your little one tries to capture butterflies with the telescopic net or look at everything in sight–squirrels, birds, pretend dinosaurs–with the binoculars. See what you can find in your own backyard or go for a walk together and kill some time learning all about nature.
The Best Big Ticket Items
Tender Leaf Toys Dovetail Dollhouse
A modern, gender-neutral dollhouse that's almost as big as they are! Great for fostering social and fine-motor skills, boosting emotional intelligence and helping teach spatial awareness, kids will engage in hours of imaginative role play–solo or with siblings–as they act out real life scenarios. It doesn't hurt that it looks gorgeous in the playroom too.
KidWise Outdoors Lucky Rainbow Bounce House
Get all that energy out with one of the best toys for 3-year-old girls: a bounce house, slide and ball pit, all in one. Set up is super simple, plus it comes with 50 PVC play balls you can toss right in. Just blow it up, sit back, relax and watch your toddler bounce to their heart's content. Bedtime will be a breeze, we promise.
Teamson Kids Little Helper Market Play Stand Play Kitchen
Shopping never looked so good! This precious play stand lets littles hit the market in style. Toddlers can stock up on groceries, sell fruits and veggies to siblings or start a pretend restaurant and serve mom and dad. Parents will appreciate that it doubles as pretty storage for all those play foods currently cluttering the playroom.
Elizabeth Mitchell Kadar i
Elizabeth Mitchell Kadar is a seasoned freelance fashion, beauty and lifestyle writer and also a mom of three littles living in sunny California. She's written for Brides, YouBeauty, She Knows, The Fashion Spot and many more.