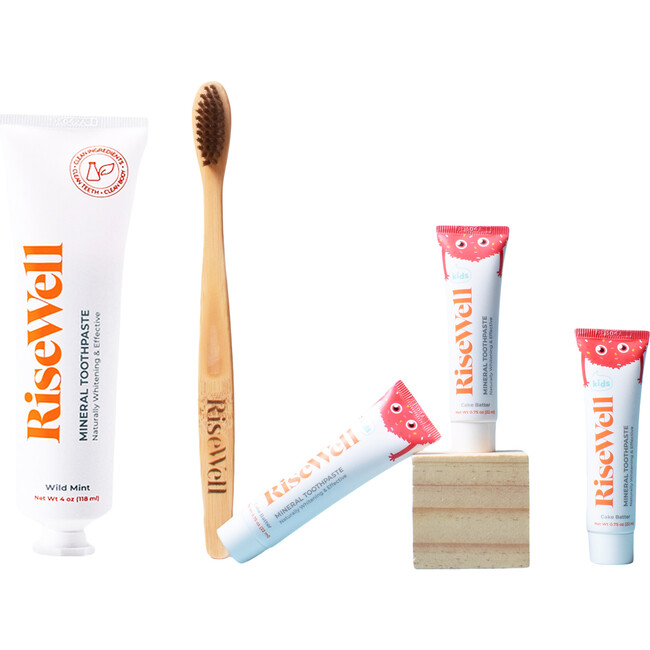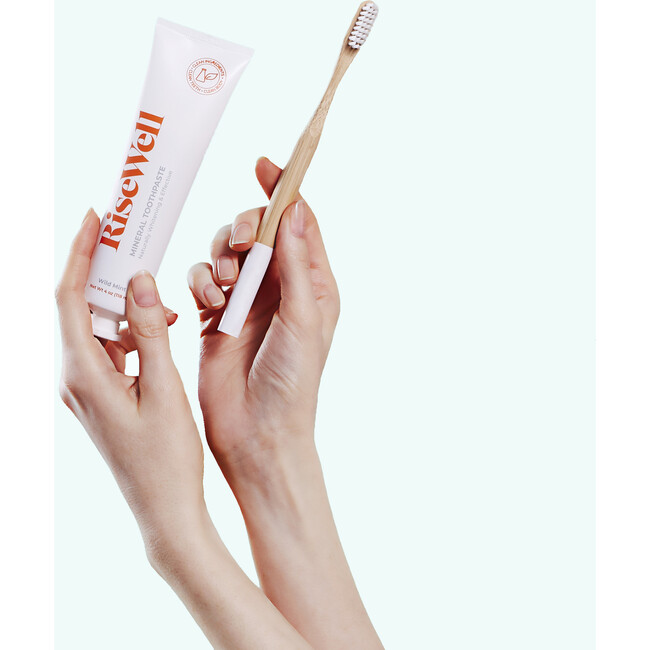 Description

The Hydroxyapatite Toothpaste is different because it works. The toothpaste is made with naturally-derived hydroxyapatite, a mineral that makes up 90% of the tooth enamel and has been proven to strengthen and protect the teeth without fluoride. The Bamboo Toothbrush is not only made of biodegradable bamboo, but also has soft, tapered bristles for a clean feeling. Sample the Kids Toothpaste with a 3-pack of travel size of the paste that not only tastes like sneaking spoonfuls of cake batter straight out of the bowl, it is packed with the signature ingredient, hydroxyapatite, which is a naturally-occurring mineral that strengthens teeth.

About Risewell: "Experience a natural toothpaste that's backed by real science." When John and Kori Estrada learned they were soon to be parents, they decided to swap out any foods and products that could be harmful to their growing family. But most natural toothpastes don't work as well as traditional fluoride toothpastes; and if they do, they're likely not as toxin-free as they claim to be. For the health of their family and others, they teamed up with Kori's brother and passionate dentist, Dr. Derek, to create a clean-ingredient toothpaste and oral care line that protects, whitens, and freshens like products should.
Details

Maisonette Product ID: Item number RISE06525246
Key ingredients & Benefits

Hydroxyapatite: The same mineral that makes up our teeth and bones, HA remineralizes your teeth the way your body does naturally.
Xyltiol: Starves harmful bacteria of their food source, thereby reducing their ability to produce the acids that lead to cavities.
Full list of ingredients

Mineral Toothpate: Silica, Sorbitol, Glycerin, Xylitol, Hydroxyapatite, Calcium Carbonate, Propanediol 20, Potassium Cocoate, Stevia Rebaudiana Extract, Mentha Arvensis (Wild Mint) Oil, Mentha Piperita (Peppermint) Oil, Echinacea Purpurea Extract, Cinnamomum Cassia (Cinnamon) Bark Extract, Citrus Aurantium Dulcis (Orange) Peel Oil, Citrus Limon (Lemon) Peel Oil, Melaleuca Alternifolia (Tea Tree) Oil, Cellulose Gum, Sodium Gluconate, Menthol, Thymus Vulgaris (Thyme) Extract, Erythritol, Xanthan Gum, Eucalyptus Globulus Extract, Illicium Verum (Anise) Extract
Kids Toothpaste: Silica, Sorbitol, Glycerin, Xylitol, Hydroxyapatite, Calcium Carbonate, Propanediol 20, Vanilla Planifolia Fruit Extract, Potassium Cocoate, Stevia Rebaudiana Extract, Erythritol, Echinacea Purpurea Extract, Cellulose Gum, Gluconate, Xanthan Gum
How to use

Unlike other toothpastes, you don't have to rinse after brushing. Simply just spit out the remaining toothpaste and let the hydroxyapatite do its magic.
Good to know

Gentle Non-Toxic
Free of Endocrine Disruptors
Free of Synthetic Dyes or Fragrance
Antibacterial Properties

Free of Parabens & Phthalates
Recyclable Packaging
GMO Free
Awards