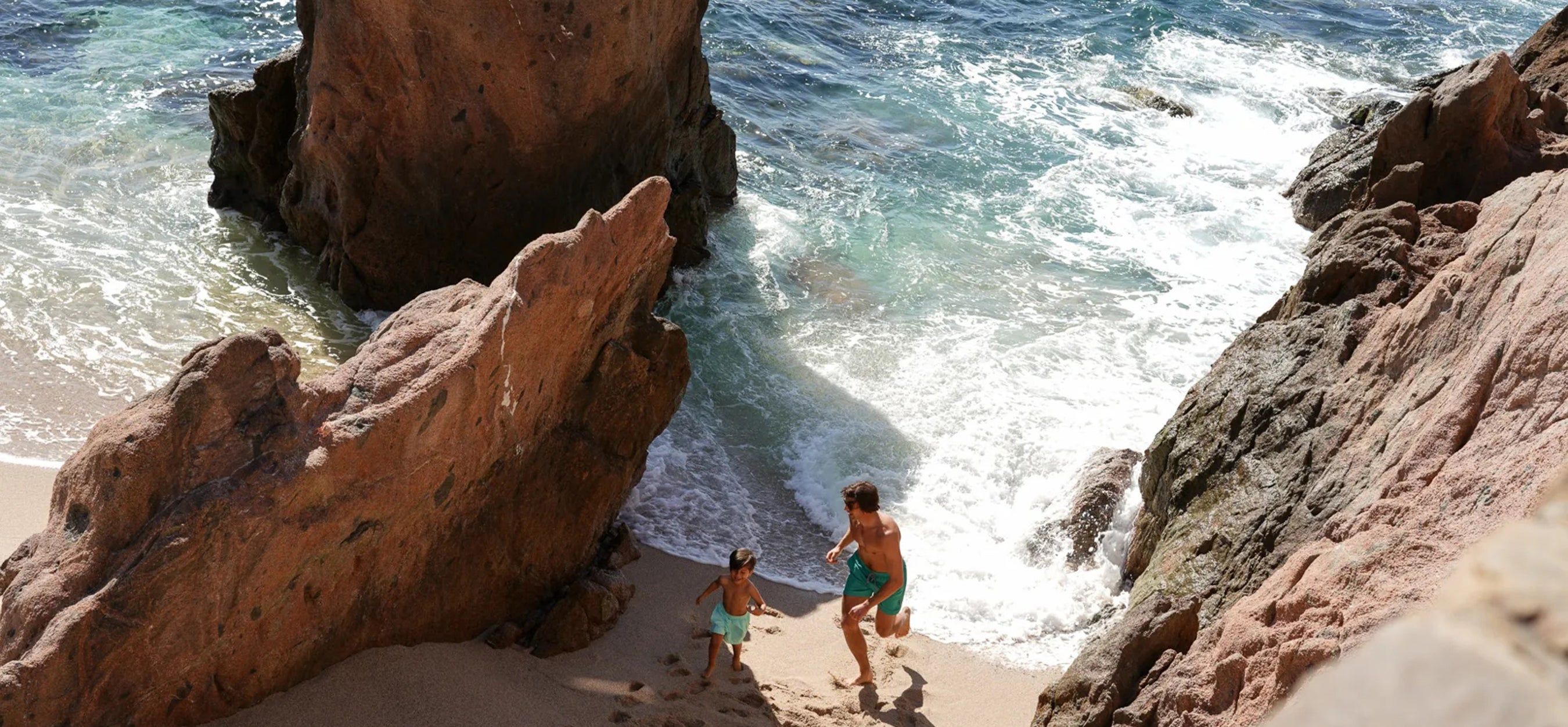 Family Travel
These Are the Two Best Vacations To Take With Toddlers
Traveling with toddlers can make it feel like you need a vacation from your vacation – but they don't have to be draining. Travel writer Monica Mendal shares the easiest toddler-friendly vacations at the beach or the big city.
Photography

Gemma Booth
Written By

Monica Mendal
The thing about traveling with toddlers is that vacation can still be about you. Between the ages of 1-3, your kids will be too young to remember the trip, so pick somewhere you want to go and make sure there are enough activities to excite both you and them. First, opt for a direct flight or somewhere within driving distance to avoid too much air travel with your little one(s). When traveling with toddlers, the key is to keep things simple and avoid too many moving parts. Maybe all you need is a change of scenery, so venture to a new city you've never been to. In cities, you can keep the kids active and in their usual weekend routine – spending days in parks, going on boat tours and visiting museums. For those seeking more R&R, an all-inclusive beach vacation is always a good idea for toddlers, as you don't even need to mobilize outside of the hotel, keeping them active at the beach and pool and on track with nap schedules, which can take place in the shade or in the rooms with a nanny (as many beach resorts provide nanny service upon request). Ultimately, don't put too much pressure on what your toddler will get out of the trip, travel for you. Below, some suggestions on the easiest toddler-friendly vacations.
Take Your Toddler to the Beach
Finding a beach resort chic enough for you and your partner, but one that provides everything you need to eliminate the stress of packing and traveling with toddlers isn't always easy. While there are tons of beach resorts that advertise family-friendly, you'll realize the majority mean for families with kids 5 and up (as this is the minimum age for most kids clubs), but what about the little ones? in Jamaica is a favorite for family travel given that each villa comes with separate rooms for parents and littles, and best yet, the all-inclusive resort offers 24/7 professional nanny service (as well as a personal chef, butler and chauffeur) so you really won't need to lift a finger. At , they've just introduced the BEABA Baby Concierge this month, a new partnership between the hotel and French babygoods brand BEABA which gives parents access (for rent or purchase) to a curated that will help make vacation hassle-free; from silicone bibs and spoons, insulated jars for beachside snacks, an adjustable rocker and a bedside sleeper. Beach games, such as shovels and pails, beach balls and baby sunscreen are also complementary. Book the Family Suite at in Cancun for the the two bedrooms for parents, another hotel who prioritizes kids of all ages (from toddlers to tweens). The children's pool has its own built-in water park, and kids plaza, featuring a mini spa and mini theater. The hotel also offers daycare at the Imagine Lounge, so parents can enjoy alone time for breakfast and dinner and the kids have somewhere to go and play with professional supervision. In addition, the hotel provides all the items you need so you don't need to overpack your suitcases, including, a baby bottle sterilizer, electric kettle, baby bottle warmer, baby monitor, high chair, baby's bathtub and crib. On Mexico's other coast, in Los Cabos, is the only private beach resort and while their kid's club only serves kids ages 4 and up, the resort does a good job in providing top-line baby and toddler amenities, like, personal care (from baby lotion to baby wipes), a baby bathtub, baby monitor, bib, changing pad, baby blankets and sheets, baby bathrobes and slippers, a sleep machine, bottle warmer, stuffed animals, full-size cribs and bassinets, and a handcrafted Mexican collectible provided every night upon turndown. Additionally, the hotel even offers a pregnancy pillow for expecting mothers.
Try On a New City
Think about it. Anything you do in your own city, you can do in any other city – for the most part. The key here is to ensure you stick to the same time zone so you don't complicate your toddlers' routines and nap schedules (honestly, this is more for your sake than for theirs). The key ahead of planning is to ensure you're traveling during a season in which there's enough to do outdoors in the respective city, as every parent knows that having enough activities to occupy your toddler throughout the day is paramount, and in that respect, cities are practically built for toddlers. From parks, trollies, boat tours, zoos and museums, there's enough to stimulate your little ones, so you get to have your cake and eat it too. In Boston, you have museums built especially for kids – like the Boston Museum of Science or the Boston Children's Museum and the Aquarium. Outdoors, you can book a swan boat or a duck tour or spend a day picnicking in the Boston Common. Similarly, Chicago offers the same types of educational and outdoors activities, like Navy Pier, Chicago River Walk, Millennial Park and various boat tours. Down South, there's Charleston, known for it's walkable downtown, historic tours of Civil War-era Fort Sumter or Magnolia Plantation, and boat rides through the harbor. Plan a day for nearby beach towns, like Folly Beach or Sullivan's Island, perfect for family fun and fresh fish. For the West Coasters, the trolley system in San Francisco alone is enough to thrill your toddlers, but that's not all. Here, you have plenty of parks for them to run around, as well as the Aquarium of the Bay and Bay Cruises.
Monica Mendal is a New York City-based writer, editor and brand consultant focusing on fashion, travel and lifestyle. She contributes regularly to Vogue US, Vogue MX, Coveteur, Travel + Leisure, Forbes, L'Officiel US, and Architectural Digest, in addition to Condé Nast Traveler, Departures, Domino, Hotel Weekend, Matches Fashion, SUITCASE, JW Marriott Magazine, and more. Previously, Monica was a fashion editor holding posts at Condé Nast Publications, such as Vogue, GQ and Glamour.
Image credits: Baby on the beach by Gemma Booth; beach and kid's club images of Esperanza in Los Cabos, Mexico; Boston streets by Nana Nakazwe via Unsplash; Restaurant image Sullivan's Fish Camp