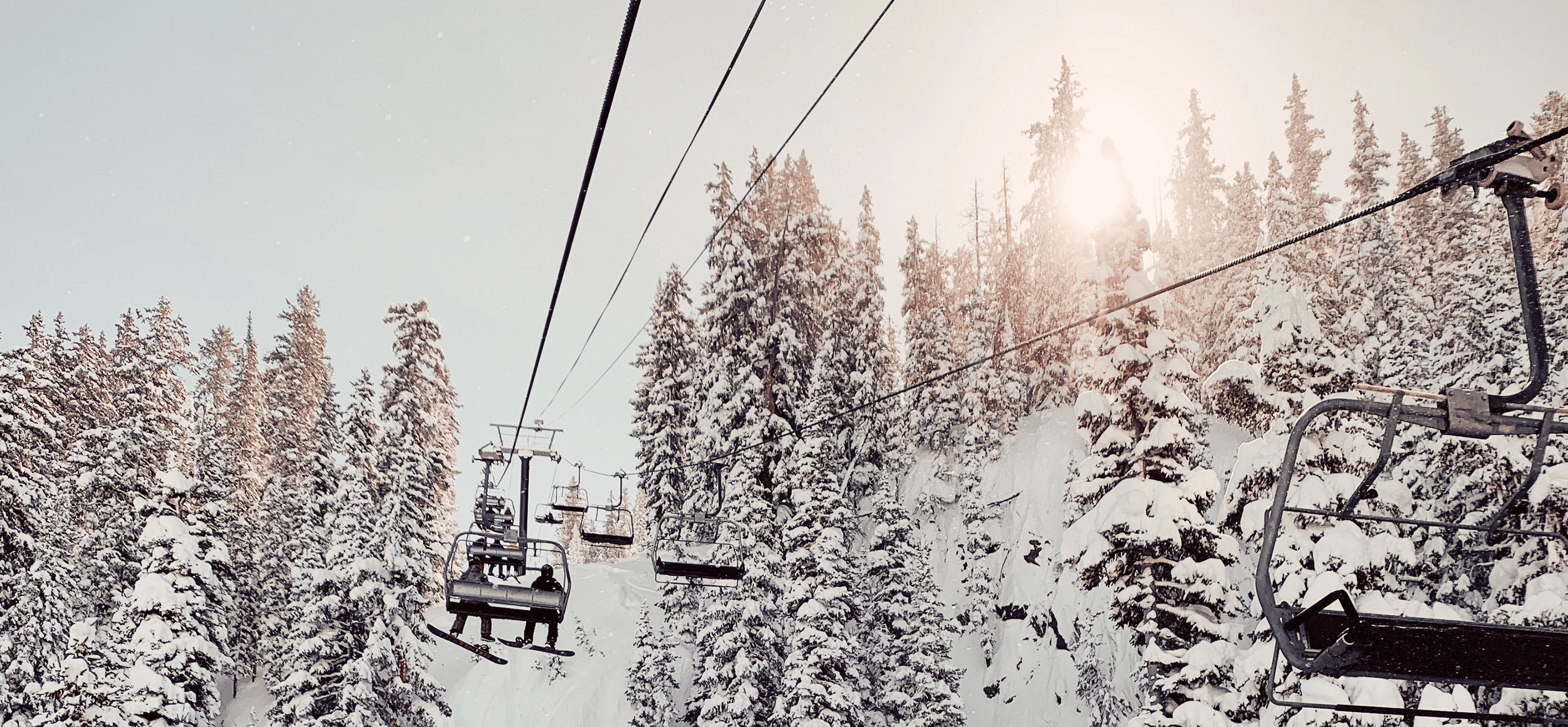 Gear
Your Family Ski Trip Packing List – How To Pack for Fun in the Snow
A family ski trip is one of those epic vacations that's guaranteed to create a lifetime's worth of cozy memories … that is, of course, unless someone gets cold.
Photography

Jackson Blackhurst
Written By

Kaitlin Madden
There's no quicker way to turn a fun-filled day on the slopes into a meltdown on the moguls than via a pair of small, frozen hands, so knowing how to pack for a ski trip is a must. Ski day essentials are similar to how you'd dress your child in the cold in any circumstance, with a few additions. You'll need a good base layer and a waterproof jacket, plus requisite ski gear like helmets and goggles.
To help you ensure you've got everything you need for a memory-making vacation, we've broken down your ski trip packing list for a family, both for while you're on the mountain and off. Want to print the list? Skip to the bottom for a list to copy, paste and print.
Base layers to pack for a ski trip
When packing for a family ski trip, having the proper base layers is just as important as having the right ski jacket. Base layers are closest to the body, which means they're not only tasked with keeping you warm but with wicking away sweat and moisture, too.
For this reason, it's best to skip cotton t-shirts and leggings, which hold onto moisture and can stay damp all day, and choose a performance fabric instead. The best materials for a cold weather base layer include wool, polyester, or polyester blends that include polypropylene and nylon.
Long underwear is the go-to base layer, but you can also choose snug-fitting performance-fabric leggings and t-shirts. Non-cotton socks are also considered an essential base layer.
-Wool or polyester long underwear or snug-fitting top and pants (pack double if you'll be skiing back-to-back days)
-An insulation layer, like a zip-up fleece, fleece vest, or sweater
-Ski socks in a non-cotton fabric
Outer layers to pack for a ski trip
The purpose of outer layers is to add warmth, but just as essentially, to protect from the elements like wind and moisture. Therefore, ski gear like jackets, snow pants, and mittens should be waterproof, lightweight, and insulated.
When choosing outwear for warmth, look for down-cotton blends and polyester fleece linings. For protecting against moisture and wind, outdoor gear made from a breathable waterproof fabric like Gore-Tex is best (check out DinoSki for waterproof snowsuits). Still, outerwear labeled weather-resistant and water-resistant works, too. Common waterproofing fabrics and technologies to look out for include eVent, TEFLON, or EcoEliteTM (used on Deux par Deux gear).
-Balaclava or neck warmer
-Waterproof mittens or gloves
-Snowpants or snow bib
-Ski jacket
Ski & snowboard equipment
If you are bringing your own ski gear, double-check that you have everything you need packed into your ski bag. If you don't own your equipment already, you'll be able to rent all of the below on the mountain or at a local ski shop near your destination (tip: these spots are often less expensive than renting at the resort).
-Skis or snowboard
-Ski poles
-Ski or snowboard boots
-A helmet
-Ski goggles
Essentials for off the slopes
When you're not skiing, there's a good chance you'll be exploring any nearby ski towns, taking a dip in the hot tub, or relaxing by the fire. Overall, the dress code for even the poshest ski towns is mountain casual, meaning people dress for function first. Think sweaters, corduroy pants, leggings, snow boots, and lots of layers.
-Warm snow boots
-Sweaters
-Casual pants
-Long-sleeve t-shirts for layering
-Wool socks
-Pajamas / loungewear
-A winter jacket (it's good to have the option to wear exploring or to dinner while ski coats dry out)
-Bathing suit
-Flip flops (for running back to the room from the hot tub)
-A warm hat and gloves that aren't your ski items
-Sunglasses to beat snow glare
Tips for packing for a family ski trip
Now that you know what to pack when skiing with kids, here are a few extra tips to help you fine-tune what you stash in your suitcase.
● Pack extras. There's a good chance that your outer and base layers will get wet during a ski day. If you are skiing or doing outdoor activities for more than one day of your trip, bring double (or even triple) the below items. That way, you'll have clean things to wear while your wet ones dry out.
● Think about childcare. If you have a young child at childcare while the rest of the family is skiing, check the childcare center's website for a list of anything your little one will need for the day. There's a good chance you'll want to pack a water bottle, blanket and lovey, and a lunchbox with your child's lunch for the day, so make sure to add all of the above to your suitcase.
● Protect their skin. Exposed skin can take a beating on the mountain, so be prepared to protect it. Add sunscreen, lip balm, and moisturizer to your packing list.
● Label ski gear. If your kids will be in ski-school, label their outerwear and ski gear before you pack it. Skiing comes with a lot of gear to keep track of, and there's a good chance your kids' stuff will look similar to what other kids have. Labeling items will make them easier to track and help ensure they're returned if they get lost.
● Consider a backpack carrier. If you have a small child and will be in a resort area where you'll be walking to dinner or the mountain in the morning, consider bringing a backpack carrier instead of (or in addition to) a stroller. Strollers can be a pain to push through the snow, especially an umbrella or travel stroller.
Ski Trip Packing Checklist
Base layers
-Wool or polyester base layer
-An insulation layer, like a zip-up fleece, fleece vest, or sweater
-Ski socks in a non-cotton fabric
Outer layers
-Balaclava or neck warmer
-Waterproof mittens
-Snowpants or snowsuit
-Ski jacket
-Hat (for off the slopes and apres ski)
Ski equipment
-Skis or snowboard
-Ski poles
-Ski or snowboard boots
-A helmet
-Ski googles
Off-mountain clothing
-Warm snow boots
-Sweaters
-Casual pants
-Long-sleeve t-shirts for layering
-Wool socks
-Pajamas / loungewear
-A winter jacket
-Bathing suit
-Flip flops
-A hat and gloves that aren't your ski items
-Sunglasses
Toiletries and extras
-Sunscreen
-Lip balm
-Moisturizer
On-mountain daycare items
-Lunchbox
-Blanket or lovey
-Water bottle
Travel and kids essentials
-Passport and travel documents
-Wallet
-Device chargers
-Tablets
-Headphones
-Snacks
-Hand sanitizer
-Travel tissues
-Masks
-Travel stroller or backpack carrier
-Portable baby monitor
-Car seats or booster seats if you're not renting them