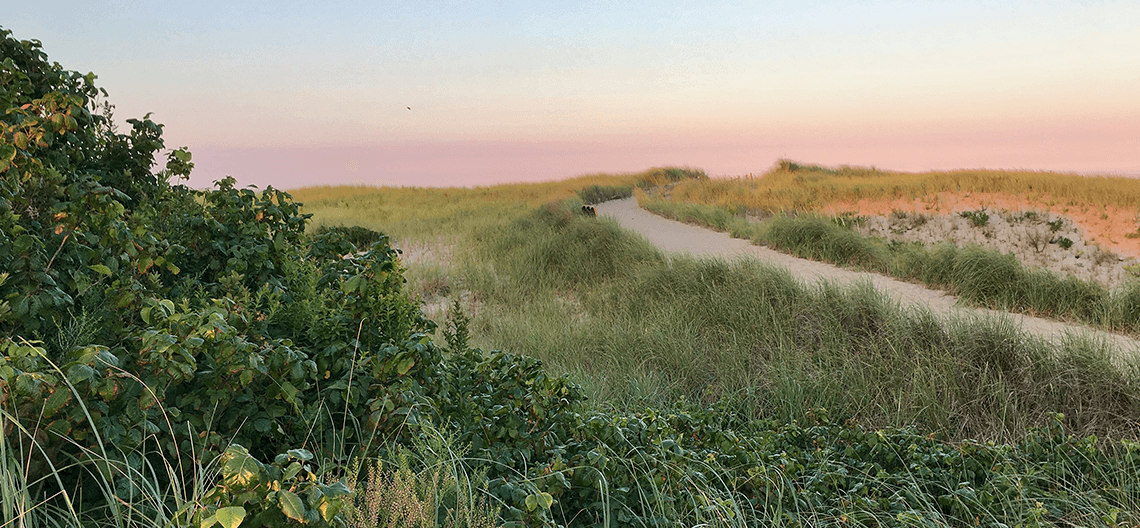 Steal This Trip
Our Guide to Nantucket With Kids
A wild, picturesque island off Cape Cod, Nantucket is tricky to get to but a breeze to get around, making it the perfect summer destination for families. Find out where ACK locals with kids go when the weather gets warm.
Photography

Christopher Ryan
Filled with cedar-shingled houses, towering hydrangeas, and wave-free beaches, the name "Nantucket" derives from the Wampanoag tribe's language, meaning "faraway island," and it does feel like you're a world away once you arrive. Summer is the peak season, from Memorial Day to Labor Day, with temps in the upper 70s in July and August, but if you can swing it with school schedules, May and September allow you to avoid the crowds. Skip a rental car and take it easy, walking or biking around town.
Inspired by Hill House Home's ACK-inspired summer collection (think: hydrangea, shell, and basketweave prints), here's where to head once you're on the island:
Chapman House 20 N Water Street / Regatta Inn 78 Centre Street / Sherburne Inn 10 Gay Street
A collection of three boutique inns just steps from beaches and shops in Old Nantucket Town, each inn has its own personality. The 17th-century buildings have been beautifully restored and brought to life with modern coastal design. Book the Cottage Suite, a former gardener's shed steps from the inn, and you can wash off the sand and salt in your private outdoor shower.
The Best Beach for Babies: Children's Beach
Mikas Pond
This appropriately named beach is ideal for small kids, it has a grassy area to play in, a lovely beach with calm water, and lifeguards steps from downtown. Restrooms, showers, food service, and picnic tables make it easy to head over without a wagonful of gear.
Best Beach for Active Kids: Nobadeer Beach
69 Nobadeer Ave
With lifeguard service and the occasional food truck is excellent for boogie boarding, surfcasting, and surfing for more active and older kids. Bring a picnic and beach games.
Where to Spend a Rainy Morning: Whaling Museum
13 Broad St
The Whaling Museum in Nantucket is a must-visit for families, particularly on rainy days. It houses a 46-foot sperm whale skeleton and showcases boats and tools from the whaling trade. The museum's Discovery Center is an interactive imaginary experience with 18th-century scenes for children to explore and daily activities like craft kits with a project, instructions, and materials.
The OG Ice Cream Spot: Juice Bar
12 Broad Street
Since the 1980s, they have served homemade ice cream, serving over 40 delicious flavors made on-site from late April to early October. Make a pit stop after the Whaling Museum to make the best of an overcast afternoon.
Where to Eat Chocolate Cookies In a Boat: Something Natural
50 Cliff Rd
A Nantucket institution, kids can enjoy playing on a just-their-size wooden boat while waiting for their lunch. Known for massive sandwiches and equally large cookies. Take lunch to the beach or the picnic tables scattered across the lawn.
Where to Eat Lunch on the Beach: The Sandbar
4 Bathing Beach Road
The Sandbar at Jetties Beach is the spot for enjoying the fresh raw bar and a cocktail (for you) or burgers and sandwiches (for them) while taking in the picturesque view of the Nantucket Sound.
Where to Pick Up a Nap Dress®: Hill House Home
33 Main Street
Opening up for a second year in a row, you'll know you've found the right place when you spot the archway of Nantucket baskets and blue and white hydrangeas. Inside, shop the Cape Cod-inspired collection IRL for you and your mini.
Where to Find Nell Diamond in the Morning: The Counter at Island Pharmacy
45 Main Street
The real deal. A teeny old-fashioned lunch counter and soda fountain serve grilled cheese and BLTs for lunch, frappes, and ice cream. Hill House Home founder rec: the iced hazelnut coffee. PS. You can check out Nell's guide to the island.
Where to Pick Up a Beach Read: Mitchell's Book Corner
54 Main Street
Mitchell's Book Corner was established in 1968 by Mitch and Mary Allen Sargent Havemeyer, and it is still an independent book store with plenty of summer reads and books about Nantucket, whaling, and the island's genealogy.
Slip #1015 Straight Wharf
The oldest sailing charter on Nantucket, Captain Jim offers private charters and sailing trips around Nantucket Island. Take a 90-minute daytime sail past Brant Point lighthouse and hear Jim's tales from four decades of sailing in the sound or go at sunset and look back at the lights in town before heading out to dinner.
54 Jefferson Ave
Sitting directly in the sand overlooking Nantucket Sound on the Northwest shore, the Silva Family has owned and operated since 1958. Originally started as a clam shack, Galley Beach has evolved into a buzzy destination. A beach picnic where you don't have to cook, schlep, or sit on the sand? Sign us up. Gallery Beach sets up beautiful tables for two courses on the sand under the tent or sky.