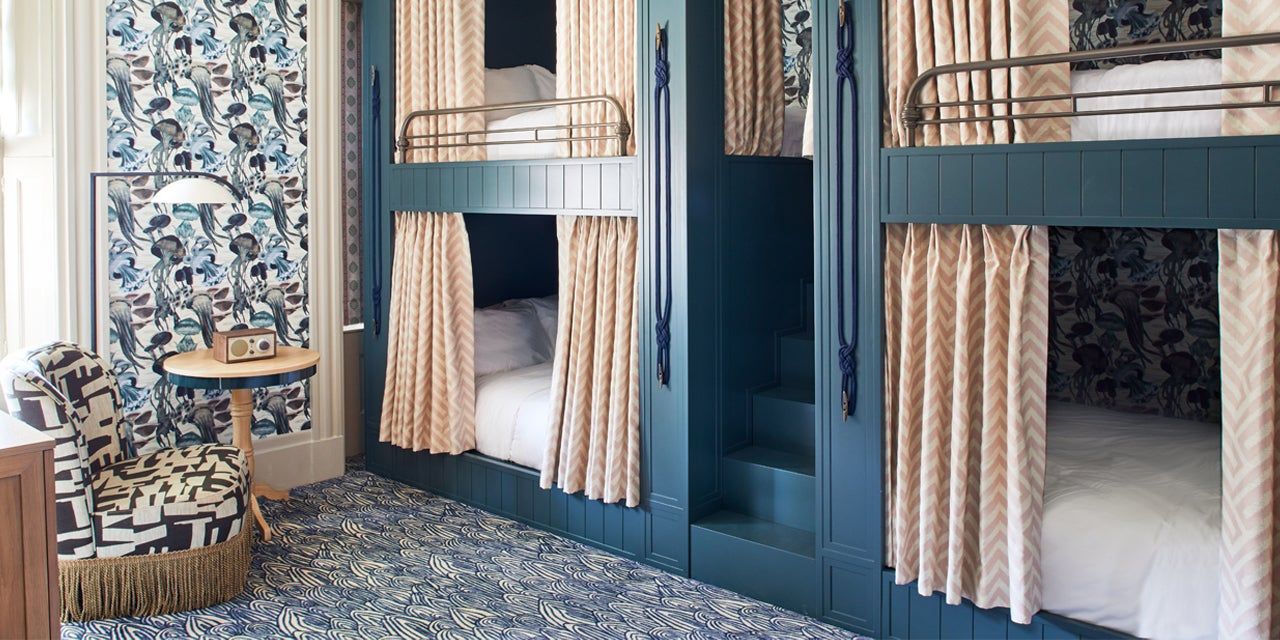 Traveling with Kids
The One Thing No One Warns You About When Traveling With Kids
Ever sat in a dark hotel room quietly sipping champagne so you don't wake a sleeping babe? Travel writer Monica Mendal shares how booking a stay in a space designed for families can make your vacations feel like a holiday again for all the adults in the room.
You've booked your first trip with kids, congratulations! You are brave! (Just kidding.) It'll be great! You've likely gathered tons of tips and tricks from trusted friends and family on best practices (i.e. bring snacks, don't overpack, plan ahead, etc.), but there is one particular thing that no one warns you about.
Imagine this: you return to your hotel room after dinner with your kids, put them to sleep at 7pm, and then you turn to your partner, and ask "now what?" You're left sitting in your hotel room, quietly scrolling through your phone on the dimmest setting until falling asleep five hours later. Even if you've hired a babysitter for the night, returning home tipsy with the lights off while having to avoid making any noise doesn't feel like vacation at all. With older kids, you can book them their own room across the hall without having to worry, but what about traveling with kids under 12?
Accomodations matter! It's not just about an extra bed, a cot, or a crib, it's about ensuring a separate space entirely, where you and your partner can watch your Netflix shows in peace or loudly and foolishly drink an entire bottle of champagne after the kids go to bed (this is your vacation too, go wild!) If two-bedroom hotel suites are out of your budget or hard to find, don't fret. We've rounded up some smart and affordable room solutions for family travel.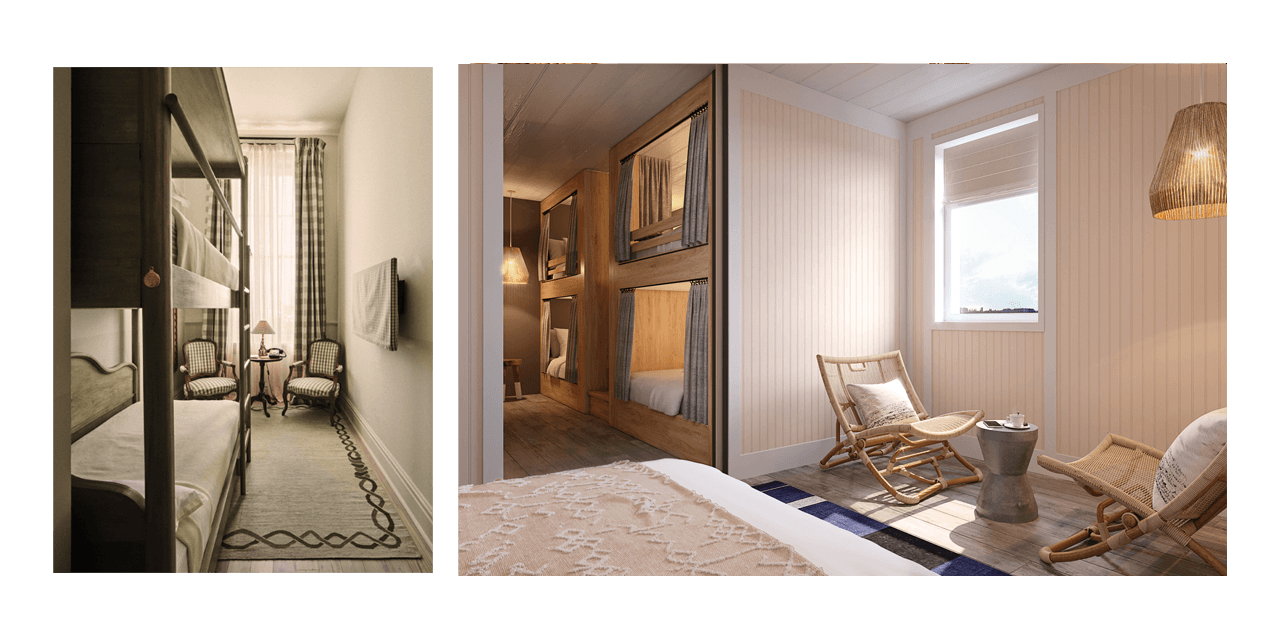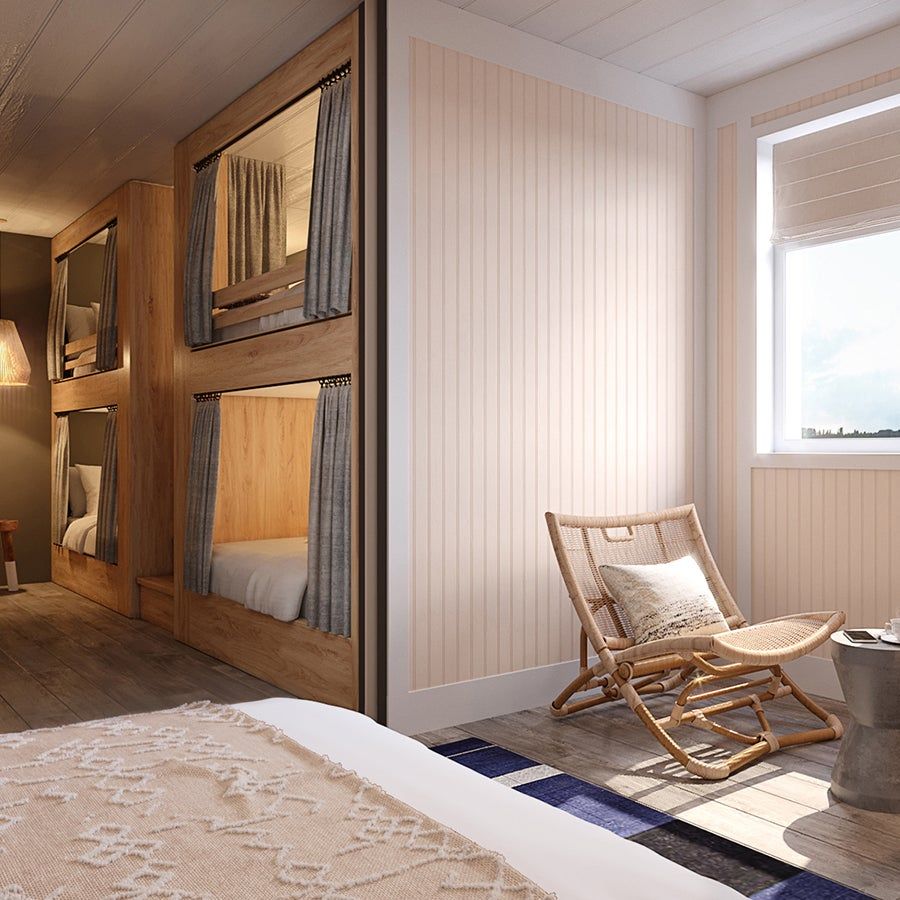 Hotels with Bunk Rooms
There are many chic hotels out there now offering room categories that feature bunk beds for today's modern family. For older kids, you can book a bunk room for the kids to have some independence in their own shared space, like at , , in Detroit or . For the younger set, the school house bunk room at in New Orleans can be booked on its own or with the adjoining school house classic room with a king bed for parents, similar to in New York's accessible bunk room which can also be booked with the adjoining king room. At in Denver or in Miami, you can even book suites that feature both a king bed and a set of bunks if you wanted to keep the family together in one room, yet with your own designated spaces.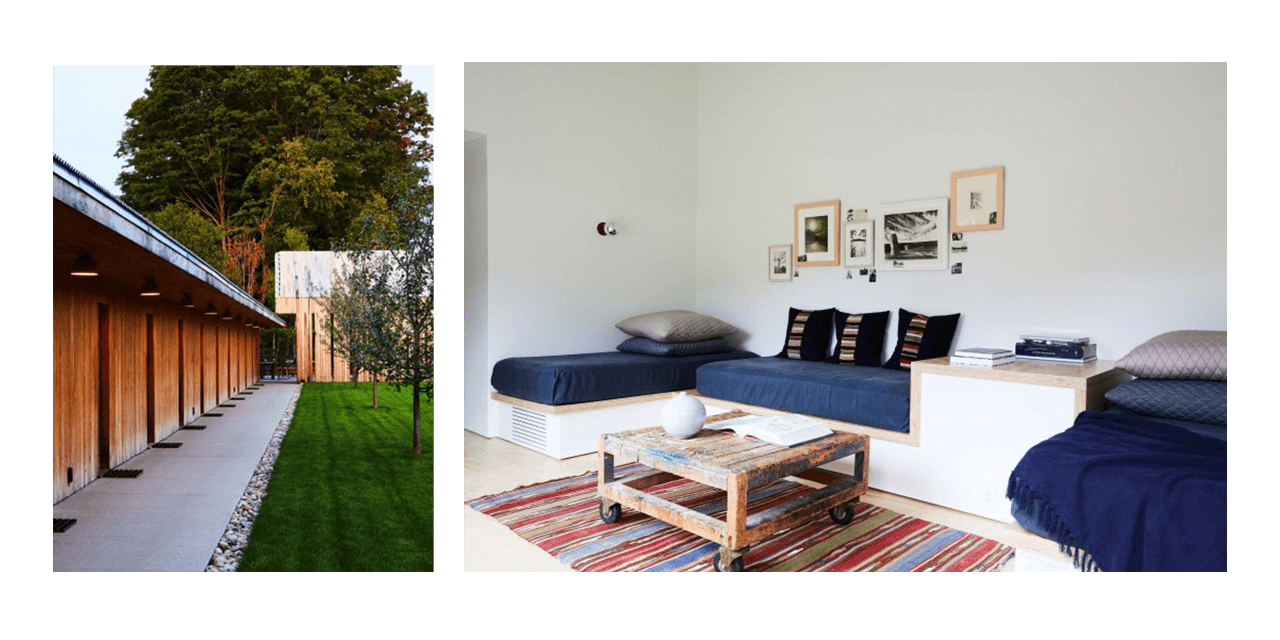 Cabin Hotels
Rustic vacations are a win for many reasons. For one, there's nothing better than kids spending time outdoors– whether they're camping, playing with animals, indulging in outdoor adventures, like hiking, fishing or swimming, there's plenty of activities to keep them (and you!) entertained. The low-key great thing about rustic vacations is that many are host to cabin accommodations, which provide more space and therefore, separate rooms for the kids for you and your partner to have some privacy when they go to bed early. At in the Berkshires, you can book the archer suite or the caravan room, which feature multiple beds and nooks perfect for families. The beloved in North Carolina also features family options in their cottage suites with multiple beautifully-designed bedrooms under the same roof. From the same family as Blackberry Farm, in the Great Smoky Mountains in East Tennessee features modern homes with multiple bedrooms in nearly all of their room categories. In Canada's trendy new wine region, sits lakeside right in the heart of Prince Edward County in Ontario and was built with children in mind. The owner, a mother of two, made it family-friendly, while keeping the design as stylish as you'd find in adult-only hotels. Here, each cabin features at least two bedrooms and sleeps up to six.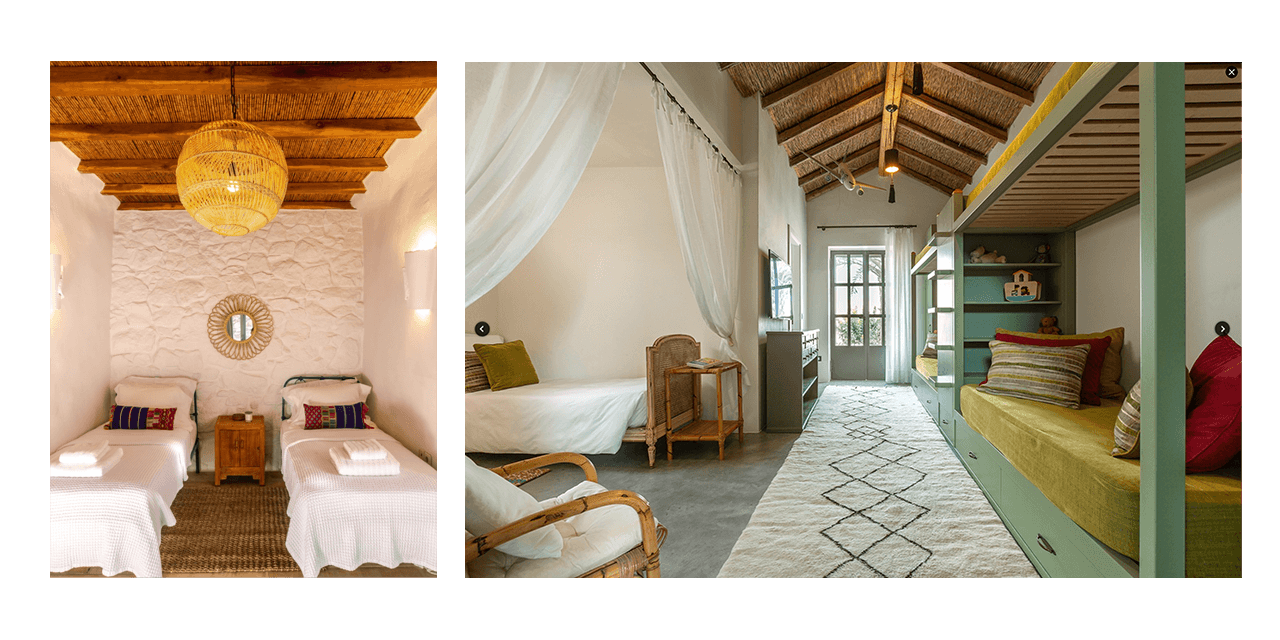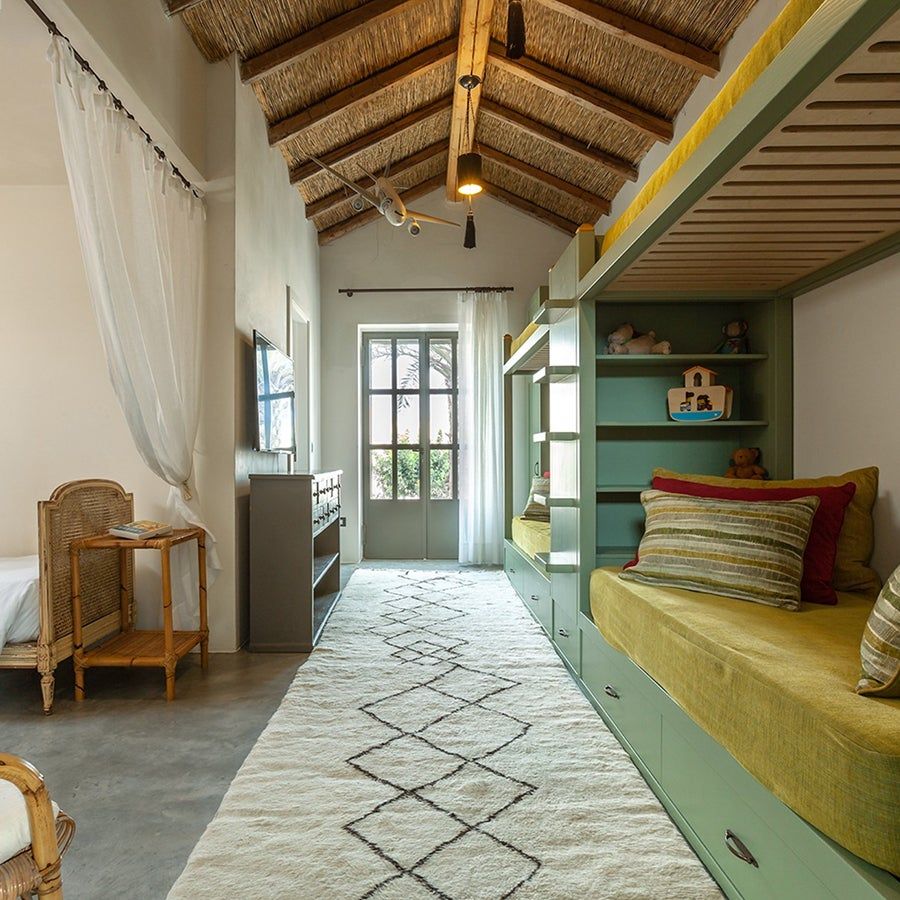 Rent a House or Villa
Going the private home or villa route is the ultimate family-friendly vacation hack, and can sometimes, even be the most affordable option. Beloved tour operator offers a myriad of family-friendly villa options in top family destinations around the world (which you can filter by kids' age range), as well as a concierge service to help organize activities throughout the week. is an economical option with beautiful homes all over the world complete with multiple rooms, pools, playrooms, and large country-style kitchens. But I don't want to do dishes on vacation! We hear you, so that's why could be a great solution for you. Airbnb Luxe properties are the highest-end in design, with high-end amenities, services and dedicated trip designers. Whether they come with daily housekeeping, private chefs or offer add-on features, like grocery shopping ahead of your arrival, you'll forget why you ever doubted vacation.
MONICA MENDAL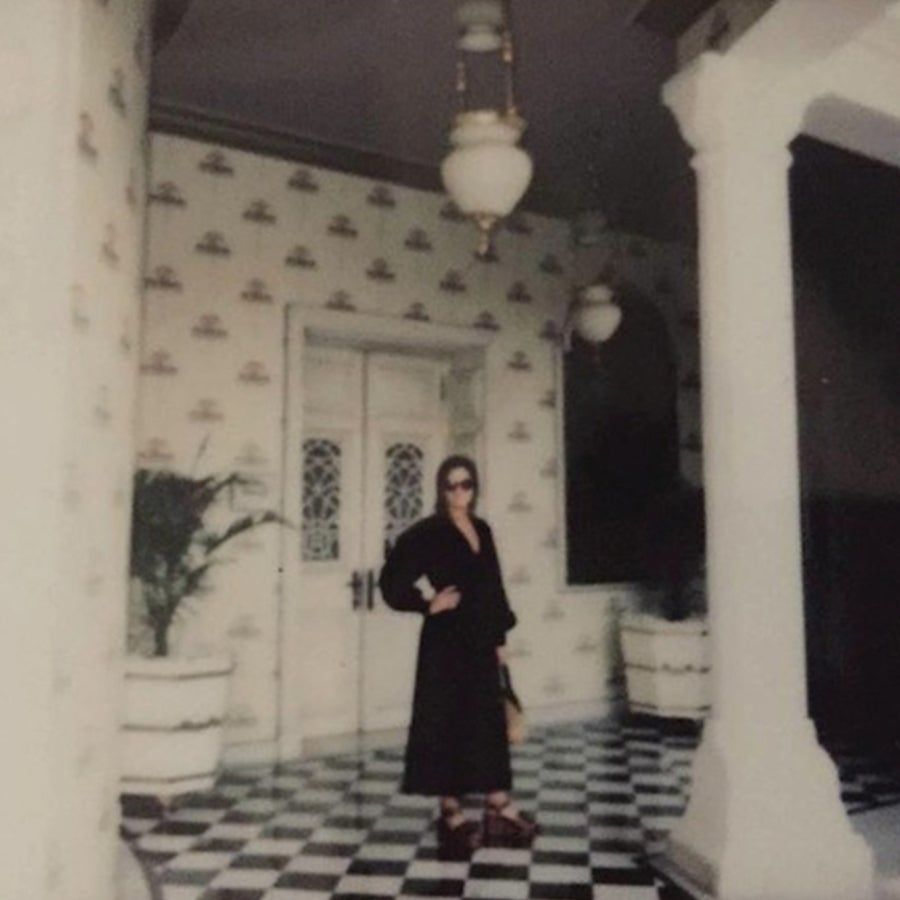 Monica Mendal is a New York City-based writer, editor and brand consultant focusing on fashion, travel and lifestyle. She contributes regularly to Vogue US, Vogue MX, Coveteur, Travel + Leisure, Forbes, L'Officiel US, and Architectural Digest, in addition to Condé Nast Traveler, Departures, Domino, Hotel Weekend, Matches Fashion, SUITCASE, JW Marriott Magazine, and more. Previously, Monica was a fashion editor holding posts at Condé Nast Publications, such as Vogue, GQ and Glamour.