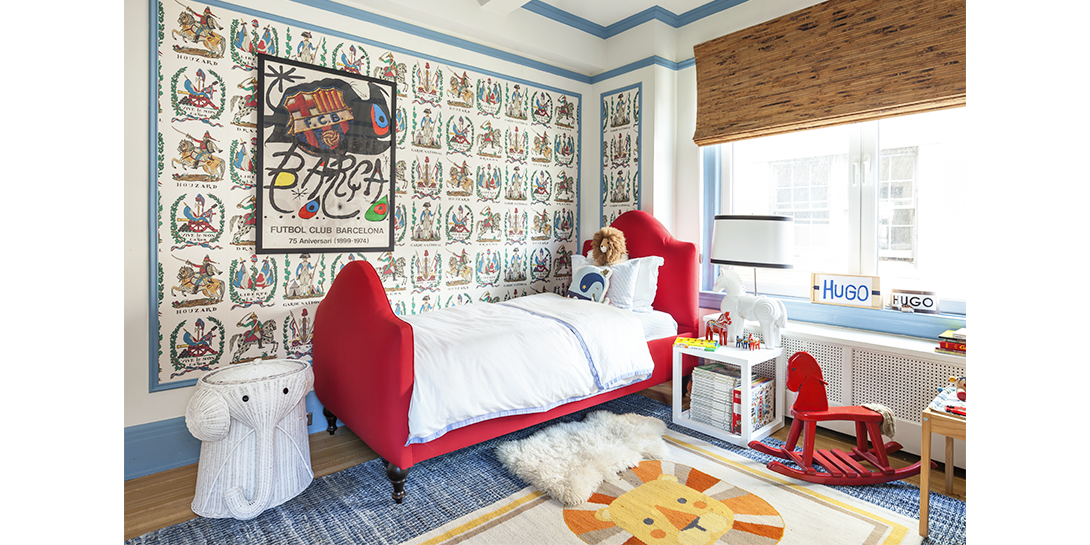 World of Little Interiors
Hugo's Room
Let the founder of Starrett Hoyt Interiors show you how to use wallpaper to create a look that is both playful and chic.
Written By
Mieke ten Have
Starrett Zenko Ringbom, the founder of Starrett Hoyt Interiors, is known for fusing classicism with whimsy and glamour, citing aesthetic influences that range from Billy Baldwin to Saul Steinberg. Starrett, who was the director of public relations for Jonathan Adler, launched her interior design firm in 2015. She lives on the Upper East Side with her husband, Swedish cinematographer Petter Ringbom, and their 5-year-old son, Hugo.

Starrett's joie de vivre is evident in her artful, colorful home, as well as the dinner parties she and her husband often throw. Similar to the quiet traditionalism that underpins her interiors, the designer likes to set a table, bringing out her china and silver for smaller dinner parties. For bigger groups, she hosts a plate-in-lap buffet. Whether formal or casual, Starrett prizes the essentials. "The most important things – no matter what – are low lighting, good food and tons of booze!"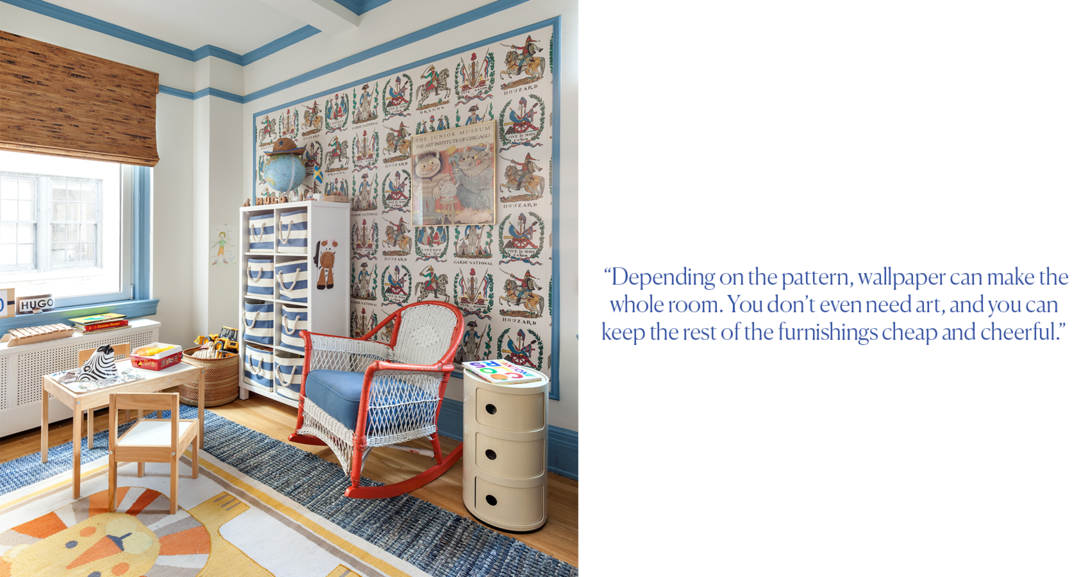 This old-school-meets-new insouciance also shapes the design of her son's room. "As a decorator, we all have our all-time favorite patterns, whether it be a wallpaper or a fabric," says Starrett. Such was the case with a classic Brunschwig & Fils wallpaper, which she saw well before she had any children of her own. "I remember thinking, 'I hope I have a reason to use this someday.'"

When the couple moved into their apartment in 2014, the wallpaper became the springboard for Hugo's bedroom. "I love the primary colors of it — that's something I really like for a boy's room. It is happy and colorful, even though it's about the French Revolution," she added. Starrett often advises clients that wallpaper can be worth the splurge. "Depending on the pattern, wallpaper can make the whole room. You don't even need art, and you can keep the rest of the furnishings cheap and cheerful. Wallpaper can be the most incredible backdrop."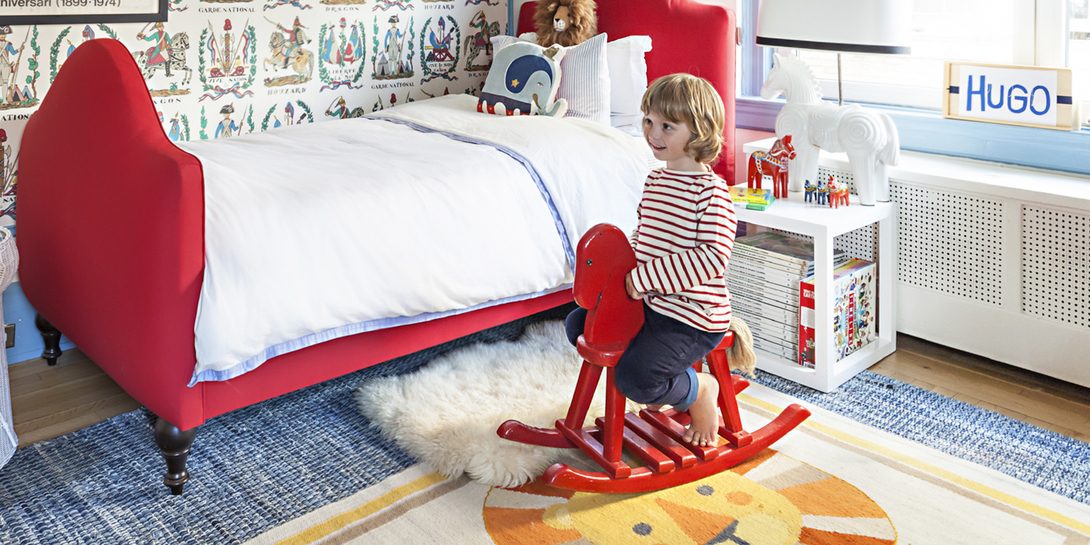 Starrett offers a tip: Choose a pattern with staying power. "It's important to pick a motif that isn't too junior. You want something that is fun and inspiring for a baby, that also appeals to a 12-year-old boy."

The designer took cues from the primary blues and reds of the pattern and extended it to the crown moldings and furniture. She found a wicker chair at a thrift store and painted it tomato red, which is complemented by a round blue cushion. A bold, fire-engine red upholstered twin bed is the room's focal point. While the designer sees the value in good wallpaper for children's rooms, she thinks fabrics should be resilient. "Upholstery will take all the wear and tear from your kid. I always use Sunbrella [a sturdy outdoor fabric]. The dirt just washes right off." For Starrett and her clients, it's all about balancing the inspiring with the practical. "Of course you want things to be functional, but it's important to make things fun and bright."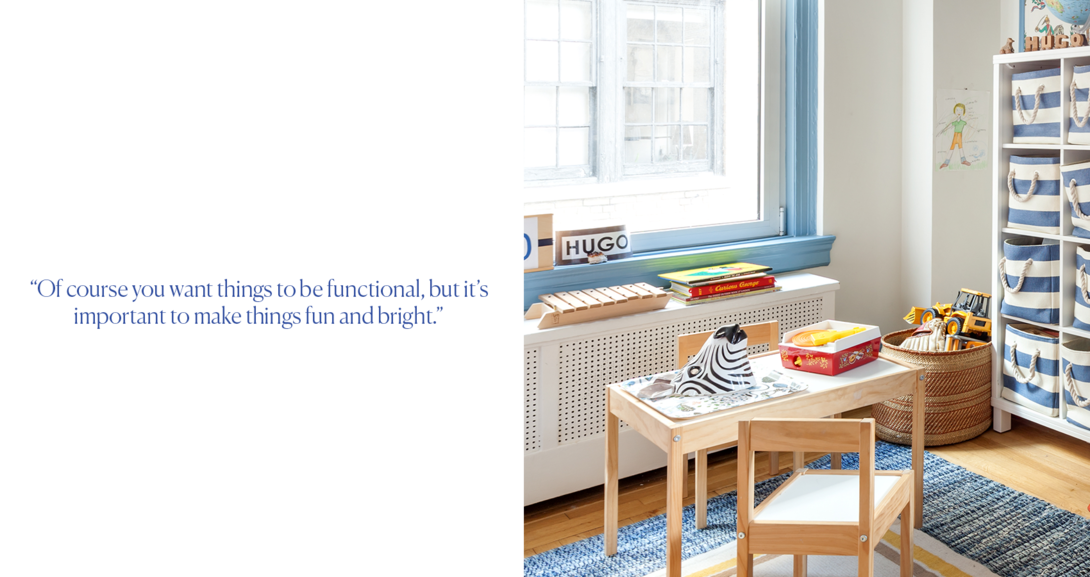 Mieke ten Have is a New York City-based design and interiors journalist, stylist and consultant. Formerly the home editor of Vogue magazine, she is Cultured magazine's New York design editor and a contributor to Architectural Digest, House & Garden and The Wall Street Journal.