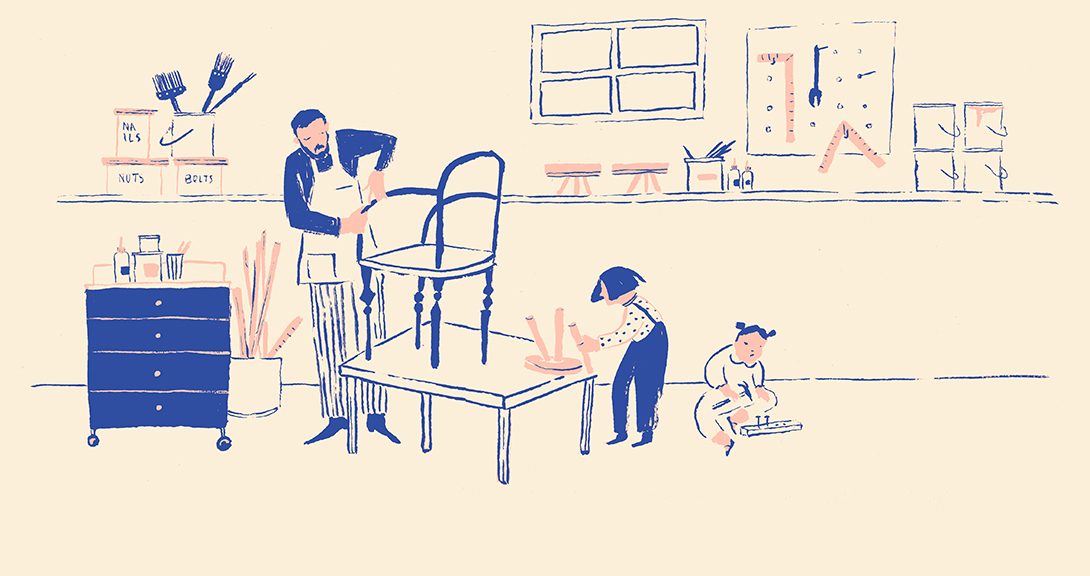 Parental Arts
How to Raise a Handy Kid
Even if you're clueless and tool-less, there's hope for the next generation if you follow the steps carpenter David Agrell is taking with his daughters.
Illustration
Emily Isabella
I became a professional carpenter after working with my dad, but it was my mom who taught me the value of being handy. A single parent with a needy cottage, she had to fix everything herself — and from the age of 8, I was her chief helper. Armed with a few tools and a Reader's Digest home-repair manual, we painted rooms, hung shelves, fixed furniture and wired electrical outlets. Now that I have my own kids (and a needy, three-story Victorian house), I've discovered that seeing my daughters handle tools with confidence is one of the most satisfying aspects of parenthood. I like to think I'm setting them up for a lifetime of self-sufficiency, but what counts is we're creating good memories together that'll outlast the projects themselves.

When I was a kid, I didn't know what I was doing. So, I got frustrated and sometimes injured. But it needn't be like that. Follow these tips I've gleaned from being both a carpenter and a dad to help your kid tackle any project, all while keeping it fun — and safe.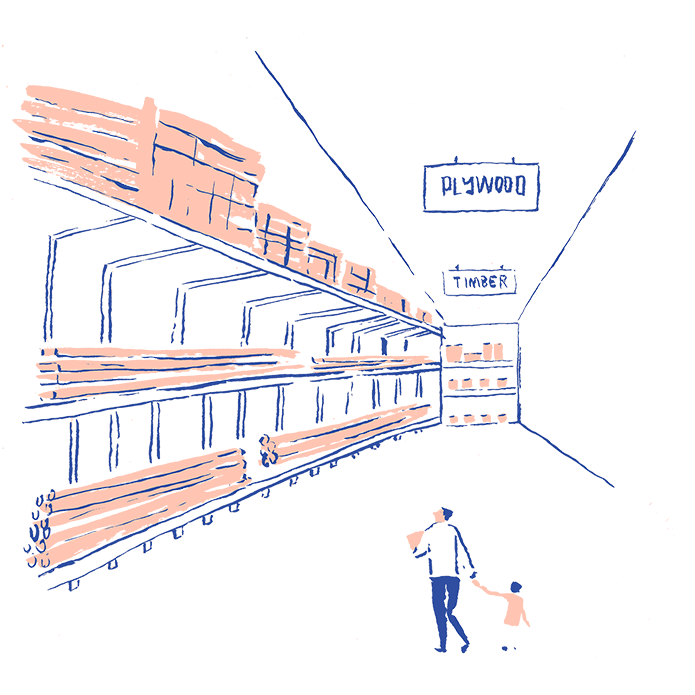 Start Young
Introduce kids to DIY early, and they'll quickly become comfortable around tools and materials. Toddlers love Home Depot: the colors, the shapes, the noises! It's like a toy store on steroids. Have yours build a "tool set" out of chunky, harmless items like mini paint rollers, threaded plumbing parts and door hardware. As you walk the aisles, use all the wonderfully arcane terminology. Kids are linguistics buffs, and as they develop their vocabulary, words like "locknut" and "cat's paw" (it's a nail puller) will become as easy as "peanut" and, well, "cat's paw." Explain what plywood is and how a thermostat works — you'll be surprised what they retain. (Have to brag here: My 5-year-old, Elodie, corrected a friend of mine who confused the terms "nut" and "bolt.") Don't have the knowledge? Flag an assistant and learn together. When you get home, pop everything into a cheapo plastic toolbox. I did this with Elodie when she was 2; whenever she sees me with a project, she still offers to lend me her "tools."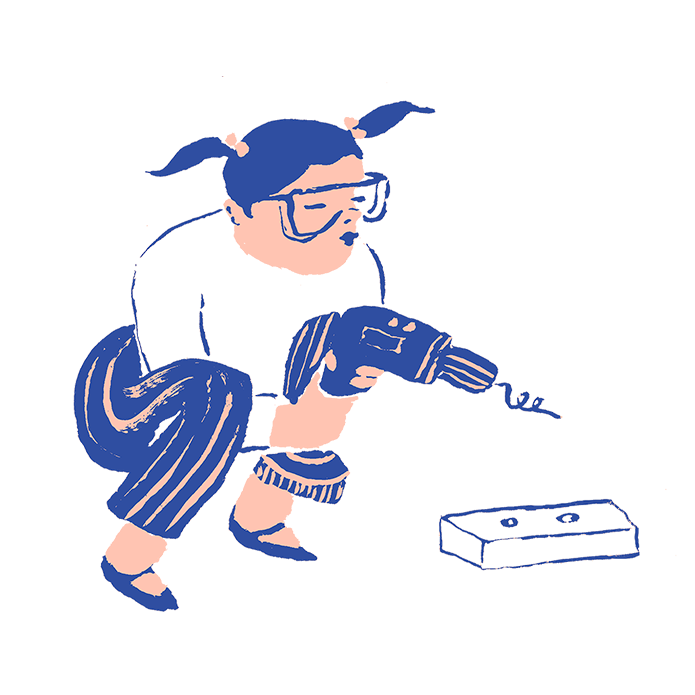 Tool Up
Most preschoolers can wield a paintbrush and swing a hammer, and if they're good with scissors, they're ready for pliers. Whatever the tool, what's most important is that she can easily handle it — if she can't, she'll get frustrated and quit (or worse, get hurt). A jeweler's hammer weighs less than an iPhone; have your kid pound brad nails into predrilled holes until she masters her technique. Older children can cut wood with a super-sharp 15-inch crosscut handsaw. A utility knife, with its replaceable blades, provides lessons in technique, maintenance and safety. My 3-year-old, Delphine, can operate a tiny, kitchen-drawer-style powered screwdriver. Unsure if your kid is ready? Only you can make that call, so be honest about their abilities — and your own. Don't push them, and don't let your ego stop you from asking a pro for a primer.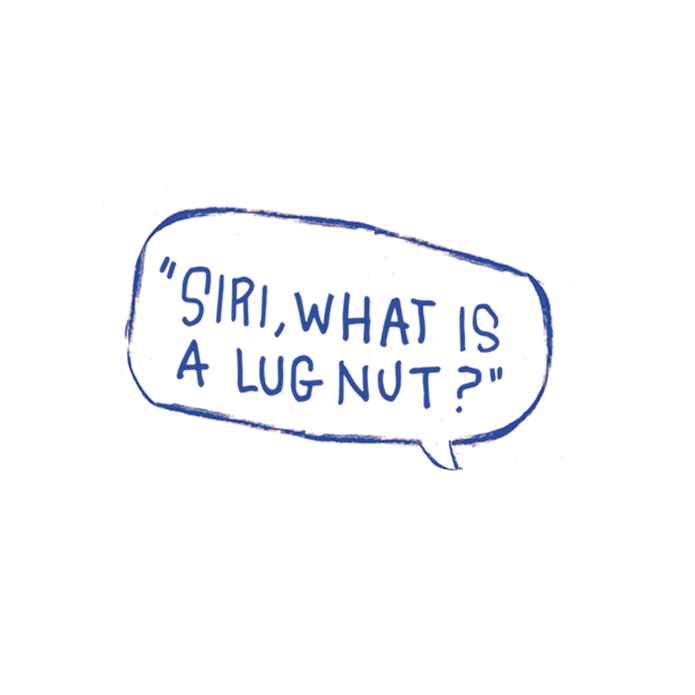 Ask for Help
Remember when Marge Simpson figures she can teach piano if she just stays one lesson ahead of the kid? Be like Marge. You needn't be an expert, but you need to know enough. YouTube is a great place to start, but stick with reputable sources like Family Handyman and This Old House, and avoid videos with negative feedback. Home-improvement stores often run kid-friendly workshops, as do local hardware stores and community makerspaces. The best way to learn, though, is through an experienced family member or friend who can teach specific skills at your own pace. You can also ask a professional handyman whom you trust, but be prepared to pay. Learning how to take measurements, drill holes, drive screws and crosscut wood should take a couple hours. A single power tool 101 should take under an hour; don't forget to cover safety, set-up, operation and maintenance. Better yet, ask a pro to help with an actual project so you and junior can learn together — and maybe finish it yourselves.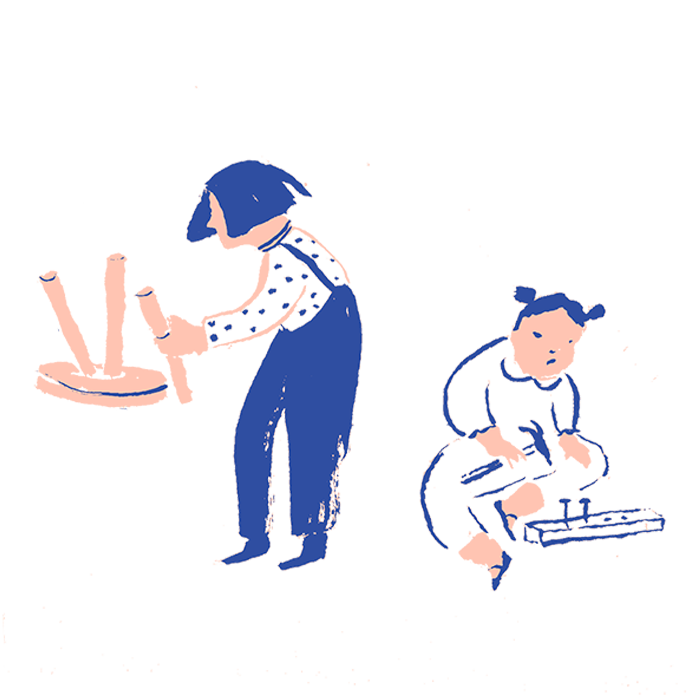 Get to Work
Construction toys are great — we love Legos and Magformers — but the real fun comes from doing real work. Anything can be a kid-friendly DIY project, from fixing a bike tire to assembling flat-pack furniture (you know, like that sweet bunk bed you just got from Ikea). Do it all. Like with tools, finding a project that fits — something that engages them — will minimize meltdowns. You don't need to build a flashy soapbox car either. Kids thrive on helping out and feeling important, so include them in any project you're working on. They can pass tools, sort hardware or grab the end of the measuring tape and shout numbers.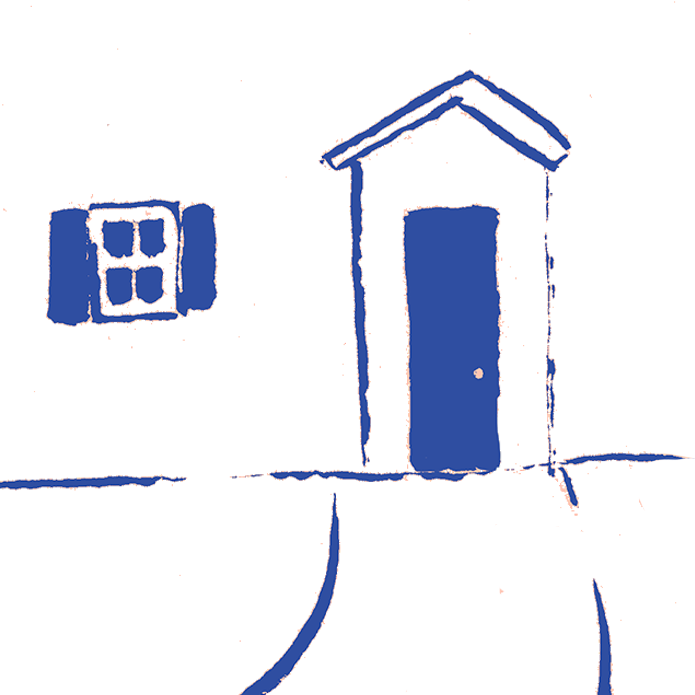 Pick High Visibility Projects
Try painting the front door together. Seeing their handiwork every day will encourage them to do more. Delphine once helped hang a window in the stairwell — well, she handed me hardware as I installed it — and now every time I take her up to bed, she reminds me that she "fixed the window." And encourage the philosophy that you can fix — or at least try to fix — anything, whether a smashed china tea set or a jammed Nerf soaker. Reviving an old favorite that was otherwise headed for the trash can make a lasting impression.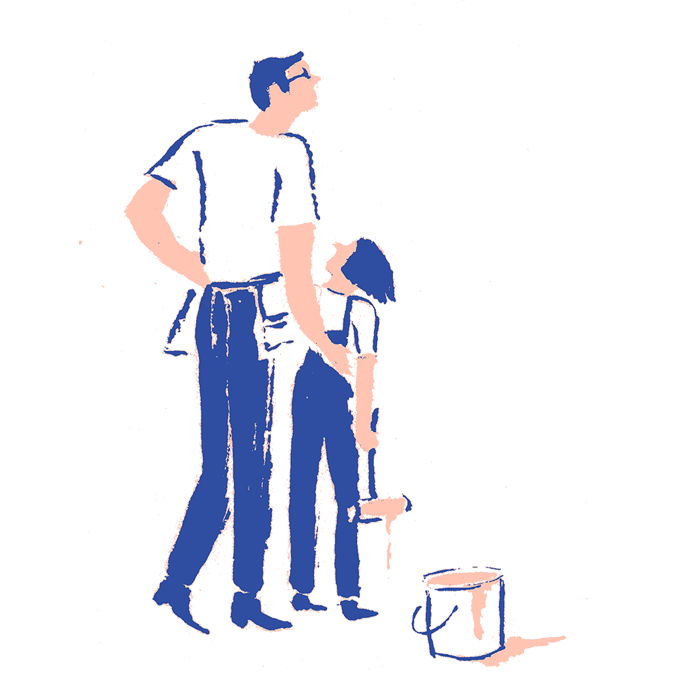 Know Your Audience
If you make something together, choose a project they're actually interested in. It seems obvious, but consider the classic birdhouse project: Once it's on the tree, who cares? Help them with a simple toy box, a Hot Wheels caddy or doll's crib. (Instructables.com has thousands of projects.) Finally, try to involve them in the entire process, from planning and preparation through following instructions to cleaning up, so they can appreciate seeing a project to its conclusion. But acknowledge their goldfish-like attention spans: Keep projects short (under an hour) or expect to finish another day.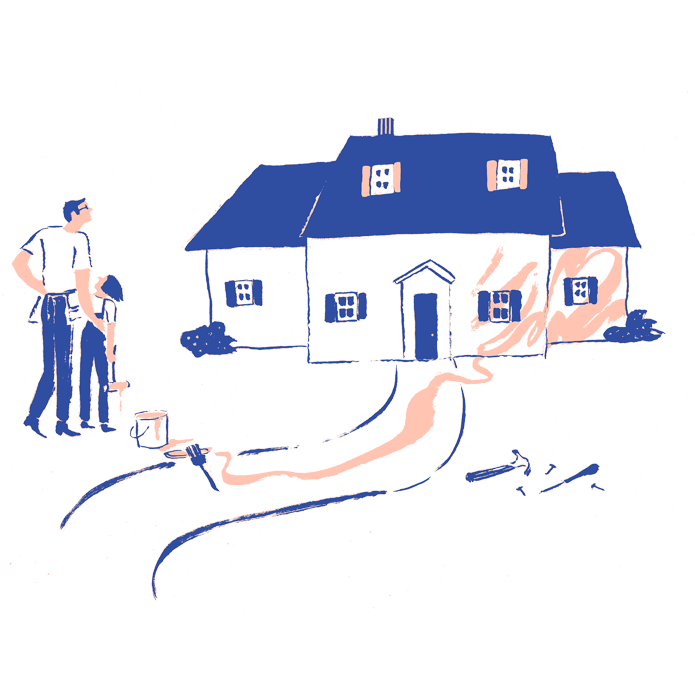 Be Patient
Any pro will admit that no project goes as planned. I learned this when, as a teen, I attempted to paint the entire exterior of a house alone. It was difficult, finicky work — and then I neglected to use a tarp, resulting in paint splatters all over the deck. The owner's cat made things worse by tracking the mess through the house. Panic! But water-based paint cleans up pretty easily if you use the right product, and apparently, your work needn't be perfect when it's 35 feet in the air. I had this in mind when Elodie helped me paint a built-in. Her brush was too big, and semigloss paint requires, well, finesse. It took forever. I had to go back and "finesse" some of her work. Paint got everywhere. (Thankfully, we don't have a cat.) But it got done, and now she has about as much painting experience I had before I took on that ridiculous job. Whatever project you do with your kid, remember it won't be perfect. Approach it with a cheerful attitude and the knowledge that you can always find a way to cover your tracks.
Be Safe
Though every tool and project has its hazards, following some general guidelines will help avoid boo-boos. For starters, never employ a tool for anything it's not intended for. (Screwdrivers make crappy chisels anyway.) Always wear eye protection, and tie back long hair. Never maneuver a tool with your hand in its path, and clamp workpieces securely. (A wise colleague once told me, "It's not where the blade starts that counts; it's where it finishes.") Never attempt anything you or your kid are not comfortable doing. And when someone does get hurt — cuts and splinters happen — don't freak out. Grab a Band-Aid and remember that scars are temporary, but DIY savvy is for life.



After fifteen years working as a professional carpenter and woodworker, David Agrell changed careers and now edits for a major magazine publisher in New York City. He's still not sure he made the right decision.