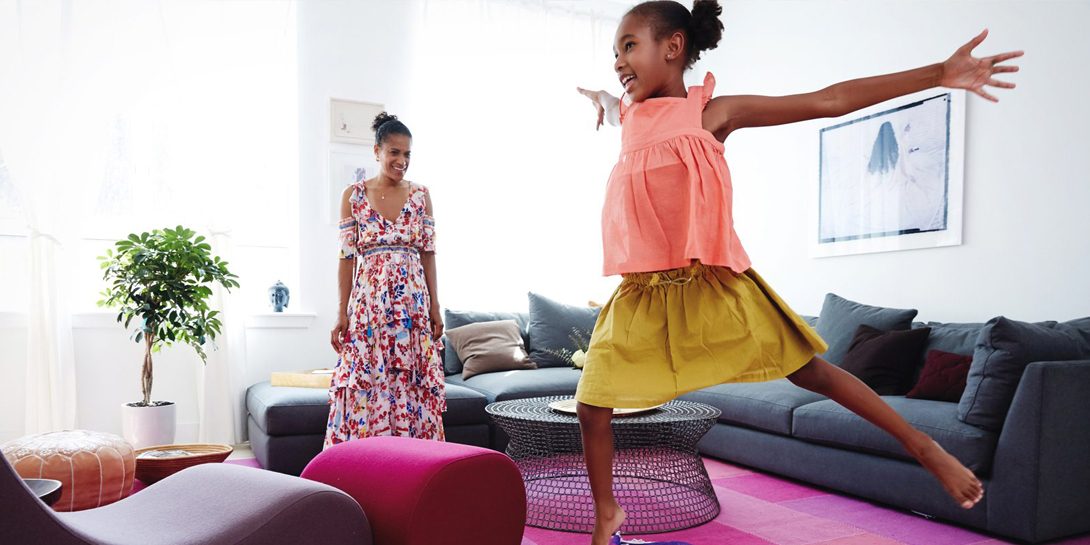 Field Trip
A Mom's Guide to Art Basel Miami
One of our favorite curators shares her recommendations for fun family outings during the art fair (or whenever you're in Miami).
Written By
Isolde Brielmaier
When we were young, my parents made sure that my brother and I saw art and culture in a way sparked appreciation and curiosity. I try to model that with my daughter, exposing her to things so she has a similar sense of adventure. When you look at art with kids, you realize that the way they look at the world is not the same way we do, which is the beauty of experiencing it with young people.

When my daughter was really young, as long as she had food and a clean diaper, my husband and I could bring her everywhere. We could hit two museums or spend a whole day Chelsea gallery-hopping. But now, at 8 years old, her capacity for looking at art is about an hour, maybe an hour and a half. When it comes to exploring Art Basel Miami with your kids, you should break it up and devote one or two days to the fair. Here's a list of the best kid-friendly exhibits happening in Miami during the show, which runs Thursday, December 6 through Sunday, December 9. And, if there's the promise of dessert at the end, kids will always be game.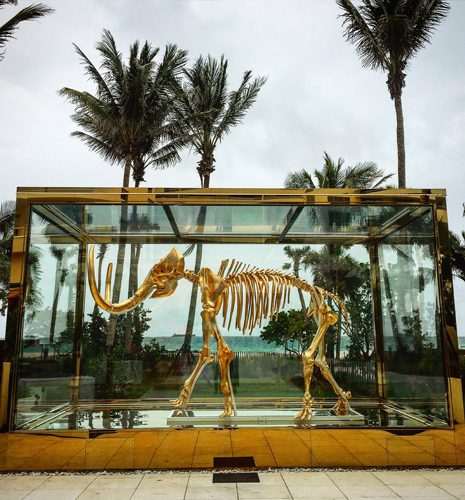 Faena Hotel
This area is great for staying with kids. It's easy to get to the fair and the Design District, and it's less scene-y than South Beach. It's also home to Damien Hirst's "Gone but not Forgotten," a gold sculpture of a wooly mammoth skeleton. Nearly 10 feet tall and enshrined in a giant glass case, it's an impressive sight for small eyes.

The treat: The hotel pool is sure to be a hit after a day of art shows. Faena also provides family-friendly activities for young guests, such as beach soccer and cooking classes.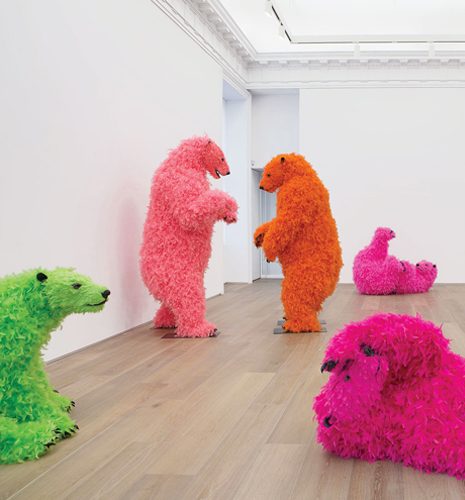 The Bass
You're spoiled for choice when it comes to kid-friendly exhibits at The Bass. Kids will be delighted by Paola Pivi's "Art with a view," a multimedia exhibit displaying the Italian artist's new work. In one room, colorful, feather-covered polar bears hang from the ceiling, climb the walls, and sprawl out on the floor. Another is filled with forty mattresses suspended above an additional forty. Visitors are encouraged to crawl into the spaces between them, and kids will love the immersive experience. Also check out the Haas Brothers "Ferngully," which features beaded and furry sculptures of fantastical creatures like something out of The Gruffalo. If you can manage a third exhibit, the brightly colored collages in Aaron Curry's "Tune Yer Head" will be a hit.

The treat: Walk through the Collins Park sculpture garden to Kith Treats for ice cream, where kids can choose from all kinds of crazy toppings. If you're still feeling active, hop on scooters and hit the Miami Beach boardwalk.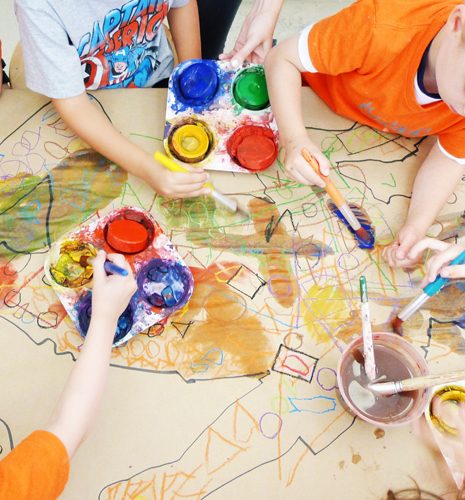 Art Kids
While you check out Art Basel, take your little ones to hang out at the fair's free kindergarten and playroom on site, where they'll be entertained and educated by a team from Miami Children's Museum. They'll have much more fun learning about art history through arts and crafts than following you around the show.

The treat: Spend the rest of the day in the beautiful Miami Beach Botanical Gardens next door to the convention center. Cross the bright-red bridge in the Japanese garden and look for turtles in the pond.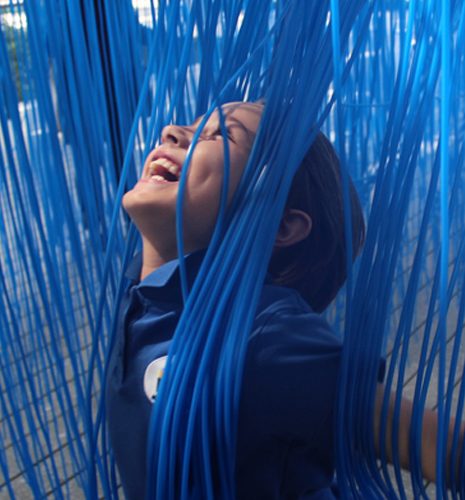 Perez Art Museum (PAMM)
With outdoor sculptures and great views of the water, the grounds of PAMM alone are an adventure. The timing of Art Basel overlaps with the museum's free Second Saturdays program, which is always an action-packed day with loads of art activities for families. The museum's big headliner is "…while the dew is still on the roses…," the first solo show by Jamaican artist Ebony Patterson. Kids will also enjoy the neon signs and arcade-game vibe of José Carlos Martinat's "American Echo Chamber," an exhibit of light installations. And don't miss Hew Locke's piece, "For Those in Peril on the Sea," which features dozens of ships hanging overhead — your children will be transfixed.

The treat: Rest and refuel at the museum restaurant, Verde. The food is delicious, they have a great offering for both kids and parents and they provide a coloring menu for budding artists.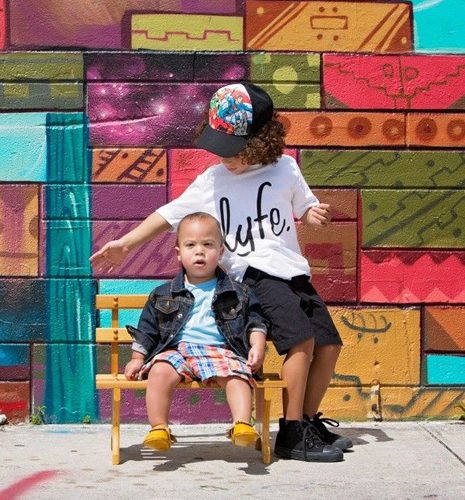 Wynwood Walls
Head across the causeway for the satellite fairs that happen during Art Basel. Kids will love exploring the famous Wynwood Walls, which showcase the best and brightest graffiti and public street art. The huge scales and vibrant colors will make them feel like they're in a giant playground. If you choose to go on an art walk tour, pick one that suits you and your kids' energy levels. If it's longer than an hour, they might get cranky and tired. To keep them occupied, give them your phone to take pictures of their favorite art.

The treat: Make a pit stop at The Wynwood Yard, a fun outdoor space where you can listen to music and grab something to eat from a great selection of food stands.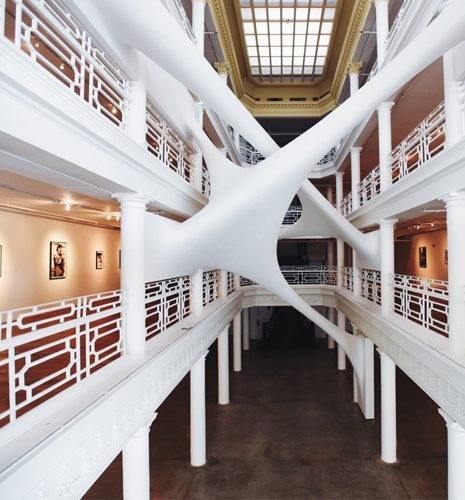 Moore Building
A slice of a building, active kids will find it hard to resist racing up and down the impressive flights of marble stairs. There's usually art on the walls leading up to the different floors, and the atrium is also home to architect Zaha Hadid's "Elastika." A Harry Potter-esque installation, it's spectacular both little ones and adults. You might not spend more than 30 minutes in the Moore, but it's a cool stop on a tour of the Miami Design District.

The treat: Reward the kids with a trip to The Salty Donut, where everything is baked from scratch. There's coffee too if you're in need of a pick-me-up.
Isolde Brielmaier is the national executive director of arts, culture and community at Westfield. She also serves as assistant professor at NYU's Tisch School of the Arts as well as curator-at-large at the Tang Museum. Isolde lives with her husband and 8-year-old daughter in Brooklyn.