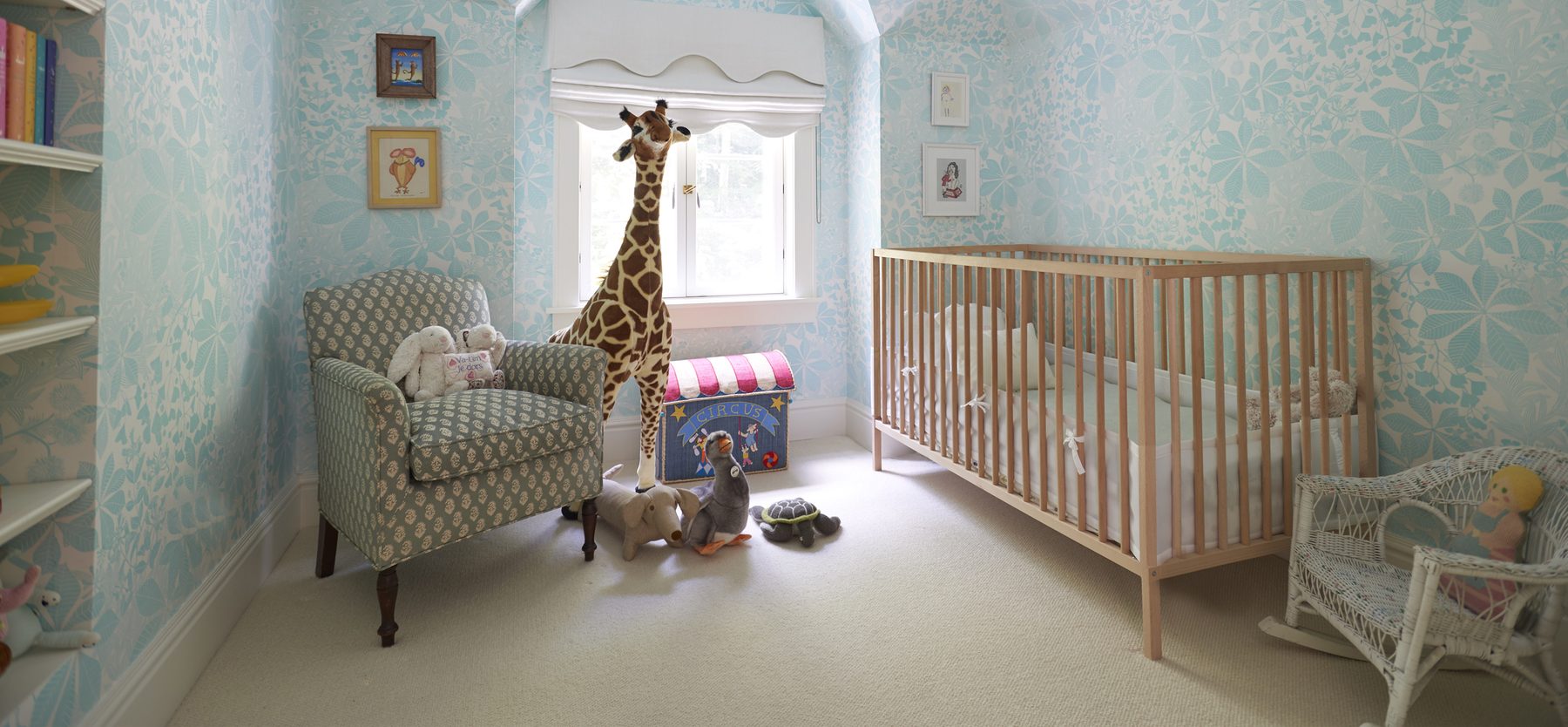 Asia Baker's Nursery
When interior decorator Asia Baker discovered she was pregnant, she jumped at the opportunity to decorate a room that would make all her wallpaper dreams come true. Find out how this mama made the most of a tiny Locust Valley nursery by embracing punchy pattern, color, and a collection of personal pieces baby Ava could grow with.
Written By
Phoebe de Croisset
Photography
Mark Benjamin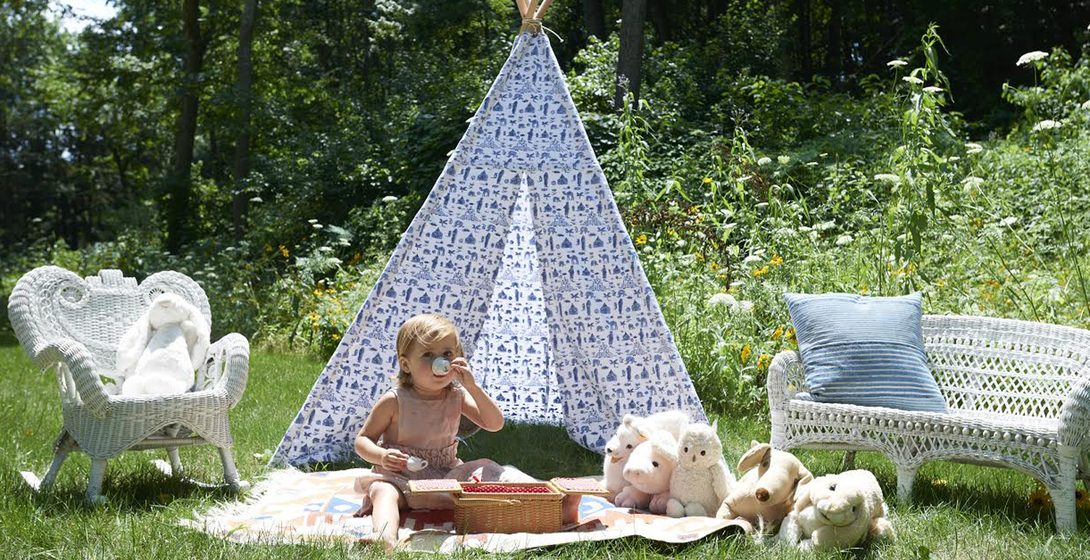 What was the inspiration behind the nursery, and where did you begin? A color scheme, a layout, a piece of furniture?

Ava's bedroom is a tiny little room, but because of the eaved ceilings it has a lot of charm. I wanted to highlight that charm and expand upon it, so I started with wallpaper. I have always loved Marthe Armitage's hand printed wallpapers and knew the second that I had the opportunity, I would use it. The result is quite impactful, and the room feels a lot like an indoor garden.

It's beautiful – and certainly makes a statement. How did you discover Marthe Armitage?

I studied printmaking in college and I was immediately drawn to her papers the minute I saw them. I have always loved the Horse Chestnut pattern, but really any of them will do! It took me a few passes to figure out what color to go with, and I finally settled on Benjamin Moore San Clemente Teal. The type of printing used on the wallpaper has a translucent, almost painterly quality to it, so even though the color is quite bold, the result is much softer. To create harmony in the room, I kept everything else very simple: a neutral knotted wool rug, white dresser and white roman shades.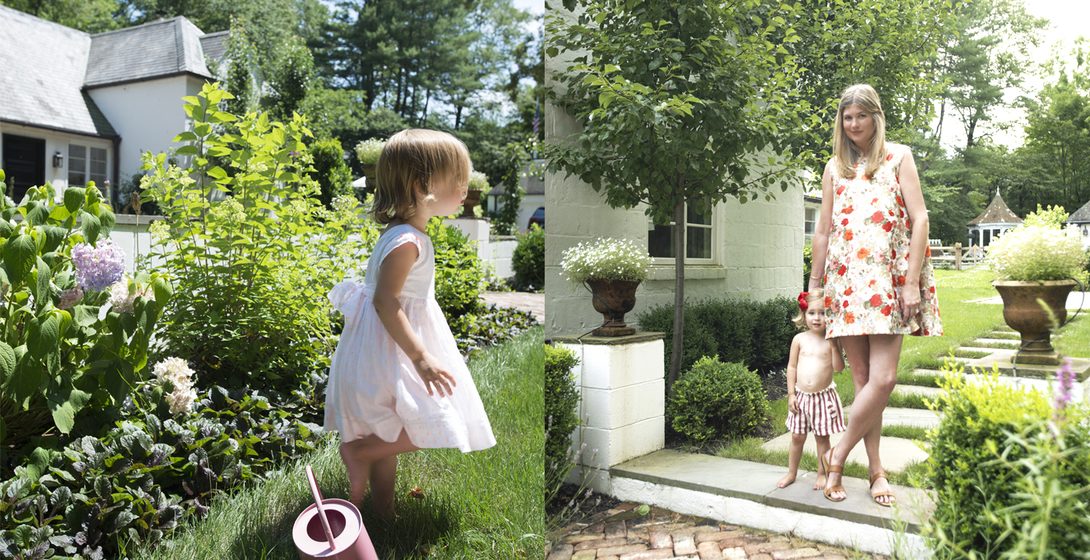 Did the size of the room inform your furniture decisions?

Yes, because the room is small, I had to limit myself to just a few useful pieces of furniture. I started with a simple vintage dresser that I had painted in a Farrow & Ball white. A crib that I found at Ikea – I liked the simple lines of it and my husband liked the price : ) A chair in a Peter Dunham print that I originally intended to slipcover, but now have grown accustomed to (the contrast of prints has grown on me). The chair is petite in scale but my 6'3" husband can still read books comfortably in it.

How did you select the artwork for the room?

The art on the walls is quite personal. There's a self-portrait my husband made of himself when he was six years old. Note, he has a belly button but no feet. A Molinard book plate that I bought off of a book vendor along the Seine in Paris. A cartoon of an imaginary bird that my father drew in the 70's and an Orville Bullman inspired painting of lions that my mother made me. Over the dresser is a very old Alice in Wonderland print that hung over my bed as a child. The illustrations are a little creepy if you look close enough, but Ava loves them.

What was your favorite gift Ava received?

My sister gave Ava a stuffed giraffe, which is definitely not a useful item but is large enough to be considered a piece of furniture. This was one of the first gifts we received when Ava was born. It's such a fun idea and Ava has loved it since the first time she saw it. It's a little odd, but my family has a collection of life-sized Stieff animals that we grew up with. So in a way, this is a much smaller cousin of those.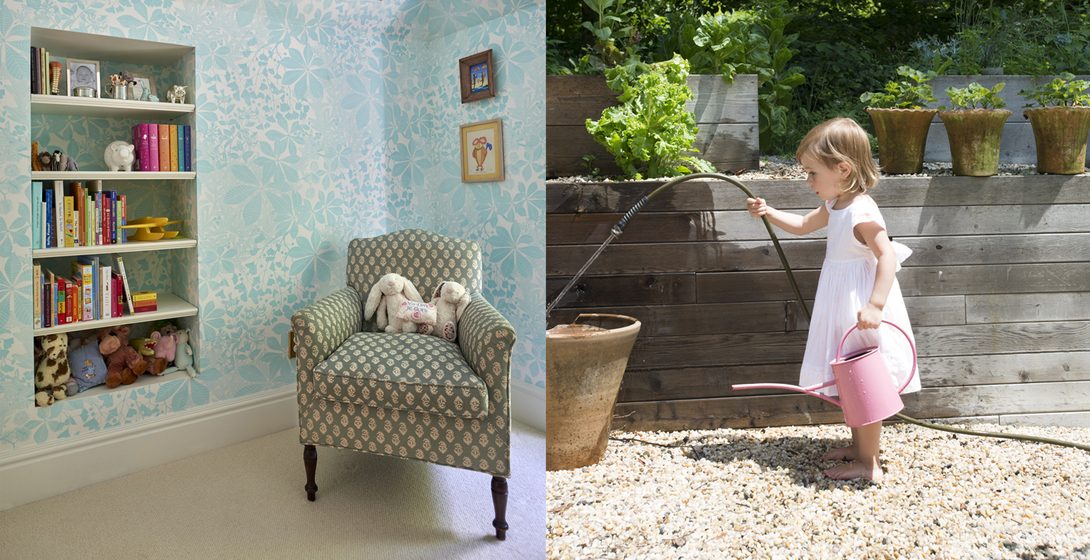 How did you complete the room?

I chose a Noguchi hanging paper lantern to anchor the room. I love the clean and simple look of it, which is equally beautiful in the day and at night. Ava calls it her moon. I had my contractor cut a bookshelf into the wall and I continued the wallpaper inside of it to create a consistent and cohesive feel. The bookshelf allowed us a space to display a few personal items like Ava's birth announcement and our growing collection of children's books. Finally, a raffia toy basket from Rice which is home to a lot of stuffed animals and occasionally the house phone.

What are your top tips for decorating a nursery?

Don't be afraid to step outside the pale pink and baby blue box. If your baby's room is small, do not fret – it will be perfect as a little jewel box. Embrace pattern - whether it's on the wall or a piece of furniture, it will create a big impact. And don't be afraid to use a pattern you've always loved- even it's not something you would traditionally view as a nursery look.


TO TOP