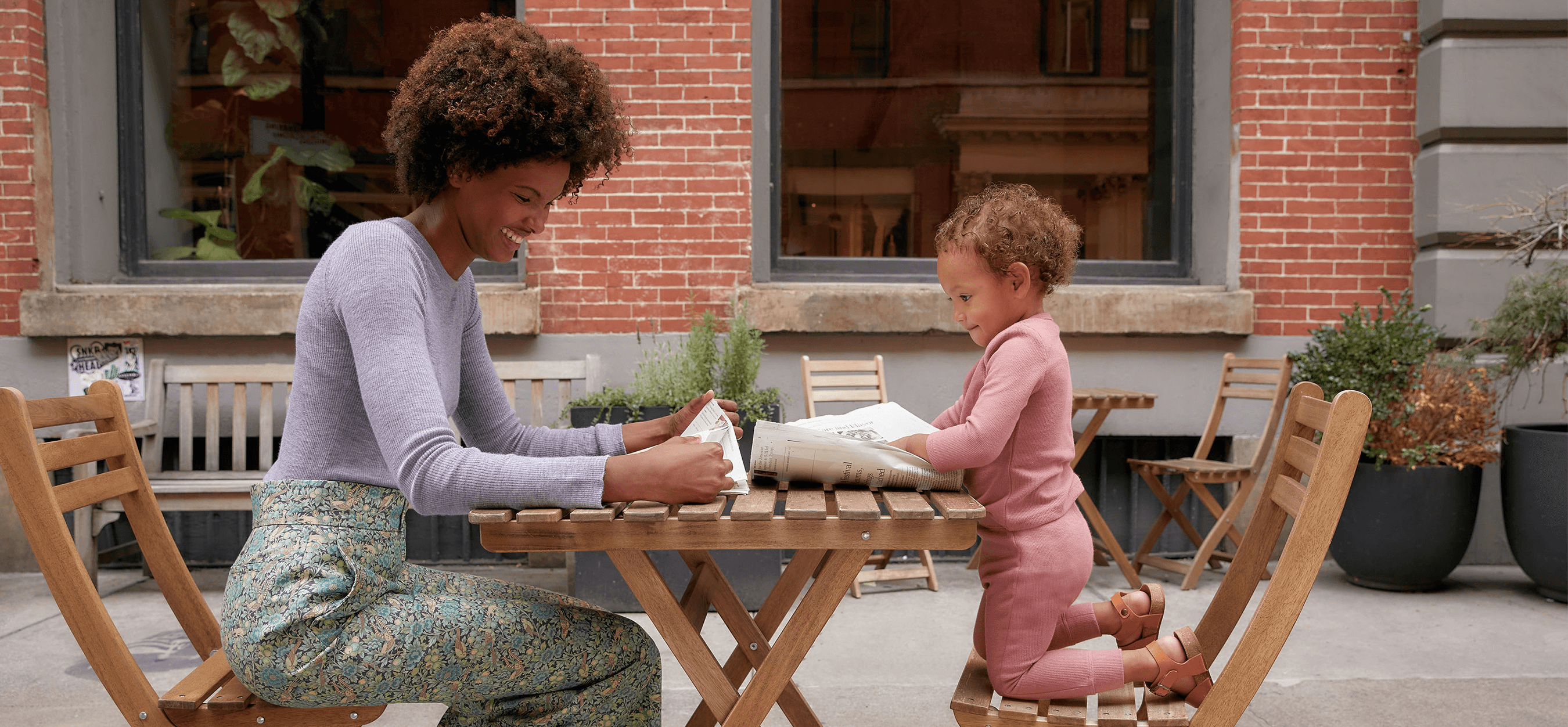 How to Find A Unique Baby Name in 2023
Celebs have figured this out – whether we like it or not, in our connected world, names like Apple and Blue Ivy, Cosmo, Suri, Stormi, or Baby X Æ A-Xii (and his sister Y) are the ultimate personal branding. They're a vibe. So while the 150 unique baby names on this list aren't one-of-a-kind, they do buck trends.
Photography

Johnson Lui
Written By

Katie Covington Crane
I've been Katie C. since kindergarten, and well into adulthood, I'm still using that last initial at my coffee shop and in most meetings, so I'll admit I take seeking out a unique baby name more seriously than most 80s babies. When I was pregnant, setting up my mini for a lifetime of no-initial-needed status involved spreadsheets and a backup name in case we got cold feet. With this list and a few easy online tools, you can skip the pivot tables and find a name you love.
How Can You Tell If a Name is Unique?
What are the odds of your child being in the same school as another kid with their name? What about meeting something with the same name? It turns out you can find out. Data nerds will be happy to know you can see how popular a name is on the US Social Security Administration or this tool that analyzes how unique a name is across the country. I'm still waiting for the tool that tells you how likely it is that you'll marry someone with the same name which happened to a friend, which sounds like a fantastic against-the-odds love story until it's time to open your credit card bill and you don't know whose mail is whose.
Short and Sweet Unique Names
Why give your kid a three or four-syllable name when you know you'll call them a nickname? Instead, make the nickname official, something the Brits tend to do. So many of these are remarkably upbeat, with Tate "cheerful," "lion," Hugh "bright," and Zora, meaning "dawn." Tilly and Tiggy are fresh updates to names like Poppy. Anya is an alternative to the ultra-popular Ava.
Ezra
Knox
Tate
Sami or Samar
Albie
Rex
Hugh
Rafi
Aza
Cal
Cian
Zora
Livia
Elia
Anya
Cleo
Darcy
Tiggy
Tilly
Sena
Unique French Names
For Francophiles, these names may be familiar in the City of Lights, but they're still relatively rare across the pond. These French baby names have that je ne sais quoi you hope your mini has too.
Sylvie
Lou
Léa
Livia
Inès
Célia
Noémie
Elodie
Antoine
Timeo
Mathis
Emil
Olivier
Basile
Clément
Dumas
Lucien
Étienne
Malo
Unique Western or Americana-Inspired Names
Whether your mini is more likely to ride a pony or the 6 Train to school, these Western-inspired names feel rugged and zippy. Names like Harlan "living in the wood," Aspen, and Colter "to look after horses" are inspired by a sense of place while Waylon, Wyatt, Bonnie, Levi, and Clementine pull inspiration from Americana folkore.
Wylder
Harlan
Colter
Hank
Ace
Waylon
Wyatt
Levi
Maverick
Colt /Colter
Riggs
Bonnie
Clementine
Mabel
Dorothy
Aspen
Birch
Unique Names That Are Starting to Trend
These are some names that made the most significant leaps in popularity – they feel familiar but fresh. Thesenames that didn't crack the list of the 500 most popular in each sex, but they are typically in the top 1,000.
Bridger jumped up 200 spots (a nod to the steamy Bridgerton, perhaps), while Raya could be a clue to how couples met as it jumped 500 spots. Next, Amiri is related to the Arabic Amir, which means prince, ruler, or royal. Mac ("son of") is a common Scottish and Irish prefix for surnames and makes for a puckish first name.
For girls, Wrenly and Navy are new, modern names – Navy was first seen on social security data in 2019. Della was widespread throughout the 1950s and slowly declined until 2021 when it jumped 200 spots to be the 708th most popular name in the US.
Post pandemic parents of both sexes are hopeful, with names like Vida, "life," and Elio, a Spanish word meaning "sunny," gaining in popularity.
Amiri
Eliam
Mac
Elio
Bridger
Bowie
Wes
Raya
Wrenley
Vida
Murphy
Navy
Della
Dalia
Goldie
Cool unisex names
Names that don't skew feminine or masculine leave space for kids to explore their identity – and you only need to negotiate one name with your partner.
Grey
Sunny
Rafe
Kit
Asa
Ocean
Alix
Reema
Denver
Scout
Kiran
Devya
Ina
Manvi / Mavi
Porter
1923 Names That Feel Unique in 2023
Sometimes the only way to go forward is to look back – like these names were among the top names in 1923. Edith (or Edie for short), Inez, Ida, Willis, and Ollie are decidedly throwbacks ready for a comeback.
Florence
Edith
Minnie
Ida
Agnes
Nellie
Lula
Inez
Harold
Albert
Roscoe
Ollie
Willis
Mini-Trends We Love
Even if you're searching for want a rare baby name for your mini, tapping into the same sources of inspiration other parents are gravitating towards at the moment can make a name feel grounded in reality.
Celestial-Inspired Names
Luna
Nova
Soleil
Halo
Sky
Cosima
Aurelia
Altair
Cressinda
Estela
Vega
Nature-Inspired Names
Jade
Wren
Birdie
Opal
Fern
Kai
Aarin
Forest
Everest
Bear
Koda
Heath
Clay
Abhi
Botanical Names
Ivy
Flora
Clover
Dahlia
Sage
Bluebell
Delphine
Pear
Posy
Names in the Zeitgeist
Bowen
Neo
Kenji
Kobe
Rio
Kenzo
Archie
Bode
Virgil
Alternatives to the Most Popular Names Right Now
If you love a name in the top 10 list of popular names, try these similar suggestions to get the same vibe.
Like Liam? Try Eliam, Matthis, or Elio.
Like Noah? Try Knox, or Asa.
Like Oliver? Try Levi, Aza, Porter, or Ollie.
Like Elijah? Try Emil, Ezra, or Albie.
Like William? Try Wylder, Wyatt, Waylon, or Willis.
Like Benjamin? Try Bowie, or Bridger.
Like Lucas? Try Colter, or Cal.
Like Henry? Try Harlan, Hank, or Harold.
Like Theodore? Try Timeo, Antoine, or Tate.
Like Olivia? Try Livia, Léa, Célia, Ocean, or Luna.
Like Emma? Try Della, Mabel, Elia, Sena, or Minnie.
Like Charlotte? Try Clementine, or Cleo.
Like Amelia? Try Noémie.
Like Ava? Try Raya, Inès, Anya, or Ina.
Like Sophia? Try Sylvie, Sunny, or Scout.
Like Isabella? Try Elodie, Dalia, Bonnie, Tilly, or Nellie.
Like Mia? Try Lou, Murphy, or Mavi
Like Evelyn? Try Vida, or Inez.
Like Harper? Try Darcy, or Zora.