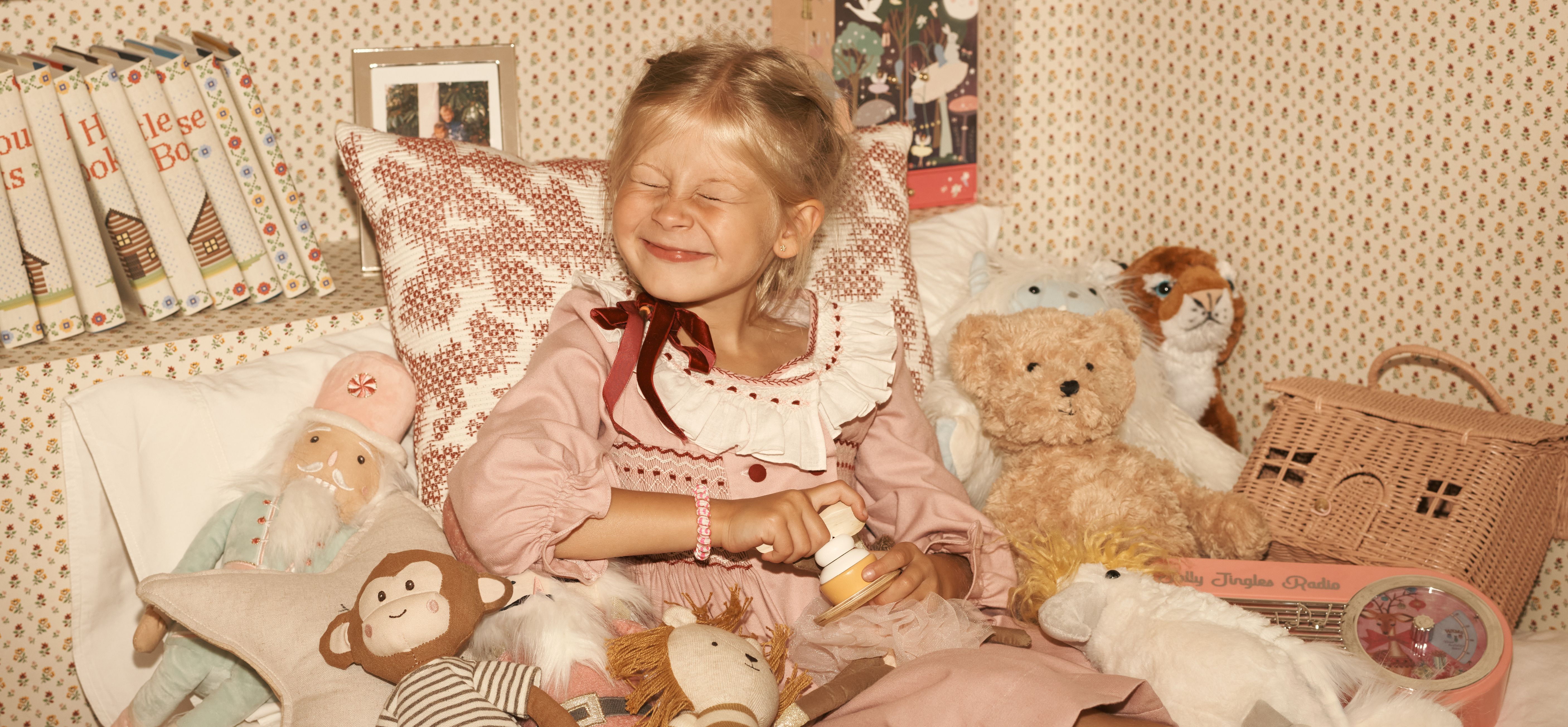 The Best Stocking Stuffer Ideas For Kids (and Their Parents)
From temporary tattoos to suit their current obsession to a toothpaste worth the hype.
They say the best gifts come in the smallest packages, so in theory, a Christmas stocking should pack all the best presents. But, if you've ever spent Christmas Eve wrapping drugstore socks and toothpaste for a loved one, you know that in the grand scheme of holiday shopping, stocking stuffers can easily get lost in the fray.
With a little bit of preparation, though, a stocking can be a delightful experience for its recipient, filled with gifts that are both exciting and useful. Whether you're shopping for your child, a friend, or a partner, we've rounded up stocking stuffer ideas for everyone on your list.
Stocking suffer ideas for babies and toddlers
Get ready to revel in the cuteness of gift shopping for your littlest recipients. These stocking stuffer ideas for toddlers and babies will inspire kids to explore their world, while also inspiring plenty of Christmas morning excitement, too.
Usborne Books are not only adorable, they're educational, so your little ones are sure to enjoy them for years. A few of our favorite titles: , an interactive book that helps toddlers learn to fasten clothing; the touchy-feely book Don't Tickle the Hippo; and Winter Wonderland Sounds, which plays holiday sounds like bells ringing and choirs singing.
Use this finger puppet set from Blabla Kids to entertain your baby when they're little, and let them take the lead when they're a bit older.
Quality mittens are a must-have when . These toddler-friendly, wate r-repellent mittens have an elastic loop to keep them from falling off.
To elevate stocking stuffer standbys like toothbrushes and toiletries, look for ones with thoughtful design, like this double-sided toothbrush that helps toddlers learn to brush their own teeth.
Temporary tattoos in your child's favorite animal or character are a fun and unique stocking stuffer idea. Plus, they're safer than stickers for the under-four-years-old set. Daydream Society works with independent illustrators to create toddler favs like ballerinas, construction vehicles, and jungle animals.
Mississippi-based Musee Bath makes bath bombs in unique themes and characters so you choose the one that best suits your recipient. A few of our favorites: Amelia Earhart, Baby Shark, Rosa Parks, and a Pirate's Life.
Stocking stuffer ideas for kids
Stocking stuffers for kids should be all about fun - things that inspire imagination and creative play, all while being small enough to tuck in the bottom of a Christmas stocking.
Play makeup has come a long way since the Tinkerbell Beauty days. ' play makeup kits are free of artificial dyes, fragrances, talc and heavy mineral oils, but filled with fun items like lip shimmer, pressed powder, blush and rainbow-colored makeup brushes.
This mini construction set from comes with a crane truck, excavator, road roller, dump truck and front loader. It's the perfect size for travel.
is designed for kids. Your littles will love the fun packaging with silly faces, and you'll love that the nail polish is water-based, vegan, and eco-conscious, and that it can be removed with only soap and water.
Add a touch of glamor to their game of dress up with Supersmalls play jewelry. It's inspired by adult costume jewelry, but with kid-friendly design details. Think clip-on earrings, stretchy necklaces, and sparkly shoes.
Each pencil in this clever set is printed with a practical or whimsical note about when it should be used. There's one for homework, another for top secret notes, and others for writing upside down and for global jet-setting.
Rain or shine, they'll have good hair with this cute set of four forecast hair clips.
For the astronaut-in-training, these space-themed erasers are sure to be a hit.
Layering necklace in pretty pastels
For the budding fashionista, this sweet star will be the highlight of any outfit.
Stocking stuffer ideas for teens
If you're stumped by stocking stuffer ideas for teens, consider fashion jewelry, luxe personal care products, or the tiny tech accessories of the moment.
aren't your typical Christmas keepsake. Instead, you'll find vintage-inspired baubles shaped like Pop-Tarts, rocketships, and Care Bears. In other words, fun (and funny) enough to earn them a teen stamp of approval.
Ear buds are likely to have a spot on almost any teen's gift wish list, but a bedazzled carrying case makes this coveted present from even better.
Open the Joy's origami activity kit introduces children to the joys of paper folding. Crafty teens will love turning these sheets into intricate designs.
Empowering personal jewelry
Make a positive fashion statements with 's stylish, colorful beaded bracelets inscribed with messages like 'happy,' 'love' and 'gratitude.' Oiya makes adorable layering necklaces and bracelets while Pip Pop Post makes fun stud earrings.
Stocking stuffer ideas for adults
Our top picks for stocking stuffers for adults include fragrance, jewelry, and elevated versions of everyday essentials.
Mood-boosting frangrance that fits in a purse
A fragrance for any occasion! The from eco-fragrance brand Ellis Brooklyn includes each of the brand's five best-selling perfumes: Myth, Salt, Sweet, Bee, and West.
Hart makes fun statement pieces for everyday wear: think Mini and Me beaded bracelets for mama and her little, tassled earrings and charm necklaces.
Cult-favorite toothpaste
If you're going to gift toothpaste this year, make it the good stuff. is an effective, all natural toothpaste that was developed by a dentist whose family was concerned about the ingredients in conventional brands.
A chic scrunchy elevates the mom bun into a hairstyle that looks intentional. Bonus: makes a line of matching scarves for dogs.
Act+Acre's organic bamboo comb is not only all natural and biodegradable, it's designed to reduce hair breakage (perfect for new moms) and stimulate blood flow to the scalp. A must for any dopp kit.
If there's a better gift than a good night's sleep, we haven't seen it. Encourage restful ZZZs with plush eye mask.